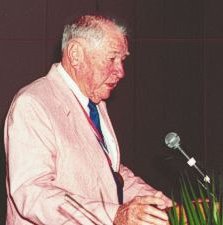 Horace W. Harrison
Founded in 1943, the British North America Philatelic Society Ltd. (BNAPS) is an international organization devoted to the collecting and study of the stamps, postal markings, and postal history of Canada and its pre-Confederation colonies. An enduring part of BNAPS' contribution to Canadian philately is its well-respected philatelic journal, BNA Topics.
The late Horace Harrison, a long-time member of the Society who served as its President shortly before his passing, firmly believed that philatelic knowledge should be shared among all philatelists. In his will, Horace bequeathed financial support to BNAPS to encourage such projects. BNAPS decided to place the vast library of information contained in back issues of BNA Topics on its website.
The following people were instrumental in providing copies of all issues of BNA Topics for scanning and storage in this online library: Martin Goebel, Thomas F. Nemec, K. Wayne Smith, Charles J. G. Verge (much appreciated), Robert C. Smith, Robert A. Lee, Cimon Morin, Earle L. Covert and John M. Walsh. The collective thanks of the members of BNAPS goes to these contributors.
A Special Note of Thanks
All the individuals noted above were involved in the preparation of the online edition of BNA Topics. The Society would be remiss, however, if John Walsh were not singled out. John spent countless hours scanning the over 500 issues of Topics for this project. He was also the driving force bringing this project to fruition.