The British North America Philatelic Society wishes to honour its heritage by remembering those members who have passed away. Memorials are presented in the sequence of the passing of members with the most recent first. The members are listed in alphabetical order in the links at left.
To respect the wishes of family, it is asked that members who wish to provide an obituary provide the following information:
Your BNAPS number
The BNAPS number of the deceased
Your assurance that the family of the deceased has given approval for the memorial on the website
Jerome C (Jerry) Jarnick OTB (1933-2023)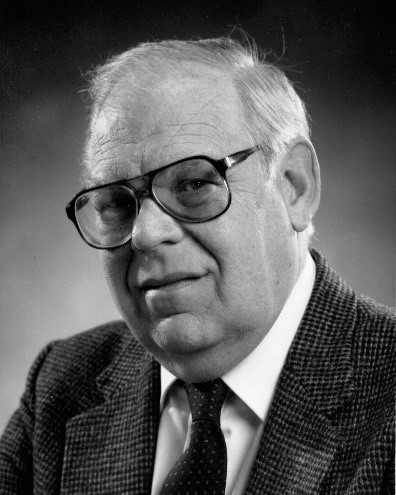 Jerome C Jarnick, known to all as Jerry, was born in Wisconsin. He became interested in stamp collecting when he was eight years old. Jerry first joined BNAPS in 1955 while in the United States Air Force. Collecting was scaled back dramatically in 1966 after marriage and a posting to USAF Headquarters in Europe. Three years in Germany were followed by a tour in Vietnam. Jerry retired from the Air Force in 1975 and began a second career as a Senior Systems Analyst for a wholesale/retail lumber and building products distributor based in Birmingham, MI.
After returning to the United States, he began collecting again, concentrating on British North America, and rejoined BNAPS in 1972. Building a working library of BNA philatelic literature soon became his major interest, and by 1989 it had grown to 65 feet of books, and a file cabinet of over 1100 clippings and miscellaneous items.
Jerry also became interested in the presentation booklets that Canada Post presents to platform guests at stamp launches and major postal events such as the 1957 Universal Postal Union Conference in Ottawa. At last count, he had acquired more than twenty of these books. In 1980, he volunteered to prepare the annual index for BNA Topics, and was thanked for his efforts in an editorial comment in the January-February 1985 issue of the journal and again in "Sketches of BNAPSers" in 1989.
In 1986 Jerry served on the organizing committee of the very successful BNAPEX 1986 at Dearborn, MI. He took over as Secretary of BNAPS in 1993 and served in that position until 1998. In that year, he was elected a Director of the Society and Chairman of the Board of Directors. Jerry served terms on the Board from 1998-2002, 2002-2003 and 2006 – 2010. From 2008 to 2012, he also served as the BNAPS Publicity Officer.
Jerry's efforts on behalf of BNAPS and BNA philately were recognized in 1998 when he was elected to the Order of the Beaver, the honour society of BNAPS. After 40 years of membership, he became an Emeritus Member of BNAPS in 2012. In 2021, he became a member of the Royal Philatelic Society of Canada's 50-Year club and was presented with an RPSC Honorary Life Membership. In 2023, he became a member of the 50‐Year Club of the Canadian Philatelic Society of Great Britain.
On hearing of Jerry's passing, Scott Tiffney, Librarian / Director of Information Services of the American Philatelic Research Library wrote, "His 26-year commitment to the library is truly an endearing testament to his legacy with the APRL and the American Philatelic Society."
Jerry passed away on 28 February 2023 from injuries from an auto accident at the age of 89. He was preceded by his son Charles, who passed from ALS in 2019. He and Joyce missed their 57th wedding anniversary by six weeks. He is also survived by his daughter Christine Birac, son-in-law Mark and two granddaughters, Alexandra and Emily. Jerry was laid to rest with full Military Honors at Great Lakes National Military Cemetery at Holly, MI.
Mike Street, with assistance from the Jarnick family and "Sketches of BNAPSers"
Kenneth (Ken) William Lemke OTB (1944-2022)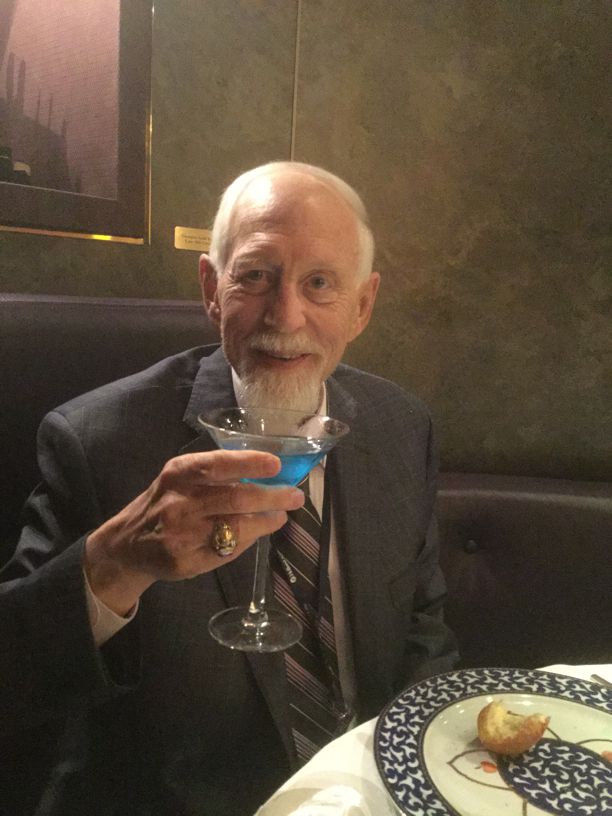 Ken Lemke passed away on 17 December 2022 at Burlington, Ontario, at the age of 78.
Ken began his career as a laboratory chemist, subsequently a senior research chemist, business manager, decorative plating products: North American Vice President: M&T Harshaw, and most recently as President and co-founder, in 1996, of Canadian Finishing System, a metal finishing chemical distributor. He held several U.S. and foreign patents in nickel electroplating. Ken was the President of the American Electroplaters and Surface Finishing (AESF) society and served seven years (1994-2001) on the Board of Directors. He was awarded an AESF Fellow in 1999. Ken was a member of the Canadian Association of Metal Finishers and elected to the organization's Wall of Fame in 2002.
Ken coached youth soccer in Manalapan, New Jersey, and Burlington, Ontario. Ken was a devoted Tiger Cat and Detroit Red Wings fan. He loved his pets. His Springer Spaniel, Emma, was so very special and spent hours cuddled in his lap, much to Ken's delight.
Ken joined BNAPS in 2007 and quickly became an active participant in the Society's activities. Ken was a regular attendee at the Golden Horseshoe Regional Group meetings in Ancaster, Ontario. He attended BNAPEX conventions regularly and participated in many other regional and national shows often volunteering his time to judge or at society tables. His interest in George VI philately led him to join the King George VI Study Group, and he soon served as editor of the King George VI Post and Mail newsletter 2008-2014 and again since 2016. He became the BNAPS First Vice-President 2016-2018, President 2018-2020, and Past President 2020-2022. In addition, Ken served as the Circulation Manger for BNA Topics since 2014. In 2018, Ken was inducted as a member of the Order of the Beaver. Members recall Ken's joy upon receiving the OTB.
Ken was also active in other philatelic organizations. He was a member of the Hamilton Stamp Club, the Canadian Philatelic Society of Great Britain (CPS of GB), the Royal Philatelic Society of Canada (RPSC), the Postal History Society of Canada (PHSC) and the Philatelic Specialists Society of Canada (PSSC). He held executive roles as Vice President RPSC, Secretary PHSC and Program Director PSSC at the time of his passing.
Ken's collecting interests included the Canadian National Steamship "Lady Boat" covers, the Grand Trunk Railway postal stationery view cards, the George VI Mufti and War issue definitives.
All who knew him knew a generous and thoughtful man, interested in everyone and caring deeply about his family, community, and hobby. He will be missed by all.
David McLaughlin, with assistance from the Lemke family.
David F. Sessions FCPS, FRPSL, FRPSC, OTB-LAA (1934-2022)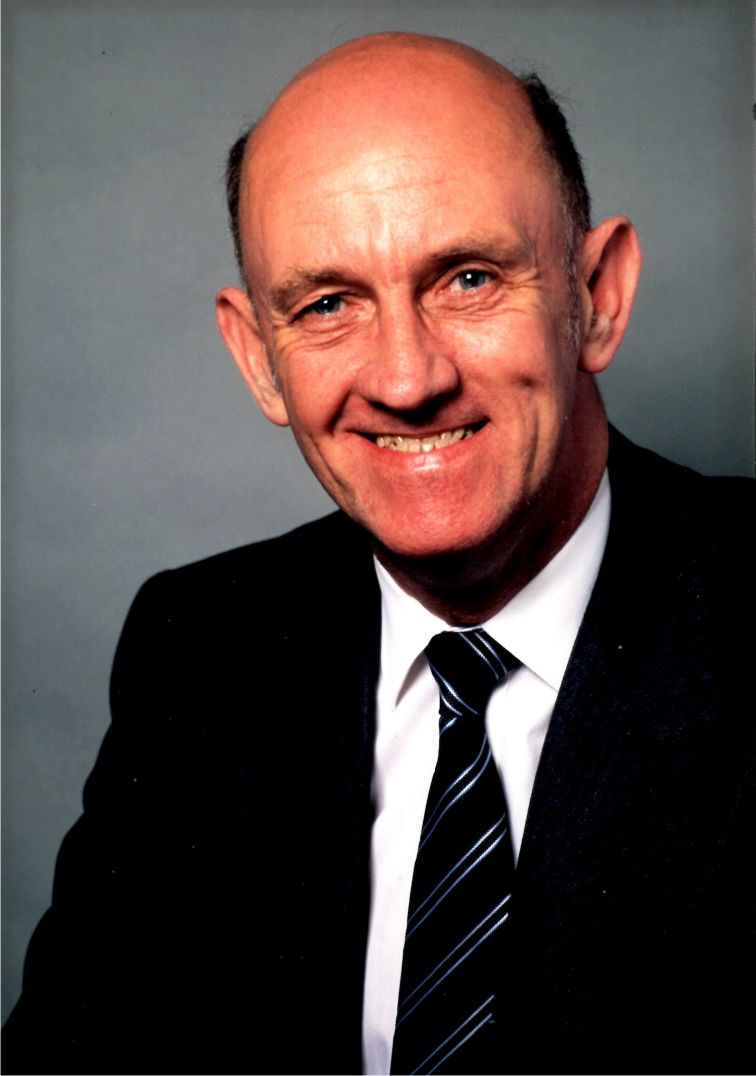 David F. Sessions passed away on 5 November 2022 at Weston-Super-Mare, England, at the age of 88. Born in Reading, Berkshire, he served in the Royal Air Force before spending much of his long career with the Sun Life Assurance Society as Industrial Editor in charge of creative writing. After 'co-inheriting' his late father-in-law's stamp collection, David gradually concentrated on the stamps and postal history of Canada.
A prolific author, his articles on the Edward VII definitive stamps, 1930 KG V Arch Issue, 1932 KG V Medallion Issue, flag and machine cancellations, and fakes and forgeries appeared in Maple Leaves, the journal of the Canadian Philatelic Society of Great Britain (CPS of GB), The London Philatelist, Gibbons Stamp Monthly, and Stamp News.
He became Membership Secretary of the CPS of GB, then took on the duties of Secretary of the Society in 1976. After ten years as Secretary, in 1986 he became Editor of Maple Leaves, and served in that important role until October 2004. In "retirement", David continued to write articles for Maple Leaves until poor health slowed him down.
David's first book, The Early Rapid Cancelling Machines of Canada (1982), was followed in 1999 by Philatelic Fantasies of BNA, a full exposition of fakes and forgeries of Canadian stamps and the characters who created them.
An accredited regional judge and exhibitor, David received many high awards including Gold at BNAPEX 1991 in Vancouver. In 1998, he received Gold and the Grand Award at BNAPEX in Orlando, Florida, for his exhibit Canada: Classical Flags and Associated Cancellations.
David was made a Fellow of the Canadian Philatelic Society of Great Britain in 1982, a Fellow of the Royal Philatelic Society of London in 1985, and a Fellow of the Royal Philatelic Society of Canada in 2001. The BNAPS's Order of the Beaver Lifetime Achievement Award (OTB-LAA) was presented to David on 13 September 2003 at the CPS of GB convention in Porthcawl, Wales.
Always soft-spoken, David Sessions was a gentleman of the old school who made a major contribution to the Canadian Philatelic Society of Great Britain and to the philately of British North America. He will be missed.
Mike Street, with assistance from the Sessions family and articles in Maple Leaves and BNA Topics.
James (Jim) F. Hansen OTB (1932-2022)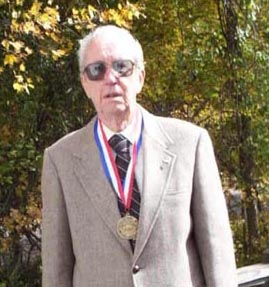 Jim Hansen of Newbury, New Hampshire, passed away on 22 January 2022. He joined BNAPS in May 1980 after attending BNAPEX 1979 in Quebec City. Jim served as BNAPS Treasurer, a time-consuming position, from 2001-2004, and was beginning a four-year term as Vice-President Study Groups when he was elected to the BNAPS Order of the Beaver in September 2004.
Jim and his wife Dolores attended almost all BNAPEX conventions from 1985 to 2009, and hosted BNAPEX 1994 at the Radisson Hotel in Burlington, Vermont. Jim also participated in various study group sessions at BNAPEXes.
A dedicated philatelist, Jim worked as a philatelic insurance claims adjuster for over 30 years. He was always working to promote philately and BNAPS. As President of the Montpelier Stamp Society of Vermont, he chaired or assisted with many club shows, and also chaired or assisted with several VERPEX exhibitions.
Jim is survived by his wife of 69 years, Dolores, and five of their six children, 12 grandchildren and 18 great grandchildren. He is also survived by his brother Frederick, sister Doris Polis, and a large extended family.
Mike Street, with information from the Hansen family in the Concord, NH, Monitor, 25 January 2022
Jim Hansen, Insurance Company Adjuster for Stamp Collection Losses
For many years, Jim Hansen worked with Horace Harrison to adjust stamp collector losses for the insurance carriers backing Horace's insurance brokerage business Harrison & Associates. When I, Dan Walker, took over Horace Harrison's insurance brokerage business in December 1983, the name was changed to Collectibles Insurance Agency, and Jim Hansen continued to adjust stamp collector losses for the insurance carriers who covered Collectibles Insurance Agency losses.
During the time that I owned the business, I do not remember any collector complaining to me that the settlement was unfair! Jim would be assigned a collector loss and almost always handle it on his own; very rarely did he even discuss losses with me, or I suspect discuss insurance losses with Horace Harrison.
One story that Jim passed on to me illustrates how he worked. The collector had a homemade stamp album with stamps from a number of southern European countries like Italy, Bosnia & Hercegovina, Montenegro, Albania, Greece, etc. Jim contacted the collector and asked for a list of the stamps that were lost. Jim had to explain to the collector how to put together such a list with receipts and other records that the collector had, and asked the collector to try and make sure the more valuable stamps were listed. It took some time and Jim finally got the list. After reviewing the list of stamps lost, he got back to the collector with some questions. Using the Scott catalogs, which the collector used in organizing his collection, Jim started to evaluate the loss. Jim also had a lot of stamp dealer contacts that he could go to for help in valuing particular stamps.
Finally, Jim came to a valuation of the loss and called the collector to discuss the valuation. The collector eventually agreed with the valuation and Jim sent him a legal document to be signed with the agreed valuation. That is when the trouble started.
The collector's wife saw the valuation, and said something to the effect that "You spent that much of the family money on your stamp collection. I deserve that money". Jim, being an experienced adjuster, knew how to handle this situation. He got the collector and his wife to agree to each sign the legal document with the valuation, and the check was made out to both the collector and his wife. The check was cashed, but Jim did not know how the valuation was divvied up between the two. As far as Jim was concerned, how the funds were split up was not his problem.
W. Danforth (Dan) Walker, RDP
Robert Haslewood (1951-2021)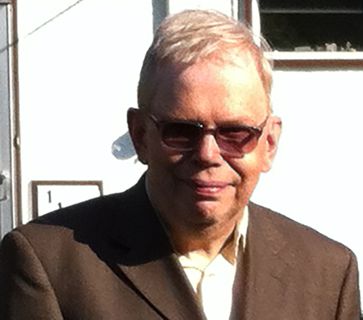 Robert Haslewood passed away on 26 May 2021 at the age of 70.
He attended Westmount High School, Montreal, from 1964-1969, the same high school U.S. Vice President Kamala Harris graduated from some years later. In early 1971, he started a job at Standard Life Assurance Company of Canada. He worked there for 38 years, rising to the position of Group Technical Analyst. During his time at Standard Life, he also studied at Concordia University, earning a Bachelor of Science degree in mathematics (1984).
Robert's main philatelic interest was Christmas – Christmas cards in general, with a special focus on Canadian military unit Christmas cards, December 25 postmarks and Christmas seals on cover, preferably tied. He was an active member of the Christmas Philatelic Club, where he served on the board of directors as Historian for many years. Other collecting interests included the postal history of Montreal and Québec, as well as Elizabethan errors.
I knew Robert as an unassuming man who took great delight in meeting fellow collectors at philatelic meetings. He attended every BNAPEX in Canada since 1997. He also attended many conventions of the Royal Philatelic Society of Canada.
Mark Berner, with personal recollections from Adri Veenstra and Mike Street
Robert (Bob) Lane OTB (1937-2021)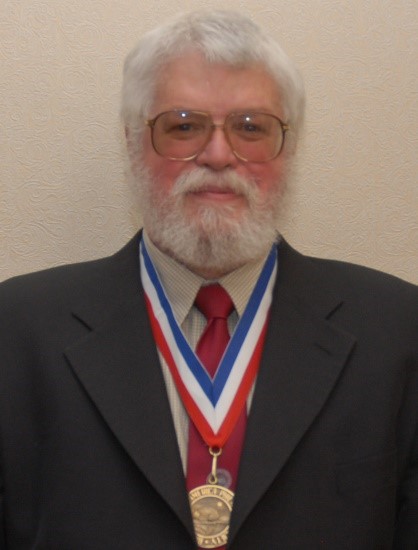 Robert Lane passed away on 5 May 2021 at the age of 84. Bob was born in Brandon, Manitoba, and lived in St. Albert, Alberta, for the past 45 years. He spent his entire career with the Canadian federal government working in meteorology, oceanography, and civil engineering. This includes a period as a meteorologist at Churchill, Manitoba. He retired as Director, Western Regional Environmental Protection. He earned his PhD in Oceanography at Oregon State University in 1965. An unwavering conservationist, he co-founded an organization dedicated to preserving the environment of Big Lake and was instrumental in creating the Lois Hole Centennial Provincial Park.
Bob spent his life outdoors. An avid fisherman, he mastered tying his own flies. He enjoyed camping with his wife, Gail, and his Bassett Hounds. An enthusiastic bird watcher and an accomplished photographer, he was renowned for his photographs of birds in their native habitats.
Bob collected Manitoba postal history, with special emphasis on the railway post offices of the province. His exhibit, Railroad Post Office Cancellations Used in Manitoba, won a Gold medal at BNAPEX 2004. He won Gold again at BNAPEX 2008 for a group of four single frame exhibits collectively entitled Early Manitoba Railway Post Offices Routes. His articles in BNA Topics highlighted Manitoba postal history and the Riel Rebellion.
Bob became BNAPS's first Webmaster in 1995 when the World Wide Web was in its infancy, and served for 15 years, stepping down in 2010. In 1999, the website received a "Top 5%" award from the Fédération Internationale de Philatélie, one of six awarded that year. In 2003 and again in 2010, Bob was given the Hall of Fame award for his work on the website.
Bob helped organize the BNAPEX 1995 and 2005 Edmonton conventions. He became the Vice-President Regional Groups in 2007. In recognition of his contributions, he was inducted in the Order of the Beaver in 2007.
Jerome Jarnick, with additional notes from Leopold Beaudet
Lt. Col. Basil S. Burrell, USA, Ret. (1923-2020)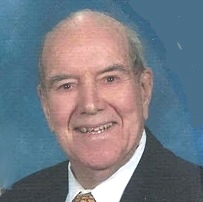 Basil Burrell passed away on 29 July 2020. Bas was a very active aerophilatelist for many years. He was secretary of the Aerophilatelic Federation of the Americas and part of the team that organized the merger of the AFA and the American Air Mail Society (AAMS). He lived in Lake Forest, Illinois, and participated in the Lake County Philatelic Society and other philatelic groups in the region.
Bas was very interested in airmail etiquettes and airmail labels. He wrote a section about "Collecting Etiquettes and Adhesives" for the AAMS publication, Collecting Airmail.
Another of his special interests was Canadian airmails. He edited the BNAPS Air Mail Study Group newsletter, The Pilot's Log, from 1994 to 2004, and encouraged research on a wide variety of topics. He also produced an index for the newsletters. The index and back issues of the newsletter can be viewed in the Horace W. Harrison Online Library on the BNAPS website at https://bnaps.org/.
Bas also contributed articles to The Canadian Aerophilatelist on many different topics, from errors in the semi-official stamps of Commercial Airways to the development of "flying cars". In 2016, he received The Canadian Aerophilatelist Editor's Award in recognition of his many contributions to aerophilately and The Canadian Aerophilatelist.
Besides editing the BNAPS Airmail Study Group newsletter, Bas served as a Director of BNAPS from 1995-2002 and was co-chairman of BNAPEX 2000 Schaumburg, IL. He and his wife Audrey attended many BNAPEX conventions until they were prevented from doing so by health concerns.
Bas was a World War II veteran, and had careers with American Hospital Supply and the Army Reserves. He was an avid skier and curler for many years.
Chris Hargreaves, with BNAPS notes from Mike Street
George B. Arfken OTB, FRPSC (1922-2020)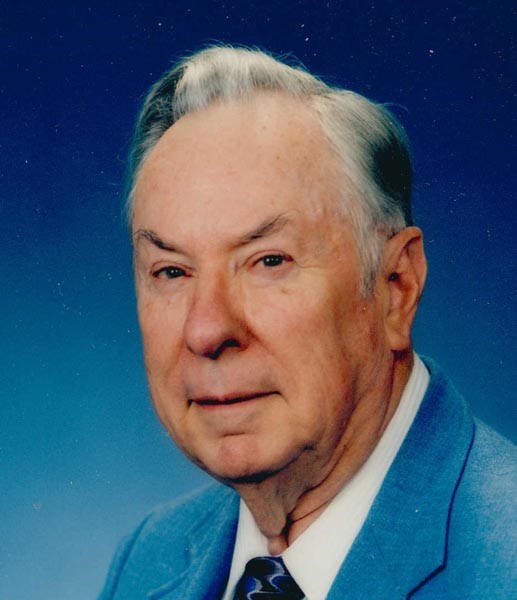 George Brown Arfken, of Clearwater, FL, passed away on 8 October 2020 at the age of 97. George was born 20 November 1922 to George, Sr. and Ann (née Hill) Arfken in Jersey City, NJ. He graduated from Montclair High School, and attended Yale University where he graduated in 1943 with a B. Eng. degree in Chemical Engineering. Enlisting in the U.S. Navy, he served as a Lieutenant (junior grade) in the Amphibious Forces in the Western Pacific. He returned to Yale in September 1946 and graduated with a Ph.D. in Physics in 1950. He married Carolyn Dines in June 1949; they have three children and six grandchildren. Carolyn died in 1997. George married Mary Seet in 1999.
George spent two years at Oak Ridge National Laboratory, 1950–52. He was appointed Assistant Professor of Physics at Miami University (Ohio) in September 1952, and became Professor and Chairman in September 1956, serving as Chairman of the Physics Department for sixteen years. He published Mathematical Methods for Physicists in 1966. This text is now in its sixth edition, with H.J. Weber as coauthor. Retiring in July 1983, he and his family moved to Clearwater, Florida (warm, sunny, hurricane-prone Florida).
George joined BNAPS in 1974, and started collecting and exhibiting nineteenth-century Canadian postal history. His exhibit on Canadian pre-UPU rates was awarded an international Gold medal at CAPEX '96. In 1979, he began writing articles for Canadian, British, and U.S. philatelic journals, and has published over two hundred articles, mostly research oriented. His first philatelic book was Canada's Small Queen Era published by the Vincent G. Greene Foundation in 1989. Early Canada Post Cards, 1871-1911 (2004) and A Canadian Postal History 1897–1911, with William S. Pawluk (2006), were both published by the British North America Philatelic Society (BNAPS). He also wrote another seven books on Canadian postal history or postal usage, and one on the first United States postage due stamps. George was inducted into the Order of the Beaver, the Fellowship of BNAPS, in 1996, and named a Fellow of the Royal Philatelic Society of Canada in 2001.
George's lasting contribution to our hobby has been through his writing. In addition to the BNA books mentioned earlier, he is credited as author or co-author of 144 articles in BNA Topics (62), Maple Leaves (29) and the PHSC Journal (53) between 1979 and 2012. George received the Vincent G. Greene Award, presented annually to the author of the best article or series of articles appearing in BNA Topics in the previous year, in 1988, 1993 and 2009 (with Charles G. Firby). He also received the Royal Philatelic Society of Canada's Geldert Medal for best article in The Canadian Philatelist in 1989. For BNAPEX convention exhibits between 1984 and 1996, he received four Gold medals and one Reserve Grand award.
George was a soft-spoken man with a ready smile and a kind word for friends and acquaintances, new and old. He will be missed.
The Arfken family, with additional notes from George's books and the BNAPS archives compiled by Mike Street
Kimber Allen Wald (1935-2020)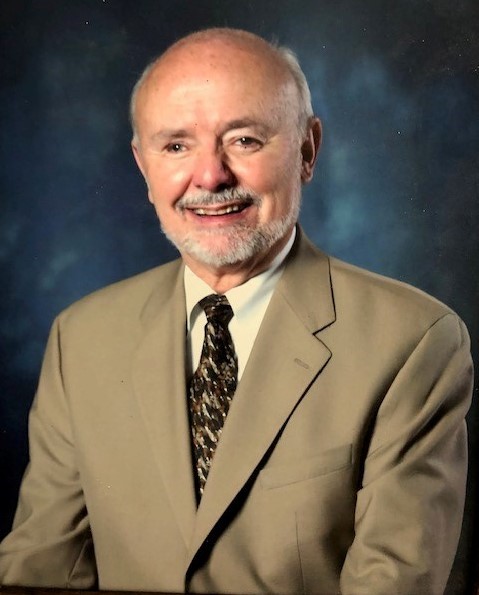 Kimber Allen Wald (Kim) was born in Fairview Park, Ohio, to Lewis A. Wald and Evelyn (née Kimber) Wald. Kim graduated from Ohio State University in 1957 with a degree in Business Administration. In 1971, he earned a Master's degree in Sociology from Case Western Reserve University in Cleveland, Ohio.
Kim's health had been declining for a number of years, and he had spent the last 18 months in a long-term care facility. The quarantine from the COVID-19 virus was difficult for the entire family, but we were able to do FaceTime with him until the virus found him. He died on 22 May, four days after being diagnosed. Kim is survived by his wife Nancy Ruth Wald, to whom he was married for 61 years. They had four sons: Jonathan Mark (Susan) of Churchville, MD, Christopher Allen of Woodbine, MD, Jeffrey David (Kina) of Portland, TN, and Eric Kimber (Melody) of Columbia, MD, as well as eight grandchildren.
Kim worked for several insurance companies as an underwriter before accepting a job at the City of Cleveland, where Carl B. Stokes was the first black mayor of a major city. Kim and Carl became friends through civil rights activities, in which both were active. Kim's positions with the city were Executive Secretary to the Finance Director, Purchasing Commissioner, and finally Director of the Office of Budget and Management. The family moved to Harrisburg, Pennsylvania, in 1971 where Kim took a job with the State Insurance Department as Deputy Insurance Commissioner. He administered a consumer protection agency.
In 1978, the family relocated to the Washington, D.C., area where he took a position with the Federal Emergency Management Agency (FEMA). There he served as project officer for various government contracts including the Federal Crime Insurance Program, the National Flood Insurance Program, and the Telephone Response Center. He retired in 2004.
Kim was a champion for social justice and had a heart to serve people. While still in the Cleveland area, he was a co-founder and board member of Lutheran Metro Ministry which focuses on Housing and Shelters, Health and Wellness Services, and At-risk Youth. In Maryland, he also volunteered as an Ombudsman for Howard County where he visited nursing homes as an advocate for the elderly.
After moving to the D.C. area, the family joined the Lutheran Church of the Good Shepherd in Olney, Maryland, where Kim taught Sunday School and Crossways classes and served a term as president of the church. He was a board member and chairman at Lutheran Social Services/National Capital area, and was also a co-founder and chairman of Hispanic Lutheran Mission Society of Metropolitan Washington, D.C.
Kim was an avid stamp collector all of his life and won many top awards in stamp shows in a number of states and published a book about his hobby.
Sadly, the pandemic has taken another member. Thirty-eight-year APS member Kimber Wald was in declining health, and passed away several days after contracting COVID-19. As noted in his obituary, Wald was an avid stamp collector all of his life. He wrote philatelic articles on a myriad of subjects: Canadian Inspection stamps, Civil War, Revenue Stamped Paper, German Air Mail Rates, and London General Post Office date stamps. Wald also was an accomplished philatelic exhibitor.
American Philatelist, August 2020
Kimber Wald was a member of BNAPS from 1981 to 1992 and again in the early 2000s. He attended BNAPEX 1982 and BNAPEX 1988 in Virginia Beach, VA, BNAPEX 2003 in London, ON, as well as BNAPEX 2004 and BNAPEX 2014 in Baltimore, MD. He won Gold medals for his 1982 exhibit British Columbia Law Stamps 1859-1957 and his 2004 exhibit Canada 1927 Historical and Confederation Issues. BNAPS published Kim's Canadian Special Delivery Exhibits (BNAPS Exhibit Series #28) in 2003 and Canada: The 1927 Historical and Confederation Anniversary Issues (BNAPS Exhibit Series #38) in 2006.
Compiled from BNAPS records by Mike Street
Fred Fawn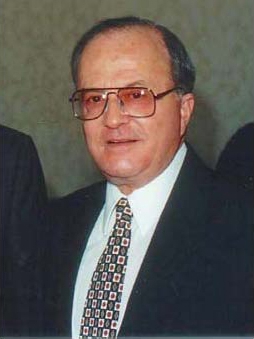 Fred Fawn passed away on 24 March from pneumonia. This was just days after his wife of 58 years passed away. He was a long-time member of several philatelic societies including BNAPS, the Philatelic Specialists Society of Canada (PSSC), the Canadian Philatelic Society of Great Britain, and the Royal Philatelic Society of Canada.
Fred was an accomplished philatelist, exhibitor, and author. He started stamp collecting at about age 8, when he fancied stamps of various European countries. Eventually, his philatelic favourite became Canada's Map stamp of 1898, which he researched and collected for some 30 years.
His primary Map Stamp exhibit received several National level Grand Awards in Canada and the U.S. Fred also showed it at several Fédération Internationale de Philatélie (FIP) International exhibitions. The exhibit became the first Canada/BNA exhibit of a single stamp to receive a Gold award at the FIP World level. BNAPS published his exhibit in 2004 as a book in its Exhibit Series. Fred chaired the BNAPS Map Stamp Study Group for over ten years from 1999.
Fred could not resist the challenge of the 1868 Large Queens, a magnificent set of stamps. He started with the Fifteen Cent value. He collected the recorded constant varieties, which led to research into unrecorded plate varieties. He located, published, and exhibited new finds of plate varieties on die proofs, plate proofs, imperforates, and issued stamps. His studies of the Fifteen Cent stamp introduced him to the intriguing world of colours and shades, and he expanded the standard published colour coding system. He extended his study of plate varieties to the other stamps of the Large Queen issue, especially the ½ cent and 12½ cent values.
Fred's studies of the Large Queens led, in 1994, to a single-frame exhibit of the Fifteen Cent Large Queen. A single-frame Large Queen Postal Rates exhibit followed in 1995. Some 30 unique items were contained in his eight-frame Large Queen exhibit that BNAPS published in 2008 in its Exhibit Series. Fred's articles on the Map Stamp and Large Queens appeared in Canadian Philatelist, BNA Topics, and Maple Leaves.
Thematic/topical collections were also on Fred's agenda, with some being shown internationally. He was the first Canadian to win a Diamond Award for a single-frame exhibit with more than 95 points. He was also the first Canadian recipient of the AAPE Ruby Award for having attained the equivalent of 12 Golds at International and World Series of Philately shows. Fred also had success in the PSSC's December single-frame competitions, winning three times, placing 2nd three times, and "most popular" once.
Fred left very positive memories with his fellow philatelists. PSSC member Ingo Nessel remembers him as a gentleman, always positive and encouraging. Bob Vogel was introduced to Fred by John Anders at a local show in Barrie. Even after this brief encounter, Fred always stopped to say hello whenever he saw Bob at a philatelic outing. He was always concerned about his philatelic friends, asking about their health when they were absent from the PSSC meetings.
Based on biographical notes in the BNAPS Exhibit Series books and a memorial published in the April 2020 newsletter of the PSSC
Kathryn (Hansuld) Lamb (1928-2020)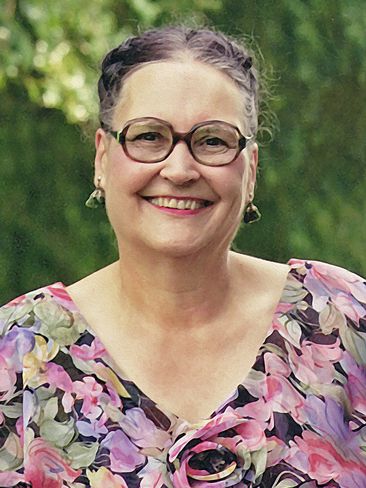 Kathryn Lamb passed away on 6 March 2020 at the age of 92 at Trinity Village Care Centre in Kitchener, Ontario, after a lengthy decline.
Predeceased in 2012 by her devoted husband and former pen pal Richard Lamb, whom she married in 1954. The only child of Laura and Edmund Hansuld, she grew up on the Tavistock farm where her family has lived since 1862. Inheriting the farm before her children were teenagers, she operated it, recently in partnership with her son.
Sadly missed by son David Lamb (Mona Eichmann) of Tavistock, daughter Jennifer Lamb (Dwight Atkinson) of Vancouver, grandson Richard Lamb of Fergus, and granddaughter Heidi Lamb (Mitchell Thomas) of Waterloo. Remembered by sisters-in-law Jenny Wilson (Australia), and Hetty Lamb-Bayliss (New Zealand), and nine nieces and nephews.
Kathryn graduated with a Journalism degree from the University of Western Ontario. Hired in 1951 by The Kitchener-Waterloo Record newspaper, she became its longest continuously published columnist after 40 years of weekly Party Line columns about local people. For 28 years, she edited the weekly "Stamp News" column in The Record and Peterborough Examiner.
Serving on the boards of over 15 organizations, she was chairman of the Waterloo County Hall of Fame's board of governors, president of the Waterloo Historical Society and an editor of its annual volume. She loved sharing Waterloo Regional history in words and photos. Her high standards could intimidate budding historians, but she mentored many.
A Life Member of the Helena Feasby Women's Institute and the Kitchener-Waterloo Philatelic Society, she helped establish the K-W Garden Club, the K-W chapter of the Thyroid Foundation of Canada, the Pennsylvania German Folklore Society, and the Waterloo Regional Heritage Foundation.
Her dedicated community service was recognized with the 1981 Oktoberfest Woman of the Year for Culture, the 1983 Kitchener Award of Merit, the 1996 Outstanding Achievement Award from the Ontario Ministry of Citizenship, Culture and Recreation, and the 2003 Dr. Jean Steckle Award for Heritage Education. She was inducted into the Waterloo County Hall of Fame in 2001.
For over 50 years, she made an essential contribution to the philatelic mail-order business of her husband, Richard (Dick) Lamb, typing catalogues and accompanying him to international philatelic conventions to assist at bourse tables. She authored The Quiet Hobby: A History of Organized Philately in the Grand River Valley 1895 – 1985, published in 1985.
Kathryn lived most of her married life on a bucolic half-acre Bridgeport property, tending extensive flowerbeds and preserving produce from a huge vegetable garden. She made fudge with her son Dave, crafted marzipan fruit with her daughter Jenny, decorated gingerbread men with her grandson Richard and encouraged her granddaughter Heidi to play the piano. Her strong singing voice was heard in the Chordons choir and at Parkminster United Church where she was a founding member and archivist. Kathryn enjoyed fall fairs, CBC radio, musicals, hockey, the Blue Jays, powerful cars, solitaire, Scrabble, rose gardens, flower arranging, baking, and bird watching from her rocking chair.
Diminished by dementia diagnosed in 2007, she received compassionate care from Dr. Casey and the staff at Trinity Village Care Centre during her final eight years. Her brain tissue, donated to The Maritime Brain Tissue Bank, will aid dementia research. In memory of this clever capable woman, please accompany those who are on the dementia journey.
Jennifer Lamb for the Lamb family
Donald Alexander Hillman Fraser (1936-2020)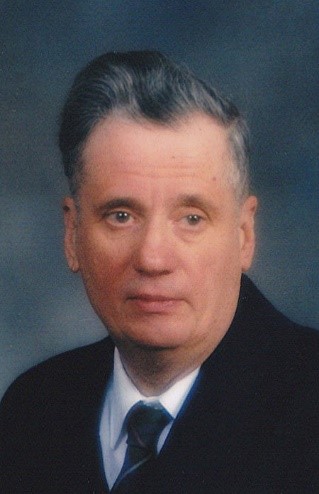 It is with great sadness that we announce the passing of Don at Victoria General Hospital in Winnipeg on 2 March 2020.
Don was predeceased by his parents John and Marjorie Fraser and by his first cousin James Fraser and James's spouse Marjorie in 2019. He is survived by his first cousins William Fraser (Shirley) Winnipeg, Robert Miller (Margaret Ann) C. Owatona, Minnesota, Patricia Barne (Tom) Victoria B.C; his cousins once removed Elizabeth (Ron), Heather, Susan, Dr. David Fraser (Joanne), and James Fraser (Darcie); and cousins twice removed Darren, Megan, Jayden, Keelan , Tylie, Kaylee, and Tavis.
Don was employed as a Draughtsperson by the Federal Government of Canada.
Don's interests and associations included: Scouts and then Rovers; he later volunteered at Shriners Hospital in Scouting activities and travel; church choirs, starting with boys' choirs and later adult choirs and the Winnipeg Male Chorus; and the Masonic Lodge. His philatelic society memberships led to long term interest in travel to different stamp shows across Canada and overseas to Europe, especially to England and Scotland as well as Sweden. He made a lifetime trip to the Canadian Centennial celebration at Expo '67 in Montreal with Bill and Lorne.
Philately, a lifelong interest for Don, was rewarding both in friendships and awards. He was the membership secretary for the Winnipeg Philatelic Society from the early 1990s to 2009, and served on the WPS exhibition committee during the same time period. Don was a long-time member of the British North America Philatelic Society (BNAPS). At BNAPEX 2013 in Charlottetown, PEI, Don received a Gold medal and the Herbert L. McNaught One Frame Exhibit Award for his exhibit, Early Mail Routes: Red River Settlement, Fort Garry, Winnipeg 1849 – 1874. At BNAPEX 2018 in Quebec City, Quebec, he received the BNAPS Order of the Beaver (OTB) Lifetime Achievement Award in recognition of his many contributions to the study of British North America philately. These included two books in the BNAPS exhibit series, many articles in philatelic journals, an ongoing study of Small Queens date and time markings and contributions to two major books, The Squared Circles of Canada by Glenn Hansen and The Large Queens of Canada by H. W. Duckworth and Henry Duckworth. Don was also a regional judge at stamp shows in the early 2000s.
Don had a great love for his neighbourhood on Warsaw Crescent and his neighbours. He loved his house and garden and flowers, and it was difficult for him to leave this part of his life to move to Dakota House in 2017. Dakota House became a new neighbourhood for Don. He enjoyed the meals and fellowship, and carried on with a small garden outside his back door. Here Don felt that he was on a vacation because of the meals and entertainment provided and the singing groups and outings.
The Fraser family, with additional information provided by Mike Street
Major (Rtd.) Richard K. Malott, CD, FRPSC, FRPSL (1927-2020)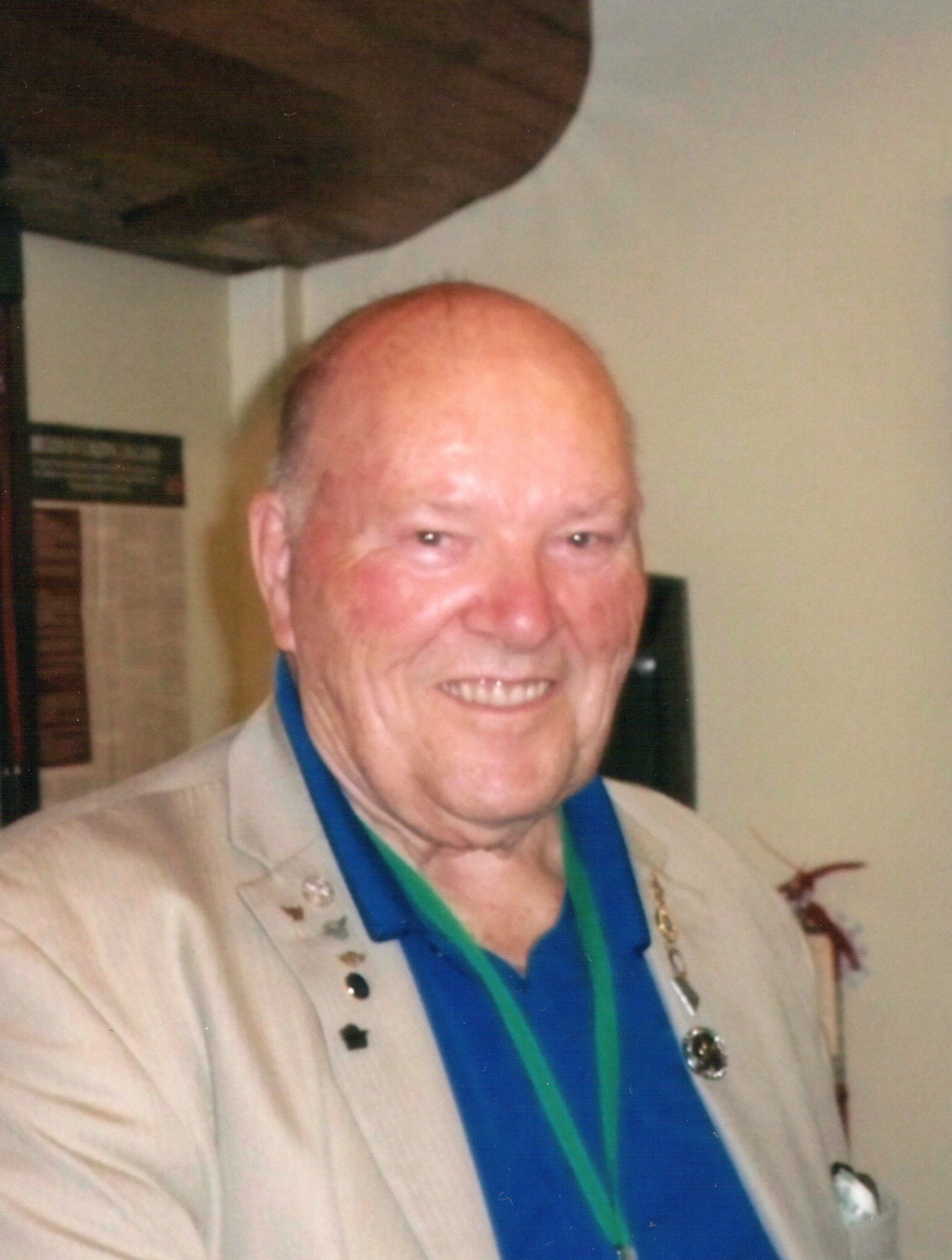 Dick Malott was the foremost Canadian aerophilatelist for many years. He was also the oldest member of the Philatelic Specialists Society of Canada, having joined in 1969, and was made an Honorary Member of the PSSC in 2013.
Like most collectors, Dick began collecting when he was a child, and continued during high school and at university. He was President of the Dr. Jeffries Stamp Club at the University of Western Ontario in London, ON, where he graduated with an Honours History Degree.
After university, Dick joined the RCAF. He trained as a Navigator, and flew in Lancasters with 404 Maritime Reconnaissance Squadron based in Greenwood, Nova Scotia. Then he converted to the Logistics Branch, and was transferred to RCAF Station Aylmer in Ontario, where he served for the next six years.
Dick's interest in aerophilately began in the 1950s. Each year on Air Force Day, the Stamp Club Chapter of the RPSC at RCAF Station Aylmer held a big stamp show. Dick said that at one of these shows a local collector, the late Maurice Hewitt, "displayed a fabulous collection of Canadian airmail First Flight Covers, most of which were signed in black India ink by the pilots who flew the flights. Needless to say I was hooked." Dick then began collecting and researching Canadian air mail, the pilots and the aircraft.
In 1960, Dick was transferred overseas and served with NATO. He spent two years at 312 Air Material Base, Langar, England, and was then posted to the RCAF Air Weapons Unit, Deccimonammu, Sardinia. In Sardinia, he started collecting Canadian military postmarks, as all sorts of new cancellations were being developed due to bilingualism, and the fact that the AWU was on the crossroads for all the Canadian UN flights to Cyprus, Lebanon, Egypt, Pakistan, etc. Dick also obtained scarce UN postal markings. Dick knew the pilots: he got them fresh fruit for return flights, and they mailed covers for him.
Dick returned to Canada in 1964, spent a year in Ottawa, and then obtained a Master of Science Degree in Logistics and Computers at the United States Air Force Institute of Technology (AFIT) at Wright Patterson Air Force Base, Dayton, Ohio, USA.
Back in Ottawa after completing his degree, Dick started writing articles for the philatelic press to publicize the early flights. He also began producing covers to commemorate the anniversaries of significant air mail flights in Canada and First Flight Covers for new services at a time when the Canadian Post Office and the airlines were showing less and less interest in such covers. Around this time, Dick joined the RA Stamp Club in Ottawa. He also became a President of the Canadian Airmail Collectors Club, and an Assistant Editor of its newsletter.
In 1973, Dick was volunteered to go to Vietnam, where he was part of the Canadian Delegation of the International Commission of Control and Supervision (CANDEL ICCS) at the end of the Vietnam War. While there, he obtained hundreds of special military Vietnam cancels and Canadian postal markings. He was able to buy cigarettes at $1 a carton, and gave them to postal clerks who happily cooperated in the production of his covers.
In 1974, he retired from the Canadian Forces, and assumed the position of the Chief Curator of Collections at the Canadian War Museum, Ottawa, Ontario. As part of his retirement planning, Dick donated his research files and data, including correspondence with nearly 200 early pilots, to Library and Archives Canada.
After retiring from the military, Dick became involved in philatelic exhibiting - as an organizer, exhibitor, and judge. He started exhibiting internationally in 1980, and served as a Canadian Commissioner or Judge at over 20 FIP international stamp shows. Dick reckoned that by the time he stopped exhibiting, "I had been awarded 12 large and 5 small Gold FIP medals, as well as dozens from RPSC and American Air Mail Society (AAMS) exhibitions."
Dick was President of the Canadian Aerophilatelic Society from 1993 to 2008. During this period, he was Editor-in-Chief of The Air Mails of Canada and Newfoundland. The catalogue, published in 1997 by the American Air Mail Society, was worked on by 45 collectors over a 7 year period.
Dick served on the American Air Mail Society Awards Committee for 12 years, most of the time as Chairman of the group. He was presented with the AAMS George W. Angers Award for outstanding contribution to worldwide Aerophilately in l986, and elected to the Aerophilatelic Hall of Fame in 1996. He also received The Gus Lancaster Award of the Metropolitan Airmail Philatelic Society (MAPS) for "the Advancement of Aerophilately in the USA & Canada".
Dick was very involved with the Royal Philatelic Society of Canada. He was Canada's National Commissioner for CAPEX 96 in Toronto, and was the Canadian Commissioner to many international shows. He was elected a Fellow of the RPSC in 1986, and received the RPSC President's Medal, which honours individuals "for their outstanding contribution to the hobby" in 2005.
Dick was also elected a Foreign Associate Philatelic Member of the Royal Belgian Academy of Philately in 1986; elected a Fellow of the Royal Philatelic Society of London in 2005; presented with a BNAPS Lifetime Achievement Award in 2006; honoured as a Distinguished Philatelist at ORAPEX 2008; made a Fellow of the Canadian Aerophilatelic Society in 2009; and awarded a Golden F.I.S.A. (Fédération Internationale des Sociétés Aérophilatéliques) Pin "for his service and devotion to aero- and astrophilately" in 2009.
After Dick sold his collections, he continued his involvement with philately. He was an active Past President of the CAS, and continued to visit shows. He was a Judge at ORAPEX 2018, and a member of the ORAPEX Committee for 2019.
Many thanks to Dick for all you did for philately and aerophilately, and especially for the support, assistance and encouragement you gave to other philatelists.
Peter Currie Motson (1942-2020)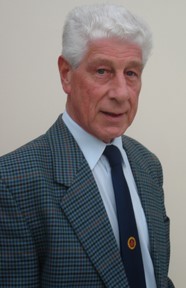 Peter Motson was an aircraft model maker at the age of eight. He was also a "schoolboy stamp collector", but his philatelic interests did not connect to aerophilately until after 1968 when he had left his first career, in the Fleet Air Arm of the Royal Navy, where he served for nine years as an aircraft engineer on carrier-borne "front line" squadrons. He later worked at the Westland Aircraft manufacturing company, making his knowledge of aircraft better than average. He was well read in the history of aviation as far back as the Wright brothers.
Although collecting material for his Newfoundland Airmail Stamps and Air Mail Flights: 1918-1949 exhibit first started in 1970, the acquisition of scarcer items was minimal until after the sale of his business interests in 2002. The exhibit was first shown in 2004 and attained a Large Vermeil award in London, England. His study of North Atlantic airmails was rewarded in 2005 with the British Aerophilatelic Federation "Medal for Research". In 2006, the exhibit won the coveted British Aero Philatelic Club Trophy in addition to a Gold medal.
At BNAPEX 2008 NOVAPEX in Halifax, Nova Scotia, the Newfoundland Airmail exhibit again received a Gold medal and the Meyerson Award for "Best Exhibit from a Province of Canada before Confederation", and was published as BNAPS Exhibit Series Book No. 54 in April 2009. Not content to rest on his laurels, Peter then began to upgrade the exhibit for presentation at the London 2010 International Exhibition. His efforts were rewarded when it received not only a Large Gold but also the Best of Class Award for Aerophilately. To progress from a national level Gold to the London 2010 International Best of Class Award was a major achievement.
After discovering some of E. R. Krippner's Newfoundland artistic Patriotic "Flag & Frame" covers, Peter became intrigued and decided to find out more about Krippner. His interest probably stemmed from a personal artistic bent and a love for calligraphy. A close philatelic friend, Colin Lewis, encouraged Peter to put together an exhibit in the form of a "Paper Trail" utilising Krippner's covers. This exhibit, Saxony to San Francisco, first received a Vermeil at BNAPEX 2010 at Victoria, British Columbia. After receiving two Large Vermeils at National level exhibitions in London, England, and Gotha, Germany, at BNAPEX 2015 at Niagara Falls it received a Gold and the Ed and Mickey Richardson Award for "Excellence in Presentation, Research, Innovativeness and Originality". Saxony to San Francisco was published by BNAPS as Krippner Covers North America in August 2019.
Peter was also a very active member of the Canadian Philatelic Society of Great Britain. He and his wife Mavis attended most CPS conventions and were the hosts of the 2013 convention in Plymouth, England. He also enjoyed playing golf. Sadly, after a brave fight against Motor Neuron Disease, Peter Motson passed away at The Royal Devon & Exeter Hospital on 20 January 2020. He is survived by Mavis and their sons, Trevor and Stuart.
Mike Street with notes from Peter Motson's biography in his BNAPS books
Kenneth A. Kershaw (1930-2019)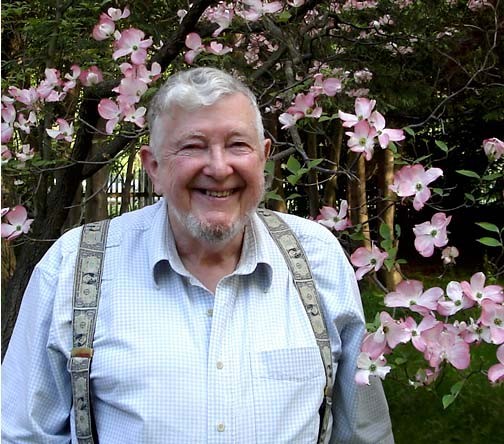 Ken Kershaw passed away on 30 December 2019 at age 89. He was born in Lancashire, England, and became fascinated by plants at an early age. He was adept with a x10 hand lens by age 15. He graduated from Manchester University with a B. Sc. degree in Botany in 1952. After military service, he went on to a Ph.D. degree working on pattern in vegetation, and was appointed lecturer in Plant Ecology at Imperial College London in 1957.
He was seconded to Ahmadu Bello University in northern Nigeria for two years, and on his return to Imperial College became heavily involved in computing and multivariate data analysis. He took part in a number of Imperial College expeditions and his research became involved with lichen ecology, particularly in alpine and arctic areas, in addition to his work on computer modelling and data analysis.
Ken obtained his D. Sc. in 1965 and was appointed Professor at McMaster University, Hamilton, in 1969. His research was then devoted heavily to the ecology of the Canadian low arctic and northern boreal forest areas, and in 1982 he was elected a fellow of the Royal Society of Canada. He is the author of several university texts. His passion for wild plants remained. Ken spent not only his early teens but the whole of his professional career botanising the world over, with a hand lens round his neck for the critical examination of the minute criteria so often vital for the identification of a species.
In his early retirement, Ken's attention and hand lens turned to contrasting minute criteria, those used to plate postage stamps, and shortly after published a four-volume revision of the 1898 Christmas Map Stamp. Subsequently the British North America Philatelic Society (BNAPS) took over distribution and reprinting of the Map Stamp volumes. Early in 2005, BNAPS published his plating study of the half cent Maple Leaf stamp. Since then BNAPS has published six of Ken's books in his Prince Edward Island plating series, an additional ten volumes on the Five Cents Beaver, Twelve and a Half Cents Yellow Green, the Seventeen Cents Blue, the Ten Cents Prince Consort, the Half Cent, One Cent, Two Cent and Three Cent Small Queens, and two volumes on The Lithographed One Cent Stamp of Newfoundland.
Ken saw plating simply as the "taxonomy of bits of paper", and after a lifetime of plant taxonomy found it a fairly straightforward and fascinating hobby. He is, and very likely will remain, the most-published author in the BNAPS library of philatelic books. Ken's enormous contributions to the philately of Canada and British North America will live long after him.
Mike Street with notes from Ken Kershaw's biography in his BNAPS books
John M. (Jack) Wallace, OTB, FRPSC, FRPSL (1921-2019)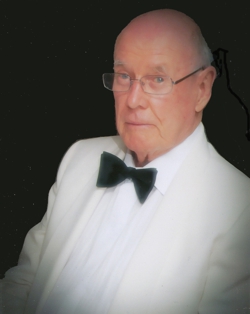 Jack Wallace, member of the British North America Philatelic Society since 1952, Order of the Beaver (2000), passed away in Victoria, BC, on 4 November 2019. He will be missed by many philatelic friends, especially in British Columbia, where Jack was born, educated and enjoyed his family.
A professional civil engineer, Jack worked all over British Columbia and the Yukon mapping and recording water resources. This established his love for travel, mainly by trains and ships, later shared with his wife Bev. Jack and his family enjoyed skiing on local mountains.
Jack was a lifelong collector of stamps and postal history, specializing in the Colonial period of the Crown Colonies of Vancouver Island and British Columbia. This philatelic enthusiasm was shared with his friend, the late Gerald E. Wellburn FRPSC, FRPSL, RDP, and their collaboration continued for nearly 40 years. One of their joint study projects was on the Numeral Cancellations assigned after 1859 to post offices in British Columbia. The book, The Stamps and Postal History of Vancouver Island and British Columbia - 1849-1871, published in 1987, was another shared project. A beautiful display of the Gerald Wellburn collection, the book was encouraged and edited by Jack Wallace. It and the BNAPS Exhibit Series book, British Columbia and Vancouver Island with BC Numeral Cancellations Supplement, (# 52, 2011), showing Jack's exhibits of BC and Vancouver Island, allow us to enjoy details of rarely seen philatelic material assembled and studied by Wellburn and Wallace.
Jack supported many philatelic organizations including the Royal Philatelic Society London (Fellow), Royal Philatelic Society of Canada (Fellow), Canadian Philatelic Society of Great Britain (CPS of GB), Postal History Society of Canada, and the 21 Club in Vancouver. He served on guiding Boards of both RPSC and BNAPS (1982-94). Jack was committed to attending philatelic society meetings - often with Bev, who joined BNAPS in 1987. They enjoyed over 25 BNAPS conventions, so perhaps their favorite was BNAPS. The "Wallace team" hosted the 1991 BNAPEX Convention in Vancouver with the Pacific Northwest Regional Group, and many friendships were forged with that group. Bev and Jack also attended many CPS of GB conventions.
Jack also exhibited his Gold Medal collection throughout Canada, the United States, New Zealand (1980, 1990) and the UK (London 1990, 2000). Jack's last exhibits, which included early airmail usages in British Columbia, were shown in Victoria in October 2019.
I will miss my friend Jack, but will remember his great enthusiasm and interest in history and philately, with its challenges and fun.
Peter Newroth, Victoria, BC
Robert A. Lee, OTB (1938-2019)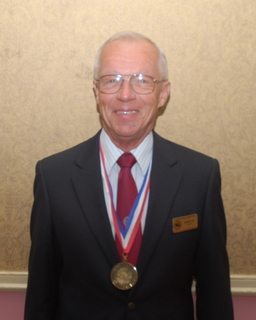 Robert Allen Lee was born 22 February 1938 in Saskatoon, SK, to Gordon and Elda Lee. After spending his early years in Saskatchewan, the family moved to Vancouver where they became one of the top men's clothiers in the lower mainland, Margetson Lee.
Bob married Sandra Davies in 1960. They had three children; Mark, Laura, and Craig, with whom they shared many wonderful family vacations and memories, some of the fondest being those at the Bar Q Guest Ranch and Disneyland. As the years passed, the family grew with the children marrying and having kids of their own, adding eight grandchildren into the clan that Bob and Sandra enjoyed visiting. When not with their grandkids, they often traveled throughout the world enjoying cruises domestically and abroad, preferring to spend winters in the warmer climates of California and Arizona.
After his start in the family business, Bob was extended an opportunity with a brokerage firm and soon became one of the youngest stockbrokers on the Vancouver Stock Exchange. He then moved his family to Vernon, BC, in 1978 to pursue his passion in stamps. He rapidly became one of the leading British North America philatelic authorities, hosting successful auctions until outgrowing his space and moving operations to Kelowna.
His auctions were noted for the offerings of specialty BNA material meticulously broken down into individual lots and for the many name collections featured over the years. He held 113 auctions between 1978 and his retirement in 2005. Bob also published several major philatelic books, including the 38-volume Proof Strikes of Canada by J. Paul Hughes, A Canadian Military Postal History Anthology assembled by the BNAPS Canadian Military Mail Study Group, the first two editions of the Catalogue of Canadian Duplex Cancellations, which he compiled, and the Canadian Precancel Album.
In Vernon, he also made a major contribution to youth philately, initiating contacts with schools and created an introductory stamp program to capture the interest of children. Stamp clubs were formed as a result, and Bob ran weekly meetings for seven years, until his move to Kelowna.
Bob was very involved in the activities of BNAPS. He was a Director from 1998 to 2000, First Vice President from 2000 to 2002, President from 2002 to 2004, and Treasurer from 2005 to 2010. He was inducted into the Order of the Beaver in 1997, and co-hosted the 1999 BNAPEX convention in Vernon, BC. He also established two BNAPS Study Groups, Duplex Cancellations and Roller Cancels, and edited their newsletters.
Bob was always an active member of any community he was a part of, generously giving of his time and expertise, earning a number of awards and accolades for his efforts. Over the years, he has been fondly remembered by many clubs and organizations including: Jaycees, Rotary, Vernon District Riding Club, British North America Philatelic Society, train clubs, HOAs and many others.
He was both an avid traveler and a train enthusiast, earned his pilot's license, and through his children's participation, was an active member of the Vernon equestrian community. Throughout his life, Bob enjoyed making a variety of wines that he happily shared with friends and family.
Bob passed away peacefully, surrounded by family and friends at Kelowna General Hospital on 7 June 2019. He is survived by his loving wife, Sandra Lee (née Davis); eldest son Mark (Kirsty) and their children Jesse, Nicolas, Hayley, Adrianna; daughter Laura (Renso) and their children Alexandra and Tyler; youngest son Craig (Kelly) and their children Lyndon and Madison. The family also wishes to thank Joanie for her kindness and friendship.
As per his wishes, no services will be held, and in lieu of flowers the family asks that a donation be made to the Alzheimer's Association.
Obituary by Mark Lee with additional notes by Leopold Beaudet and Mike Street
Edmund A. (Ed) Harris, OTB, FRPSC (1926-2019)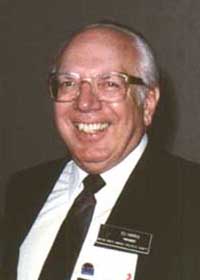 Edmund A. (Ed) Harris, CPA, OTB, FRPSC, of Calgary, AB, passed away on 26 April 2019 at the age of 93.
An Edmonton native, Ed was born 11 April 1926, and grew up in the Depression and war years. Active in Boy Scouts and Air Cadets, he interrupted his education to serve as an infantry signaller with the Seaforth Highlanders in late WWII.
Ed married Kay Dain in 1951, and together raised a family of four children: Bradley, Laurie, Malcolm and Murray.
Ed worked in the oil and gas industry. He earned qualifications as a professional accountant, and worked the next 30 years across Alberta and Manitoba as project coordinator and developer for Dome Petroleum and other oil and gas companies, completing several pipelines and gas plants.
Ed pursued his lifelong hobby, stamp collecting, becoming recognized internationally for his philatelic endeavours. His collections ranged across British North America themes, from classic Canadian stamps to modern, Western Canada postal history to the covers and cancels of the Calgary Stampede.
He felt most proud of his time leading the British North America Philatelic Society, to which he belonged for over 60 years. He served as Treasurer 1975-1982, a Director 1983-86, First Vice-President 1986, President 1987-88 and a member of the Finance Committee 1989-90.
Ed was elected to the BNAPS Order of the Beaver in 1987 and a Fellow of the Royal Philatelic Society of Canada in 1997, recognizing his service to philately in all communities in which he lived, in particular Edmonton, Flin Flon, MB, and Calgary. Both he and Kay enjoyed many years of travel and lifelong friendships from these associations.
Ed also enjoyed painting and printmaking and was an avid reader and historian. He loved camping trips in the mountains around Banff and Lake Louise.
Ed was predeceased by Kay in 2014 and his sister Dee, and is survived by sister Phyllis Ellis as well as children Brad (Liz Deeley), Laurie (Merle Woods), Malcolm (Barbara) and Murray (Corrine Fiesel), and grandchildren Graham and Kathryn Woods, Colm and Cael Harris, and Lachlan and Lance Harris-Fiesel.
Edited by Eldon Godfrey from the Calgary Herald obituary published on 8 May 2019
Richard M. Morris (1923-2018)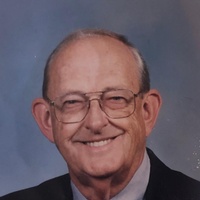 Richard M. Morris passed away peacefully at home on 14 December 2018. He is noted for his research on the 1911-1928 Admiral Issue and the colour and shades found on early Canada and U.S. stamps. His philatelic accomplishments include articles and books describing the results of his research and a Gold medal exhibit of the Admiral Issue.
Richard was the beloved husband of Marjorie (Miner) Morris to whom he was married for 67 years. He was born and raised in North Attleboro, MA. After graduating from high school in 1940, he went to work at Paye & Baker Manufacturing, a silversmith company in North Attleboro. Because he was the sole support of his widowed mother when the United States entered World War II, Richard was not drafted. Instead, he served the war effort as an industrial engineer at Spencer Thermostat Company in Attleboro, overseeing the manufacture of circuit breakers for military vehicles. He was admitted to Brown University in 1943, graduated in 1947, and entered the Episcopal Theological School in Cambridge, MA, in the fall of 1947, receiving his Masters of Divinity in 1950. It was during that time that he met Marjorie Miner, a student at the Newton-Wellesley School of Nursing. They were married during Christmastide in 1951 and moved to Belmont, MA, where he was serving All Saints Episcopal Church as their curate.
In 1952, St. Thomas Episcopal Church in North Syracuse, NY, called Richard to be their first rector. For the next 13 years, he pastored a vibrant congregation, taking it from mission to parish status, and becoming nationally recognized as one of the most effective youth ministry professionals in the Episcopal Church. All six of Richard's children were born during this time.
In 1965, Richard accepted the call to become the fifth rector of St. Peter's Episcopal Church in Lakewood, OH, a large suburban parish in the Cleveland area. During his 20-year ministry there, he shepherded the parish through the throes of the civil rights movement and the turmoil of the Vietnam War; introduced liturgical change and innovation; hired and mentored the parish's first female clergy person; facilitated adult education programs aimed at forming active lay leaders; and oversaw the construction of a large educational wing onto the church building.
Richard retired from parish ministry 1985, and moved to Pittsboro, NC. In his early retirement, he became a liturgical consultant to churches throughout the country, spent many hours outdoors in his garden or in the woods with his dog Jesse, and renewed his hobby as a stamp collector.
His philatelic research on relief breaks and shades of the U.S. 2¢ stamp of the Small Bank Note Issue of 1890 culminated in the publication in 2003 of the 40-page handbook, The Two Cent Stamp of the Small Bank Note Issue of 1890. Over a period of several years, he authored and published a series of guides on the colours and shades of early U.S. and Canadian stamps. He joined BNAPS in 1998 and was a Director from 2003 to 2006. He was also a member of the Philatelic Specialists Society of Canada. He disposed of his collection and retired from philately in 2015.
I first met Richard at BNAPEX 2001 in Ottawa where we both joined the Admiral Study Group. At the suggestion of Andy Ellwood, the Study Group Chairman, he wrote and published an introduction to the Admiral Issue that was distributed to the membership. Over the years, Richard and I exchanged a large number of emails mainly about Admiral stamps and in particular about his favourite, the 3¢ brown. Our emails ranged from identifying Marler's design types to our latest re-entry discoveries. Along the way, he wrote several articles for the Admiral Study Group newsletter, and put together an eight-frame exhibit that explained and displayed the Marler design types on every value. The exhibit won Gold and the APS Research award at Royal 2007 Royale in Toronto. BNAPS published an expanded version of the exhibit as The Admiral Issue of Canada in 2008.
Besides his wife, Richard is survived by his six children, twenty grandchildren, and eight great-grandchildren.
Leopold Beaudet, with material from Richard's obituary
William Ellis (Bill) Topping (1928-2017)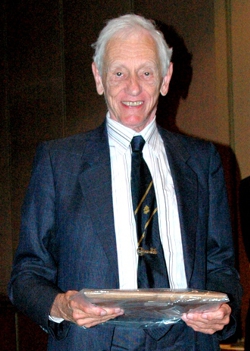 William Ellis (Bill) Topping, born 18 January 1928, passed away peacefully on 21 October 2017. Bill was born in Everett, Washington, USA, and moved to Vancouver, BC, at the age of four. He was predeceased by his wife of over 50 years, Marion, and his daughter, Patricia. He is survived by his sons, John and Robert (Diana), granddaughters Elizabeth and Rebecca, and many nieces and nephews all over Canada and the USA.
Bill paralleled a long career as a teacher in Vancouver and area high schools with equally dedicated study of and writing on the postal history of Western Canada. For many years, he and Marion led summer tours to China for students and other interested travelers. He also enjoyed researching genealogy and was an avid bird watcher.
He was a member of the Royal Philatelic Society of Canada (RPSC) and the Canadian Philatelic Society of Great Britain (CPSGB) for many years. He is a Fellow of the RPSC (1999) and served as President of the CPSGB in 2004-2005. Locally, Bill was active in the British Columbia Philatelic Society and the Pacific Northwest Regional Group of BNAPS.
Bill joined BNAPS in 1952 and was an Emeritus member. He served as Chairman of BNAPEX 1969 in Vancouver and as a member of the Jury at BNAPEX 2001 in Ottawa. He attended and exhibited at many BNAPS conventions, and served as Chairman/Editor for the British Colombia Postal History Study Group of BNAPS from its inception.
Among other interests, Bill formed and exhibited an award winning collection of Canadian semi-official airmails and wrote Yukon Airways and Exploration Company Limited: A Pioneer Air Mail Company. He also wrote the 14 page Introduction of the three editions of Canada Inkjet (Jet Spray) Cancels 1992-2002/5. Perhaps his best known works are the separate checklists, prepared and published with William G. Robinson, of the post offices of Alberta, British Columbia, Manitoba, Saskatchewan, and the early Territories of the west. Bill published a comprehensive listing of all western Canada post offices in operation from 1990 to 2006 in four booklets, one each for Alberta, British Colombia, Manitoba including Northern Canada, and Saskatchewan. In 2007, Bill received the BNAPS Order of the Beaver Lifetime Achievement Award. The photo at upper left was taken on that occasion.
Bill's contributions to the study of western Canada Postal History are invaluable. His dedication will be missed.
John George Beddows (1939-2017)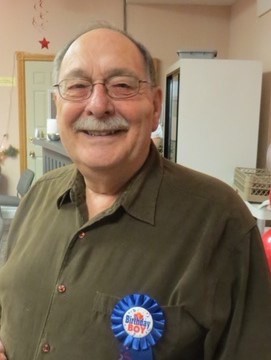 John Beddows passed away suddenly on Friday, 21 July 2017. Born 18 December 1939 in Winnipeg, John worked as a secondary school teacher in Sturgeon Falls before joining the teaching staff of the adult education program in North Bay. Later he became a respected stamp dealer.
He had booked a table for the Postal History Society of Canada Symposium in Hamilton on 20-23 July. Apparently John had been living with a rare heart condition. On Monday, 17 July, he had to be flown from North Bay to St. Michael's Hospital in Toronto, where he passed away on Friday.
John made BNAPEX 2011 in North Bay work. I remember walking down a corridor in the hotel to breakfast. John passed me going in the other direction, and as he passed he said, "That bus is going to kill me". He must have sorted it out as there were no reports of a tour being cancelled. On another occasion, I forgot my perforation gauge at John's table. When I approached his table the next morning, John, having seen me coming, had the gauge in his extended hand before I had a chance to say a word.
On learning that John had passed away Andy Ellwood wrote: "What a shock this is. I knew John very well as he was a mainstay in Eastern Ontario. He and Betty were always present at the RA stamp show (ORAPEX) as well as many other Ontario shows. He was known for his familiar approach to philately and was friendly and helpful to everyone. He will be missed."
I can only echo Andy. John will be missed.
Noel John Austin Hillson (1933–2017)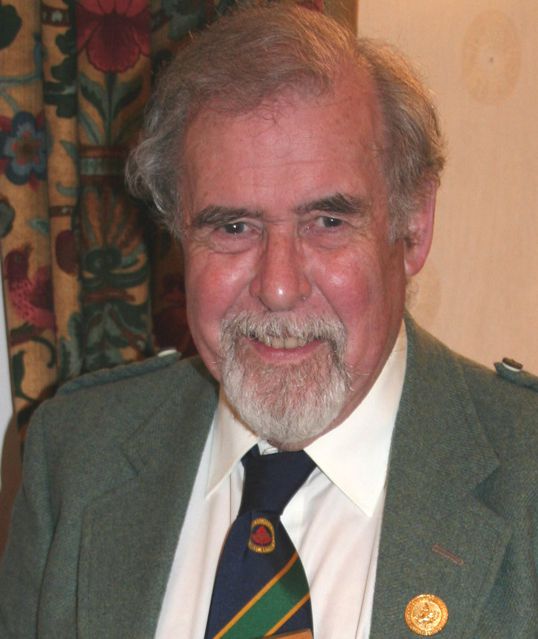 N.J.A. (John) Hillson passed away on 15 July 2017. John joined the Canadian Philatelic Society of Great Britain in 1955, less than ten years after its inception. He opted to take up the then available option of Life Membership, which probably established his reputation as a "canny Scot" from day one, given his 60+ years of membership. It may come as a surprise to some who knew him in later life that his first entry in the CPSofGB Yearbook listed his interest as the Admiral Issue. In truth, his early forays into BNA collecting were quite widespread and only the pressures of a growing family and mortgage caused him to sell large parts of his collection and decide to later specialize on the Small Queen issue. As he himself said, it looked straightforward and relatively inexpensive to collect – no doubt he proved himself wrong on both counts!
Over the years the name John Hillson and the CPSofGB have become synonymous to many. He served as President twice, and on two other occasions helped organize Annual Conventions. He has also served as Publicity Manager, Subscriptions Manager, Treasurer (twice) and Secretary at various times. Many of the articles you will find on the Society website were written by John. He set up and ran the Scotland and North of England Group meetings in Moffat for many years, and was a regular attendee right up to his death. He was made a Fellow of the Society in 1989 primarily for his extensive research work on the Small Queens issue, and in recent years was also made a Fellow of the Royal Philatelic Society of London. In 2006, John also received a Lifetime Achievement Award from the Order of the Beaver, the Fellowship of the British North America Philatelic Society.
He was a regular and prolific writer on his chosen subjects, producing several books on the Small Queens issue and many articles and letters in both Maple Leaves and BNA Topics. If you look in the Gibbons Catalogue at the listings for the Large and Small Queen issues, these are largely the work of one "John Hillson", and they remain the best such listing in the business.
He was also a regular contributor to Gibbons Stamp Monthly, writing a series of introductory articles on matters Canadian to help encourage new collectors into the BNA area. Fittingly, his last such contribution, to be published in the September 2017 issue of GSM, was about the Admiral Issue.
Whilst he will be remembered best for his Small Queens work and the several books he published on this subject, the last along with Ted Nixon, John also had excellent collections of King George VI Canada (in particular the Official overprints and their many forgeries) and early Great Britain Line Engraved stamps, which attendees at the Moffat meetings have enjoyed over the years.
John was, first and foremost, a stamp collector. Yes, there were a few covers in his collections but only to show the use the stamps were put to. Not for him the complexities of rates and routes and obscure destinations, and definitely not pre-stamp covers, which he rather disparagingly described to me once as "just so many squiggles"! He was also a collector who prized quality over quantity. It seemed that every stamp and cover in his collections was hand-picked and as perfect as one could find. So much so that even the postal historians amongst us could envy his material.
People did not always find John the easiest person to get on with. He did not suffer fools easily, and hated sloppy philatelic research. Many failed to grasp his very dry sense of humour, once described to me by a colleague as like sharing a joke with the Sahara! He once joked with me that he thought he had, at one time or another, upset every member of CPSofGB – he expressed this as a kind of "badge of honour". When I told him he had never upset me, he was taken aback and demanded to know why. I told him it was because I never took any notice of anything he said – and he roared with laughter! Underneath his rather gruff exterior, John was a kind and thoughtful man who was always willing to help others with their collections and share his research. Yes, he could be obstinate and argumentative (particularly on matters Small Queen) but as Ted Nixon has observed, the thing that made this character trait so annoying was that he was almost always right!
To say he will be missed is a massive understatement. He leaves a large gap in our chosen hobby that may take many years for others to fill.
We extend our sincere condolences to his daughter, Justine, and the rest of his family and friends.
Iain Stevenson (1950-2017)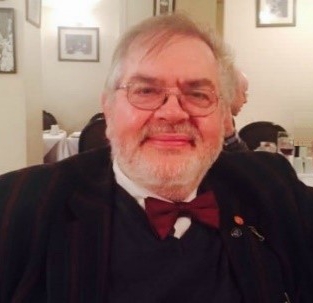 Iain Stevenson passed away suddenly on 1 March 2017 in Bishop's Stortford, England, after being involved in a collision with a car. Recently retired as Professor Emeritus in Publishing in the Department of Information Studies at University College London (UCL), Iain was also the author of Book Makers: British Publishing in the Twentieth Century.
Iain was very active in United Kingdom philately, and was an International Judge for postal stationery and postal history. As a result of having studied at Simon Fraser University in Burnaby, BC, he was very interested in Canadian subjects. At the Canadian Philatelic Society of Great Britain convention in 2009, Iain showed his history of the Canadian Pacific Railway as told by CPR Railway View Cards, company correspondence and postal memorabilia. At BNAPEX 2012 CALTAPEX in Calgary he received a Silver medal and the Order of the Beaver Novice Award for his exhibit Vancouver Island: Explorations in Social Philately.
His other Canadian collecting interests included the postal history of British Columbia and Vancouver Island from the Wells Fargo period onwards, a Gold Medal level collection of Electric Light/Gas/Weights & Measures Revenue stamps, and British Columbia Revenues.
He will be missed by his many philatelic and academic friends and colleagues.
Dave Armitage and Mike Street
Norris Robert "Bob" Dyer, OTB (1935–2017)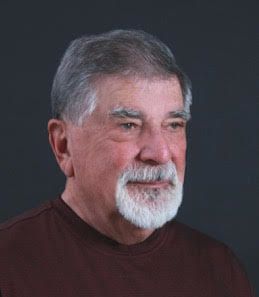 Bob Dyer passed away unexpectedly at his home in Petaluma, California, on Monday, 3 April 2017. A member of BNAPS since 1994, he was active in all major areas of BNAPS activities as a writer, exhibitor, Newfoundland Study Group Chairman and newsletter editor, and Director, Vice-President and President of the Society.
Bob was born in Portland, Maine, in 1935, and lived there until the family moved to California in 1952. He attended San Diego State College, graduating in 1958, then joined the United States Air Force and served as an active duty officer from 1958-1962. While touring in Europe, he met his wife, Brigitte (Schneider), whom he married in 1964.
After serving with the Air Force, Bob joined the State Compensation Insurance Fund in 1965, and worked his way up to State Contract Services Manager with a staff of over 500 employees. While employed, he attended the University of California San Francisco, earning a Master's degree in Rehabilitation Administration in 1979. Bob officially retired in 1997, after working for 32 years.
Bob and his family moved to Petaluma in 1975. After his retirement, his passion for wildlife, nature photography, writing, stamp collecting, and education all came together. In his later years, he spent much of his energy supporting the Petaluma Wetlands Alliance. In 2008, he was awarded the designation of "unofficial Mayor of Shollenberger Park", where he acted as a senior docent leading tours and educating children about the wildlife in the area. Bob was also an active, award-winning member of the Madrone Audubon Society since 1998, and contributed photos, essays, and presentations about the birds and animals of the Petaluma wetlands. As a senior docent, he trained other docents and led tours for thousands of park visitors over two decades. He also wrote a section in the book Celebrating Petaluma published in 2007.
In December 2000, Bob became Chairman of the Newfoundland Study Group and Editor of the Newfie Newsletter, for which he received the John S. Siverts award in 2004, 2010 and 2012. He compiled and edited the 'Exhibit Awards Won by BNAPS Members' on the BNAPS website from 2001 to 2014, and was Coordinator of the BNAPS Youth Program from 2005 to 2013. Bob served as a Director of BNAPS from 2006-2010, First Vice-President from 2010-2012 and President from 2012-2014. Illness cut back his activities in 2013 and 2014, but he and Brigitte attended BNAPEX 2015 Niagara Falls and BNAPEX 2016 Fredericton. Bob was elected a member of the Order of the Beaver in 2008.
Over a period of twenty-five years, Bob published almost 40 articles on Newfoundland philately in BNA Topics and many more in the Newfie Newsletter, as well as in The American Philatelist. He was the author of BNAPS Exhibit Series Volume 19: Postal Shortages and Surcharged Issues of Newfoundland. In addition to many Gold and Vermeil awards and two Meyerson Awards at BNAPEXes, Bob received an International Gold at Washington 2006 for his multi-frame 'Postal Shortages and Surcharged Issues of Newfoundland', the Prix d'Honneur at the APS AmeriStamp Expo 2004 Single Frame Champion of Champions for 'Newfoundland's 1897 Postal Shortage'; and Gold and the 2004 BALPEX Grand Award for 'Newfoundland's 1920 Postal Shortage' (single frame). Bob was very pleased to receive a Large Gold for his single-frame exhibit 'Shenanigans at the Newfoundland General Post Office 1889-1900' at AmeriStamp Expo 2017 in Reno, NV, just a month before his death. He served as the Internet contact for the Redwood Empire Collectors Club in Petaluma, CA, was Resident Philatelist for the Vickers Vimy Atlantic team, which in 2005 recreated the 1919 Alcock & Brown Transatlantic Flight, and was an active supporter of the American Philatelic Society, the Council of Northern California Philatelic Societies (Norcal) and the Federated Philatelic Clubs of Southern California (SESCAL).
Bob is survived by Brigitte, their two sons and a granddaughter, a brother and sister, and many close friends within and without BNAPS.
The Dyer Family, with additions by Mike Street
Arthur A. Klass, OTB (1941-2016)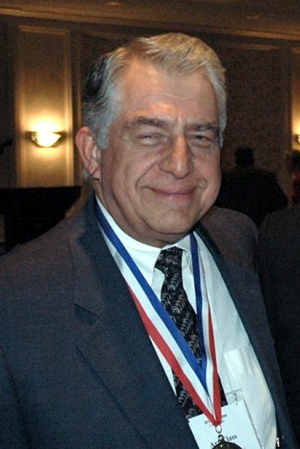 Art Klass, a long time BNAPS member, died on 23 December 2016 at his home in Parkersburg, West Virginia, with his family around him. He is survived by Judy Hawes, his partner for over 25 years, and his three children and eight grandchildren.
Art spent his early years in Queens, New York. After service in the United States Navy, Art began his career at the Federal Reserve Bank in New York, later moving to the Bureau of the Public Debt in Parkersburg, where he rose to serve as an Assistant Commissioner, supervising US Savings Bonds.
We met at the Staten Island Philatelic Society around 1965 and remained close friends for the next 50+ years. He joined BNAPS in the late 1980s, attending his first BNAPEX in 1988 at Virginia Beach, and subsequently attending conventions through 2014 in Baltimore.
The many convention locales provided a group of us – Art and Judy, Jean and I, Charlie Livermore and Jane, Robert Lemire, and Earle and Audrey Covert – the opportunity to tour the countryside from British Columbia to Newfoundland, sharing many adventures. Most of our group also made the various long drives each March to Cleveland for the Garfield-Perry national stamp show.
Art served as the BNAPS Treasurer from 1991-1994, and as our Chairman of the Board from 2000-2008. He was inducted into the Order of the Beaver in 2000.
Canadian and Newfoundland postal stationery were his primary BNA philatelic interests. He authored handbooks on Christmas Seal ads on Canadian postal stationery cards, on the privately rouletted Canadian Pacific Railway postal stationery cards, and a shorter monograph on the 1¢ George VI Goodrich private order cards. He had extensive postal stationery collections of other countries as well.
In 2008 Art was diagnosed with a brain tumor, with a realistic prognosis of only a few months to live. He beat all the odds for the next eight years, continuing to enjoy life and even attending BNAPEXes for another six years. We are infinitely grateful for his fortitude in face of this adversity, and for the many additional years of friendship it allowed us.
Art had many friends and admirers in BNAPS, and was known for his easy manner and good humor. For many of us, it will never be quite the same without him. As Bill Rockett said to me shortly before his own death from cancer, "We've had a lot of fun, haven't we?"
On behalf of the Society, Art, thank you for your many years of friendship and service, as well as a lot of fun.
Audrey May Covert (1937-2016)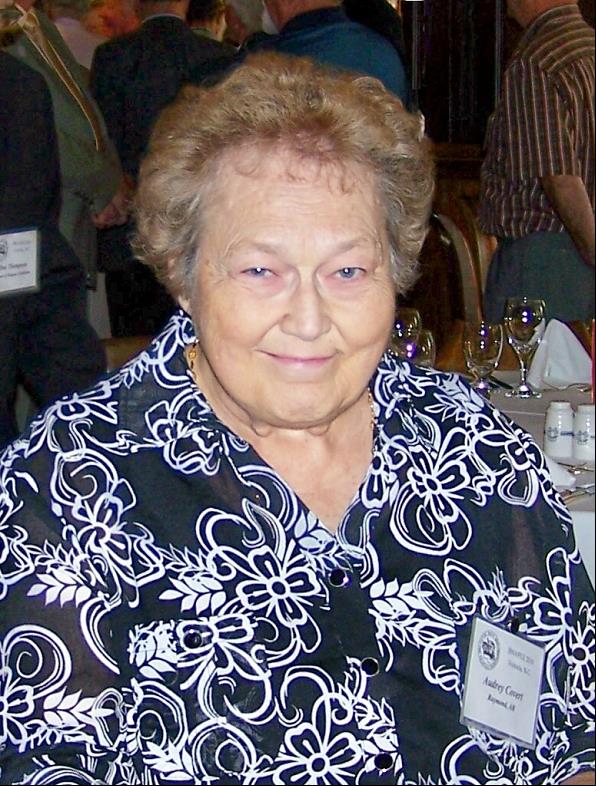 It is with great sadness that we report the passing of Audrey Covert, beloved wife of Earle Covert, on 12 July 2016. She was well-known to any member who has been to BNAPEXes across the years, as she attended almost every convention from the time Earle joined in 1971 - until these last few years when travel became too difficult - making friends, helping where needed, and forever full of the energy and love which she embodied.
Audrey was a full member of BNAPS since 1983, following Earle into membership. Perhaps not a philatelist in the normal sense, she felt it was the least she could do, as her skills were used not just for sitting at registration tables but for secretarial assistance as well. When Earle was Secretary of BNAPS and bought his first personal computer, Audrey helped him put the membership list into a spreadsheet database. She was also the proofreader for BNA PortraitS for some time during its existence.
Bill knew Audrey first – having met her over the telephone – and it took several calls before he actually got to speak to Earle, a busy doctor at the time. Since then, our paths have paralleled for the last 45 years, with wonderful reunions at BNAPEXes all over both Canada and the United States, visits from the Coverts to our house, and our own trips to Hay River, NWT, to Calgary, and to Raymond, Alberta. As the years went on, each BNAPEX was preceded or followed by a week or ten days exploring, with the Coverts and some other close friends, the country in the vicinity of the show, so our memories of Audrey go from Newfoundland to San Francisco, from McAllen, Texas, & Reynosa, Mexico, to Edmonton, from Halifax to Spokane. We watched each other's families grow into adulthood, and then produce a new generation.
Audrey's interests were eclectic. She collected hospital post cards from across Canada, which reflected her training as a nurse (that same training she put to good use in Hay River). Before the hospital in Hay River had a Lab Technician, she cross-matched blood. Audrey was responsible for organizing the setup of Woodland Manor - a Senior Citizen Care Home - and chaired the Board until the Coverts left the Territories. Her hobbies included collections of many things – owl figurines in particular come to mind. A very special hobby was bird-watching – something she was able to do even this last year, when Earle would take her out on day trips. She loved travel, and was particularly sad not to come to BNAPEX 2013 CHARLOTTETOWN – the first convention she had missed in many years - because it meant missing not only old friends, but also family in New Brunswick. She loved making Christmas pajamas for her grandchildren, and baking and canning.
She was also deeply religious, a member of the Pentecostal Church, where for 30 years she played the organ. In Lethbridge, near Raymond where the Coverts have lived since 1999, she was active in the Victory Church until March 2015, when she moved into the Good Samaritan Home in McGrath, AB.
Audrey is survived by her husband, Earle Leslie Covert; her two children, Lawrence Leslie Covert (Monique) and Cindy Gayle Esau (Robin); her grandchildren, Orrin Andrew Esau (Kaio), Dallas Leslie Covert (Tina), Tyrell Derek Esau (Ceara), Nakyta Mei Stapley (James), Natasha Lorren Covert, Makayla Yvette Covert, Porscha Pascalle Covert; and a great grandson, Christopher Stapley. She is also survived by her brother Everett Kirkpatrick (Bonnie), her sisters Elaine Wooden (Lonne) and Gail Armitage (Bob). A Memorial Service celebrating her life was held in Lethbridge on 16 July 2016. In lieu of flowers, Audrey requested donations for Bibles to the Gideons International in Canada, of which she was a member. The Gideons' local contact is John Reghier 403-328-7145, or http://www.gideons.ca/donate/.
Audrey, you enriched our lives. We will miss you.
Kenneth V. Ellison, OTB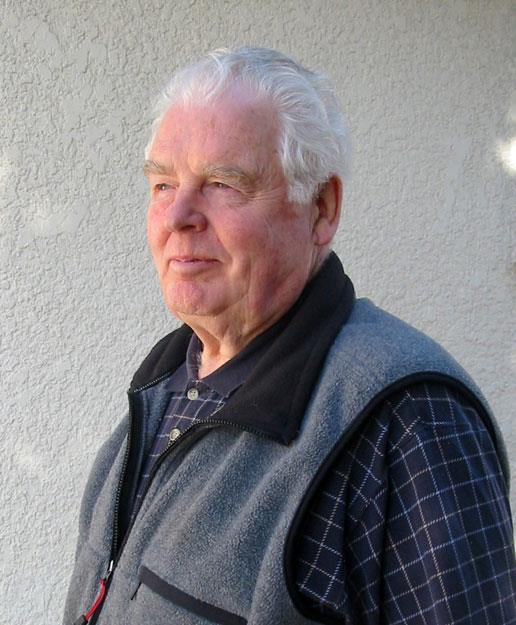 Ken Ellison died peacefully at his home in Vernon, BC, on 21 June 2016. Born in Vernon to Vernon and Mabel Ellison, Ken was the last surviving grandchild of Vernon pioneers Price and Sophie Ellison. He grew up in Oyama, BC, where he attended school through grade 12. During WWII, Ken served with the RCNVR as a Seaman. In 1949, he received a BSc in Agriculture from the University of British Columbia. He returned to Oyama in 1954 where he operated the family ranch and orchards.
Ken was very interested in the postal history of Canada and the history of British Columbia and the North Okanagan. He was a life member of the Okanagan Historical Society and volunteered tirelessly at the Vernon Museum. He is survived by four children and two grandchildren.
An interest in the postal history of British Columbia brought Ken into BNAPS in May 1963. One of the founders of the Canadian Military Mail Study Group in 1973, Ken became Editor of the Group's newsletter in 1983, and held the post until 1992. A Director of BNAPS from 1991 to 1998, Ken also served as Chairman of the Publications Committee from 1997 to 2000. In that role, he was the driving force behind the "BNAPS Exhibit Series" of books, which saw its 91st volume published in June 2016. He was the author of four BNAPS books:
Force 'C' - The Canadian Army's Hong Kong Story 1941-1945 (Exhibit Series # 8, 1998)
Japanese Internment in Canada 1941 – 1946 - A Postal History (Exhibit Series # 39, 2006)
British Columbia Agricultural Exhibitions (2003)
British Columbia Hotel Covers, 1880 to 1920 (2004)
He also wrote over 20 articles on the subjects of the last two books for BNA Topics.
As a Committee Member of the Greater Vernon Museum & Archives, Ken wrote several books: Vernon: An Illustrated History (1967); Valley of Dreams: a pictorial history of Vernon and district (1992); Price Ellison, A Short History of an Okanagan Valley Pioneer (1988); Irrigation is King! A Century of Water in Oyama, British Columbia 1892-2000 (2000); Schofield photography in the North Okanagan: Harold Uttley Schofield, 1910-1912 (2007). He also wrote an Ellison family pictorial history, A Family Album, in 2001.
In recognition of his many contributions to BNAPS, Ken was elected to the Order of the Beaver in 1995. A quiet, soft-spoken man, he will be missed by his many friends in Canadian philately.
Mike Street, with assistance from the Ellison family
Hendrik Burgers (1944-2015)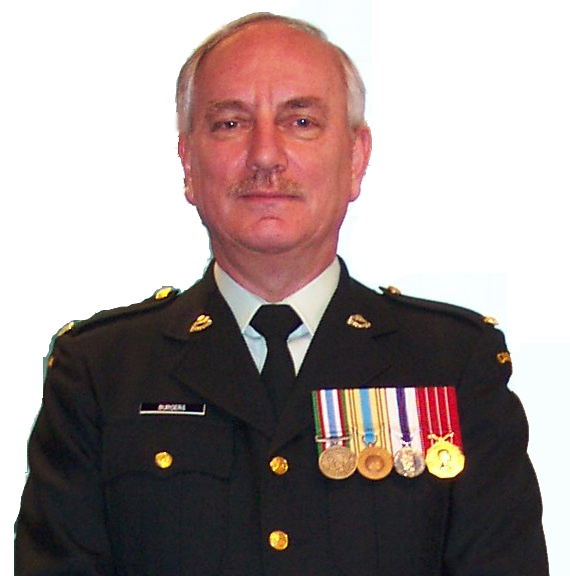 BURGERS, Hendrik "Henk" (Retired Captain RCE) - Passed away peacefully, surrounded by family, on Monday, 25 May 2015, at the age of 71. Henk was a Renaissance man: an officer, a successful entrepreneur, a brilliant linguist, an award winning philatelist and an avid gardener. Loving husband of Helen for nearly 40 years. Beloved father of Paul, Nicole Hepworth (Jim), Sharon Steinberg (Mike Wadham) and Abigail Steinberg (Adam Edwards). Proud grandfather of Anthony, Patrick and Sara. He will also be missed by his mother Mina, sisters Marianne Brown (Hugh), Diesje Henderson (Bob), brother Ed (Barb), nieces, nephews, cousins and other family members. Predeceased by his father Evert.
Henk's parents immigrated to Canada from Velp, Netherlands, with their four children in 1960. Two years later Henk joined the Royal Canadian Engineers Regiment and began a career that saw him posted to, among other places: Lahr, Germany; Cairo, Egypt; Alert, NWT; Chicoutimi, QC; North Bay/Thunder Bay, ON; Chilliwack, BC; and Ottawa, ON, where he ended his 20-year military career as a Captain.
After retirement from the Army, Henk, who was fluent in five languages, started a very successful translation business which he continued until 2001. Henk and Helen moved to Niagara-on-the-Lake, ON, in 2002, and he finally took full retirement in 2014.
Henk, a member of several philatelic groups, joined BNAPS in 1978. In 1992-94 he was Editor of the Newsletter of the Canadian Military Mail Study Group, and at his passing was chairman of the group. He started exhibiting his "Canadians in Russia: The Last Contingent of WWI" at Royal/Royale 2004 in Halifax, Nova Scotia, where it received Gold. After improving the exhibit, he showed it again at BNAPEX 2009 SEAWAYPEX in Kingston, ON, where it received Gold and the Sam Nickle Award for the best Military Mail exhibit. After further improvements, at BNAPEX 2011 in North Bay, ON, the exhibit won Gold, the Horace W. Harrison Grand Award, and the Sam Nickle Award for the second time. At BNAPEX 2012 in Calgary, AB, Henk's second exhibit, "Canadians in World War I: The First Contingent" won Gold and his third Sam Nickle Award.
Henk also found time to prepare several articles for BNA Topics and received the E.R. (Ritch) Toop Award for the best article, book or other publication on Canadian Military Mail in 2010. Henk's philatelic friends will miss his ready smile and pleasant personality.
The Burgers family with additions by Mike Street
Beverlie Patricia Clark, BA, FRPSC (1927-2014)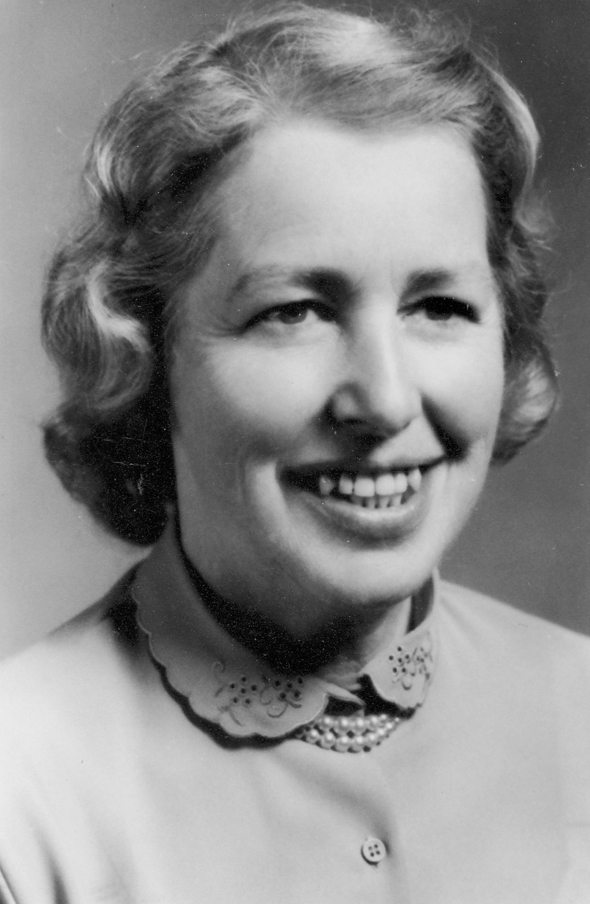 Bev or Beverlie Clark (née Arbuthnot) was born in Winnipeg, MB, on April 5, 1927, and passed away in that city on August 26, 2014. Her husband Stuart who, like her, was heavily involved in philately and its organization, predeceased her on July 4, 1993. She is survived by four generations of nephews and nieces. She attended St. Mary's Academy and College.
She was a life member of The Royal Philatelic Society of Canada (RPSC) since 1973, and was elected a Fellow in 1985. She was elected a Director of The RPSC in 1978 and was re-elected for 20 years until her retirement from the Board of Directors in 1998. In 1981, at the 53rd convention in Dorval, QC, she was elected by her fellow directors as President of The RPSC, a position she held until the 57th convention in Toronto in 1985. She and her husband co-chaired three RPSC conventions in Winnipeg in 1970, 1974 and 1988.
In 1983, Bev was the General Chairperson of the British North America Philatelic Society convention, also held in Winnipeg. She was a long-time officer, President and Exhibition Chairperson for the Winnipeg Philatelic Society (WPS). From 1980 to 1985, during her terms as Vice-President and President of The RPSC, she also served as an ex-officio Director on the Board of the Vincent Graves Greene Philatelic Research Foundation.
She started her first collection as a youngster and collected the stamps and postal history of British North America and Great Britain. Her specialty was the 1898 Imperial Penny Postage or Map stamp. She exhibited extensively and was a national judge at more than 30 exhibitions across the country and served on the jury of CANADA 82, the first International Youth Exhibition held in Canada.
Mrs. Clark contributed many articles to The Canadian Philatelist (CP) and The Buffalo, the organ of the WPS. For years she wrote concise biographies of other Fellows of The RPSC in The CP.
By Charles JG Verge
Reprinted with permission from The Canadian Philatelist
Derek Hayter (1926-2014)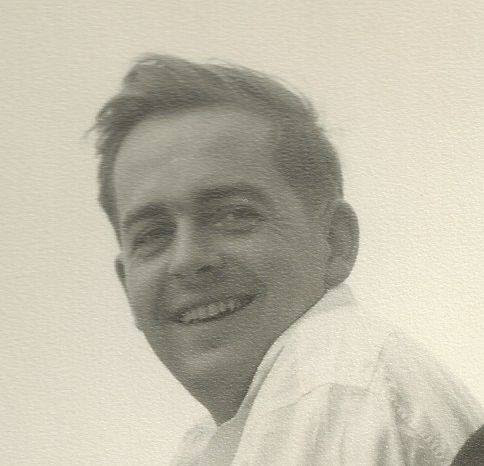 Derek (Douglas) Hayter passed away on 27 March 2014, age 87. Derek was born in Oxford, England, where his parents ran the Clarendon Hotel. The family later moved to Chester, taking on the Blossoms Hotel. After graduating from the Liverpool College of Art, now Liverpool University, Derek designed and painted the large sign hanging outside Blossoms Hotel, depicting St Lawrence, patron Saint of hoteliers. It was a considerable work of art; sadly, the present owners have re-painted the sign obliterating the original work.
For several years after moving to London, Derek worked for the Iraq Petroleum Company as a public relations officer, mounting exhibits in Baghdad and Cairo and several Arab countries. At this stage of his life, he got into writing and editing. Due to the sequestration of the company, Derek temporarily moved to a large public relations agency. In 1968 he and his wife Carol moved to Canada, living in Montreal for eighteen months where Derek had been appointed editor of an Alcan Aluminum Company magazine.
Derek's interest in stamps developed in the 1940s, when he built up a collection of mint King George VI stamps of Great Britain. He lost interest after the release of the Silver Wedding high values in 1948 and abandoned stamp collecting until he moved to Canada. His wife actually revived his interest in stamps when, as a surprise birthday gift in 1969, she bought him a mint set of the Canada Scroll issue of 1928-1929. At this time he also met John Linder, who further developed Derek's particular fascination with the 1929 50-cent Bluenose stamp.
In the spring of 1970 Derek was offered and accepted a position with Shell Canada in Toronto, feeling more comfortable back in the oil industry that he had known for so long. At that time there were many helpful people with whom to discuss the Bluenose. It was not long before Derek and his wife were actively buying every variety they could find, from imperforates to blocks, and constantly searching for the "the man in the mast" variety. They attended almost all the numerous auctions of Jim Sissons and Bill Maresch in Toronto, and were in constant touch with specialists such as George Wegg and Art Leggett. Auctions in New York, London, Ontario and other cities were not ignored in a somewhat excited determination by both of them to find every version of the stamp and details about the designer.
Derek spent many hours talking stamps with philatelists such as Vinnie Greene, Jim Hennok, Dick Lamb, Stan Lum, Harry Sutherland, John Talman and others. In 1976 he became editor of BNA Topics, a position he held for five years. Besides being a member of BNAPS, Derek also belonged to the Royal Philatelic Society of Canada, The Royal Philatelic Society (London), Philatelic Specialists Society of Canada, Toronto Stamp Collectors Club, North Toronto Stamp Collectors Club, American Philatelic Society and the Essay-Proof Society. After Vinnie Greene's passing in 1988, Derek wrote a three-part article featuring Vinnie's reminiscences about his years in Canadian philately and many of the prominent philatelists he had known.
In the early 1980s Shell Canada decided to move their head office to Calgary but Derek, after winning several awards for design with the International Association of Business Communicators (IABC) for the Shell magazine, Sphere, decided to take early retirement. Sadly, other than a little freelance writing, his creative life dwindled. He did however, remain an avid reader and loved music, in particular that of Mahler and Bruckner. Philatelically, in recent years he was quite interested in the Canadian imperforates of the 1920s and 30s, and in 2010 helped Neil Donen with information for the latter's two-part article in BNA Topics.
Derek is survived by his daughters Olivia (Anna) and Sarah, his grandson Kurtis, brother Brian (Chester), sister Joan (Connecticut), nephews and nieces and ex-wife Carol.
The Hayter family and Carol Williams, with additions by Ron Majors and Mike Street.
Clinton Adam Phillips, OTB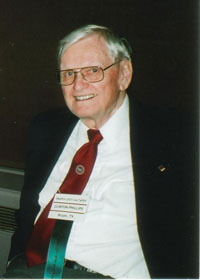 Clinton Adam Phillips, who died in College Station, TX, on 16 August 2013 at age 88, was born in Easton, Massachusetts, graduating from high school and entering the US Army Air Corps in 1943. He served as a gunnery instructor until his discharge in 1946. He then took a BA from Baldwin Wallace College and remained as an instructor there. He continued his education, completing a PhD in Economics from Vanderbilt in 1956. While there he met and married Judy Elizabeth Herbert in 1953; they remained together until Judy's death in 2009. Clint taught at the University of Tennessee, then Tulane University in New Orleans, serving for a time as Dean of the School of Business. Clint and Judy raised their two children, Lauralee and Edward, in that city until moving to Texas A&M University in 1967, where they remained until retirement in 1994. Clint served as Department Head of Finance, interim Dean of the College of Business, and then as the first Dean of Faculties and Associate Provost at TAMU. He was instrumental in establishing the Faculty Senate, as well as numerous other programs for faculty. Clint also was very active in his community, serving on numerous boards as well as in several service organizations.
Clint enjoyed a long philatelic life. He was an early member of the Prairie Beaver chapter of BNAPS from the mid-1970s onward until incapacitation. He helped put on the 1980 BNAPEX in McAllen, the 1989 BNAPEX in Galveston, and 1996 BNAPEX in Fort Worth. Clint served as the BNAPS Librarian in the 1980s until its closure. He also served on the Board of Directors of BNAPS. His efforts on behalf of the society were recognized in 2001, when he was elected to the Order of the Beaver.
Clint's philatelic interests centered on Canada Small Queens, for which he put together several excellent collections and exhibits, including a first class fancy cancel assemblage. He exhibited both at BNAPS and at APS shows.
Clint was a gentleman of the first order, even-tempered, sound in judgment, and invariably polite at all occasions. His later cognitive impairment never interfered with a pleasant demeanor and delight in visitors. Another of the greatest generation has passed.
John S. (Jack) Gordon, OTB (1931-2013)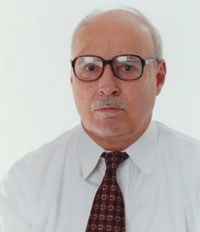 John S. (Jack) Gordon, OTB, passed away on Tuesday, 21 May 2013.
A lifelong collector, Jack joined BNAPS on 15 May 1953 while studying at Cornell. It was Ed Richardson - still in Ithaca at the time - who brought him into the Society. Aviation history was one of Jack's early interests; from 1954 though 1965, he authored a number of BNA Topics articles on Trans-Canada Airline flights.
Although continuing to collect, he was diverted for a time by other interests, but returned to BNA philately with a focus on Squared Circles. This resulted in his Chairmanship of the Squared Circle Study Group beginning in the 1990s, his "Rounding Up Squared Circles" column in BNA Topics beginning in 1999, and the publication in 2001 of The Squared Circle Cancellations of Canada - a monumental work that updated the 1980 Moffatt and Hansen catalogue. Jack served BNAPS as a member of the Board of Directors from 2006-2010. A regular attendee at BNAPEX and ORAPEX, he was inducted into the Order of the Beaver at the 2010 Convention in Victoria.
Outside philately, his interests were diverse, and included classical music. He was a sports car enthusiast, and at one time raced at courses such as Sebring. He once told his wife Rowena that his favorite race was the Mt. Equinox Hillclimb in Manchester, VT, which he won in 1966. An Alfa Romeo sedan was his personal use car.
Those who knew Jack admired and respected him - an intelligent and thoughtful man with a sense of humor, always willing to share his thoughts and knowledge when asked.
Bill Walton, with notes from Bill Radcliffe
Edward (Ed) David Wener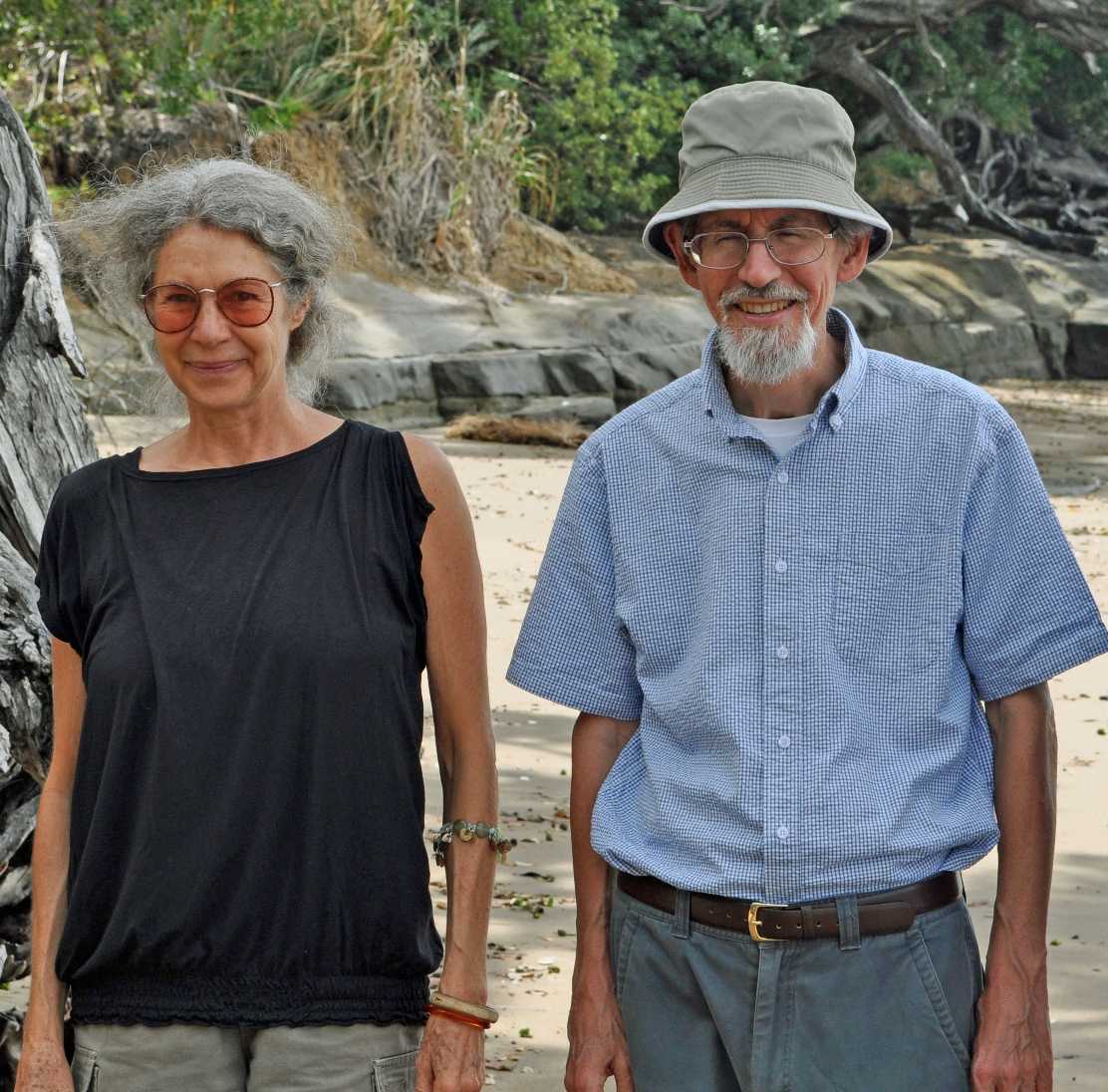 Ed Wener, philatelist and stamp dealer, passed away peacefully on March 4, 2013, at his home in New Zealand, after a courageous battle with cancer, at the age of 63. Naya Nicolins was his beloved partner and best friend for over 40 years. They are shown on a New Zealand beach in a 2012 photo.
A member of BNAPS for a number of years, Ed was a stamp dealer who as Indigo Stamps specialized in Newfoundland and, later, in French colonies. Born in Montreal, for many years he lived and did business in Guelph, Ontario. In late 1992, he and Maya relocated to Auckland, New Zealand, where he continued to service collectors from all over the world.
During his philatelic career, Ed became an expert in Newfoundland forgeries. This started when he bought a large collection of them in a Robson Lowe auction held in Basel, Switzerland, in 1977. Naya and Ed were vacationing in Europe at the time. In 2012, Wener's articles on the forgeries were republished. They had originally been highlights of his Indigo price lists.
The 34-page publication is available online.
This is an extract from Wener's Introduction:
"As we drove back to France that evening I thought about what to do with this collection: keep it, sell it or expand it. I remembered a conversation I had not long before with the late Jim Sissons in Toronto. I was viewing some Newfoundland lots from his then current auction. We were alone. He said two things that caught my attention. Newfoundland stamps were not being given the respect and marketing they deserved. This niche was open for the taking. He also said it was more and more difficult for collectors and dealers to handle as many stamps as he had. The early stamps were now more widely dispersed. Getting to know them meant more than buying and quickly selling them. This required time, more stamps and a reference collection.
"Over the next decade I quietly reorganized and built upon the Freeland/Bainbridge collection, adding items from the Harmer collection and others. By the spring of 1981, we had included a first Newfoundland forgery article in our sales catalogue. It began: 'We have about 25 examples of fakes and forgeries of the 5¢ Seal and they are all different but can be grouped into four basic types'. In December 1990, I had to rework the original article as we now had eight basic types. Are there other types? Can a forgery collection ever be said to be complete?
"In 1992 we moved to New Zealand. Our interests shifted too. In 1996, we stopped selling BNA material and sold our stock to concentrate on the French Colonies, which also has its own personal forgery collection. Our Newfoundland forgeries were neglected. The timing was unfortunate because it coincided with the birth of the World Wide Web ...
"All the forgery articles are included here in their original forms, with some editing where necessary, and colour photos which definitely is an improvement. There are more photos as space is less of an issue; where possible the forgeries have been integrated into the text. The original publication dates are mentioned in the chapter headings."
BNAPS members recall Ed fondly.
John Walsh
It is with a saddened heart that I heard that Edward Wener died ... I knew that Ed was sick but news of his death still shocked me. I met Ed way back in 1974 when he was in the stamp business as Indigo Stamps. Most of my relationship with him was by phone and through his very informative price list. In that list, besides the listing of product for sale, he offered to his clientele his knowledge of Newfoundland ... Ed attended the American Bank Note Company archive sale by Christies in 1990. It was here he acquired lot #2228. What a treasure trove he found! He researched this lot with great detailed writing in his price lists, telling collectors what was present. It was through Ed's help that I was able to build my 1897 Royal Family and Map exhibit which went on to medal awards in international stamp shows.
Ron McGuire
I first met Ed and Naya at the monthly Ottawa show in the early 1970s, when he was in partnership with a lad whose name escapes me at the moment. They lived in Ottawa in a nice Edwardian-era house in town center near the canal. After the partnership dissolved, they became Indigo Stamps. I think Naya liked that colour, thus the reason for the name. They put out a great catalogue every few months ... He was particularly keen on fakes and forgeries. Gary Lyon sold Ed's collection within the last year or two ...
Bob Dyer
In 1990, I learned that Ed had purchased the ABNCo archive lot with the specimen stamps of the 1897 Royal Family (and Map) issue. Ed offered the set on a subscription basis as he sorted them by the various printings. Ultimately they total 47 different. He was very gracious to deal with, even replacing one stamp I found with a minor fault, without question. I have examples in several of my exhibits, including my single frame on the 1897 red one-cent Queen Victoria stamp. His descriptions of the forgeries and printer's waste of Type III of the 1897 surcharges have also been quite helpful to me.
August 15, 2012, email from Wener to McGuire
Good to hear from you. I've been getting several emails from old friends since Gary Lyon sold my collection. Gary did a good job and the little booklet he just published with my complete Forgery article[s] looks great. Have you seen it? ....
I checked the BNA list total and the first was in 1980, the last Oct. 1996, a total of 68 lists in all.
We have a complete set here which eventually will go to some library I guess. For the French Colonies, we are now up to 111 lists ...
You asked about New Zealand. It was a good move and a perfect place to retire and enjoy old age. The weather is not too hot nor cold, taxes fair and people are really friendly. Winters here are green not white, and we have fruit in our garden year round. Now it's oranges, mandarins, limes, lemons and grapefruit, even bananas in the summer!!
Unfortunately, I'm going to miss the old age part.
Cheers, Ed and Naya
By Bob Dyer with notes from John M. Walsh and C.R. (Ron) McGuire
Dr. David Alan Selby (1931-2011)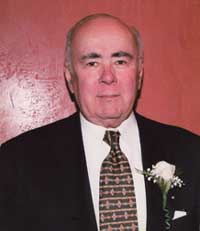 Dr. David Alan Selby passed away in Toronto on August 22, 2011. Alan was a member of the BNAPS from 1978 to 2002 and again from 2006 until his death. A highly regarded member of the philatelic community, with his wife Pat he attended many BNAPEX conventions in the 1980s and 1990s. He was also a member of the Philatelic Specialists Society of Canada and the Royal Philatelic Society of Canada.
A member of the BNAPS Newfoundland and Postal Stationery Study Groups, he also collected the Edward VII issue of Canada. He showed both the Edward VII and Newfoundland exhibits at many events, including ROYAL '84 in Quebec City, CAPEX 1987 in Toronto and BNAPEX 1982, 1985, 1986, 1988, 1993 and 2001. In May 2001 another exhibit, "Early Canadian Postal Routes" was shown at ORAPEX in Ottawa. His Newfoundland collection was sold in 1993 by Jim Hennok, and in 2007 his King Edward VII and Northern & Western Postal History collections were sold by Charles Firby.
Alan was born December 9, 1931, in Toronto. He studied at the University of Toronto for both his undergraduate and Medical School degrees and was a member of the Kappa Alpha Society. After five years of general practice - two years at Inco as a staff doctor in Levack, Ontario, and three years in Sudbury as a private practitioner - he specialized in Cardiology. A Fellowship at Toronto Western and Toronto General Hospitals was followed by one year at the Princess Margaret Hospital. Alan was on the team of doctors that performed the first heart transplant in Canada at St. Michael's Hospital. Most of his career was spent between St. Michael's Hospital, Centenary Hospital and private practice.
Alan and Patricia were married September 1, 1955. They had five children - Diane, Mike, Trish (passed away January 20, 2012), Carol and Alan - and seven grandchildren. His summers were spent with the family in Muskoka, where he quietly read all the philatelic news. His family and friends also knew him as a commissioned naval officer, avid historian, record holding sprinter, creative storyteller, bridge enthusiast, eloquent speaker and lecturer, most importantly, devoted and loving family man.
BNAPS members and other philatelists who knew Alan will remember him as a soft-spoken person with a great sense of humour. He is missed.
Compiled by Mike Street from notes and details graciously provided by Carol Selby and Ralph Trimble.
Richard (Dick) Lamb, FRPSC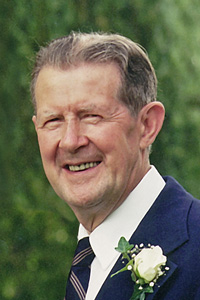 One of Canada's most respected philatelists passed away on Monday, 24 December 2012, at the Grand River Hospital in Kitchener, Ontario. Richard (Dick) Lamb is best known to stamp collectors across Canada, in the U.S., Great Britain, New Zealand, Australia and elsewhere as a knowledgeable stamp dealer who always strove to provide his customers, many of whom became lifelong friends, with quality stamps at a fair price. He enjoyed a sterling reputation as a dealer throughout his long career in the business.
Dick is survived by Kathryn, his beloved wife of 58 years, son David, daughter Jennifer and two grandchildren, Richard and Heidi.
A member of the leading British North America philatelic organizations, Dick was an honorary life member of The Royal Philatelic Society of Canada, the Canadian Stamp Dealers Association, and the Kitchener-Waterloo Philatelic Society. He was elected a Fellow of The Royal Philatelic Society of Canada in 2002. A supporter of organized philately at all levels, Dick was one of the major guarantors of CAPEX '78. He was also a member of various study groups at one time or another, including the Canadian Re-entry Study Group, the Cyprus Study Circle, the Hong Kong Study Circle, Large and Small Queen Study Group, and the Squared Circle Study Group, among others.
As a leading expert on British North America and British Commonwealth stamps and postal history, Dick enjoyed longtime memberships in the British North America Philatelic Society, Canadian Philatelic Society of Great Britain, and the Postal History Society of Canada. He was also a longtime member of the American Philatelic Society and the Philatelic Traders' Society.
Dick served on The Greene Foundation Expert Committee for ten years until 2004 when the drive from Kitchener to Toronto on Highway 401 became too onerous.
Besides his involvement in stamps, Dick's pastimes included gardening, bird watching, and playing cricket. He enjoyed nothing more than growing loads of vegetables and berries in the family's expansive backyard garden. It was so large that it was ploughed spring and fall by a farmer's tractor until that farmer passed away a few years ago. Besides meeting the family needs, his yields were usually large enough to satiate the hunger of area wildlife that his garden attracted with enough left over to share with friends, neighbours, and the local food bank.
Although congestive heart failure and cancer overtook him, he remained active in the hobby almost to the end. He attended a meeting of his local stamp club only the month before succumbing to his illnesses. Dick will be missed not only by his family, but also by the many collectors who called him a friend.
A public memorial service attended by many of Dick's philatelic friends and colleagues was held on Saturday, 8 June 2013 at Parkminster United Church, Waterloo, Ontario.
Tony Shaman, FRPSC (courtesy The Canadian Philatelist)
Michael Dicketts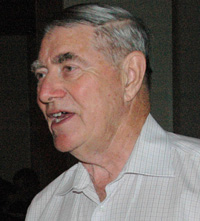 Michael Dicketts passed away in Kingston, Ontario, on 18 October 2012. After immigrating to Canada in 1958 and marrying his wife Betty in 1960, Mike obtained a BA from Sir George Williams College (now part of Concordia University) in Montreal and a Masters in Library Science from Rutgers University in New Jersey. From 1977 to retirement in 1994, he worked as the Reference Librarian for the Kingston Public Library. He and Betty were benefactors of the Queen's University Human Mobility Research Laboratory at Hotel Dieu Hospital in Kingston.
Michael joined BNAPS in 1965. He served on the Board of Directors (1976-1980) and was Handbook Committee Chairman (1977-1980). He was elected First Vice-President (1981-82) and then President (1983-84). Mike and Betty last attended BNAPEX in 2007 at Calgary.
Michael collected Admirals, Cameo and Centennial booklets and panes, cancellations and especially Perfins, writing seven columns on that subject for BNA Topics and serving as Secretary of the Perfins Study Group for five years, starting in 1980. Jim Graham wrote, "He was one of the pioneers of the BNAPS Perfin Study Group, identifying new patterns and providing information about perfin usage. He had a particular interest in perforating machines, helping to identify the various models used and in plating the dies of various machine. Although he had sold his collection some time ago, he remained interested and wrote me a couple of times with comments, suggestions and overall support for my efforts as a new Editor of the newsletter."
Michael was also active with the Gallery Association of the Agnes Etherington Art Centre of Queen's University.
Mike Street, Jon Johnson, Jim Graham
John D. Arn, OTB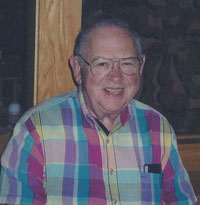 John Arn passed away in Colbert, WA, on 21 April 2012. John served as an Ensign in the U.S. Navy during World War II. He worked for General Electric and Honeywell in different locations in the USA and spent five years in San Paulo, Brazil. After he retired in 1987, he devoted his time to philately and became an accomplished collector.
John founded and was Chairman and Editor of the BNAPS Elizabethan II Study Group from 1992-2000. He was awarded the John Siverts Award three times (1994, 1996, 2000) for the Study Group's newsletter, Corgi Times, received the BNAPS President's Award in 1993, and was Chairman of BNAPEX 2002. He also served on the Committee of the Inland Empire Philatelic Society of Washington, chairing their annual "Apple Harvest" stamp show in 2001 and 2002, and was a member of the PIPEX 2001 host committee. For 19 years, he coordinated an annual philatelic weekend for more than 50 collectors at Lake Moses, WA.
John exhibited at eight BNAPEX shows and at two American Philatelic Society (APS) World Series of Philately exhibitions. His first major exhibit, "The Caricature and Landscape Definitives 1972-77", was totally destroyed in a winter traffic accident in the early 1990s. Undaunted, John built three other exhibits. At BNAPEX 2004 in Baltimore, his "Canada - Cameo Definitive Issues" exhibit became the first exhibit of modern Canadian philately to win the Horace Harrison Grand Award. His second major exhibit, on the 1967 Centennial 'Red' Postage Dues, will be published soon as a new volume in the BNAPS Exhibit Series. John was elected to the Order of the Beaver in 2003.
In addition to BNAPS, John gave freely of his time to the Boy Scouts of America. He is survived by his wife Alicia and their two daughters, and will be missed by his many philatelic friends.
James E. Kraemer, OTB, FRPSC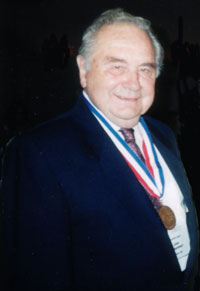 Jim Kraemer passed away in Ottawa on 30 June 2012. A member of the Society of Plastics Engineers, Jim's life-long passion for collecting stamps led to his becoming the first Manager of Canada's National Postal Museum in October 1971. The job title was changed to Curator in August 1974. He held that position until January 1980 when he was transferred to the Post Office's Administration Branch. While he was at the National Postal Museum, Jim and his staff provided significant assistance to researchers into BNA philately, especially in the area of postal stationery, the collection and study of which was becoming more and more important.
He became a Fellow of the Royal Philatelic Society of Canada (RPSC) in 1976 and a member of the BNAPS Order of the Beaver in 1978. He served as President of the RPSC from 1985 to 1990.
One of Jim's main collecting interests was the postal history of the Huron Tract and Indian lands. He also researched and published articles on the postal history of many small Ontario communities. Other interests included Arctic Drifting Ice Island Mail, the WWII Battle of the Atlantic and Canadian Mail, St. Helena Boer war covers, Squared Circle cancels on Jubilees, the 8¢ Small Queen and Canadian Revenues. He wrote articles on different subjects for the Canadian Philatelist and also published an article on the proposed 1914 MacDonald-Cartier stamp issue of Canada in BNA Topics.
Jim is survived by his wife Fern, their three children and grandchildren, and will be missed by his many philatelic friends.
Garvin Frederick Lohman (1934-2012)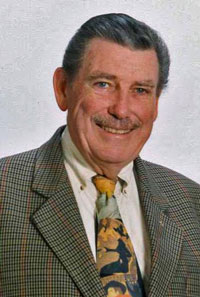 Garvin (Gar) Lohman, who joined the British North America Philatelic Society in 1976 and was twice a member of the Board of Directors, passed away at the age of 77 on March 22, 2012. He was born to Frederick and Hilda (Townsend) Lohman on August 27, 1934, in Saskatoon, Saskatchewan, Canada.
His love of collecting started at an early age while on his paper route when he serendipitously found a postage stamp lying in a snow bank. Garvin's mode of transportation in the winter, while delivering the papers, was by sleigh or toboggan in 30-50 degree below zero weather. He subsequently asked all his customers to save their cancelled envelopes. One day, Mother Lohman came home and found Garvin had soaked the stamps off of the envelopes in the bathtub, leaving a thick glue residue. She was not pleased and put a stop to that! Undeterred, Garvin joined a local Junior Stamp Club and soon entered his first one page exhibit. Future exhibits would win him many awards and trophies.
One of his early accomplishments was designing a home at the age of 16 and seeing the structure built without any alterations to his original draft. In his 20s, he moved to Vancouver and attended the University of British Columbia, studying to become an architect. While there he worked for an engineering firm. In 1962 Garvin moved to San Francisco, California, and was employed as an electrical designer/draftsman for Bechtel, Kaiser, and Fluor Daniels firms. Projects included the San Francisco International Airport, San Francisco Waste Water Disposal Plant, as well as tunnels, geothermal, and nuclear facilities. Prior to his retirement in 1998, he was very proud to have attained dual citizenship in Canada and the United States.
Garvin was an active Freemason for 45 years and had a deep love for Masonry. He was a Past Master of Pacific Starr-King No. 136 and served as Master of Mission Lodge No. 169 until his death. He received the Hiram Award from two lodges: King Solomon's Seaport No. 260 in 1986 and Mission No.169 in 2005. He was a 32nd Degree Knight Commander of the Court of Honor, a Past Venerable Master of the Lodge of Perfection, and a Past Wise Master of the Chapter Rose Croix at the Scottish Rite.
Garvin was an accomplished philatelist, collecting a wide range of material from all over the world. He exhibited nationally and internationally with awards up to the Gold level. He encouraged others to exhibit and mentored them. His Canadian interests included five cent Beavers, Large and Small Queens, perfins and cancellations. He was a member of the Board of BNAPS from 1980-82 and 1987-94, and served as a BNAPEX judge five times, once as Chairman of the jury. He chaired the BNAPEX '84 convention in San Francisco, and in 1994 was awarded the Jack Levine Fellowship Award for his tireless support of BNAPS at the regional level. Gar attended many BNAPS shows and all of us who knew him can attest to what a joy he was to be with.
Garvin also collected and exhibited the stamps of Ireland, El Salvador and Guatemala at the national or international level, and served as an accredited APS judge. Switzerland was another country he collected, and at the time of his death he had been researching the Helvetia issues. He was a past president of many philatelic societies including the International Society of Eire Philatelic Society (which awarded him the John J. Clark Award for his outstanding contributions to the society in 2004), the International Society of Guatemala, the Collectors Club of San Francisco, and the Council of Northern California Philatelic Societies. He was on the Board of Directors of WESTPEX for many years, winning an award of merit from the show for a cachet design in 1984. During the course of his philatelic career he amassed a large and significant reference library. To say that his collecting interests were eclectic is an understatement. At regional meetings he would sometimes bring out some of his more unusual interests, such as state revenues and even banana labels.
Serious health issues prompted Garvin to join Alcoholics Anonymous thirteen and a half years ago. He embraced the organization and participated daily in the activities of this fellowship. With consistent attendance and dedication to AA, he was able to place his disease in remission. Part of his mission of service to AA was to give back and help others in need by delivering motivational speeches to the inmates of the Marin County Jail in-house program, "Positive Changes".
Until the time of his death he was actively restoring his 1907 Edwardian home in San Francisco. He hosted several regional meetings of the BNAPS Golden West Regional Group there, and proudly displayed his work in the house and the Japanese garden he created behind it.
He is survived by his wife of over 40 years, Janice (Wilcox) Lohman, daughter Penny (Dan) Tonner, grandson Michael Tonner, sister Beryl (Laurie) Rowe, and brother Barry (Doreen) Lohman.
The following is from the program of Garvin's memorial service at the San Francisco Scottish Rite Masonic Center on April 15, 2012.
"Garvin was a very charismatic man and his warm smile would light up any room upon his entrance. Known to be a gentleman, humble kind, generous, loving, and having a great sense of humor, he will be remembered by family and friends as a "Prince of a Man". During his lifetime, Garvin touched the lives of so many people through his mentoring. He was a firm believer that a positive attitude is everything. One of his daily sayings was 'With every adversity, there is a seed of an equivalent or greater benefit for those who have a positive mental attitude'. Because of his deep-rooted belief in the teachings of Masonry and the lessons of spirituality from Alcoholics Anonymous, he was prepared for journey to the afterlife."
When the doctors told Garvin he had only a few hours to live, his comment was, "I have had a wonderful journey through life. Every day has been an adventure, and I have had a lot of fun."
Compiled by Norris (Bob) Dyer
Jim Lehr, OTB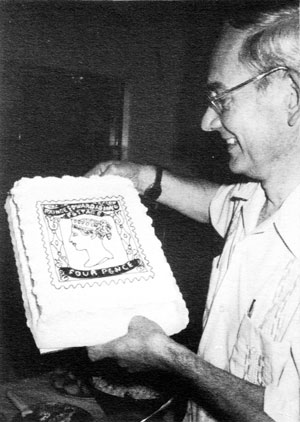 James C. (Jim) Lehr, Past-President of BNAPS and past Chairman of the Order of the Beaver, passed away in Wilmington, DE, on February 21, 2012, at the age of 88. He is survived by his wife of 61 years, Elma, and their daughter Linda. After earning a BA from Guilford University and his Masters from the University of North Carolina, Jim worked as a chemist and sales representative for DuPont Company retiring in 1978 after 35 years of service.
Jim joined BNAPS in 1961 and soon began a 32-year run as an officer of the Society. He served as Sales Circuit Manager 1965-1974, Director 1971-1978, 1st Vice president 1979-1980, and President 1981-1982. He was elected to the Order of the Beaver in 1982 and was Chairman of the Order from 1989 until 1996.
In addition to his official duties on behalf of BNAPS, Jim was one of the founding members of the RPO Study Group at the 1973 BNAPS Convention in Calgary, serving as Secretary-Treasurer and Newsletter Editor for the group until August 1980.
After his term as President, he concentrated on writing his book, The Postage Stamps & Cancellations of Prince Edward Island, published by BNAPS in 1987. The cake decorated with the design of the Four Pence PEI stamp shown in the photo was presented to Jim in 1987 when he visited the Texas Prairie Beavers. Jim was Chairman and Treasurer of the 1987 BNAPEX convention in Charlottetown, PEI, organizing the event from his home in Delaware. He also wrote many articles for BNA Topics, six on the stamps and postal history of PEI, one on RPO cancellations, and one on Nova Scotia Bill Stamps.
John Burnett, Ross Gray and Mike Street
Jim Lehr - Personal Memories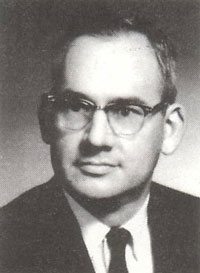 I first met Jim Lehr in 1973 when I attended the annual meeting of the Canadian Revenue Study Group of BNAPS for the first time. It was held at Bill Rockett's home in Willow Grove, Pennsylvania, and I was warmly greeted by Bill and his wife and the others, including John Siverts, Leo LaFrance, Bert Llewellyn, Larry Paige, Ed Whiting, and Jim himself. I found out that Jim and John Siverts both lived in Wilmington, Delaware, as I did, and they urged me to join the Wilmington Stamp Club, of which they were both members.
The wives went shopping in Philadelphia for the day while the rest of us pored over the group's latest acquisitions and discoveries, then a foursome including Jim got down to some serious bridge playing. When the ladies returned, dinner was served, and the rest of the evening was spent reminiscing about past conventions and trips they'd taken.
I joined the Wilmington Stamp Club (now the Brandywine Valley Stamp Club), of which Jim was always an active participant, speaking on Canadian topics, particularly PEI, and serving several terms as President. He occasionally exhibited at DELPEX, our local show. Jim was working on his book on PEI stamps and cancels for most of the time I knew him, and we had a few sessions together at my home deciphering cancels by computer enhancement to clarify them.
It was at that time that we discovered that my wife Sandra and myself and Jim and Elma were all members of The Brandywiners, a local theater group. We enjoyed many a chat with them during rehearsals.
Jim was unable to attend meetings for several years, but remained on the club's rolls, and we occasionally heard from him by way of another member who lived very close by. Those who knew Jim were saddened to hear of his passing, and I shall remember him as a good friend who was always cheerful and glad to share his knowledge with anyone who asked.
John Graper, April 2, 2012
Margaret "Maggie" Toms (1910-2012)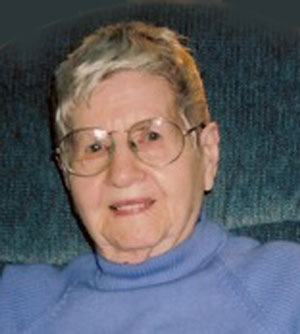 Long-time BNAPS member Maggie (née Hill) Toms passed away in Ottawa on 7 March 2012 after a short illness, just two months shy of her 102nd birthday. She was the beloved mother of David Toms of Ottawa and Eric Toms of high Level, Alberta, and beloved wife of the late Eric Toms. Maggie was born in Richmond, Virginia. After training as a nurse she met her husband while working for the Grenfell Mission in Labrador. In the 1960s, after moving to Orillia, Ontario, Maggie began collecting Canadian stamps when she noticed in a storefront window an album page showing Canada's 1928 issues. She joined BNAPS in October 1965, and was one of the earliest members of the Postal History Society of Ontario, predecessor of the Postal History Society of Canada (PHSC), after its formation in 1972. She was also a member of the Toronto Postcard Club and the Ottawa Philatelic Society.
After turning from stamps to postal history, Maggie began researching and writing about transatlantic mail between Canada and France in the last 30 years of the nineteenth century. Between September 1979 and September 1986, she published in BNA Topics a series of 12 articles titled "Letters Exchanged via England between British North America and France". One of the later articles was co-authored with the late William E. Lea. Maggie received the Vincent G. Greene Award, presented annually to the author of the best article or series appearing in BNA Topics, for the articles published in 1980. Between September 1987 and May 1988, she co-authored with George B. Arfken a five-installment series titled "Canadian Letter Mail to France: The Small Queen Era - 1870-1897". Maggie and George received the Vincent G. Greene Award for the articles published in 1988.
Maggie continued her interest in philately until her passing. She will be missed by her family and her many friends.
Mike Street, with input from BNA Topics, the PHSC Journal, and the Ottawa Citizen. Photo courtesy of the Postal History Society of Canada.
Doug Sayles (1945-2012)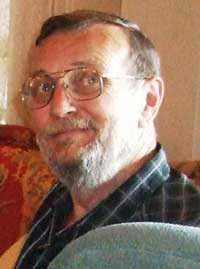 Clinton Douglas Sayles, P.Eng. (Nov 6, 1945 - Jan 15, 2012): after a brief illness, Doug Sayles of Waterdown, Ontario, passed away in his 67th year. Loving husband of Mary Jane (née Reich) and dear brother of Bernice Rohe (Bill) of Whitby. Cherished uncle of Rebecca Rohe and Christina Ugolini (Chris), and great-uncle to Matt, Rachel, and Logan. Dear son-in-law of Bernice Reich and brother-in-law to Ken Reich (Rebecca) and Al Reich (Cathy), all of Walkerton and Pat Young (Dennis) of Jamaica, Iowa. He will also be missed by their families. Predeceased by his parents Clinton and Georgina Sayles.
Doug was a retired engineer with Atomic Energy Canada Ltd. He was an active member of the British North America Philatelic Society, and had a special interest in Canadian military postal history. He compiled and edited the BNAPS Catalogue of Military Mail Markings Volume 2 - The World War II Era 1936-1945 (April 2011) and Volume 3 - From Victory in 1945 to Afghanistan (August 2006), as well as researching and writing numerous military articles. Chairman of the BNAPS Military Mail Study Group since September 2003, he received the 2007 E.R. (Ritch) Toop Award for writing about Canadian military mail for Volume 3 of the catalogue. Doug also received the Toop award in 2002 for his BNA Topics article, "Dieppe - Before and After", and was BNA Topics Editor from 2006-2008. At the time of his death, he was working on the first volume of the catalogue, which was to cover Canadian military markings before 1936.
Doug will be most remembered for and has left his mark in his beautiful gardens and custom wood projects. He was an avid amateur historian, loved sailing, and was involved in the Canadian Warplane Heritage Bolingbroke restoration project. He was a unique individual and will be missed by his family and many special friends.
Donations may be made in Doug's memory to the British North America Philatelic Society through the Treasurer at treasurer@bnaps.org or St. Joseph's (Hamilton) Healthcare Foundation Timeless Care Campaign (Research).
The Sayles Family with additions by Mike Street
John Colin Campbell (1921-2010)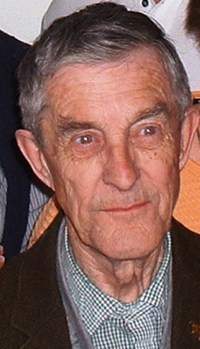 John Colin Campbell, CD, passed away at the age of 89 years in Kelowna, BC, on December 29, 2010. Born in Benito, Manitoba in 1921, Colin tragically lost both parents in his early teens. His initial schooling was spent in Manitoba and continued when he spent some of his formative years with relatives in England.
As a young man, Colin joined the firm of Smith and Sons Cricklewood Motor Accessories in London, England, in January 1939. In August 1940, he returned to Canada to join the Canadian Vickers Machine Works in Montreal to work on aircraft inspection. On 25 March 1942, he joined the Royal Canadian Air Force. His technical and mechanical skills proved valuable assets as an aero-engine mechanic.
In August 1942, he was transferred by the RCAF to Sydney, Nova Scotia, and, as a young airman in Glace Bay, he met his true love, Editha. They wed in 1943 and remained married for sixty-six years, living forty of them in Kelowna, until she sadly passed away in September 2009.
From Sydney, Colin travelled to Quebec in December 1943, assigned first to RCAF liaison with Noorduyn Aviation and in January 1946 to Canadair Ltd. The early post-war years saw Colin and his family serving at TD Trenton, ON (1947), TD Picton, ON (1950), RCAF Trenton (1951), RCAF Gimli, MB (1954), and RCAF Camp Borden, ON (1957). He served with the RCAF for twenty-five years and was awarded the Canadian Volunteer Service Medal, 1939-1945 War Medal (Canadian), Coronation Medal 1953, and the Canadian Forces Decoration (with Bar).
After retirement from the Air Force, Colin worked briefly with White Western Star Trucking and then at Alpine Helicopters from 1971-1980. Colin was a lifelong-learner. Through the war and post-war years, until 1969, he enrolled in numerous civil and service training courses.
Along with his love of education, Colin had a long-standing interest in postal cancellations and postal history. One of his many specialties was Canadian military postal history (especially of the Great War). He will perhaps be best remembered for his dedication, interest, and service to the hobby. This selfless commitment saw him become one of the early charter members (as Member #2) of the BNAPS Canadian Military Mail Study Group (CMMSG). When the group was formed in Calgary in 1973, Colin volunteered to service as the group's first Chairman and newsletter Editor, a position he held from 1973-1982 (issues #1-#50).
Colin and his fellow charter members were instrumental in helping to expand Lt. Col. R.H. Webb's and Ed Richardson's existing studies and notes on Canadian military mail. This early data collection helped to formulate a record and database which today's collectors utilize and build upon. His role as Editor was vital to this collection, continued research, and future expansion and development of Canadian military postal history.
Colin was one of the foremost authorities on the large "Canada Militia" cancels, writing extensively on the devices' types and subtypes over the years. Much of his initial research remains valid today. When this 30+ year Canada Militia collection was ultimately sold in May 1995 by R.A. Lee Auctions Ltd., many rare and unusual examples were included.
As a devoted student and specialist, Colin was always willing to share his research and findings with others through his personal letters, writings, and numerous articles in a variety of journals. He wrote on the First Canadian Expeditionary Force hammers, Great War convoy ships, POW mail, and other military items which intrigued him. He contributed several articles to the BNAPS CMMSG Newsletter and to the Canadian Military Postal History Anthology (1991). He also authored several articles on machine slogans, RPO's and picture postcards. He was a long-time member of the CPSGB and wrote many articles for that society's journal, Maple Leaves. Colin was also an early member of the now-defunct Post West, and contributed several articles for its journal during the 1970s.
Knowing of Colin's penchant for postcards, I successfully convinced him to become the first Chairman and Treasurer of the fledgling BNAPS Postcard Study Group and was fortunate to work with him as Editor of its newsletter. Colin was always very supportive with ideas and material and without his encouragement, the first issue of Post Card Matters would not have been published in January 2000. Although I left the editorship in April 2003, Colin continued his yeoman efforts with co-editors Don and Louise Kaye. This dedication and willingness to serve speaks volumes for Colin's abilities and his enthusiastic drive to try new ideas (even well into his late-seventies!). His support with material and guidance also continued when I took over the editorship of the CMMSG Newsletter.
With his passing, we have truly lost a good friend, colleague, and dedicated student in the military postal history field. Colin will be sadly missed but never forgotten. His kindness, humour, friendship, good nature, loyalty, and numerous articles on postal cancellations and postal history leave a lasting impression and wonderful legacy. Colin is survived by a loving family of one sister and brother, six children, eight grandchildren, and seven great-grandchildren, along with many friends and colleagues.
Dean W. Mario, Editor, CMMSG Newsletter, with assistance from Sheila (Campbell) Kish
Joe Shelton, FRPSC (1917-2011)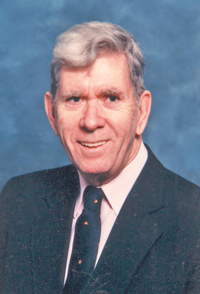 Joseph M. Shelton (Joe) was born August 19, 1917, in Hamilton, Ontario. He married Edna Lilian Eade in October 1943 while serving in England with the Royal Canadian Armed Forces. He is survived by three children, Carol, Patricia, and David. He retired from the RCAF in 1967.
Joe's son, David, reports that they do not know exactly when their dad started collecting stamps. Their first recollection about him being serious was in 1954. He was stationed at RCAF Station Aylmer when he founded the station stamp club. He was president until he moved in 1956.
Joseph was a pioneer in collecting and exhibiting Canadian Revenues. Joe joined BNAPS in 1973 and became an active member of the Canadian Revenue Group. Joe's name is often seen associated with fellow "Revenuers" Edward Zaluski, Wilmer Rockett, and Harry Lussey.
A longtime member of The Royal Philatelic Society of Canada, he was elected a Fellow of the Society in 1996.
He began his long exhibiting career in 1974, winning Bronze at BNAPEX '74. At the 31st Annual Exhibition of the North Toronto Stamp Club in 1974, Joe won the Grand Award for his exhibit "British Columbia Law Stamps". In 1976, he won Silver at VANPEX '76 and Gold at the North Toronto Stamp Club Show.
At BNAPEX in 1981, Joe's Federal Revenue Issues got a Silver-Bronze. In 1983, again at BNAPEX, he won Silver for "The Unemployment Insurance Stamps of Canada". At Dearborn, Michigan, in 1986, he won Vermeil and the next year at CAPEX '87, he was awarded a Large Silver. His exhibit of Unemployment Insurance Stamps was awarded a Silver at BNAPEX '89. It contained many elusive items, proofs, examples of usages and all the known varieties.
There followed at 1989 STAMPEX (Toronto) a Large Gold, and in 1990 at the North Toronto Stamp Show a Gold and Grand Award, and at Syracuse, New York, a Gold and Reserve Grand Award.
In 1992, at Plymouth, Michigan at their Champion of Champions, he showed six frames of British Columbia and Yukon Revenues which merited Joe a Vermeil and the American Revenue Association's Gold Medal. The same year at the International at Granada, Spain, he received a Vermeil for his five frames of Canadian Federal Revenues. At BNAPEX '99 in Vernon, BC, Joe's five-frame exhibit titled "British Columbia and Yukon Revenue Stamps" received a Vermeil. At BNAPEX in 2003, he received a Gold and the Wilmer Rockett Revenue Award for his "Canadian Unemployment Insurance Stamps". ROYAL*2005*ROYALE in London, Ontario, saw Joe's "British Columbia and Yukon Revenue Stamps & Including Other B.C. Revenues" receive a Silver.
The following are some of the additional awards that Joe Shelton received for his collections.
1989 - INDIA-89 Vermeil Medal for "Canadian Revenue Stamps"
1991 - ESPAMER '91 Grand Vermeil for "Sellos Fiscales de Canada"
1992 - GRANADA '92 Vermeil for "Canadian Federal Revenue Stamps"
1993 - BNAPEX '93 Vermeil for his exhibit "Canadian Revenues"
1993 - POLSKA '93 Vermeil for "Canadian Revenue Stamps"
1994 - PHILAKOREA 1994 Large Vermeil for "Canadian Federal Revenue Stamps"
1995 - Best Revenue Exhibit at the Plymouth Show, Michigan
1996 - ESPAMER '96 Gold Award for "Canadian Federal Revenue Stamps"
1999 - AUSTRALIA '99 Large Vermeil Medal for "Canadian Federal Revenue Stamps"
In 2007, the Philatelic Specialists Society of Canada (PSSC) made him an Honourary Life Member.
Joseph was also an International Judge and was Canadian delegate to the Commission for Revenues of the Fédération Internationale de Philatélie (FIP).
Joseph M. Shelton was a resident of Tottenham, Ontario, when he passed away in hospital on January 28, 2011, in his 93rd year.
Marc Eisenberg (1928-2010)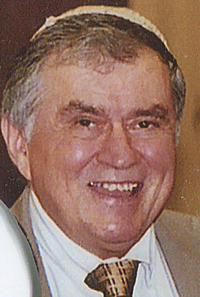 Azriel Marc Eisenberg, aged 82, longtime BNAPS member, passed away on Friday, 22 October 2010, after being ill for some time. He is survived by his wife of 54 years, Roberta (Bobbie), daughter Ellen Eisenberg and son, Dr. David Eisenberg, his wife Ruthie and their children.
Born and reared in Madison, WI, Marc graduated from the University of Wisconsin in accounting and became a C.P.A. He and Bobbie moved to Chicago, where he worked in public and private accounting throughout his career. After renewing his childhood hobby of stamp collecting, Marc enjoyed forty years more years of philately. One highlight was exhibiting in Israel in 1998, the 50th anniversary of the State of Israel as well as the 50th anniversary of Israel's first stamp. He started many neighborhood youngsters in stamp collecting and also started a group at the local library. He attended several local stamp meetings, often speaking about one or another aspect of his collections. His many other interests were reading, acting, theatre, and family events.
Marc specialized in Canadian philatelic material, collecting the stamps, first day covers, postage meter stamps, and postal history for a number of years. He then lost all his collections in a flood when the Des Plaines River outside of Chicago overflowed its banks. Unlike many who would have been discouraged and given up philately, Marc came back even more enthusiastic, collecting postage due stamps and covers. This led to covers from the Dead Letter Offices. Marc set a goal to win a gold medal at a BNAPS exhibition and achieved it with his Dead Letter Office postal history exhibit at BNAPEX 2008 NOVAPEX in Halifax, Nova Scotia. More recently he had been exhibiting meter stamps of Newfoundland.
His enthusiasm for BNAPS motivated him to assist with the Midwest Regional Group and with two BNAPS conventions, in 1992 and 2000. He further contributed to BNAPS as the Chairman of the Board of Examiners. He and Bobbie attended many stamp shows and exhibits throughout the world. He thoroughly enjoyed the camaraderie of other stamp enthusiasts and made many new friends. He was a regular at BNAPS conventions for many years until his health made travel difficult. He will be missed by all.
Mark Isaacs (with additional material from David Crotty, Mike Street, and Bobbie Eisenberg)
Harry Machum, OTB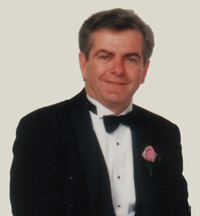 Harry Machum passed away 16 November 2010, at home in Sudbury with Dorothy by his side at the age of 63 following a battle with leukemia. He cherished his immediate family Dorothy, Chad, and Tina and grandson Maxwell.
Harry is best known in his working life as owner of the Hawberry Hotel on Manitoulin Island, where he also served on the Little Current municipal council.
In his philatelic life, Harry had many and varied interests. In BNA, he collected the Elizabeth II issues, especially the Wildings, Elizabethan rates, Barrel cancels, Airport cancels, Printed Matter, Postal Stationery, especially Aerogrammes, and post-WWII military mail including the Korean conflict and United Nations operations. His non-BNA interests included Printed Matter, especially newspaper wrappers of all countries with special interest in Great Britain, Aerogrammes to or from different countries, post-WWII censorship around the world, the Squared Circles of London, England, early United States machine cancels, especially Flags, and Jamaica with emphasis on military including the Canadian "Y" force.
Harry received a National level Gold and the Philatelic Specialist Society of Canada Research Award at ORAPEX 2000 for his exhibit, Canada's Wilding Issue. He judged at BNAPEX 2005 in Edmonton and 2009 in Kingston. He co-edited, with Andrew Chung and Hank Narbonne, the two-volume Postal Rates and Fees of the Elizabethan Era from Canada 1952-2005, published by the BNAPS Elizabethan II Study Group, and wrote many articles on Canadian Elizabethan postal history for the Group's newsletter, Corgi Times.
Harry served as Chairman of the Elizabethan II Study Group from 2000-2010 and as a Director of BNAPS from 2001-2008. He was Chairman of BNAPEX 2006 in Sudbury. Harry was elected to the BNAPS Order of the Beaver at BNAPEX 2010 Victoria in September 2010, shortly before he passed away.
Also active as a dealer in postal history, Harry worked with the late John Frith in the early days of Sudbury Stamps, and more recently on his own. Harry would find the difficult cover with the little twist which made it exotic rather than just interesting. His close friends, known to each other as the "Weasel Brigade", remember that "with his amazing eye for a nice piece of postal history he was always on the floor of shows buying material for each one of the group. They would then sit around in the evening (or well into the morning) while Harry showed treasures of the day. Occasionally there would be arm wrestling for a desired cover. Negotiations with him could be a three or four day event, but he always made sure covers went to the proper home. There were also cottage weekends in MacDonald's Corners or at Hank's home in Carleton Place or on the Island with Harry and his family. We all miss Harry."
Arthur Wallace Leggett, OTB (1916-2011)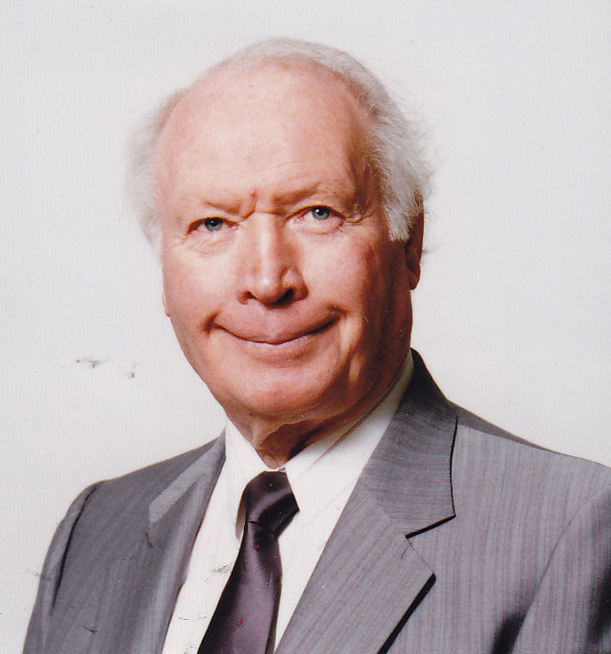 Stamp and postal history dealer Arthur Leggett passed away on February 26, 2011. Arthur's full-time occupation was a partnership in Belmont Chevrolet Oldsmobile of Weston, Ontario. Many Toronto stamp dealers drove cars that Art had sold them. His stamps and covers were sold under the company name Arthill Enterprises. Art was the treasurer of the RPSC. He was a founding member of the V.G.Greene Philatelic Expertizing Committee (along with Bob Chaplin, Bill Maresch, Ken Rowe, Harry Sutherland, and Fred Stulberg).
For a few years, starting in 1976, Art and Richard Lamb shared a table at US shows. Art attended many of the local shows, with the North Toronto Show being the highlight (that club had many of the Toronto-area collectors). Art, Allan Steinhart, and Fred Stulberg all joined the North Toronto Club at the same time, and for many years they spent a lot of time in contact with each other. Arthur usually had a table at all the major stamp shows in Ontario, and in shows across Canada, in the United States, and in England, often next to that of Allan Steinhart. He would arrive at each stamp show with two briefcases of merchandise, stocked with high-quality philatelic material. He'd say that with his two briefcases he could outsell Steinhart, who brought "half a ton of plastic and paper". When asked how he had done at a show, his usual answer was "Super!" or "Great!". After Belmont Chev-Olds closed, Art moved to Queen's Quay in Toronto, across the street from the multi-storey antique mart, where he had a retail stand. Later for a number of years, he had a retail facility on Yorkville Avenue.
Art developed some fine exhibits. His Maple Leaves and Numerals (much of it purchased from Gerald Wellburn and Clarence Jephcott) and his 1859 Issue exhibits were awarded Gold medals. Art owned and exhibited a wonderful collection of Canada Large Queens, and said to Gray that they were his favourite Canadian stamps. He owned the Wellburn Small Queen collection, much of which we believe he sold to Bill Simpson and Ted Nixon.
With Bill Maresch, Arthur published the Canada Specialized Postage Stamp Catalogue, the first Canadian catalogue to accurately price postmarks. This catalogue (which went through 11 editions between 1974 and 1986) was non-traditional in that it included prices for covers. Art also produced about a half dozen catalogues of select offerings for outright purchase; they included wonderful material from the great collections that he purchased.
Art found many outstanding articles for his collector customers: items that were philatelically important and scarce. Bill Pawluk has said that Art instilled in him the philosophy that one should buy only the best that one could afford. Bill says that like Allan Steinhart, Art had a great memory, and knew what his customers collected and needed. Bill recalls visiting Art's table at one of Toronto's STAMPEX shows, and finding a Yukon triplex on a post card in his stock which he put aside. Art looked at it, and commented, "You can't have this, this is for someone else".
Another story concerns Art sending Bill three trial colour examples of the Canada Banknote Company postal card essays. Bill called him to convey that he would buy the lot, only to be told that "you may choose one example, as I have two other customers to keep happy". Arthur used to get quite excited when finding material for his customers' collections. In many aspects of the hobby, he and Allan were similar.
One of the highlights of Bill's philatelic career was the opportunity to research and write up Art's Maple Leaf and Numeral issues material. It was a wonderful education and mentoring experience. Of course, when Art broke up his Leaf collection, Bill knew exactly which pieces to buy.
Once, at a New York show, Arthur purchased a pair of Canadian 12-penny black stamps. Two of his customers wanted a single copy each, so at the show Art took scissors, cut the pair apart, and sold two VF single copies of the stamp. At CAPEX '87, Art bought a high-level exhibit from the frames. He sold it before the show closed, and the new owner dismounted the exhibit from the frames at the end of the show.
Kimmo Salonen recalls first meeting Arthur at the North York Philatelic Society club meetings held at the Community Hall on Yonge Street in Willowdale in 1968 or 1969. At one of the meetings, Art was showing mint blocks of four of the high-value Jubilees that he had acquired from a Sissons auction. Kimmo believes Art was just getting started in dealing at this time in the late 1960s.
Don Kaye relates that Art got him his start as a dealer. For a TOREX show at Malton, Ontario, in the late 1970s, Art challenged Don to become a dealer by paying for his table at the show. This was Don's first show of any kind as a dealer.
At a Toronto Stamp Club meeting, Art explained the serious way to develop a topnotch exhibit. One should make a list of all the essential items needed for the exhibit. Beside each item, one should then write the name and age of the person owning that material. If the people owning the major pieces were younger than you were, then choose another topic to collect.
Sundays at Toronto stamp shows, Art often would bring a box or two of covers that he had squirreled away years before. We would examine the contents of the boxes with items priced between $5 or $10 and $2,000. We never knew what would turn up, and enjoyed every minute of our searches.
Gray Scrimgeour recalls taking his then 11-year-old son Pat to the BNAPEX bourse at the Scarborough Guild Inn in 1975. Art asked Pat if he collected stamps, and Pat said "Yes, 1898 Map Stamps". Art then tossed a sleeve containing a block of four imperforate Maps onto the table, and asked Pat if he had any of these. Pat quietly said that he had two sheets of them, which floored Art. I explained that Pat had photocopies of the two imperforate sheets from the Milton Ritter auction, and used them for plating his stamps. We all had a great laugh.
Keith Spencer wrote, "Arthur was a strong supporter of our Club and attended our Spring Shows a number of times, often in company of Allan Steinhart. He was our guest speaker at one of our Show banquets in the olden days when speakers were an exciting component of our shows. Imagine - a speaker ALL the way from TORONTO!"
Keith says, "I really liked Arthur - he was a strong RPSC supporter and always had time for a peasant collector away out in Alberta. Art was famous for selling $100,000 stamps to big shot collectors, but he had time for little guys too. Once, a packet of post cards arrived in my post box. It was from Art and contained a wonderful lot of Alberta town cancels. Several were ones that I had never seen before. Whenever I look at my marvelous "Bull's Head" postmark, I think of Art: it brings back fond memories and great pleasure. My guess is that a goodly number of collectors have had the same experience of warmth thanks to Art."
Over the last two decades of his life, Art had a degeneration of his eyesight. However, until February 2011, he had never spent a night in the hospital.
Canadian philately has lost one of the last of a generation of outstanding dealers. Many of us are thankful for having known these dealers. Keith Spencer summarized our feelings well when he wrote, "The Oldsmobile auto is gone and now so is Arthur. Both were first class, and both will be missed always."
Don Kaye, Cimon Morin, Bill Pawluk, Kimmo Salonen, Gray Scrimgeour, and Keith Spencer
William "Bill" Lea (1943-2010)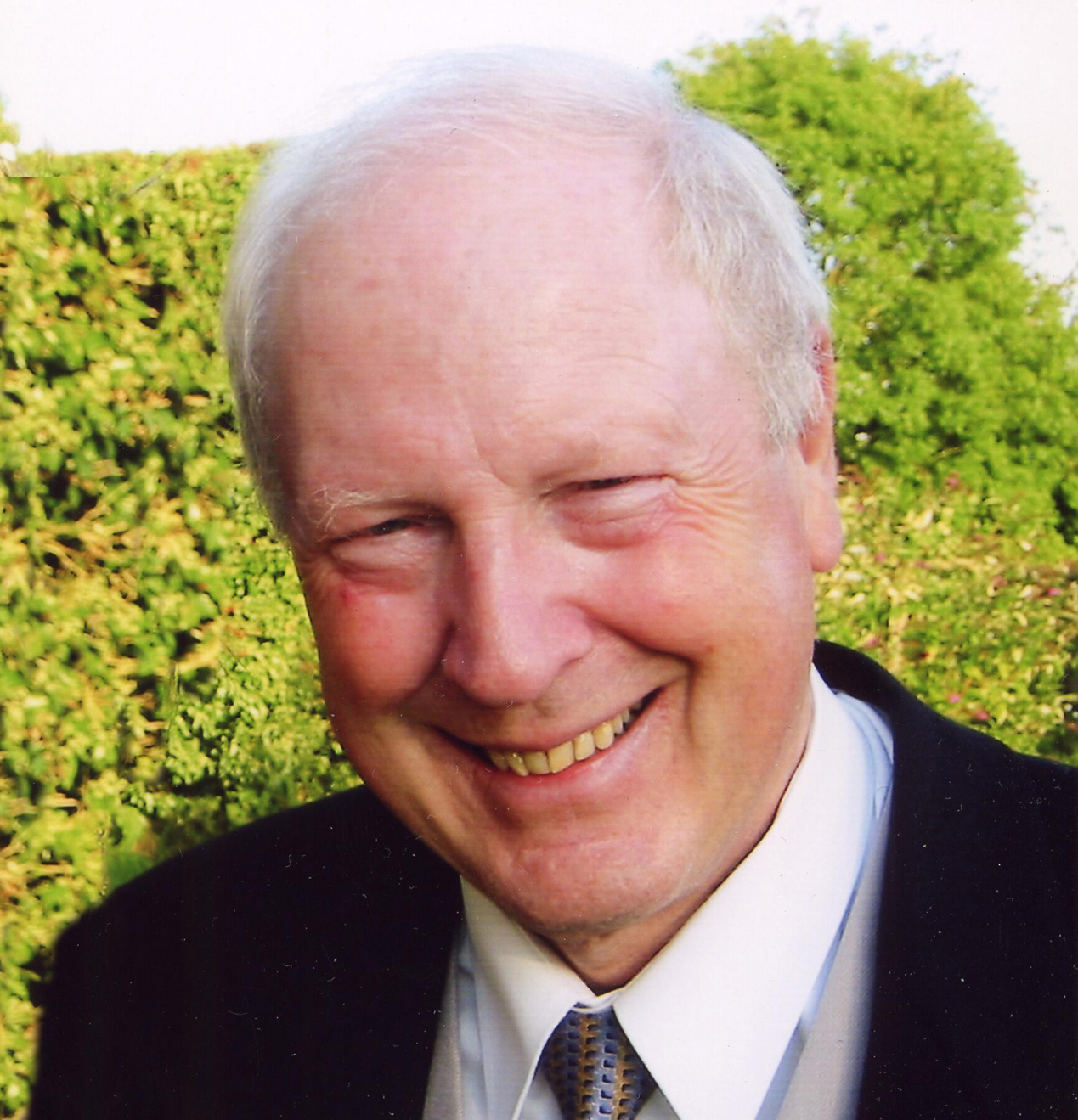 BNA expert and Emeritus member, William "Bill" Lea of Great Britain died on December 30, 2010, of cancer after an illness fought with optimism and dignity. He is survived by his wife, Zsuzsi, and daughters Rebecca and Suzannah. Adrian Myer, in the Philatelic Exporter, wrote that:
"Typical of the man, his approach to the disease was that he was not suffering from it - it was living with him. But what rankled, he said, was that it didn't pay rent!"
Bill was educated at Shrewsbury and joined his father's business, W E Lea Ltd., in 1960. His father, William E. Lea, was also a BNAPS member and gold-winning exhibitor. Bill Lea, Junior soon created his own gold medal exhibits of Imperial Russia and the Cape of Good Hope. In 1964, he joined BNAPS and was a member until his death. He won several gold awards at BNAPEX shows, culminating in the Grand Award in St. John's Newfoundland for "The Cents Issues of Newfoundland 1865-1880 with Proofs, Stamps and Postal History".
Bill was also a well-known as a stamp dealer to many BNAPS members, including Rick Sheryer, who works for R. Maresch & Son Auctions:
"I knew Bill and liked him a lot (as did most people), and he used to come to the Maresch auctions frequently to obtain material for his customers. He was also a major buyer, partner, and broker in many of the huge deals made around the world in the 1980s and '90s and a purchaser in most of the name-sale BNA auctions during the time ... An all-around nice guy and one of the truly knowledgeable 'old guard' of Canadian philately."
The BPA Expert Committee asked Bill to join them at the young age of 27. He served on the committee for the rest of his life, specializing in BNA, but also for nearly all classic philatelic areas. In 1987, he was chosen as the head of the jury at the CAPEX International Philatelic Exposition in Toronto.
He was recognized around the world as an expert in British North America material and gave lectures at the Royal Philatelic Society in London and before the Collectors Club of New York. Adrian Myer concluded his obituary with these observations:
"Vigorous and competitive at everything he did, a game of golf with Bill was precisely as any game should be - keenly contested and thoroughly enjoyable. Laughter with family and friends sustained him. He, and his beaming smile, will surely be missed."
Norris (Bob) Dyer with the assistance of Colin Lewis
William J. "Bill" McCann (1920-2010)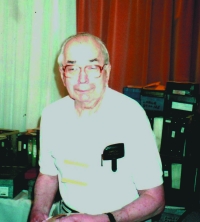 Bill McCann died peacefully on October 18, 2010, at the Toronto General Hospital in his 90th year. Bill was a longtime member of British North America Philatelic Society, of the BNAPS Golden Horseshoe Regional Group, and of the North Toronto Stamp Club. Before retirement, he was a tool- and die-maker with CCM (Canadian Cycle & Motor Co. Ltd.) in Weston, Ontario.
Over the years, Bill astutely purchased both Canadian booklet stamps and Canadian postal stationery, and became a successful dealer in these two specialties. Bill compiled the Standard Catalogue of Canadian Booklet Stamps, which had three editions - and he used to say he was working on a new edition. These books are the most complete source of information about Canadian booklets and booklet panes.
Bill was a true philatelic character, and always had a joke or a story to tell. As Ted Kerzner said, "he never failed to say what was on his mind and didn't worry about the words he chose to express himself - ever!" It was always an enjoyable experience to visit Bill's table.
Steven C. Luciuk (1937-2010)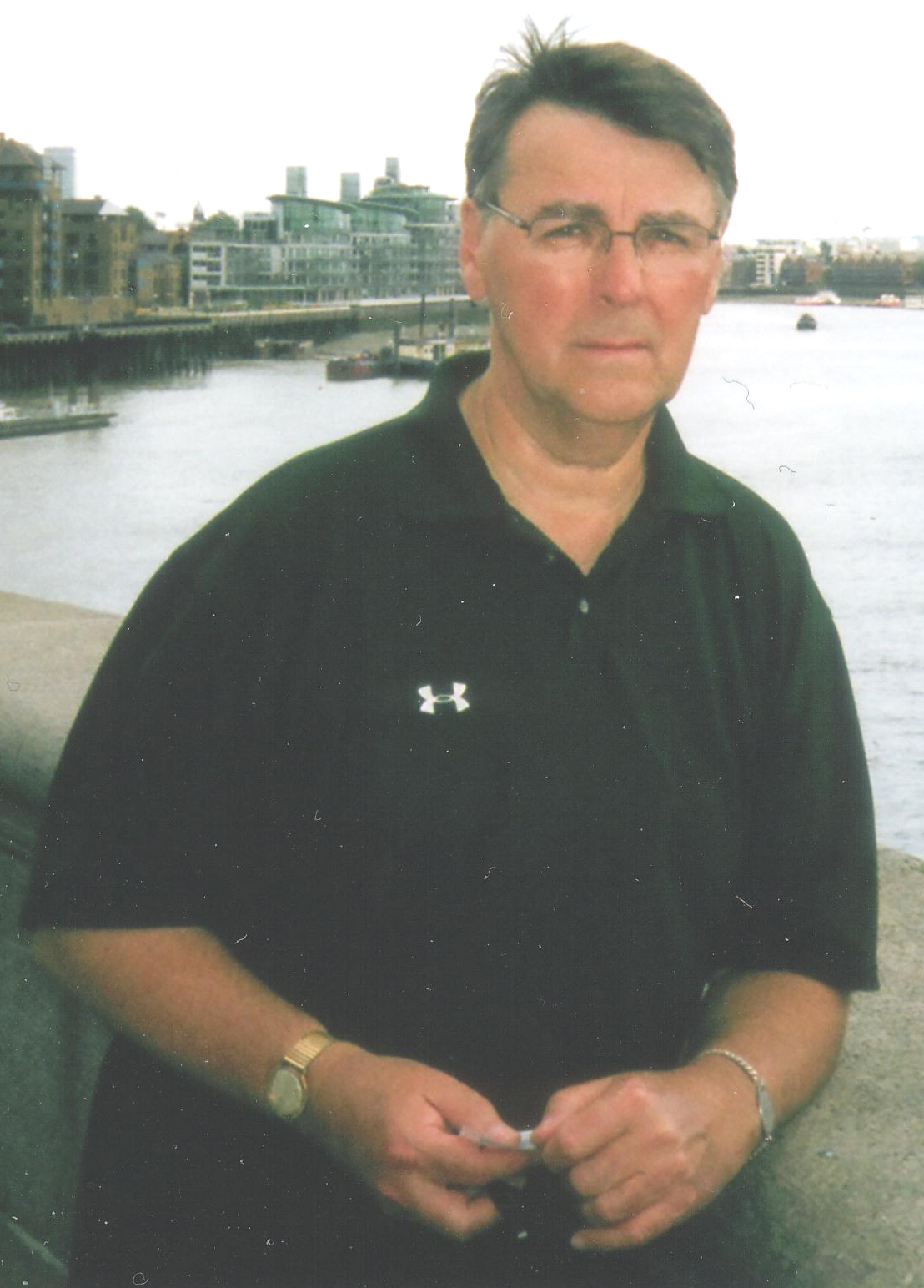 Steven Cecil Luciuk passed away after a long and courageous battle with cancer on December 23, 2010, in Saskatoon, Sask. Born in Prince Albert in 1937, Steve attended school there and subsequently attended the University of Saskatchewan (Saskatoon), graduating with a B.A. degree. He had a long and successful teaching career in such smaller Saskatchewan towns as Yellowgrass and Spiritwood, and eventually in a large high school in Saskatoon. In addition to teaching, Steve was also an officer in the Canadian Armed Forces (Reserves). Upon completing his B.Ed. degree, while concurrently teaching, he specialized in the area of Social Studies, where his love of history enabled him to combine his passions of education and research with his primary interest in Canadian military postal history.
Like many young collectors, Steve first collected stamps of the world and the British Empire. While his interests waned as he entered high school, he returned to collecting Canada and Newfoundland in 1977. Shortly thereafter he was attracted to the specialty of postal history; given all of its connections with history and interesting markings which often told a story. At an Edmonton stamp show, he found a cover (or several) in Allan Steinhart's stock and was intrigued. The cover was from a Prisoner of War in Camp "N" (Sherbrooke, QC) and so began his great interest in Canadian military postal history.
Steve was a long-time member of the British North America Philatelic Society, the Postal History Society of Canada, and the Royal Philatelic Society of Canada, among other philatelic and non-philatelic organizations. A strong supporter of philately and clubs at the local level, he joined the Saskatoon Stamp Club in 1978 and served as President. For his many years of dedication and service to the Saskatoon Stamp Club, he was elected an honourary life member. He was also a "long-distance" member of the Edmonton Stamp Club.
A renowned researcher, collector, author and exhibitor on a wide variety of Canadian military mail subjects, Steve is best known for his work in P.O.W. and Internment Camp postal history. He was a long-time member, supporter, and contributor to the BNAPS Canadian Military Mail Study Group and the Group's newsletter. He contributed many articles over the years to BNA Topics, the PHSC Journal, and to the MMSG's A Canadian Military Postal History Anthology (1991). Steve's writings greatly contributed to the study of Canadian military postal history, and helped introduce it to a wider audience.
One of Steve's many philatelic achievements, of which I believe he was most pleased, was the printing of his Internment Mail in Canada: 1914-1919 and 1939-1946 exhibit as BNAPS Exhibits Series volume #21, and the subsequent reprinting of the exhibit in colour in 2007. His study was felt to be one of "the best assemblies of this material ever formed". Steve sought a good many rare and unique pieces from both wars, and his collection and exhibit featured some of the very best and most interesting items.
While he acknowledged the extremely important role museums and archives play within our hobby (having also worked in a second career in this field as a curatorial assistant with the Western Development Museum), one of Steve's many endearing qualities was that he was a "collector's collector". He was resolved that his P.O.W. collection should eventually be returned to the collecting community where he thought it belonged. Steve subscribed to the notion that postal historians and collectors are the best transitional stewards of postal history and that future generations of collectors should be offered the same opportunities and challenges he had experienced to own and study these "paper witnesses to history". His main collection was subsequently placed back "into circulation" beginning in 2007. Future generations of collectors and students of military mail have Steve to thank for his generosity and thoughtful decision.
Over the last several years, Steve was a very successful exhibitor and enjoyed attending various local, regional, and national philatelic exhibitions and shows. While his exhibits garnered many substantial national-level awards, he was more inclined to simply showcase his material in the hopes that others would enjoy "what he could gather together" and encouraged others to do the same. He was always ready to assist others needing advice on exhibiting (especially at the local level), and readily encouraged collectors to "take the plunge" and exhibit. Many collectors, largely because of Steve's advice and encouragement, have now become full-fledged and successful exhibitors.
Never one to ignore a challenge in exhibiting, Steve was always eager to try new areas. He was one of only two exhibitors (coincidentally both BNAPS members) to exhibit in the initial trial "display class" introduced at the Edmonton Spring National Show in 1999. He received a "first" for his very popular four-frame exhibit "Saskatchewan and Military Conflict: 1885-1945". Steve was also delighted to be awarded both the BNAPS E.R. "Ritch" Toop Award for his writing on Canadian military mail subjects and the PHSC's E.R. "Ritch" Toop Memorial Plaque and Certificate for his military exhibits.
Despite the sale of his P.O.W. collection, Steve continued to collect, study, and research other areas of postal history and philately. In September 2010 he exhibited his excellent multi-frame "Canadians in Korea", as well as an immensely popular "The 1937 King George VI Coronation First Day Covers" exhibit. He also returned to one of his boyhood interests and studied the stamps of pre-1997 Hong Kong.
Steve's humour and story-telling were legendary and always enjoyable. We often enjoyed commiserating with each other over tales of "the ones that got away". One involves his finding a rather tatty cover in a dealer's, possibly Allan Steinhart's, stock in Winnipeg years ago related to the Queen's Own Rifles during the 1885 North-West Rebellion. It was early in Steve's postal history "journey" and as Steve recounted he was a rather naive neophyte. Although the cover had a few minor creases and small tears (common with Riel Rebellion covers) and was "decently priced", Steve neglected to purchase it as he believed a "nicer one" could be easily picked up in the future! "I was quite quick to learn," he admitted, "that these didn't just grow on trees"! Thankfully as his knowledge and expertise grew, his "finds" later on were plentiful and greatly outnumbered the ones that got away.
Steve was a wonderful friend, mentor, and well-respected military postal historian. His passing leaves a tremendous void. He will be greatly missed by all who had the pleasure and privilege of knowing him and he will be remembered for his kindness, humour, and dedication to our hobby. He is survived by his loving family, wife Flora, daughter Patricia, sons Alan (Katherine) and Douglas (Zoe), and grandson Christopher. To them we send our deeply-felt condolences.
Dean W. Mario
Editor, BNAPS Canadian Military Mail Newsletter
William G. (Bill) Robinson, OTB, FRPSC, FRPSL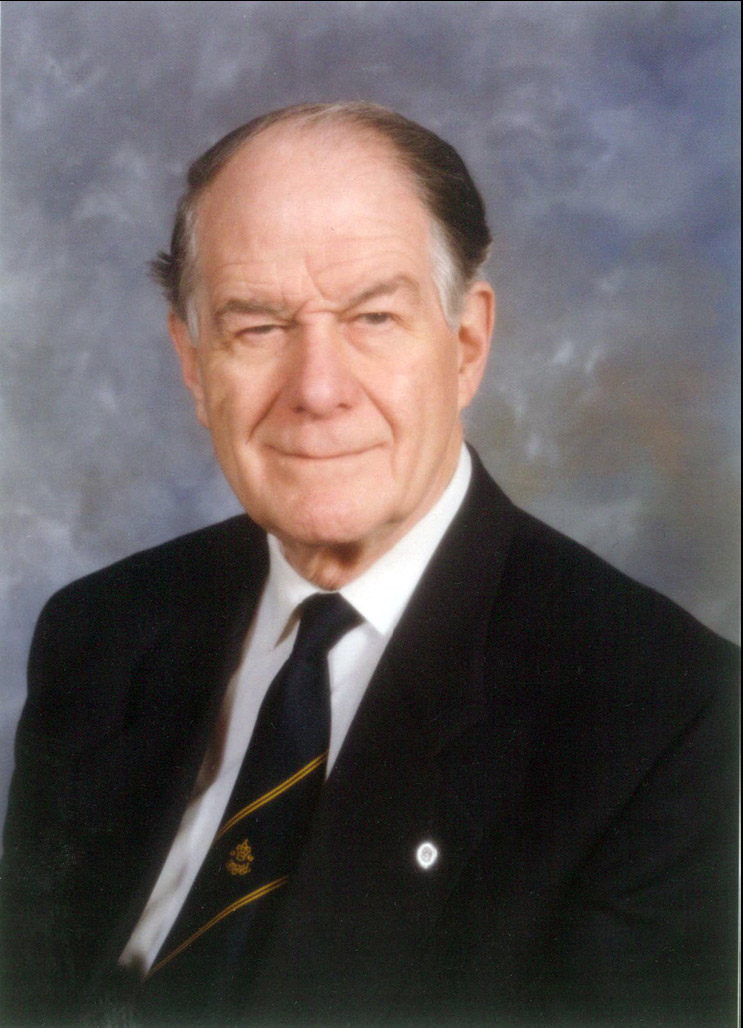 Canadian philately has lost a great friend and student of the hobby. Bill Robinson died on December 4, 2010, in Vancouver General Hospital as a result of complications from pneumonia. He is survived by his wife of 53 years Megan, their daughters Gwyneth and Heather, and five grandchildren. He was a 1947 graduate of the University of British Columbia, achieving Honours in Civil Engineering. He worked with Parks Canada and the Department of Indian Affairs until his retirement in 1978. Bill attained the rank of Colonel with 30 years of service in the Canadian Militia.
Bill Robinson's contributions to philately resulted from the organizational skills of a military man and the thoroughness and precision of an engineer, but importantly also the passion of a great collector. Bill quickly found himself in a leadership role in the broad range of interests in his life. These included over 50 years service to his Masonic Lodge and to his church, St. Stephen's United in Vancouver. He served as a Director, Vice-President, and President of the Royal Philatelic Society of Canada and was elected a Fellow of the Society in 1986. He similarly served in numerous executive positions with the British North America Philatelic Society including President from 1990-92, and was honoured by being included as a member of the Order of the Beaver in 1987. He was an active contributing member of many other philatelic societies including the Postal History Society of Canada (both President and Director), the Canadian Philatelic Society of Great Britain, and the American Society of Polar Philately. He contributed to many study group newsletters. He was a nationally and internationally accredited judge, frequently serving as chair of the jury. His broad knowledge of so many aspects of collecting and exhibiting made him a popular choice for many show committees. He was a most worthy recipient of a Fellowship in the Royal Philatelic Society, London for his many years of service to philately.
Bill contributed many learned articles to the journals of his societies. Railway Post Offices were an important collecting interest, and he made significant contributions with Lew Ludlow to the "RPO Cowcatcher" in BNA Topics as well as a series on Canadian Airport Mail Facilities. He provided many updates to the recently published RPO catalogue. In the RPSC's Canadian Philatelist, articles on the Canadian Forces in Alaska and a series on Northern Post Offices of the Yukon and British Columbia were important additions to the knowledge of Canadian postal history. Bill also collected Canadian military mail, and his exhibit of Boer War material was published by BNAPS. With Bill Topping, he edited five books on the post offices and postal markings of the Western Provinces and Territories that are widely relied on by students and collectors of this material.
While Bill was a great volunteer and leader in all of his interests, he will probably be best remembered for his generous, mentoring role to so many keen collectors. He always had time to share knowledge and guidance to even the most novice. Canadian philately is much richer for the contributions of our late friend Bill Robinson.
Peter de Groot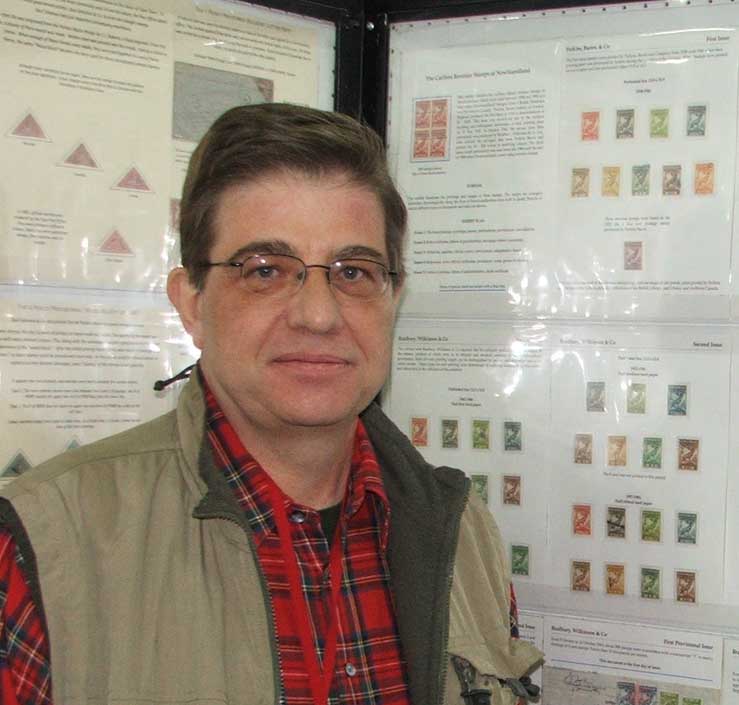 Unlike many who read this Memorial and had the pleasure of actually meeting Peter de Groot, I never did. The most personal contact I had with him was on the telephone when we spoke fairly briefly about a die proof Peter had been kind enough to sell to me. We were both worried about it being lost in the mail! I remember the conversation well; his softly spoken voice and quiet confident manner gave me hope that the item would arrive - which of course it did! It was Peter's favourite die proof - a Newfoundland 1¢ green "Pile of cod" from the 1932 issue - and I was amazed that he would part with it. I later found out that Peter wanted stamps to be admired, studied, and displayed, not locked-up in collections. Peter sold me a few of his prize 'cod' stamps, and they hold a key place in my single frame exhibit that recently received a Grand Award. I just wish he had seen this exhibit, as much of the knowledge behind it arose from Peter's earlier research on this issue and on his willingness to generously share his knowledge and time (and photocopies of much of his research material).
Between 31 December 2007 and 5 October 2010, Peter and I exchanged over 330 emails, many rather detailed, containing his ideas and research findings. We published an article on Waterlow archival proofs (BNA Topics, 2010); a follow-up to Peter's much earlier article (Newfie Newsletter, 1994). We worked hard together on this article as it was a tricky piece of detective work, and Peter's adherence to the logical interpretation of the facts was impressive. His editorial skills were among the best I have ever seen. These traits were clearly advantageous in his many scientific writings for the Great Lakes Forestry Centre, Canadian Forestry Service.
Peter said in one email, "I have been collecting Newfoundland stamps since 1976 and continued sporadically and with little money until 1982 when our first child was born. I started collecting the side specialization on the codfish around late 1992-92, after a totally dry period of about 10 years (young kids and single family income). My current area of specialization is in Newfoundland revenues, Canadian revenues, censored mail, and British consular stamps on document (I have about 12 collections currently going)." In another email he wrote, "The Lady of the light exhibit is on the second issue Electrical Inspection stamp of Canada. It was the first time out for the exhibit, and I was quite surprised and pleased it received a Gold".
Then, in February 2010, Peter sent me the sort of message that we all dread getting from a friend or relative, informing me of his recent ill-health and diagnosis. I replied, but did not really know what to say. In his follow-up email he wrote, "You said what every person who has been diagnosed with a difficult and probably terminal disease wants to hear, which is 'let's keep going and have fun' (paraphrased). Thank you." Peter and I were planning to get together in the late spring at his house in Ontario, but this was not to be. Our last email contact was on 5 October. Peter passed away on 22 October 2010.
An entomologist by profession, Peter specialized in the insect pests of Canada's forests. He was a meticulous and dedicated scientist of great ability and unlimited curiosity, highly regarded by his colleagues for his expertise, passion, ever-present good humour, and great love of the forest and its creatures. He was always generous in sharing these gifts with others.
In the few weeks since Peter's passing, I have heard so many nice and kind words about him from various philatelic friends who had known him personally and had many interesting chats at various shows. Peter shared his knowledge, and love of the hobby, with us all, and we shall miss him. Perhaps, the following epitaphs best express our thoughts:
Upon receiving the sad news, Erling van Dam wrote, "Peter de Groot was an amazing researcher, who brought his professional experience to the stamp hobby. He enjoyed researching his areas of interest and was able to uncover a great deal of new information that he readily shared with his fellow collectors. His Newfoundland Stamp tax articles that were published in the Canadian Revenue Society Newsletter were a prime example of his research and were the best ever articles published about this collecting area. His well researched and written up exhibits won many awards. His Newfoundland Inland Revenue Caribou exhibit was outstanding and unequalled. My fellow collectors and I learned something new every time we talked to Peter. We are going to miss him at 'Stamp Camp', an annual gathering of Revenue enthusiasts. I am very fortunate to have had the pleasure of knowing him."
John Walsh expressed similar feelings when he wrote, "I was greatly saddened when told of Peter's death. Yes, I knew he was sick but still the happening is painful. I met Peter about five years ago after reading some of his philatelic research that was presented in the Canadian Revenue Newsletter. A local Newfoundland revenue collector, Terrance Harris, also told me about the research Peter was publishing. He had presented some of his findings on the fee rates as applied to Newfoundland revenue documents. His Newfoundland revenue collecting turned into the passionate exhibiting of his Caribou revenues, showing their proper rate usage on document.
"Peter was a very good friend. His manner, humour, passion and hunt for revenue documents and his willingness to sit down have a swallie of brew and to have a discussion on our passionate subject, revenue rate structure, will be greatly missed. I extend to Peter's family my sincere condolences on their personal loss and thank them for sharing Peter with the philatelic fraternity. I/we thank you for your research findings Peter; you will be missed."
Finally, Peter's other colleagues and friends in the Canadian Revenue Study Group wrote; "Peter's professional skills were mirrored by his attention to detail in researching, planning and exhibiting his philatelic collections. His exhibiting style told a story using various documents to illustrate the applications and rates of fees and taxes paid by revenue stamps. It was always most stimulating to see how he could suggest that an exhibit be expanded or reduced to as little as one frame according to the depth of one's material. At ORAPEX 2010, Peter received the Best Researched British North America Award from the British North America Philatelic Society as well as the Best Presentation Award from the American Association of Philatelic Exhibitors. At BNAPEX 2009 he received the Wilmer Rockett Award for the best revenue stamp exhibit. From 2006 through 2008, Peter presented a series of articles in Canadian Revenue Newslettercite> that reviewed the history and rates of Newfoundland's Inland Revenue stamp taxes and fees. These works will always be significant contributions to our knowledge and appreciation of Canadian revenue stamps."
Prepared by Tony Thompson, with assistance from Fritz Angst, Erling van Dam, Dave Hannay, Chris Ryan, Mike Street, and John Walsh.
Photo credit: Peter de Groot at ORAPEX 2010, courtesy Dave Hannay.
John Edward Frith (1942-2010)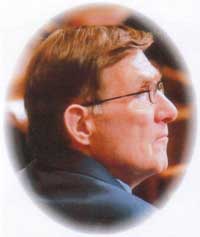 John Edward Frith (March 27, 1942 - May 28, 2010) passed away at Copper Cliff, Ontario. He is survived by his wife Maureen and sons Paul and Jamie. John retired from Inco in 1992. He particularly enjoyed the camaraderie of his fellow workers in the iron ore plant and demonstrated his concern for them by his long service as a union steward for the Steelworkers local.
John was a collector, exhibitor, author and dealer in stamps and postal history. His primary interest was Military Postal History. He came by this interest naturally and was proud of his father's long service with the Royal Hamilton Light Infantry. John was the first child baptized in the chapel at Camp Borden. He served in the army reserve in Sudbury with training at eastern Canadian bases.
John exhibited widely and won many Silver, Gold, and Best in Show awards with his exhibits on the Canadian Expeditionary Force, 1914 to 1919; Canadian Army Medical Corps Hospitals; and Canadian Forces in Newfoundland WWII. His writings in the Postal History Society Journal and the Canadian Military Mail Study Group Newsletter (BNAPS) have served as a solid base for further research. Laterally his interests returned to World War I and particularly the challenging area of Canadian airmen serving in the Royal Air Force (RAF) and the Royal Naval Air Service (RNAS).
I first met John at the local stamp show as he was the owner of Sudbury Stamps. Later I realized his large clientele was served mainly by mail, and his many trips to distant shows. He liked to tell stories of his trips to west coast shows stopping at antique shops along the way to look for covers or sell some material that he had acquired from the area. Maureen remembers the job of the assistant, setting up and taking down his sales table, and the inability of John to pass by an antique dealer on their many trips without stopping "for a look".
The philatelic community has lost a knowledgeable and enthusiastic participant. I personally have lost a friend and a mentor.
Paul Binney, Sudbury, February 2012
Ian McTaggart-Cowan, OC, OBC, Ph. D., LL. D., FRSC (1910-2010)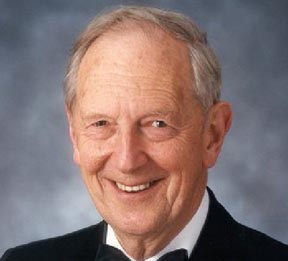 Dr. McTaggart-Cowan, world renowned zoologist, television personality and environmentalist passed away on April 18 just shy of his 100th birthday. He was born on June 25, 1910, in Edinburgh, Scotland, and immigrated to Canada with his family when he was 3. They settled in North Vancouver. He produced hundreds of scientific papers and books, but it was his appearances on television in its infancy that ensured that his environmental messages were heard by a large audience. He hosted a live programme called Fur and Feathers that taught children to appreciate nature and animals. He also made two other documentary series for the CBC later on: The Living Sea (1962) and The Web of Life (1963). In addition, he made over 100 documentaries and 12 teaching films. His major claim to fame was to encourage the application of scientific methods to wildlife management. He worked at the University of British Columbia from 1940 to 1975. He became Dean of Graduate Studies at UBC in 1964. In retirement, he became the Chancellor of the University of Victoria 1979-1984. He was made an Officer of the Order of Canada in 1970 and was given the Order of British Columbia in 1991. Ian was awarded a number of honorary degrees and academic medals. He was a major contributor to the four-volume set of The Birds of British Columbia, and was chairman of its team of authors.
In philately, Dr. McTaggart-Cowan was well known for his Grand Award-winning revenue exhibit the Law Stamps of British Columbia and his Gold Medal collection of the Law Stamps of the Yukon. Both of these exhibits were published by the British North America Philatelic Society. His other revenue collections included Federal Revenues, Canadian wildlife revenue stamps, and weights and measure, gas inspection and electric inspection stamp issues. He wrote many articles on the subject of revenue stamps. He was a member of BNAPS, and he and his wife Joyce were members of the Pacific Northwest Regional Group of BNAPS. He also was a member of the RPSC from 1978 to his death. From 1956 to 1963, Ian was a member of the 21 Club in Vancouver. He was a member of the Vancouver Island Philatelic Society and the Northern Canada Study Group of the Postal History Society of Canada.
Ian was responsible for preservation of a large group of early Yukon covers, many of which were sold by Robert A. Lee Auctions in March 2004. He recalled seeing these covers more than three decades previously, and tried to contact the owner. The owner's widow said that the old envelopes probably would soon be discarded. Ian convinced her that there was value in them, and he had his daughter take him to pick up the material. Almost all were sold, and all of the money went to the widow. At the widow's request, Ian mounted a selection of covers and presented these to a Yukon museum.
With a busy academic and scientific life, Ian had little time to exhibit his wonderful stamp material. Most of his exhibits were prepared after the death of his wife Joyce in 2002. In the last decade of his life, he learned how to use a computer to prepare exhibit pages.
In his travels, Ian often found time to seek out revenue material from government offices. Without his years of searching, our knowledge of these revenue stamps would be sparser.
Charles Verge, Gray Scrimgeour, and Richard Fleet
John Cameron Tucker
At London Health Sciences Centre, University Campus, on Saturday, March 13, 2010, in his 66th year. Beloved husband and best friend of Jane. Loving father of John (Vaja), Jennifer and Jeffery (Michelle). Doting and playful Grandpa to Duncan, Corbin, Claire, and Jack.
John served with the Canadian Armed Forces for 32 years, and subsequently worked for General Motors in the LAV division. He was a member of the Delaware Lions Club, the llderton Curling Club, the Twin Streams Golf Club, the Lambeth Lawn Bowling Club and several stamp clubs.
There will be no service or visitation at the request of the deceased. The date of the celebration of John's life will be announced later. Donations to the Heart and Stroke Foundation would be appreciated.
Waldemar (Wally) Gutzman (1920-2010)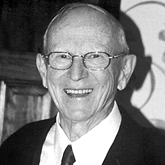 Wally Gutzman passed away in his ninetieth year at the Lakeshore General Hospital, Montreal, on January 6, 2010. Wally was born in Petawawa, Ontario, the seventh child of William and Elizabeth Gutzman, whose parents were pioneers in that area. After his elementary education in a one-room schoolhouse, Wally won entrance to Pembroke Collegiate, and later a Maths and Physics scholarship to the University of Toronto. He graduated with an MSc in meteorology and an MA in mathematics. During WW II he was attached to the RAF Ferry Command at Goose Bay, Labrador, as a Meteorologist, forecasting the Atlantic weather for the delivery of warplanes to Europe. After the war, Wally joined the developing Canadian Meteorological Centre where he became Chief of Analysis and Forecasting prior to retiring in 1980. An accomplished skier, gardener, and collector, he published three books to capture his extensive knowledge of Canadian postcards. For many years, Wally and his wife of almost sixty years, Wanda, were enthusiastic ballroom dancers and bridge players. His family - Wanda, two daughters, a son, four granddaughters, and three grandsons - remember with love his kindness, devotion to family and enthusiasm for life. A Memorial Service celebrating Wally's life was held on Saturday, January 23.
Wally attributed his early interest in philately to reading "The Hollow Tree", which appeared in McCready's Popular Stamps magazine and was later continued in Canadian Philatelist. Other early influences came from the writings of Ed Richardson and Lew Ludlow. He was a member of the Rural Canadian Stamp Club from the club's early years, the British North America Philatelic Society and the Canadian Philatelic Society of Great Britain, and was a founding member of the Montreal area's Lakeshore Stamp Club.
He was enthusiastic about Canadian postcards, and won the Vincent Greene trophy for Best Articles in BNA Topics back in 1978 for articles about Patriotic Post Cards of Canada. He participated in several related study groups and wrote articles on many of these subjects, including, from May 1977 to July 1986, 35 installments of the "Patriotic Postcard Series" in BNA Topics. Wally was the author of The Canadian Patriotic Postcard Handbook 1904-1914 (BNAPS, 1984), The Canadian Picture Post Card Catalogue 1988 and The Canadian Picture Postcard Catalogue 1992 (Unitrade Press). He was awarded a Queen Elizabeth II Golden Jubilee Medal in 2002 in recognition of his significant contribution in the area of Canadian postal history. This was the award that pleased him the most, as it represented an appreciation of the cumulative work that he had done in philately since the age of 14.
Compiled by Mike Street from Wally's obituary notice in The (Montreal) Gazette, his biographical sketch on Archivianet (Library and Archives Canada) and information received from many of Wally's friends.
Larry Robert Paige, OTB (1937-2009)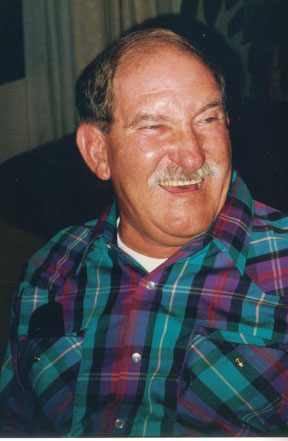 It is my sad duty to inform the members of BNAPS of the death of long time member Larry Paige, OTB, on 26 October 2009. He was born on 18 October 1937.
Larry was a personal friend who introduced me to BNAPS; he proposed me for membership and was responsible for my early involvement in the management of our Society.
Larry began his philatelic collecting with British North America; he had collections of Small Queens and Admirals plus lesser collections of revenues and registration stamps. Larry had two major Canadian exhibits. The first was the "JC Wilson Patriotic Covers of the Boer War Era". The second, for which he became the leading authority and recognized expert, was "Canadian Flag Cancels Used from the End of the 19th Century into the 20th". Larry's in-depth article, "Canadian Flag Cancels, the Classic Era - 1896-1902", was published by the American Philatelic Congress in the 1981 Congress Book, their annual publication. His flag cancel collection contained almost every known variety of Canadian Flag cancel, and his exhibit won Gold medals at the BNAPEX 1994 exhibition in Burlington, VT, and also at APS shows, including the APS' Champion of Champion show.
Larry and his wife Marva were frequent attendees at BNAPS conventions; together they hosted two BNAPEX shows in Virginia Beach, in 1982 and 1988.
Larry was active in local stamp clubs and could always be found at any show in the Mid Atlantic region. He was a member of the APS, BNAPS (Emeritus), Norfolk Philatelic Society and the Tidewater International Topics Society. He served as the BNAPS Study Group Coordinator from 1977 to 1982, and was inducted into the Order of the Beaver in 1991.
My memories of Larry are not so much about BNAPS shows but of regional shows we would attend. We always were able to make that attendance a "Mid Atlantic Regional Meeting". What happened at those meetings was usually pretty simple, we would gather in someone's hotel room, and just talk and enjoy each other's company; sometimes as many as twenty people would be crowded into a single room.
On more than one occasion I remember Larry coming up to me and giving me a cover saying "You need this in your exhibit." Never a dollar passed between us, and I'm sure he gave me more than I gave him.
Our society has lost a great member, and I and many of us have lost a friend.
Dr. Sandy Clark (1922-2009)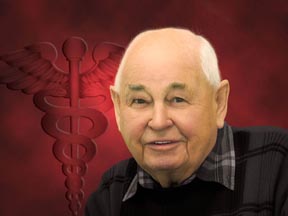 Dr. Sandy Clark passed away on December 4, 2009. Sandy was born in England and studied medicine at the University of Birmingham, graduating in 1947. In 1966, he moved to Canada, first to Ontario and then to Pubnico, Nova Scotia where he practiced medicine for 27 years. Sandy will be remembered for his extensive volunteer work in his community. He volunteered at the Yarmouth Regional Hospital, at the Yarmouth County Museum, the Yarmouth St. Andrews Society and he was a charter member of the Pubnico Area Lions Club. He was committed to the St. John Ambulance Brigade for 40 years - he received the title Serving Brother of the Order of St. John. In 2002, he was awarded the Queen's Golden Jubilee Medal for his service to the community. He was an active member of the Nova Scotia Stamp Club and a passionate reader, gardener and traveller. He is survived by his children Dr. John (Carmen) Clark, Jill (Greg) Grist, and Sara (Peter) Jackson, and several grandchildren. He was predeceased by his wife.
Sandy was very active in Canadian philately. Among his affiliations were memberships in RPSC, BNAPS, PHSC, PSSC, and the Disinfected Mail Study Circle. Whenever possible he attended the meetings of the Nova Scotia Stamp Club. He had planned to attend the December meeting of the club on the Tuesday following his death. During the winter, he visited his daughter Jill and her family in Australia. He contributed various exhibits to NOVAPEX, the Royal/Royale, and BNAPEX. The exhibits, which mainly reflected his interests in medicine and Nova Scotia, included: "Disinfected Mail and Vessel Quarantine", "Smallpox on Stamps", "Tuberculosis and Philately", "The Stamps of Nova Scotia", "The Star Postmarks of Nova Scotia & Nova Scotia Postmarks with a Crown", and "Early Nova Scotia Postmarks", as well as "Royal Death and Mourning". His exhibit "Early Nova Scotia Postmarks" won the Grand Award at Royal *2004* Royale, while his "Nova Scotia Way Offices" received Gold at BNAPEX 2008, both held appropriately in Halifax.
Rosemary Nickle (1922-2009)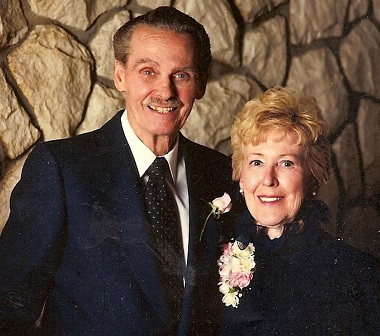 Rosemary Nickle (née Ellison) passed away quietly on 3 June 2009, just short of her 88th birthday. Her early years were spent pursuing a career in dance, and later her talents extended to millinery work, fashion and dressmaking. After being left a young widow and mother in the early years of WWII, she met and married Sam Nickle with whom she shared an active and fulfilling life involving philately, travel, support and promotion of Canadian artists and involvement with the Calgary Highlanders Regiment. Together, Rosemary and Sam were gracious hosts who welcomed hundreds of people into their home over the years.
In addition to attending most BNAPS conventions, they were co-hosts of BNAPEX 1985 in Calgary. After Sam passed away in 1994, Rosemary instituted the annual Sam Nickle Award for the best Military Mail exhibit at a BNAPEX. Her personal exhibit on the Quebec Tercentenary issue of 1908 won several awards . Rosemary's easy elegance and grace will be missed by all who knew her. A Memorial Service to celebrate a life that touched many was held on 11 June 2009 at St. Stephen's Anglican Church, Calgary.
Floyd McNey (1931-2008)
Floyd was a 40-year member of BNAPS and a strong supporter of the Edmonton Stamp Club for over forty years. Floyd passed away on January 18th, 2008, and a memorial service was held February 1st at Robertson United Church. Floyd was only 77 years, which seems much too young.
Floyd was a very keen stamp collector and a hard worker for his hobby. His main collecting interests were revenues and then perfins. He was President of the Edmonton Stamp Club in the 1987 - 1988 period and contributed a huge amount of time and effort to making the Club better.
Floyd was involved in the Foresters organization and ran a stamp club for them. He also gave talks at schools and took every opportunity to promote the Club and the hobby.
For the last several years, Floyd lived with muscular dystrophy. He was tremendously resilient in the face of his circumstances and if you asked him how he was, Floyd's response never wavered from, "I'm always good".
He was very active in Rosedale where he lived, organizing the paper recycle and card games - always giving, just like he did in his hobby.
Material provided by Keith Spencer
Peter Zariwny (1922-2008)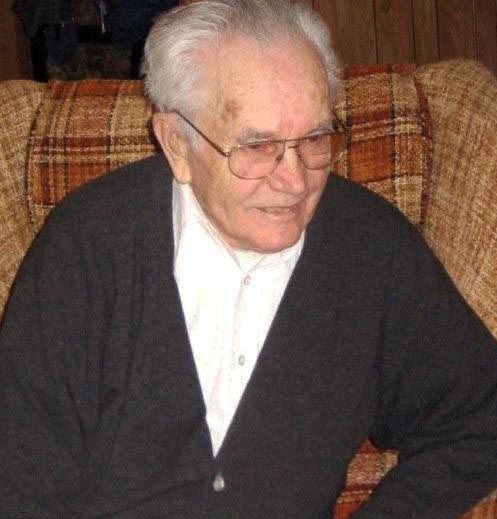 Peter Zariwny passed away peacefully on November 20th, 2008 at age 86. He was predeceased by his parents and two sisters. A Memorial Celebration was held at the Edmonton Ukrainian Centre on December 1, 2008.
Peter was born and lived in Alberta all his life. His parents came from West Ukraine and homesteaded near Thorhild. They were among the unsung Canadian heroes who broke the land. Peter's father died early in life and Peter took over responsibility for the farm.
He then worked at the Thorhild Co-op for a time, before moving to Edmonton in 1960. There he opened a barbershop on 97 St. and 123 Avenue, and continued this for 35 years. He owned both a beauty shop and a laundromat. He retired in the 1980s, but continued cutting hair for a few men in his basement suite, where he had a barber's chair in his office.
Most of us knew him as a philatelist. Peter was an ardent member of the Edmonton Stamp Club for many years, where he seldom missed a meeting. He was a very keen collector. He originally had a world-wide collection and a good collection of Ukraine. He then started collecting booklets, but sold those after he came across a copy of Webb's Postal Stationery Catalogue of Canada and Newfoundland and started on his quest to collect everything in it. Ultimately he did, with the exception of railway view cards. He was very enthusiastic and thorough. He studied the literature, corresponded with people and established relationships and friendships everywhere based on his postal stationery interests. Philately was his contact with people.
Earle remembers:
"Once when Peter was going to be away for several months travelling across Canada, he took me up to a Federal Government office in Edmonton to introduce me to the office staff. He wanted me to collect the Xpresspost and Priority Post envelopes in a month's time, when I was back in Edmonton, to be sure they would continue to keep them for him. He collected envelopes from them for 7 or 8 years until the Privacy Law forced the offices to destroy them rather than give them to Peter."
Mike Sagar adds:
"Peter was widely known ... He was obviously a correspondent of no equal, and was liked and respected throughout the hobby. If only we could all leave such a positive legacy."
Earle Covert & Keith Spencer
Submitted by Jean Walton
Harry E. Duckworth (1915-2008)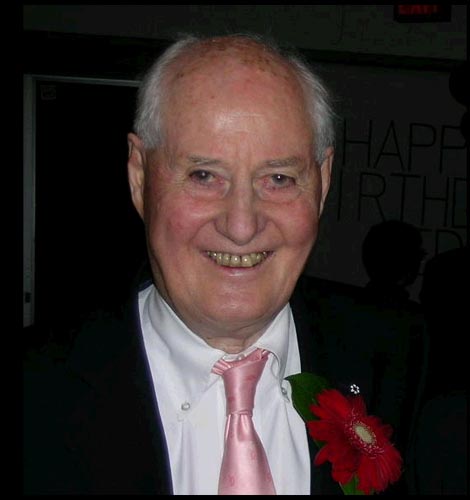 My father, Harry Duckworth, was born in Brandon, Manitoba, in 1915, and died in Winnipeg on December 18, 2008. For almost sixty years he was an enthusiastic and knowledgeable collector of Canadian stamps, specializing in the Large Queens issue. He did his share of stamp collecting as a boy, but began to take philately more seriously about 1951, when he and the family returned to Canada after five years in Connecticut. He spent the next 14 years of his life teaching physics at McMaster University, in Hamilton, and soon began attending J. N. Sissons' auctions in Toronto. He decided to specialize in one denomination of the Large Queens issue - the Six Cent brown. The Six Cent had much to recommend it. It had been in regular use for about five years, 1868-1872, a period during which all aspects of the Canadian postal service, including the production of postage stamps, were in a period of rapid development and change. As a result, there was quite a variety of papers, printings and shades of the Six Cent, many interesting cancellations, and an interesting postal history. In the 1950s, it was not hard to assemble a quantity of Six Cent Large Queens: Sissons's sales often had ten or twenty copies in a lot, usually not picked over nor exhaustively described, and selling at modest prices. It was several years before he became interested in covers, but then he began to answer the siren call of postal history.
By 1971, when my father became President of the University of Winnipeg, he had about 2,500 copies of the Six Cent, plus quantities of the other denominations. The next year, he invited me to participate in a systematic study of his Six Cent copies. Each Saturday afternoon for about two years, we looked at 32 copies (enough to fill out one page of notes), recording condition, paper, shade, cancellation, presence of re-entries or plate varieties, whether part of a multiple, and any other unusual features. The database so generated became the basis of our account of the Large Queens issue, published in 1986 by the V. G. Greene Foundation as The Large Queens of Canada and Their Use 1868-1872. From the many dated copies, we could establish the dates of use of the various papers and shades. We discovered one new paper, and documented more securely the recently discovered "blotting paper". We were able to add to Horace Harrison's extensive information about plate varieties. At one point, we realized that occasional copies, distinguished by a small pencilled "12" in a circle on the back, had come from Doctor Lewis L. Reford's collection, and since the total number of Six Cents in that collection was known from the catalogues of the Reford Sales, it was possible to estimate roughly how many of the denomination are still in philatelic circulation now. The estimate was roughly forty or fifty thousand, about 0.5% of the number originally issued.
In the area of postal history, although by now Dad had a useful collection of his own, no single collector could hope to accumulate enough material for a complete picture, and so he and I also went through past Sissons and other auction catalogues, recording all the Large Queen covers we found. One unexpected conclusion from these data was that the 2-ring numeral cancellations, perhaps the most characteristic of the Large Queens obliterators, had not been issued in April 1868, as Boggs stated, but about a year later. To nail this point down, Dad contacted several other Large Queen collectors whom he knew, got information about the dated material they held, and, with them and me as coauthors, wrote an article in BNA Topics documenting the date of issue of the 2-rings. While preparing the postal history chapters for The Large Queens of Canada and Their Use, we realized that very little published material was available to explain how the covers that we were seeing had been handled by the post office. To remedy this, Dad and I worked our way through microfilm copies of most of the major daily Canadian newspapers of the period (plus a few others), looking for post office notices, schedules of trans-Atlantic sailings, and descriptions of postal arrangements. Dad also searched extensively in the records of the Post Office Department of Canada, and, where needed, in the equivalent records in England; and we made use of the Annual Reports of the postal service for Canada and the U.S. An early result of this research was one of Dad's rare philatelic exhibits, at the Royal in Quebec (Quépex) in 1984, which illustrated the arrangements that were available for transatlantic mail in the Large Queen period. A more ambitious exhibit of the Large Queens issue, at the Toronto International in 1987, won a Vermeil medal with felicitations - probably the highest award possible for his collection, which had no mint multiples and few high-value showpieces.
For many years, Dad timed trips to the United Kingdom so as to attend the annual meetings of the Canadian Philatelic Society of Great Britain. He was able to make these trips till a few years ago, when age began to make such travel difficult, and he leaves many philatelic friends on that side of the water.
The original edition of the Large Queens book sold out a couple of years ago. Encouraged by the Greene Foundation, my father recently undertook an expansion and revision of many parts, an effort in which several friends and family members participated. He saw a proof copy of the revised edition, replete with colour illustrations, several weeks before he died. The book itself has just appeared, and he would have been very proud of it.
My father's last years were clouded by poor eyesight - probably the cruelest affliction that can happen to a stamp collector - and he gradually disposed of most of his material, but he was continuing to enjoy the hobby right up to the time of his death. He took much enjoyment from meetings with a small circle of fellow philatelists on Wednesday mornings in Winnipeg, and from the gatherings of the local chapter of BNAPS, organized by Don Fraser. During the winter month that he spent each year in Victoria, he looked forward to attending the celebrated Muffin Club.
Fredrick Christopher McGregor (1922-2008)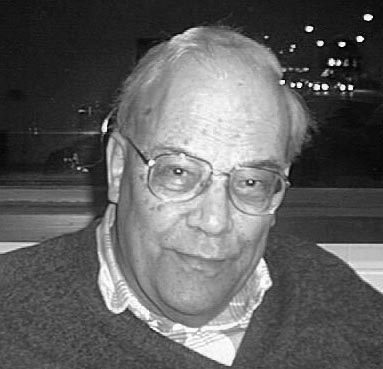 After a brief illness, Chris McGregor passed away peacefully on December 29, 2008, on his 86th birthday. He was predeceased by his wife Helen in 1997, and is survived by his son David (and Josée) and his brother Duncan (and Lorna). Chris was born in Vancouver, and grew up and resided in the Kerrisdale district of Vancouver. During World War II, he interrupted his education at the University of British Columbia to serve in the Navy as a wireless operator-first onshore in Britain and then on the convoy-escort corvette HMCS Orangeville. After the war, Chris returned to UBC and completed his degree in Electrical Engineering. Chris worked his way up to be a partner in a Vancouver engineering firm, then established his own consulting company. He received many honours for his professional work, which included development of codes for management of electricity within hospitals.
Chris had many philatelic collecting interests, including Scandinavia (Greenland, Faeroe Islands, and Sweden), Chile, and St. Vincent. He developed gold medal-winning exhibits of the Faeroe Islands and of "Greenland, Its Post Before 1940". He was an RPSC national-level judge. He collected duplex postmarks of British Columbia, and made a major contribution in this area to Bob Lee's duplex catalogue. He was a member of the Postal History Society of Canada from 1980 to 1995. He was Secretary of the British North America Philatelic Society from 1989 to 1992, and he helped organize the 1991 BNAPS convention held in Vancouver in 1991. In 1994, he was named to the BNAPS Hall of Fame. He and Helen were members of the Northwest Regional Group of BNAPS. He was a director-at-large of the Scandinavian Collectors Club from 1991 to 1994, and also served as bylaws committee chairman and associate editor of Greenland for SCC's journal The Posthorn in the 1990s, contributing several articles on Greenland. Chris collected Lundy locals and was a member of the Lundy Collectors Club.
About a decade ago, Chris started research into the production of picture postcards. He formed a definitive collection of cards produced by the French publisher Louis Levy Sons & Co. (LL cards), and he wrote a book on the cards of the photographer J.H.A. Chapman. He collaborated with Ron Souch in compiling a catalogue of western Canada views of the Valentine Companies. He assisted Lee Dowsley and Roma George with their book on the postcards of Coast Publishing of Vancouver. His real postcard love was for his ever-growing collection of early scenes of Vancouver, so carefully recorded, sorted, studied, and enjoyed. Many of his cards photographed by Philip Timms illustrate the monograph on Timms's cards. In late 2008, he was working with other members of the Vancouver Postcard Club on a book about British Columbia postcard publishers. He served on the Board of the Friends of the Vancouver Archives for many years, and was the longest standing member of Ryerson United Church.
Several times at his memorial service, the comment was made that throughout his life, Chris was a problem solver. He brought a systematic approach to his collecting, his research, and his judging. He established guidelines for research projects, and was accepting of different approaches to these problems on the odd occasions when he discovered they were superior to his own methods. He has been described as helpful, knowledgeable, generous, and sharing with his knowledge. Chris was one of the finest and wisest people I have known.
Gray Scrimgeour, with the help of many of Chris's friends.
T.W. (Tom) Southey (1918-2008)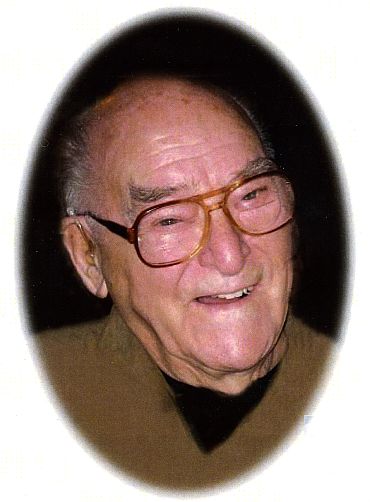 Tom Southey passed away on 22 December 2008 in St. Albert, AB. He was born in Hampstead Heath, London, England, and came to Canada as a child. He was raised in Young, Saskatchewan, and graduated from the University of Saskatchewan as a Ceramic Engineer. His career took him and his family to many parts of Canada, and they spent considerable time in Abbotsford, BC, before moving to St. Albert.
Tom's father, Charles Southey was a well-known BNAPS member and a famous collector of pre-cancels. Tom followed the philately path enthusiastically and was a member of several BNAPS Study Groups. He was particularly well known for his collections of squared circles, especially the Ottawa examples. He was active in the Pacific Northwest Regional Group. In Alberta, he was active in the Edmonton Regional Group and in the Edmonton Stamp Club. In 2008, Tom achieved the status of Emeritus member of BNAPS.
He is survived by wife Rita and five children. A memorial service was held December 29 in St. Albert, at which numerous references to his stamp collecting were made by children and grandchildren.
Bob Lane, OTB; with information from other members.
Dr. Alexander D. (Sandy) Campbell (1914-2008)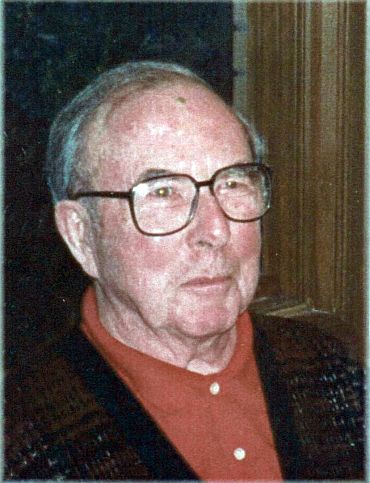 Sandy was born in North Battleford, Saskatchewan, in 1914. After graduating in medicine from the University of Toronto in 1939, he began to follow his father's footsteps in psychiatry. After a year or two, he decided it was not the specialty for him, and he began to pursue anesthesiology. He served in the Royal Canadian Navy until the end of 1943 in naval operating rooms in Halifax and Newfoundland. At that time, the Navy offered to support him in furthering his specialty at Royal Victoria Hospital in Montreal, supplemented by time in half a dozen of the leading teaching hospitals in the U.S. over a 2 to 3 month tour. Years later, he continued to speak appreciatively of the opportunities he had been given. After the war, he chose to locate in Kitchener, and with a partner, became the first specialists in anesthesiology at K-W and St. Mary's Hospitals.
He developed a strong interest in the history of the local medical profession. Over many years, he read every issue of the local newspapers from the first days they were published, searching for any reference to doctors. He had to teach himself to read German in order to handle the earliest editions. The result was extensive files covering every doctor who had practiced in the area. After he retired from practice in 1984, a broader interest in the history of the profession was satisfied by his time as Chair of the Archives Committee of the Ontario Medical Association. Libraries never ceased to be an important part of Sandy's life. At one point during his retirement, the Kitchener Public Library pointed out that he had borrowed over 5,000 books in a ten-year period.
Sandy was a member of BNAPS for 22 years and was a keen contributor to the BNAPS RPO Study Group. He was the author of a hilarious spoof that he presented to members at the 1989 BNAPEX, regarding the mysterious L.DER & ESTON RPO. The spoof was a made-up facing slip that showed Lew Ludlow as the Mail Clerk. He evidently had a keen sense of humour.
William (Bill) H.P. Maresch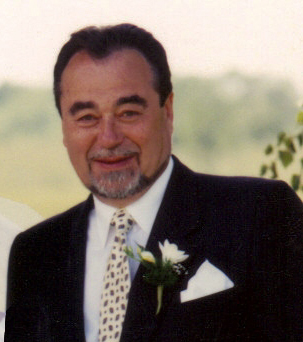 Bill Maresch passed away peacefully on 13 June 2008 in his 82nd year. He was the beloved husband of Rose-Marie, loving father of Tony and Peter Maresch and their wives Trudy and Melanie, and dear grandfather of Ashley and Michael.
Bill was one of the pre-eminent figures in Canadian philately. He was a long-time member of BNAPS and was a familiar sight at most conventions for over 50 years. He also attended many international shows and conventions throughout the years, starting as a child at WIPA in 1933. He was a founding member and past-president of the Canadian Stamp Dealers Association, and was one of the authors of its original code of ethics. He was also a member of most other major BNA philatelic organizations such as the Royal Philatelic Society of Canada, the Postal History Society of Canada and the Canadian Philatelic Society of Great Britain, as well as being a long-time member of the Collectors Club of New York, the American Philatelic Society, the American Stamp Dealers Association, the Germany Philatelic Society, and the Philatelic Specialists Society of Canada.
After having attempted a number of other professions in his younger years, Bill's love of stamps drew him back to philately. In the 1950s, he joined the family stamp business, originally founded by his father in Vienna in 1924, working tirelessly to turn it from a small retail store into Canada's premier auction house. He retired seven years ago; his sons Tony and Peter now carry on the tradition as the third generation of the family to run the firm. Along the way Bill authored and published, with Arthur Leggett, the original Canada Specialized Postage Stamp Catalogue that for many years, up until the early 1990s, was the only comprehensive and specialized catalogue for the material of Canada and the Provinces before Confederation. Bill had a keen philatelic mind, and was an acknowledged expert on BNA stamps and covers. He served on the expert committee of the Vincent G. Greene Foundation for many years and was an accredited member for BNA material of the International Experts Association (AIEP) based in Switzerland.
Bill formed several personal collections over the years, his favourites being Austrian Postal History, the 'Tiny Covers' of Canada and the rest of the world, and the Postal History of Meaford, where the family farm is located. Bill was also an avid and accomplished bridge player and enjoyed nature and bird watching. He found that a creative way to not compete with his customers was to collect various artifacts related to stamps such as Postal Seals, Postal Scales, Stamp Boxes, and a few original Post Office windows. These are all still on display at the firm's offices.
Bill was a decided presence in any room, and will be missed by everyone who knew him. A mentor and font of philatelic information to anyone who asked, he was willing to assist all collectors, whether advanced and specialized or just starting out. He helped guide many great philatelists in their efforts to form medal winning collections, and was always available for consultation and advice. Bill loved philately and philatelists and will be sorely missed.
Herbert Louis McNaught (1919-2008)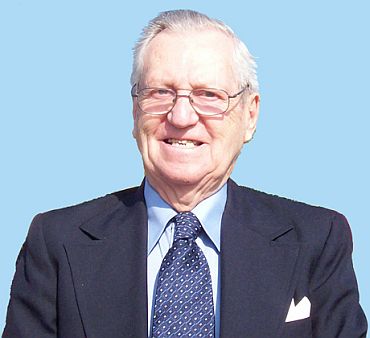 It is with great love and deep affection that his family announces the passing of Herbert on June 18, 2008, at the York Central Hospital with his family at his side; sons Bill, Tom, and John, daughter Heather, daughters-in-law Bernice, Cheryl and Lee, son-in-law Bill; grandsons Jason, Brian (Cori) and James; his brother, Reverend R.J. McNaught, and his cousins from Boston, Paul and Ruby. Herb also enjoyed many years with his other grandchildren, Leonard, Robbie, Timothy (predeceased), Jason, and Johnathan (Melanie) and his great-grandchildren, Sienna, Sebastian, and Chloe. Beloved brother-in-law of Mrs. Patricia Hay and Catharine and Joel Mazer. Lovingly remembered as 'Uncle Herbie' by his many nieces and nephews and numerous cousins throughout Canada, the United States, and Scotland.
Herb was born in Harwood, Ontario, on August 12, 1919, the second son of Reverend Thomas McNaught of Auchencairn, Kirkcudbrightshire, Scotland and Martha (Ball) NcNaught of Vennachar, Ontario. He and his three brothers, R.J., James (predeceased), and Earle (predeceased) were raised in the villages of White Lake, Balderson, and Russell. Herb entered Ottawa Normal School in 1939 and left for his first teaching assignment in 1940 in the Skye Elementary School near Dunvegan. During the war, Herb joined the Twenty-third Field Ambulance Corps (Reserve) and was slated to mobilize to Europe in 1946. In 1945, he joined the Kingston Public School System as a teacher, progressing to Vice Principal and Principal. In 1946, he married Winifred (Peggy) Hay with whom he had his four children. Peggy died in 1969. Herb joined the Ontario Ministry of Education as Inspector in the audio-visual department where he remained until his retirement in 1977. During his thirty-one years of retirement, he travelled with his second wife, Lola (Knowles). When Lola died in 1998, Herb renewed his friendship with Elsie Jupp (Urquart), who resides in Los Angeles. Recently Herb and Elsie celebrated ten years together.
Passions in his life included his stamp collecting, which he began in 1934, and the exhibiting of his three Gold medal collections - "The Half Cent Small Queen", "The 1897 Diamond Jubilee Issue", and "The 1908 Quebec Tercentenary Issue" (each of these collections has been published by the British North America Philatelic Society), his travels to Europe, Australia and New Zealand, and his strong faith at Queen Street United Church (Kingston), Willowdale United Church, and Asbury and West United Church. Herb will be remembered for his kindness and generosity to all who knew him and his wonderful story telling, some of which he recorded in his memoir, The White Lake Years, and for his enthusiasm for philately and his wonderful friends at the Philatelic Specialists Society of Toronto. He felt blessed for all the joys in his life.
Herb McNaught joined BNAPS in 1992. He first exhibited at a BNAPEX in 1994 at Burlington, VT, and followed this with exhibits in 1995, 1998, 2003, and 2005-2007. He enjoyed all the BNAPEX conventions he attended, some with Elsie, and was well liked by all BNAPS members who knew or met him. Herb's Quebec Tercentenary exhibit will be displayed for the last time at BNAPEX 2008 in Halifax and, with his enthusiastic prior agreement, published as part of the BNAPS Exhibit Series of books as soon as arrangements can be made.
Additional notes and photo – Mike Street
John M. Hillmer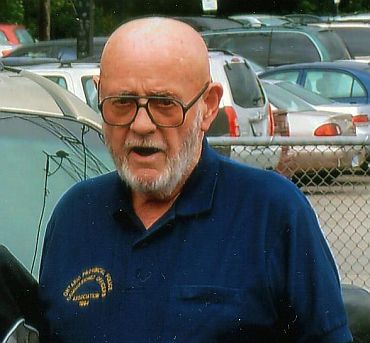 John M. Hillmer, a long-standing member of BNAPS and the Elizabethan II Study Group, passed away in the spring of 2008 in Toronto, ON.
John specialized in and studied the Caricature and Landscape Definitives issued by Canada from 1972 to 1976. His spectacular exhibits, a separate one for each issue, were entered at major philatelic exhibitions across Canada and Western United States, and earned high national level medals and respect. He exhibited at BNAPEX 1999 in Vernon, BC, and BNAPEX 2002 in Spokane, WA. In 2005, John's Caricature and Landscape Definitives exhibits both received Vermeil awards at STAMPEX in Toronto.
John retired from the Ontario Provincial Police with the rank of Staff Superintendent after a distinguished thirty-year career.
A passionate philatelist, John will be remembered for his enduring contributions to the hobby.
Our heartfelt condolences to Marion, his love.
Text and photo courtesy of Andrew Chung
Michael Painter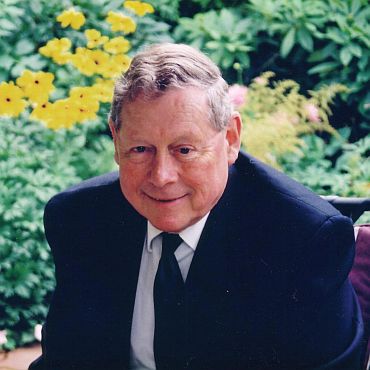 Michael Painter died on February 15, 2008, at the age of 80. One of the Vancouver area's leading philatelists, he was a member of the British North America Philatelic Society and its Pacific Northwest Regional Group, Vancouver's 21 Club, and several aerophilately societies.
Mike was raised in Okanagan Mission, British Columbia, and studied and wrote about the history of the Okanagan. In World War II, at the age of 15, he served in the Rocky Mountain Rangers—seconded from the Boy Scouts as a flag signal man, using skills learned while scouting. Mike collected material related to the postal history of the Okanagan, as well as early picture post cards of the Okanagan Valley. As recently as December 2007, he gave a talk on these cards at the 21 Club. Mike formed an excellent collection of the Centennial issue of stamps.
He was a forest engineer, and worked all over British Columbia. In his work, he flew with bush pilots. This led to another of his philatelic collections: Canadian air mails. He was especially interested in the Junkers aircraft used in Canada. He built a strong collection of the semi-official air mail stamps and covers of Canada, a topic related to the flights made by bush pilots. Mike leaves behind his wife Mary, his youngest daughter Adrienne Painter in Dartmouth, Nova Scotia, and Sarah and Jason Farris and two grandchildren, Jane and Owen, in West Vancouver. Our hobby has lost a gentle, thorough collector—a close friend and colleague who will be sorely missed.
Bill Liaskas and Gray Scrimgeour
Stan Lum, F.C.P.S.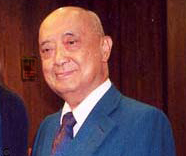 Stan Lum was an Emeritus member of BNAPS, having joined the society in late 1954. He was a prolific philatelic author, particularly for the Canadian Philatelic Society of Great Britain, and recently celebrated having articles in 100 consecutive issues of their journal Maple Leaves under his nom de plume, "The Yellow Peril". He was a Fellow of the CPS of GB.
Stan also wrote for BNA Topics, most recently in the mid-1990s as co-author with Mel Baron of the 12-instalment "First Day Covers of the Classic Issues of Canada". He was co-author with the late Elsie Drury of Postage Due Stamps of Canada 1906 – 1928, a handbook published just last September by BNAPS.
Stan's funeral notice from the 30 January 2008 Toronto Star follows:
LUM, Stanley 'Stan, The Yellow Peril'. Peacefully on Saturday, January 26th, 2008.
Stan beloved husband of Betty. Cherished father of Rose-Marie, Roberta, Ocean, Stanley Jr., and Arthur. Devoted 'Gung' of Aimee, Chloe, Taison, Spirit and Lauren. Funeral Mass on Thursday morning in Annunication Church (Victoria Park south of Ellesmere) at 10 a.m. Interment Pine Hills Cemetery. Arrangements entrusted to the Paul O'Connor Funeral Home, 416-751-7890. In lieu of flowers, donations made to the Heart and Stroke Foundation would be appreciated.
Randall Martin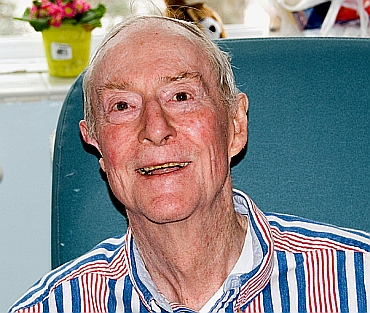 BNAPS member Randall Martin passed away on Sunday, May 6, 2007, in Rockland, Massachusetts, at the age of 83. He will be missed by many. Randall was an Army Air Force officer in World War II, retired president of Fifield Companies, and a dedicated collector of the postal history of Newfoundland and the Maritime Provinces of Canada. Raised in Cambridge, Massachusetts, he was a 1941 graduate of Cambridge High School and a 1948 graduate of Northeastern University.
Besides BNAPS, Randall was also a member of the Royal Philatelic Society of Canada and the American Philatelic Society. He exhibited at several BNAPEX shows and also at APS national shows. At ROPEX 2003 in Webster, New York, his exhibits won four Gold awards - for "Newfoundland Surface Mail" as well as the pre-confederated stamped mail of New Brunswick, Nova Scotia, and Prince Edward Island.
He was a close friend of a number of BNAPS members. Examples of his generous support of philately were donations to the John Butt scholarship of the St. John's Philatelic Society and to help pay for the publication of Sammy Whaley's Pratt-award winning book, Newfoundland 1865-1879, The New York Printings. Sammy says that Randall also sent him a number of covers for his research. BNA postal historian Doug Hannan says he met Randall at BNAPEX 2001 in Ottawa and spent an evening discussing Newfoundland covers. "I still to this day use a photocopy of the domestic rates of Newfoundland from 1865-1949 that he developed with the help of John Butt." Hannan says Randall was very interested in contributing books to the Grenfell Association and its museum.
My wife, Brigitte and I enjoyed eating dinner with Randall and wife Shirley at BNAPEX '99 in Vernon - a very gracious couple. He and I also spent many hours on the telephone over the years discussing Newfoundland philately.
John Walsh says that Randall had many relatives living in Newfoundland and that Randall and he went to at least six exhibits together. "He had a ball beating the 'judges' with a feather to get them to see his point of view. A funny guy and a good friend. A nice person."
He is survived by his wife, Shirley L. (Leupold) Martin; three sons, Ed Martin of Norwell, Bob Martin of Medfield, and David Martin of Hingham; a daughter, Nancy Goldberg of Kennebunk (Maine); nine grandchildren, and two great-grandsons.
David Allan Cooper Sr.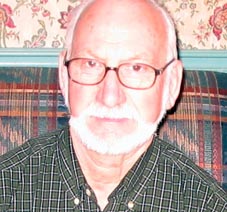 David Allan Cooper Sr. passed away on April 24, 2007, at age 69 at home in Porter's Lake. Born in Fort Erie, Ont., he was a son of the late Robert and Kathleen (House) Cooper. He was employed with Livingston International (Border Brokers Inc.) for over 45 years. He was a philatelist, and was a member of NSSC, BCCNS, F of P, RPSC, AMC, and GBCC. David edited the newsletter for the BCCNS and F of P. He was an accredited regional judge and was an apprentice national judge. He was also a member of the Archeology Association of Nova Scotia. He enjoyed gardening, canoeing and taking his grandchildren on day trips throughout Nova Scotia.
He is survived by his wife of 43 years, the former Jane Rogers; daughters, Elizabeth Cooper (Derrick Gray), Truro; Kimberley (Glenn) Thomas, Windsor Junction; Rebecca Cooper (Kevin Bruce), Lake Echo; son, David Allan Jr. (Jennifer Arnold), Dartmouth; brother, Paul (Fran) Cooper, Fort Erie, Ont.; sisters, Judy Bent, Patti (Russell) VanPlew, Carole (Patrick) Ferriday, Fort Erie, Ont.; grandchildren, Christopher and Alexander Faulkner, Kassidy, Kathleen and Courtney Bruce, Olivia, Amanda and Sarah Thomas, Zachary and Brandon Gray; many nieces and nephews.
Lola Caron, FRPSC (1911-2006)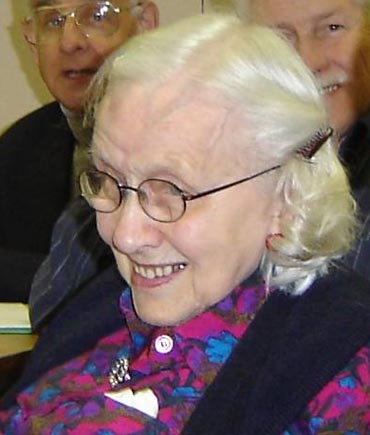 It is with sadness that we report the death of Lola Caron on October 10, 2006. This past January, Lola Caron turned 95, making her one of the oldest members of the Society. She became a member of BNAPS in 1972. Many will remember her faithful presence at BNAPEX conventions over the years. Diminutive in size but expansive in personality, she was always friendly and ready to talk - a pleasure to know.
Her full name was Noella Giasson-Caron; but most members will remember her simply as Lola Caron. She was born in Edmonton, Alberta, in 1911, but made Quebec City her home since the 1930s. Her first job was as a teacher, but she later became a civil servant. In 1942, she married Major Lionel J. Caron, who was a philatelist. She soon became a collector too. Her husband died in 1962. The loss of her husband did not remove her from the hobby - she was by then a true philatelist, and her interests were many and varied.
Her greatest interest was originally in the stampless folded letters of the 1840 era. But her interests were eclectic. Her extensive study of Magdalen Islands postmarks was published by the Académie Québécoise d'Etudes Philatéliques (AQEP) in 1985. The article was later expanded in BNA Topics to include the past as well as the current post offices of that tiny Quebec archipelago, for which she was awarded the Vincent G. Greene Award. Other studies she has undertaken are of the 2¢ Canadian postage stamp issued for the Royal Visit Series in 1939 and the mail retrieved from the Empress of Ireland. She also had an extensive collection of mail relating to the travels of Pope John Paul II as well as other things of interest to her.
Lola is well-known in many societies, where she contributed of herself and her time. She was a Fellow of the Royal Philatelic Society of Canada, and was the chief organizer for their 1975 and 1985 conventions, held in Quebec City. From 1974-1976, she served as President of the Société Philatélique de Québec. From 1982-1984, she was President of the Société d'Histoire Postale du Québec. She was a founding member of the AQEP and a contributor to their regular publication Les Cahiers. She was always an active contributor and a willing participant in every society of which she was a member.
More recently, she donated her long-time accumulation of research material and papers to the Philatelic Collections of Library and Archives Canada. The Fonds Lola Caron is now available to researchers and includes 85 cm of correspondence and research papers, more than 6,000 postal covers (mostly Quebec City during the WWII period), and 1,300 photographs representing social aspects of our hobby of the last 35 years. In 2002, Lola received The Queen Elizabeth II Golden Jubilee Medal for her contribution to philately.
An accident at home in Quebec City a few years ago forced her to give up her independent way of life, and she moved into an assisted living facility. She kept her sharp wit and quick mind until near the end. A long time friend of Canadian philately, she will be missed by many.
Jean Walton and Cimon Morin
Photo courtesy of Cimon Morin
Edward Joseph Whiting, OTB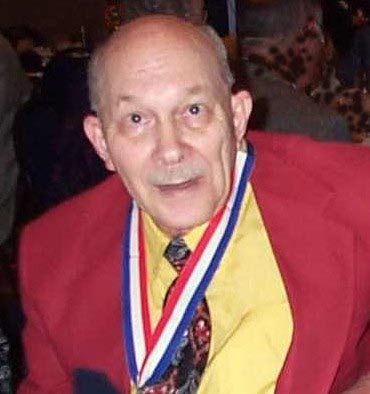 Edward J. Whiting, long time collector active in the British North America Philatelic Society and Philadelphia, Pennsylvania area philately, died June 22, 2006, at the age of 85. He was named an Emeritus member of BNAPS in 1989. He served the Society as Secretary (1974-1982), First Vice-President (1983-84), President (1985-86), and Director (1990-92).
In 1982, Whiting was named Historian of BNAPS and served in that capacity until 1999. He was an Associate Editor of BNA Topics from 1947-1958, and also wrote articles on and exhibited Canadian material. He served on the host committee of several BNAPS conventions, notably the one held in Philadelphia in 1950.
In 1976, Ed was elected to the Order of the Beaver, the Fellowship of the British North America Philatelic Society, which honours members who have met established criteria in the categories of: distinguished service to BNAPS; service to organized philately in general; contributing freely of his/her philatelic knowledge; and regular attendance and participation at the annual BNAPEX conventions. In 1995, Ed was also named to the BNAPS Hall of Fame for his contribution as Historian. Except when prevented by illness, Ed and Ernestine Whiting attended most BNAPS conventions from 1946 to 2000. They last attended BNAPEX 2004 in Baltimore.
Ed was a Director and Treasurer of INTERPHIL 76, the international exhibition held in Philadelphia in 1976, where he also served on the exhibit frames committee. He was active on the show committee of SEPAD, now the Philadelphia National Stamp Exhibition, and was Treasurer for over ten years. He received the SEPAD local merit award in 1973.
For many years he was also active in the Springfield (Delaware County PA) Stamp Club and produced its newsletter. He served in WW II and retired from the U.S. Army as a Master Sergeant after 30 years. Later he retired as an underwriter for State Farm Insurance Company. Ed Whiting is survived by his wife of 58 years Ernestine Rowland Whiting, his daughter Laura, and two grandsons.
Alan Warren, with notes from Mike Street
Photo courtesy of Jean Walton
Harry Sutherland, QC, RDP (1930-2006)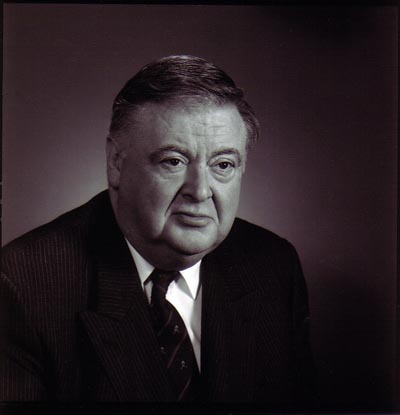 Harry Sutherland died in Toronto on February 14, 2006, in his 76th year following a brief illness. He is survived by his cousin John Sutherland of Halifax, NS. Harry will be greatly missed by his many friends.
He attended Upper Canada College and Osgoode Hall Law School. He was a senior corporate partner in the law firm Fraser & Beatty until his retirement.
Harry was Canada's pre-eminent philatelist. He signed the Role of Distinguished Philatelists. He was Chairman of the Vincent Graves Greene Philatelic Research Foundation. He was the longest serving President and thereafter Secretary of the Royal Philatelic Society of Canada, and was an International Judge under FIP. He was a longtime member of the Commanderie de Bordeaux. He was a member of The York Club, The Toronto Club, The National Club, and Rosedale Golf Club.
From the Toronto Globe and Mail:
Interment will be in New Glasgow, NS A memorial service will be held on Tuesday, March 7, 2006, at 2.00 p.m. in Calvin Presbyterian Church, 26 Delisle Ave., Toronto. In lieu of flowers, a donation to the Greene Foundation, 10 Summerhill Ave., Toronto M4T 1A8 or a charity of your choice would be much appreciated.
Many tributes to his legacy have been posted on the RPSC website.
Photo courtesy of The Vincent Graves Greene Philatelic Research Foundation
Dorothy Sanderson (1929 - 2006)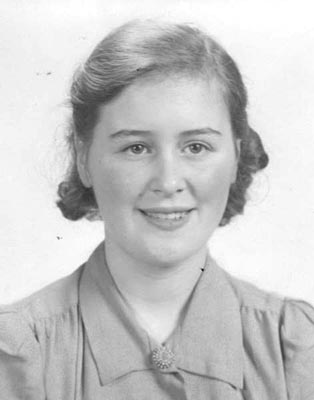 It is with sadness and deep regret that I have to inform you that Dorothy Sanderson died on 26 January 2006 after a stroke. She had no family in the United Kingdom, only cousins living in Canada and New Zealand, but she had made many friends through her work and her multitude of diverse interests. She will be missed by all.
A feature of Dorothy's life was that her career had drawn her away from her native Yorkshire, so few who knew her in her later years have any knowledge of her as a young woman. She tended also to compartmentalise her life - General Practitioner, Steward of Romsey Abbey, member of the Soroptimists, philatelist and postal historian, lover of the theatre, music, arts and travel - most of her friends knew little more than a small part of her life. Fewer still were fully aware of how much she had achieved and how many hurdles she had had to overcome to succeed in her chosen profession in the years following the Second World War.
Dorothy was born on 5 March 1929 in Halifax, the only daughter of Harold Sanderson, a policeman, and Doris Sanderson, a nurse and midwife. She excelled at school, but, despite the encouragement of her parents, was faced with the then common attitude that it was quite unnecessary for any girl to aspire to higher education. Despite this, she earned a State Scholarship to London University, Westminster College of Medicine, and graduated in 1953, having against the odds collected four prizes on the way. She practised as a General Practitioner in Coventry (and must remain one of the few lady doctors called onto the pitch at Coventry City to attend to an injured player). She moved to Hampshire, specialising in gynaecology and lectured at the University of Southampton. Dorothy was and remained passionate about her profession, and it is a reflection of the difficulties that she had to overcome that she has made provision to assist students of the future.
While our knowledge of Dorothy may have been hindered by a tendency to keep her varied interests separate, some of her characteristics will be recognised by all. She travelled widely, loved long cruises and only recently had to be dissuaded from signing on for a trans-Pacific voyage to Japan and China. She had a thirst for knowledge and an amazing memory for detail - there can be few who are able to identify every species of British wildflower purely by a process of elimination. After retiring she studied for and was awarded two Bachelor of Arts Degrees (with Honours), studying subjects as diverse as the Anglo-Saxon Church, Ethics, Henry VII, the history of art and the theatre. She could name actors and actresses, directors and producers, both theatre and cinema, in profusion. She was equally knowledgeable of classical music and she read profusely. Her delight in accumulating books, particularly about art, but also history, biography and every kind of fiction, gives a clue to another side of her nature. Dorothy was a collector.
A clue to the depth of this last passion lies in an admission she once made that, as a small girl, she would recover handbills and fliers from her neighbours' letter-boxes - from such simple beginnings she graduated to stamps, postal history, brochures from country houses, postcards and tour guides from her travels. But for many of us it will be for her stamp and postal history collections, her presentations and competition entries, that Dorothy was most famous and will be best remembered. A member of many philatelic societies amongst which were the Royal, the Postal History Society, the Society of Postal Historians, the Disinfected Mail Study Group, the Canadian Philatelic Society of Great Britain and, in Canada, the Postal History Society of Canada and the British North American Philatelic Society. Dorothy attended meetings regularly and usually displayed parts of her many collections: Medicine on Stamps, Hampshire Postal History, Canadian Stamps and, most famously, the postal history of Canada, the Maritime Provinces, Cross-Border and trans-Atlantic mails. Dorothy won any number of awards for her collections not only in this country, but from all around the world: Canada, the United States, Denmark, Norway, Italy, France, Bangkok and many more.
Dorothy Sanderson was a very accomplished woman who will be remembered for a long time.
Dr. John Martin Powell, FRPSC (1933-2005)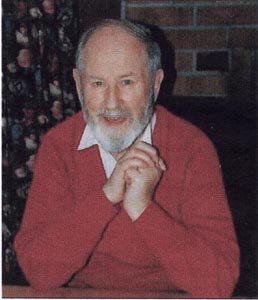 Professionally John was a botanist and a geographer, but in a major part of his personal life, he was a stamp collector. Stamp collecting was a passion for him throughout his life, a hobby he inherited from his father, who was a renowned collector of the King Edward VII issues of Great Britain. He collected throughout his adult life, always subscribing to new issues of Canada and Great Britain through a standing order service.
While raising his family of Helen, Elizabeth, and Ruth, he set aside many of his interests and instead selflessly encouraged them to become collectors, and they became experienced exhibitors in their own right as youths. When John retired in June 1991, he spent the next 14 years fully engaged in all levels of his hobby. Particularly until Margaret retired four years after him, his hobby became his full-time job, keeping him fully engaged throughout the days while she was still working.
Over the years, he joined a wide variety of specialist societies, eventually holding membership in 25 different societies and specialist groups as diverse as the India Study Circle, the American Revenue Society, the Polar Postal History Society of Great Britain, and the British North America Philatelic Society. As a member of the Royal Philatelic Society of Canada, he eventually was elected to fellowship in the society, and served as one of its Directors at the time of his passing.
He began to seriously specialize in a number of diverse collecting areas, and to form his exhibits which included:
British Seapost to India
Revenue Stamps of Iraq (he also co-authored a recent handbook on this topic)
Postal Markings of Baghdad
London Squared Circles
Lake Hazen Mail during the IGY of 1957-58 (where he worked as a recent PhD)
Hampton Court Palace and Gardens
He won many medals for these exhibits at the National and International levels.
He became an accredited National level judge, one of about forty in Canada, and one of only three in Edmonton. As a judge, he would adjudicate other people's exhibits entered in open competitions at stamp shows across Canada and the United States. He eventually became the Judging Coordinator for the RPSC, where he approved the accreditation and continuing competency of all judges.
He served as President of the Edmonton Stamp Club for a period in the 1990's, as the exhibits coordinator each year for our Edmonton Stamp Show, and also attended all the junior stamp club meetings each month at the old Southgate Library, encouraging the youth in our hobby. He has become the doyen for youth philately in Canada. Some of the members of the stamp club are in the audience, including other past presidents, and the current president.
In honour of his passion for all aspects of the hobby, the family has requested, in lieu of flowers, donations to the Edmonton Stamp Club to be used for establishing a memorial award in honour of his long years of service.
Our hobby will miss your dedication and enthusiasm, John.
Taken from a eulogy prepared by David Piercey
John James MacDonald, FRPSC (1925-2005)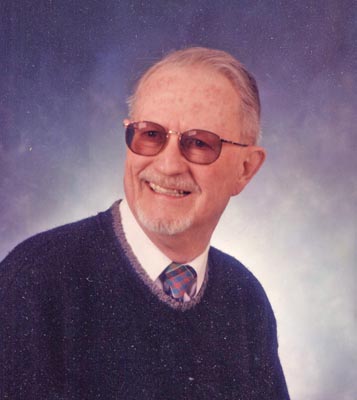 J.J. MacDonald, JJ, passed away on July 7, 2005, in his eightieth year. He entered St. Francis Xavier University as an exceptional 15 year old, and graduated in Chemistry. He completed his studies with a Ph.D. in Chemistry from the University of Toronto. In 1949 he returned to his Alma Mater as an Assistant Professor of Chemistry, and there he remained for his entire career, retiring as Academic Vice-President. He was involved in a wide range of scientific, educational and community activities, such as Chairman of the Board of St. Martha's Hospital, Antigonish, during a major renovation, and spearheaded the re-design of the Antigonish Golf and Country Club, a major endeavour. St. Francis Xavier University honoured him with a Doctor of Laws honoris causa.
He was active in the affairs of numerous philatelic societies, including the RPSC, of which he was a long-time director. He was elected a Fellow 1987 in recognition of his contributions to stamp collecting in Canada. His collecting interests included the stamps and postal history of Nova Scotia and New Brunswick. After having collected Nova Scotia stamps and proofs, he turned to the covers of Nova Scotia, and their postmarks. The culmination of this was his definitive book, The Nova Scotia Post: Its Offices, Masters and Marks, 1700-1867 published 1985. This was recognized with medals at Ameripex '86, Chicago and CAPEX '87, Toronto. The numbering system he developed for the identification of Pre-Confederation Nova Scotia postmarks is now the standard reference. He was awarded the Geldert Medal in 2001, for his article "Charles Connell and His Stamps - The Stamp's Survival", Canadian Philatelist, 51 [2000], 211-2 & 256-9. Intrigued by the notoriety of Postmaster Charles Connell of New Brunswick, who substituted his own portrait for that of Queen Victoria on the 5 cent stamp of 1860 (Scott #5), JJ sought out and indeed acquired a remarkable number of specimens, which had somehow been circulated despite the fact that the stamp had never been officially issued. In course of time, he became one of the leading authorities on the subject of this controversial rarity. His exhibit The Connell Stamps of New Brunswick received the Best Exhibit Award at the 1987 BNAPS Convention. He received the Frank W. Campbell Award of the Postal History Society of Canada for major contribution to the study of BNA postal history.
He served as editor of The Canadian Philatelist 1997-1999, during its transition to the current format. He was an honorary co-chairman of Royal*2004*Royale.
His last exhibit, "One Hundred Years over the Waters, Mail by Ship in and around Nova Scotia from Mid-18th to Mid-19th Century" which was awarded a Gold at BNAPS '97 and NOVAPEX '97, will be in the Court of Honour at NOVAPEX '05.
JJ leaves his wife, Jane Gordon; sons, John James, Ronald, Alan; daughters, Nancy, Anne Louise, Jana, Margaret; stepchildren, Jeremy, Rachel and eight grandchildren. He was predeceased by his first wife, Mary Lou.
Jim A. Hennok
Jim Hennok passed away on Monday, May 9, 2005, at age 67 at St. Michael's Hospital, Toronto, Ontario. He was born in Talinn, Estonia, son of the late Hellen and Harry Hennok. He came to Canada with his parents in 1949. They lived briefly in Rapides-des-Joachims (Swisha), Quebec before settling permanently in Toronto. Following secondary school, Jim attended Technical School, studying photography. He worked briefly for the Toronto Star newspaper before joining the RCAF as a photographer. Later he became an instructor at the Photography School in Camp Borden.
While in the RCAF, he took an active role in competitive shooting. Jim held a unique distinction. He was the only competitor to make every Bisley Team for which he tried. From 1960 to 1970 inclusive, he made every team in the top 18 of the Bisley Aggregate, except for 1968 when he chose to shoot in the match rifle class, which was not eligible to qualify for Bisley. Jim was second in the Canadian Fullbore Rifle Championship once, was runner-up in the Grand Aggregate once, and second in the Governor General's Prize three times. He was Champion of the Decade for the 1960s and is an inductee in the Dominion of Canada Rifle Association Hall of Fame. At Bisley, he made five Queen's Prize Finals and was in the Top 50 of the Grand Aggregate three times. In addition to these accomplishments, Jim won Silver and Bronze Medals at the Pan American Games in the smallbore rifles events.
As a teenager, Jim took an interest in philately. First, he was a collector, then a student and finally a merchant. He produced his first "List of Stamps for Sale" while still in high school. Today, more than 50 years later, the firm of Jim A. Hennok Ltd. still operates in Toronto as one of Canada's premier auction houses, specializing in postage stamps and postal history. Jim earned recognition as a National Philatelic Judge and served on the Vincent G. Greene Philatelic Research Foundation Expertizing Committee for many years.
Jim's foremost passion later in life was collecting Canadian art. An avid collector and fierce competitor, he amassed, in less than 25 years, an extensive collection of oils, watercolours, and works on paper. Between 1989 and 2003 he conducted 21 art auctions under the name Jim Hennok Fine Arts. His passion for art never waned. Even while in declining health, he could be observed at previews, getting around with great difficulty. At his death, beside his hospital bed, lay a group of art auction catalogues that had recently arrived for the upcoming spring sales he so dearly wished to attend.
James Donald Wilson, D. Eng., P. Eng., FEIC, FRPSC, OTB, N.S. Tech. 48-49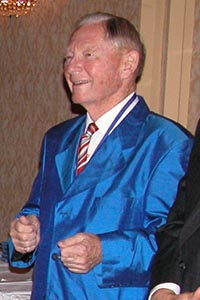 Passed away Sunday May 1, 2005 in St. John's NL, 80, from idiopathic pulmonary fibrosis, a lung disease of which there is no known cause or cure. Survived by loving wife Jean Drury Young Wilson, daughters: Joan Wilson Pike (Greg), Corner Brook, NL., Nancy Wilson Voegeli (Fred), Shad Bay, NS, sons: James Wilson (Michele), Windsor, NS, George Wilson (Joyce), Perth, Australia, 12 grandchildren, sister: Rosamund Sangwine, Walnut Creek, CA, sister-in-law: Jean Wilson, Bellevue, WA, three nieces and four nephews. Don was a very, very generous sharer of his knowledge, experience, time and wealth for the good of all. His company, Avalon Construction & Eng. Ltd., did work all over Newfoundland and Labrador for 40 years. As a young man, he was a very competitive skuller and canoeist in Dartmouth, NS. He was a highly respected philatelist in Canada. A world traveler. Cremation has taken place; interment at a later date. A memorial service will be held at the West End Baptist Church Tuesday, May 3 at 2 p.m. No flowers please, but donations may be made to a charity of one's choice. [St. John's Telegram]
The following was added by a few of Don's BNAPS friends:
Members of BNAPS were saddened to learn of the death on 1 May 2005 of J. Donald Wilson of St. John's, Newfoundland, at the age of 80. Don had a long 'career' with the British North America Philatelic Society, serving as a member of the Board of Directors from 1989 to 1994, Chairman of the Board from 1995-1998, and again as a Director from 2000 until he passed away. He also served as Chairman of the BNAPS Ethics Committee from 1989 through 1994, and was Chairman of the tremendously successful BNAPEX 1997 in St. John's. Don was elected a member of the Order of the Beaver the same year. He was also a very active member and Fellow of the Royal Philatelic Society of Canada, and a member of the Postal History Society of Canada and the Canadian Philatelic Society of Great Britain. In addition, he served as President of the St. John's Philatelic Society.
A fervent collector of the stamps and postal history of Canada and Newfoundland, Don also collected Newfoundland revenues. He was Chairman of the BNAPS Newfoundland Study Group in the early 1990s and served for many years as Distribution Manager of the Group's Newfie Newsletter, copying and collating the editions at his home and then mailing them.
Don was known for his generosity. Stories of him and Jean showing visitors around St. John's are common. Although very busy with convention duties, in 1997 he went out of his way to drive a friend all around St. John's helping him research the elusive spot from which the Vickers-Vimy departed on its successful transatlantic flight in 1919.
His willingness to help with answers to specific questions was unlimited, and he was especially conscious of the importance for collectors who live hundreds or thousands of miles from their country of interest to have a contact in that place. Don would often not have the answer himself but would always reply with those famous words. "Leave it with me for a few days and I will find out". He had the ability to get things done and the knack of getting people to assist him with whatever question or task needed resolving.
Many collectors on both sides of the Atlantic can recall how an envelope or package would arrive, often unannounced, containing philatelic material Don knew or thought would be of interest to the recipient. He would also slip material under a friend's hotel door during the wee hours of the morning at a stamp convention, and on at least one occasion took a valuable cover from his pocket and simply gave it to a friend as a gift.
It is little known that Don once flirted with a computer and at least twice sent emails to philatelic friends. Always preferring the personal touch, he then telephoned them to ask if the email had arrived! Although an Engineer by training and vocation, Don did not like the "new fangled contraption" and said he was going to get rid of it. Needless to say, get rid of it he did.
Besides his family and philately, Don's other passion was travelling. He and Jean had visited more than 125 countries in the world, and most recently travelled to Wales in 2003 for the Canadian Philatelic Society of Great Britain convention and to the Caribbean for a three week cruise in the fall of 2004.
After being hospitalized in January of this year, Don returned home determined to attend BNAPEX 2005 in Edmonton, but it was not to be. A second illness returned him to the hospital where, although weak and on oxygen, he continued to talk stamps with friends who telephoned until just a few days before his passing. Modest to a fault, Don was a true gentleman and his counsel and friendship will be missed. Our sympathy goes out to Jean, their four children, and twelve grandchildren.
Bob Dyer, Colin Lewis, and Mike Street
Ritch Toop, OTB, FRPSC (1923-1995)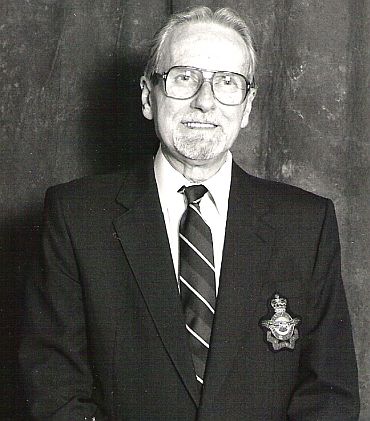 Philately's great friend, E.R. 'Ritch' Toop, OTB, FRPSC, was born August 28, 1923, and raised on his family's farm north of Carleton Place, Ontario. In January 1941, he began a long career with the Royal Canadian Air Force, serving with distinction. He 'rose through the ranks' and retired as a Major (Squadron Leader) in 1972.
His retirement was most opportune for Canada's Post Office Department, which acquired Ritch as a Manager in the expanding Philatelic Services Branch, where he worked from 1972 to 1978. He then became an indispensable asset to the National Postal Museum, initially as a Special Projects Officer using his military logistics background to coordinate various aspects of the institution's expansion and relocation from its original site to what was to be a permanent home in downtown Ottawa. His contributions led to a promotion to Philatelic Research Officer in 1980. His career was involuntarily terminated in 1985 when Canada Post dismantled the Postal Museum he helped create.
A popular, regular, and helpful participant at exhibitions and conventions, Ritch also wrote numerous articles on a wide variety of subjects, co-authored six authoritative handbooks concerning Canada's military postal history, and always had work in progress. A stalwart of many philatelic societies, he had a special interest in the BNAPS Military Study Group, of which he was a founding member as well as being an editor, adviser, and regular contributor to its newsletter. Ritch and his wife Maureen administered the office of the Royal Philatelic Society of Canada and brought the RPSC's operation into the computer age. He was also a Director of the Postal History Society of Canada and served on their Editorial Committee.
Ritch passed away October 13, 1995, after long, bravely fought battles against several illnesses. He was an inspiration to all who knew him. I am most grateful that I was fortunate to have had him as both a friend and colleague.
Maureen Toop
Maureen Toop, wife of the late Ritch Toop, OTB, passed away Thursday, April 29, 2005, in Ottawa. Maureen became a member of BNAPS after Ritch's passing. She initiated and sponsored BNAPS' Ritch Toop Award for the best article on Canadian Military Postal History published anywhere in the previous year. Maureen and Ritch were wonderful people and both will now be missed by their many friends in BNAPS. The obituary follows:
TOOP, Maureen (Clark) Maureen Toop, 78, beloved wife of the late Ewen Ritchards Toop, on Wednesday, April 27, 2005, at the Ottawa General Hospital, after a determined battle with cancer. Survived by her brother Michael Clark (Rosemary), sister Alice McCulloch (Robert), predeceased by sister Frances Carlin (the late Owen) all of Great Britain. Survived by step-daughter Lynne Kangas, Toop sisters and brothers-in-law, nieces and nephews, great-nieces and great-nephews and many friends. Mo will be fondly remembered for her great interest in life, charity, humour, and her "Guid Scot" spirit. Her family would like to thank the staff at the Ottawa Regional Cancer Centre for their excellent care and extend a special thank you to her oncologist, Dr. Scott Laurie, for his never ending support, encouragement, and affection.
James A. Brown (1925-2005)
Born February 17, 1925, passed away April 11, 2005. He will be lovingly remembered by his family: wife Gwen; children Colin, Barbara Greg) and Paul (Dolly); step-children Bill, Doug, and Jennifer (Greg); sister Patricia; 12 grand-children and long time friends Lorne Tomalty and Fred Brewis.
Jim served in the Canadian Navy, graduated from UBC in 1949 and had a successful career with Chevron until retiring in 1984. Jim then moved to Pender Island, where he suffered the loss of his wife Peggy. Jim was an avid stamp collector, especially in aviation stamps. Jim also published a book on the life of Eddie Hubbard, a pioneer in commercial aviation.
We wish to thank the many staff of the Sidney Care Home for their special care and kindness to Jim (and Gwen) during his brief stay. A memorial service will be held on April 21 at 2:00 p.m. at First Memorial, 4725 Falaise Drive, Victoria. In lieu of flowers, donations to the Diabetes Society, Kidney Foundation, or Salvation Army would be appreciated.
Published in the Victoria Times-Colonist on 15 April 2005.
Charles Whidden Arnold (1931-2005)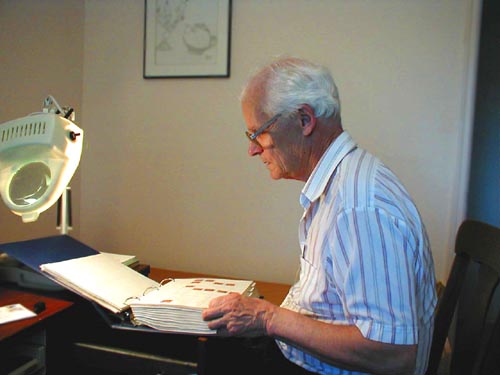 Charles Arnold - "Chuck" or "Charles" to family and neighbours and "Charlie" to us philatelists - died on March 30, 2005, as a result of a highway accident. At the time of the accident, Charlie and his wife Betty were near Golden, BC, on the way to the Edmonton Spring Stamp Show, where Charlie was to judge. There was an empty chair at the show's critique in honour of Charlie.
After operating Arnold's Bakery for many years, Charlie was a real estate salesman with Henderson Realty. He retired in 1993, and devoted his time to stamps, gardening, bridge and solitaire, and the Arnold family. For many years, he was an usher at his church and also a motorcycle rider.
Charlie was a member of both the Vancouver Island Philatelic Society and the Greater Victoria Philatelic Society, and had been president of both clubs. He was a regular attendee at the weekly Muffin Break meetings. He collected British Empire and Commonwealth stamps. He specialized in cancels and postmarks, and in separation of printing shades. Amongst his favourites were the stamps of early New Zealand and Canada's Large Queens, and Canadian socked-on-the-nose town postmarks. Charlie was a judge who learned at every show, and happily discussed exhibits with exhibitors - trying to help them with their collections and presentations.
Charlie was both a student and a teacher of philately. "Inquisitive" has been used to describe him generally, and that word surely applied to his stamp collecting life. He was a true enthusiast, and very positive. All his stamp friends have remarked on his enthusiasm. His response to explanations and news was always a cheery, positive "Yes!"
Charlie is survived by his wife Elizabeth, daughter Sandra, and sons Gary, Don, and Craig - their spouses and seven grandchildren, and his brothers Bruce and William. Predeceased by his brother Hugh. We extend our sympathy to Charlie's entire, loving family.
Gray Scrimgeour and friends
Paul Hughes (1912-2005)
John Paul Hughes of Sidney, BC, passed away peacefully on January 22, 2005. Paul was predeceased by his previous wife Helen and his daughter Paula, and is survived by his wife Norine, three sons - Henk, Ross, and John, 9 grandchildren, and 25 great-grandchildren. Paul was born in Edmonton. He was a member of the Alberta Mounted Rifles, becoming a First Lieutenant in 1931. He went overseas in World War II with the B.C. Dragoons, and was Captain of his Tank Corp. After returning to Canada in 1946, he worked for Muttarts Lumber Company on prefabricated homes. He and Helen moved to the Sidney area in 1967, and Paul then worked at B.C. Ferries for over 7 years. He was a member of BNAPS and its Pacific Northwest Regional Group and the Postal History Society of Canada.
He and Fred Keane gathered an award-winning collection of the Centennial Issue and wrote Canada, the 1967-73 Definitive Issue. Paul told me that for years he made the trip from Sidney to Victoria two or three times a week to converse with Fred and to visit post offices looking for new varieties of these definitive stamps. Their exhibit was requested by Australian collectors for a display there.
Starting in the 1970s, Paul, Ferd Belanger, and I cooperated on a project to list all the broken circle postmarks of Canada. Paul sought opening and closing dates for the post offices, primarily using the Postmaster Generals' Reports available at the Legislative Library in Victoria. Ferd photocopied proof material available at the National Philatelic Library. We shared the data from our own collections, and gathered much from other collectors. I accumulated the information and prepared most of the lists. The Keewatin, NWT, and Yukon lists were published. The information for Ontario was given to Bruce Graham, who greatly expanded it. Walter Bileski circulated our Prairie lists. Our Newfoundland data was shared with Palmer Moffat.
After disposing of his collections (including squared circles of Canada and the Centennials), Paul focused on collecting ships on stamps and organizing the proof strikes of Canadian postmarks. Cimon Morin of the National Archives supplied Paul with a photocopied set of all the available proof impressions. Paul spent years clipping and sorting the individual strikes. When each type of postmark had been sorted and mounted, the resulting pages were published by Bob Lee. This resulted in some three dozen reference books.
I'll always remember my many pleasant visits with Paul; BNA philatelists will remember him for his major publications.
Dr. Robert V. C. Carr, OTB (1919-2004)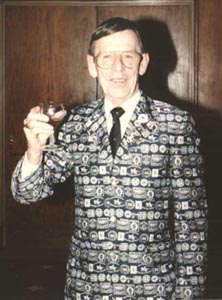 Past President - BNAPS
It with great sadness that we announce the passing of Dr. Robert V. C. Carr, OTB. Bob was born in New Castle, PA in 1919 and passed away in October 2004 at age 85.
Bob started collecting stamps as a young boy and, unlike some of us, remained active in the hobby throughout his life. He built outstanding award-winning collections of New Brunswick, Nova Scotia, and British Columbia, exhibited frequently, served on BNAPEX juries, wrote for BNA Topics and other journals, served on committees for BNAPS and other philatelic organizations, was elected President of BNAPS, and wrote a wonderfully received book on express covers.
His first exhibit at a BNAPS convention was in Philadelphia in 1957 (one year after he joined). He won a Gold for his display of the Maritime Provinces. Over the next 48 years he exhibited at more than 25 BNAPEXs winning gold at least eight times, the Grand Award five times and the Meyerson award twice. In 1999, he published his award-winning book, British Columbia Express Covers, 1858-1900.
His expertise did BNAPS well as he served as a BNAPEX judge on at least three occasions in 1964, 1976 and as jury chair in 1987.
In 1961, he started writing for BNA Topics and continued to contribute to that publication for the next 31 years, writing more than 166 articles. In 1966, he re-started a column that had been begun by Vinnie Greene – "Sketches". These were short biographical pieces on BNAPS members. For the next 26 years, he wrote more than 138 of them introducing all of us to the accomplishments of other Society members.
Bob began serving BNAPS in an official capacity in 1961 as a member of the Convention Committee, becoming its chair from 1971 to 1978. In 1962 he was elected to the Board of Directors and served from 1962 to 1967 and again from 1993 to 2000. From 1966 to 1970, he was the associate editor of BNA Topics. He gave of his talents on the Editorial Board from 1981 to 1991. From 1975 to 1979, he served on the Nominations Committee. BNAPS was fortunate to have his services as President in 1969 and 1970 during which time he served with distinction. In 1986, Bob was recognized for his long service to BNAPS and his philatelic expertise with his induction into the BNAPS honour group, the Order of the Beaver.
Bob graduated from Western Reserve University Dental School in 1942. During World War II, he served in the U.S. Army. Having learned fluent Chinese while at Yale, he went over the Burma Road to China where he served as the Commanding Officer of a 14 bed hospital. After the war, he returned home to Youngstown, Ohio, where he established a thriving dental practice.
In addition to being a member of BNAPS, he has served as President of the Mahoning Valley Stamp Club, was a member of the Royal Philatelic Society of Canada, the Canadian Philatelic Society of Great Britain, the Postal History Society of Canada and the Philatelic Foundation. Bob also had great interests outside philately. The U.S. Civil War fascinated him, and he became an active member of the Mahoning Valley Civil War Round Table. He was a charter member of the South-side Lions Club of Youngstown Ohio, and was an active member for over 50 year.
Those who came in contact with Bob knew of his generosity. He shared not only his enthusiasm for the hobby but his knowledge as well. If you had a philatelic problem, Bob was willing to sit with you and work it through.
Bob Carr will be missed not only for his philatelic contributions but for the humour and enthusiasm he brought to the Society – and we'll also miss the "stamp jacket" (pictured above) he so often wore to our conventions.
Norman E. Wagner (1935-2004)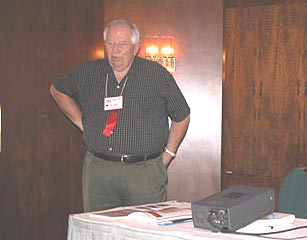 Dr. Norman Wagner passed away peacefully in Calgary on Friday, December 10, 2004, after a six-year battle with cancer. Norm organized Auxano Philatelic Services, and brought modern publication technology to our hobby. Auxano operated the BNAPS Book Department until October 2004, and published many of the BNAPS exhibit books - some in full colour. He and Don Thompson authored the monograph Emerging Saskatchewan, the award-winning book on the postal history of Assiniboia. He was Secretary-Treasurer of the Postal History Society of Canada. Norm's Canadian BNA philatelic collections included precancels, squared circle postmarks, and the postal history of the District of Assiniboia.
Norm was a professor and academic administrator, obtaining his B.A. and Master of Divinity degrees at the University of Saskatchewan, and an M.A. and Ph.D. at the University of Toronto. He taught Near Eastern Languages, Literature and Archaeology at Wilfred Laurier University from 1962, and was Dean of Graduate Studies and Research there from 1974 to 1978. Norm next was President of the University of Calgary for 10 years. He served on the boards of many scientific and community councils and foundations, and was Chairman, President, and Chief Executive Officer of the Alberta Natural Gas Co. Ltd. until 1994. Norm's honours include being named an Officer of the Order of Canada in 1989.
Norm and I often discussed the publication of philatelic information, something we both wholeheartedly support. He and his family established Auxano Philatelic Services to distribute and publish books about BNA philately. The quality they sought and achieved with accurate, full-colour reproduction of covers and stamps proved costly in our limited market. However, the Auxano publications set a very high standard and provide us with many excellent references. They are a lasting memorial to Norm.
We extend our sympathy to Cathy and the rest of the Wagner family. Norm's enthusiasm and effort will be sorely missed.
Lionel F. Gillam, F.C.P.S. (1914-2004)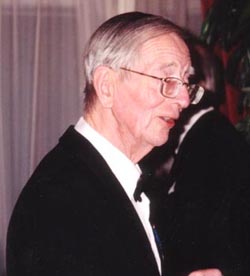 It is with regret that we report the passing of Lionel F. Gillam, F.C.P.S., in his 90th year.
Lionel joined the Canadian Philatelic Society of Great Britain towards the end of 1951. He established a Railway and Travelling Post Office Study Circle and his first letter to the Editor, along with a three page article suggesting how an RPO collection might be written up, was published within his first year of membership. Clearly, a young man with a mission.
The February 1957 issue of Maple Leaves included "Early Canadian Railway Post Offices, Part 1". A series of 48 instalments concluded in 1967, at which time Lionel published the combined series of articles, with supplementary information, under the title A History of Canadian RPOs. The privately published limited edition of 500 hard-back copies was followed by two reprints in paperback form by the American Philatelic Society.
Further books followed. Canadian Mail By Rail 1836-1867 in 1985 and Just a Few Lines in 1993, both contain a wealth of well researched historical information about people, places, and events, spun into a fascinating narrative in Lionel's lucid and idiosyncratic prose.
Lionel was the Editor of Maple Leaves from 1963 to 1984, being responsible for 112 issues in total. He was made a Fellow of the Society in 1965 and served as President in 1971-72.
In addition to the many articles penned for publication in Maple Leaves, his final article appearing in the October 2004 issue, Lionel was also an active member of the Canadian Railroad Historical Association and a Life Member of the British North America Philatelic Society's RPO Study Group where his contribution was recognised by The Order of the Beaver Lifetime Achievement Award.
Lionel was a modest man with a prodigious memory, a keen wit and an eloquent literary style. Above all, he was generous with his friendship. He will be greatly missed by his many friends, also by his sons, Michael and Geoffrey, and his sister, Edna, to whom he was very close.
[Note from Bob Lane: I owe Mr. Gillam a great deal personally, as his book is never far from my reach when I enjoy my RPO collection.]
Lieutenant-Colonel William J. Bailey, C.St.J., CD, FRPSC, FRPSL (1921-2003)
Bill was born in Vancouver, BC, on 14 April 1927, attended Kitsilano High School, and the University of British Columbia, graduating with a B.A. in 1950. His father was a distinguished veteran of World War I, who had been awarded both the Distinguished Service Order and the Military Cross for deeds of exceptional courage in France, served for many years in the Militia, commanded the British Columbia Regiment (Duke of Connaught's Own Rifles) between the wars, and took them overseas during World War II. Bill decided on a military career also - enrolled as a member of the Regular Officer Training Plan at university, and joined the Canadian Regular Army on graduation. In this capacity, he served as an officer of the Black Watch (Royal Highland Regiment of Canada) with NATO in Germany, with the U.N. Truce Supervisory Force on Cyprus, with the United Nations Emergency Force in Egypt and Israel, and with the Canadian Army Training Mission to Ghana - rising to the rank of Major, and receiving the Canadian Forces Decoration and Clasp. He then served as a staff officer at National Defence Headquarters, Ottawa, until retirement in 1980, when he and his family (wife Jane, daughter Ann, and son Michael) returned to Vancouver.
During this military career, his interest in stamp collecting continued, and he built award-winning collections of the Canadian Centennial issue and Canadian military mail. While in Ottawa, he was an active member of the Ottawa Philatelic Society, and the Civil Service Recreational Society Stamp Club, joined the Royal Philatelic Society of Canada, and the British North America Philatelic Society, and assisted with several ORAPEX shows. During this time, he formed a firm friendship with Major E. Ritch Toop, and published the first edition of his listing of Canadian Military Post Offices and their markings.
On his return to Vancouver, he was asked to become the Commanding Officer of the Seaforth Highlanders of Canada, with the rank of Lieutenant-Colonel, serving with distinction in that appointment for three years. He also became active with the St. John Ambulance Brigade as their full-time Provincial Training Officer, and later Deputy Provincial Commissioner. For this work, he became an Officer, and later a Commander of the Order of St. John, and received the St. John's Long Service Award.
He became increasingly active in philately in later life - serving as a Director of the RPSC from 1992 to 1997. He served as Secretary-Treasurer and Chairman of the BNAPS Military Mail Study Group, and chaired the Pacific Northwest Regional Group of BNAPS for some years. He wrote further editions of his MPO listing, and collaborated with Ritch Toop on a three-volume work on the Canadian Military Posts, edited by Edward B. Proud in Great Britain. He found time to qualify as a National Level philatelic and Literature judge of the RPSC, and served as Judge or Chief Judge at numerous Canadian exhibitions. He was honoured as a Fellow of the RPSC in 1997. He was also writing a history of the Order of St. John as told in stamps.
His last and greatest work was a two-volume listing of Canadian Military Postal Markings started in collaboration with Ritch Toop, and completed following Ritch's death. This massive work received Large Vermeil International awards at several World Exhibitions, culminating at LONDON 2000. In 2001, he was made a Fellow of the Royal Philatelic Society, London, in recognition of his contributions to philately.
He died on 1 May 2003, following a short illness, and will long be remembered for his great pioneering work in the field of Canadian Military philately.
Harry Lussey, OTB (1906-2003)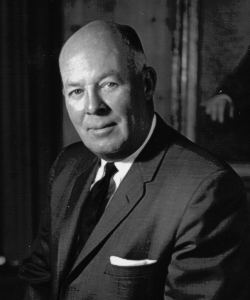 Harry Whittaker Lussey of Atlantis, Florida, and, until recently, Waynesboro, North Carolina, aged 96, passed away in April, 2003, after a long illness. Born in Everett, Massachusetts, on 18 July 1906, he was raised in Canada and received his education at St. Lamberts in Quebec. He had a long career in banking and investment banking from 1924 until his retirement in 1980. He served in Montreal with the Royal Bank of Canada, and in New York City with the Manufacturers Trust Company and the Wm. E. Pollock Company in the capacity of Senior Vice-President and Economist.
He was a life-long philatelist specializing in British North America and his collections earned him numerous dominion, national and international awards. He served on the Board of Governors of the British North American Philatelic Society, and was a past president of that Society. Mr. Lussey was a regular contributor of research articles to philatelic publications. He was co-author of Canada's Registered Mail 1802-1909: From Money Letters Through Insurance for a Fee (2002) published in both French and English. He was inducted in 1974 as a Fellow in the Order of the Beaver of BNAPS, and was the 1975 recipient of the Dube award presented by the Philatelic Specialists Society of Canada for the best article published that year. He also held memberships in the Royal Philatelic Society, London, the Canadian Philatelic Society of Great Britain, the Philatelic Specialist Society, The Collectors Club (New York), and the Toronto Stamp Collectors Club. He was a life member of the RPSC.
Mr. Lussey also was an avid and life-long athlete, participating in ice hockey, war canoes, sculls, skiing, bowling, sport fishing, and golf. He played amateur hockey in Canada and the United States, and was a member of the U.S. National AAA Championship teams in 1931 and 1932. He continued in amateur hockey through his early years in banking, playing on the Boston Bruins and the New York Athletic Club Crescents. He also medaled as a member of the Manufacturers Trust ski team at North Conway, NH. He was a charter member of the Atlantis Golf Club. He won numerous amateur golf events, and was awarded Gold Digest Magazine's special "Age Shooter Certificate" when he played the Laurel Ridge Country Club course in 84 strokes at the age of 85.
He is survived by his wife of 35 years, Helen Shane Lussey of Atlantis, his daughters, Susan Lussey of Highland Lakes, New Jersey, and Carol MacMillan, and her husband, Bill, of Birmingham, Alabama, and a step-daughter, Sandra Shane-DuBow, and her husband, Chip Hay, of Evanston, Illinois; his grandchildren, Collin MacMillan, and his wife Kellie, and Tracey MacMillan Runnion, and her husband, John; two step-grandchildren, Sura and Shane DuBow; and three great grandsons, Quinn, Cole, and Tucker Runnion.
His family will receive their friends on Friday, 11 April 2003, at 11:00 a.m. at Dorsey-E Earl Smith Memory Gardens Funeral Home, 3041 Kirk Road, Lake Worth, where his memorial service will be celebrated. In lieu of flowers, donations to Hospice of Palm Beach County, 5200 East Avenue, West Palm Beach, FL 33407, in his memory would be appreciated.
Horace White Harrison, OTB (1921-2002)
Horace and wife Kitty

Horace, speaking as President of BNAPS

at the Chicago convention, 2000
Horace Harrison ("El Supremo") passed away on 4 October 2002. His long association with BNAPS can partly be found in the BNAPS Archives. Jim Hansen provided an obituary from the Baltimore Sun newspaper:
Horace White Harrison, a noted Baltimore stamp collector, jazz enthusiast, and retired insurance executive, died of pancreatic cancer Friday at his Ruxton home. He was 81. Born and raised in Garrison, Mr. Harrison attended McDonogh School and graduated from St. Andrews School in Middletown, Del., in 1939.
Mr. Harrison, who began collecting stamps in his youth, sold his assortment of stamps from the Philippines to finance his freshman year at Princeton University and his U.S. collection to help pay for his sophomore and junior years.
He also worked during his college years as a bartender, a university public relations specialist, meter repairman for Baltimore Gas and Electric Co. and sportswriter for the Newark (N.J.) Evening News.
After earning a bachelor's degree in history in 1943 from Princeton, he enlisted in the Navy. He served as executive officer and navigator aboard the USS Burrows, a destroyer and convoy escort that patrolled the Atlantic, Mediterranean, and Pacific. After his discharge in 1946, he became an active reservist and was discharged with the rank of commander in 1967.
In 1947, after an apprenticeship at Continental Insurance Co. in New York City, he joined Hall & Harrison, an insurance agency founded by his father, Robert B. Harrison, in Reisterstown in 1903.
In 1952, he bought the firm with his brother and operated Horace W. Harrison & Associates in Stevenson until selling his business and retiring in 1984.
In addition to his general insurance brokerage, Mr. Harrison operated two sideline businesses. He combined an interest in stamps with his expertise in insurance to help dealers and collectors insure their coins and stamps.
"Harrison did much to reform the way the insurance industry deals with stamp collectors," said Jesse Glasgow, retired Sun business editor and stamp columnist.
"He was quite an imaginative guy and really was the "Father of Stamp Insurance". He helped persuade insurers that stamps and coins are not equally risky. Today, the industry quotes a much lower rate to insure stamps than it does for coins," he said.
A member of the Baltimore Philatelic Society, Mr. Harrison's collecting interests included the Canadian registry system and postal stationery, of which he wrote a detailed history.
"His first love in stamps was British North American material and he was a world authority on the Canadian registration system, routes and rates," said Mr. Glasgow, who lives in Roland Park . "He has been honored many times for his research in this field, and, in fact, has a revised - that is, updated - edition of his major study of the Canadian registry system coming out this month."
Mr. Harrison was also a swing, blues, and Dixieland aficionado who collected thousands of recordings from the 1930s through the 1980s.
"It is one of the finest collections on the Eastern Seaboard, and a lot of drive, effort, and dollars went into it. He just had everything," said Louis G. Hecht of Pikesville, a boyhood friend since the 1930s who shared the same musical interests.
Mr. Harrison also liked collecting offbeat recordings, such as a Danish band playing Dixieland.
Mr. Harrison shared his musical archive with others, holding a monthly listening session for 20 or so like-minded enthusiasts in the club cellar of his Indian Head Road home.
"It was a lot of stuff that we had never heard. He had lived through the era and really had the collection," said Edward R. Goldstein, musical director of the Baltimore Jazz Orchestra and Peabody Ragtime Ensemble.
Mr. Goldstein will perform at the funeral service at 11 a.m. tomorrow at St. Thomas Episcopal Church, 232 St. Thomas Lane, Garrison, where Mr. Harrison was a communicant.
Mr. Harrison's first wife, the former Elizabeth Harris, died in 1983.
He is survived by his wife of 17 years, the former Catherine Hunt France, and a daughter, Dr. Ellen Spears Harrison of Annapolis.
Obituary copyright © 2002, The Baltimore Sun
Alec Unwin (1929-2000)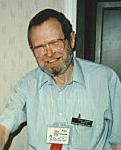 Alec Unwin died on January 24th at the age of 70. He was the serving Secretary of BNAPS at the time of death and was very well known to fellow members of this and other philatelic societies.
From Bob Lane, BNAPS webmaster:
I met Alec only twice, which was my loss because he and I communicated at least weekly and often on a daily basis by email and I have often wished I could have known him longer. He was the strongest supporter we had for the development of the BNAPS website and he was always the one with whom I tested ideas. He was a solid presence, but quiet and civilized about every issue that arose.
Bob Dyer provides the following notes:
Alec was a very dedicated BNAPS officer, and very active in other philatelic organizations. He won national and international awards with his exhibit on "Transpacific Mail 'Via Vancouver' Canadian Pacific Steamships Ltd. and Canadian Australian Line". He also won an Apfelbaum award for best article of the year in American Philatelist, for 1996 - "Canada's Pacific Maritime Mails," May 1996. He lectured on the maritime mails at PACIFIC '97 and for the Collectors Club of New York, among other venues. He always found time to always make a prompt response to inquiries, even though busy with all his philatelic endeavors. My wife and I stayed with him and wife, Joan en route to BNAPEX '99. He was an excellent host, also. I will miss him.
Carol Edholm, a dedicated advocate of philately with young collectors, wrote:
I think in whatever he did, he did it with his heart and soul. He was Chair of NWFSC and an important figure in the Boeing Employees Stamp Club. He also donated all the new U.S. stamps he received on his mail to youth."
The family's obituary, provided by Gray Scrimgeour, contained the following:
Mr. Unwin was born on 15 March 1929 in Prague, Czechoslovakia. He was raised in England, and moved to Canada in 1947 where he earned a Master of Science degree in physics from the University of British Columbia.
He worked for Northern Electric in Montreal, Quebec, until 1958 when he moved to Bellevue, WA, to accept a position with The Boeing Company. Mr. Unwin retired from Boeing in 1995 after 37 years as a professional engineer.
Mr. Unwin was actively involved in politics, including a run for Washington State Legislature, 48th District, in 1972. In his leisure time, he enjoyed postal history, travel and spending time with his family. Mr. Unwin was a member of many philatelic organizations, including past president of the Boeing Employees' Stamp Club and secretary of BNAPS. He won numerous awards, most notably the Frank W. Campbell Award in 1996 from the Postal History Society of Canada.
Mr. Unwin is survived by his loving wife of forty-five years, Joan Unwin of Bellevue; his daughter Judy Unwin of Bellevue; his sons, John Unwin of New York City, David Unwin of Bellevue; his brothers, John West of Toronto, Canada, and Tom Unwin of Somerset, England.
---
Copyright © 2015 - 2023 The British North America Philatelic Society.
The documents on this website are for informational and non-commercial or personal use only.
Documents on this website shall not be used on other websites or for commercial purposes without permission.
This page was last modified on 2023-06-16