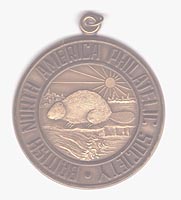 Order of the Beaver Medal
Induction into the Order of the Beaver (OTB), the Fellowship of the British North America Philatelic Society (BNAPS), honours members who have met established criteria in the categories of:
► Distinguished service to BNAPS
► Service to organized philately in general
► Advancement of philatelic knowledge through exhibiting and/or writing
► Regular attendance and participation at the annual BNAPEX conventions
The medal shown at left is awarded to members when they are inducted into the Order of the Beaver. When inducted, they are entitled to add the letters "OTB" after their name. The inductees are listed below, and a number are profiled on the Inductee Profiles page.
In 1997, the members of the Order initiated the BNAPS Order of the Beaver Lifetime Achievement Award to recognize philatelists who have made significant contributions to BNA philately but who might not meet the criteria for induction into the Order of the Beaver. The philatelists who have received this award along with their achievements are the subject of the Lifetime Achievements Award page.
The Order of the Beaver inductees since 1968, when the Fellowship of BNAPS was established, are listed below. An asterisk indicates that the inductee is deceased.
2019
Ron Majors
2018
Gary Steele
Kenneth Lemke
2017
Dave Bartlet
Leopold Beaudet
Eldon C. Godfrey
2016
Jean-Claude Michaud
2015


Andy Ellwood
Brian Stalker
2012


George B. Dresser
John Jamieson
2011
C.R. McGuire
2010
*
*
John Gordon
Harry Machum
2009
Peter McCarthy
2008
*
Norris (Bob) Dyer
2007

*
H. Peter Jacobi
Robert K. Lane
2005
William S. Pawluk
2004


James Hansen
Douglas Lingard
2003
*

John Arn
R.F. (Hank) Narbonne
2002
P. Charles Livermore
2001

*
John Burnett
Clinton Phillips
2000
*
*
Arthur Klass
Jack Wallace
1999



Jonathan Johnson
Robert Lemire
Victor L. Willson
1998
Jerome Jarnick
1997

*
*
Charles Firby
Robert A. Lee
Donald Wilson
1996
*
George Arfken
1995
*
*
John Arnell
Kenneth Ellison
1994
William Walton (Chairman)
1993
*
E. R. (Ritch) Toop
1992
H. Michael Street (Vice-Chairman)
1991
*
*
Horace Harrison
Larry Paige
1990
Earle L. Covert
1989
Clarence Stillions
1987
*
*
Edmund Harris
William G. Robinson (Past Chairman)
1986
*
*
Robert V. C. Carr
Sam Nickle
1985
*
Arthur Leggett
1984
*
John Siverts
1983
*
Lewis Ludlow
1982
*
*
James Lehr (Past Chairman)
Allan Steinhart
1981
*
Lee Brandom
1980
*
Guy des Rivieres
1979
*
*
Leo LaFrance
Robert Pratt
1978
*
James Kraemer
1977
*
James Pike
1976
*
*
Charles de Volpi
Edward Whiting
1974
*
Alfred Cook
1973
*
*
George Llewellyn
Harry Lussey
1972
*
*
*
Leslie Davenport
Wilmer Rockett
Robert Woolley
1971
*
James Sissons
1969
*
*
Vincent Greene
Gerald Wellburn
1968
*
*
*
*
Fred Jarrett
Jack Levine
Edward Richardson (Past Chairman)
Clarence Westhaver
Copyright © 2015 - 2021 The British North America Philatelic Society.
The documents on this website are for informational and non-commercial or personal use only.
Documents on this website shall not be used on other websites or for commercial purposes without permission.