BNAPS actively encourages the publication of new books on suitable subjects in BNA philately through its Handbooks and Exhibit series which are produced by the Publications Committee. For more information on having books published, please contact the Book Department Coordinator, Mike Street email.
All the books released during the past 12 months are listed below.
Use the Search Books feature above to find all books published on any subject or any era of interest.
To order a book from the BNAPS books Sales Agent, Bill Longley, click on the book's price.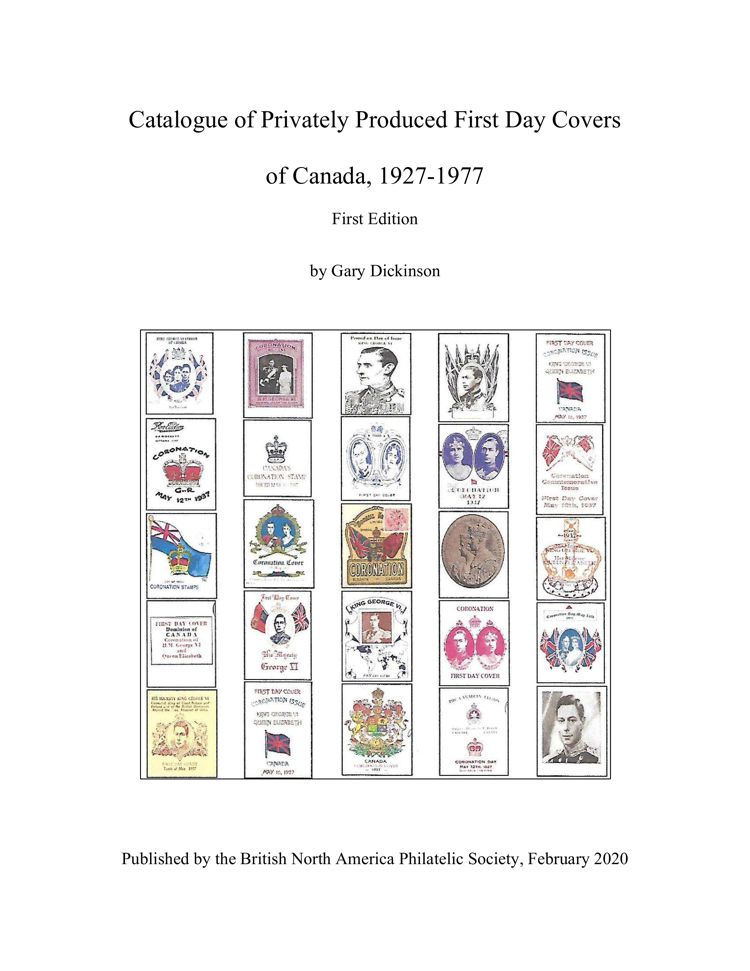 Catalogue of Privately Produced First Day Covers of Canada, 1927-1977
Gary Dickinson
Released February 2020. 222 pages, 8.5 × 11, Spiral bound.
Colour C$ 44.00 [ISBN 978-1-989280-05-8].
From the first known cachet for a Canadian stamp issue which appeared in 1927, through the apex of FDC collecting in the 1950s and 1960s, to the gradual decline of new products following the introduction of Canada Post's own line of official covers in 1971, privately-produced FDCs have rarely been studied and never thoroughly documented. This catalogue represents the start of a broader and more thorough treatment of FDCs as a sub-field of postal history.

Official Canadian FDCs are dealt ... Read more...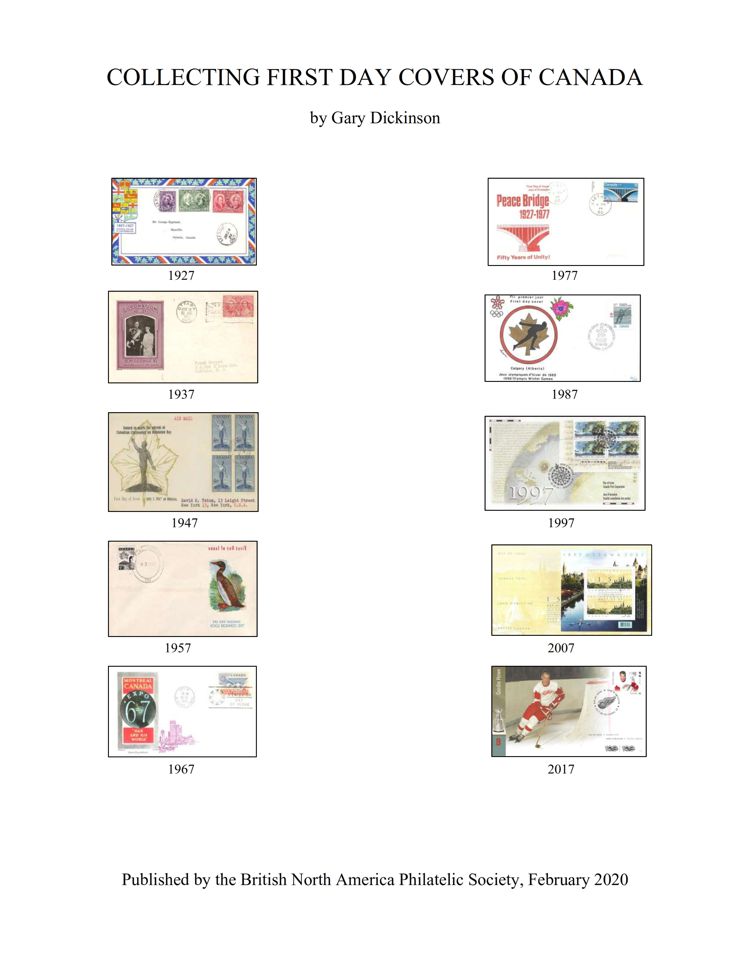 Collecting First Day Covers of Canada
Gary Dickinson
Released February 2020. 144 pages, 8.5 × 11, Spiral bound.
Colour C$ 36.00 [ISBN 978-1-989280-06-5].
This is the first book-length treatment of this topic and will be of interest to those new to this area of philately or who have developed an interest that they wish to pursue in greater depth. Topics include collecting by stamp issue, cachet maker, theme, and postmark, with each approach being illustrated profusely with sample covers. Canadian cachet makers are emphasized, but American makers of FDCs for Canadian stamps are also discussed. Do-it-yourself cachet makers are well-represented.

T ... Read more...
BNAPS would like to thank Sparks Auctions and Ian Kimmerly Stamps for their strong support of the BNAPS publications program since 2004. The great assistance of Brian Wolfenden over that time is especially appreciated.
BNAPS is pleased to announce that Bill Longley is the new sales agent and distributor of BNAPS books as of 1 October 2019.
---
BNAPS books are available from:
Bill Longley
c/o Longley Auctions
PO Box 620
Waterdown, ON L0R 2H0
To browse through the BNAPS books on the Longley Auctions website, go to:
https://longleyauctions.com/product-category/bnaps-books/
The price quoted for each book is the retail price in Canadian dollars.
Shipping is extra. Credit card orders (Visa, MasterCard) will be billed for the exact amount of shipping plus C$2 per order. For payment by cheque or money order, please first contact Bill Longley. Applicable taxes will be charged for orders delivered in Canada.
Please note: prices shown are current as of the posting of the book descriptions. While every effort will be made to keep prices on this website up to date, the price quoted on the Bill Longley website will apply to all orders.
"BNAPS Books" is an email list for announcements about philatelic literature titles published by the British North America Philatelic Society and sold through the BNAPS Book Department, which is managed by Bill Longley of Waterdown, ON. This mailing list is managed by the BNAPS Book Department and is separate from any mailing list(s) operated by Bill Longley as part of his stamp business, Longley Auctions.
This list is for book announcements only; it is not a discussion list. We anticipate sending a maximum of 3 to 4 emails per year to subscribers.
---
Copyright © 2015 - 2021 The British North America Philatelic Society.
The documents on this website are for informational and non-commercial or personal use only.
Documents on this website shall not be used on other websites or for commercial purposes without permission.
This page was last modified on 2020-12-22.