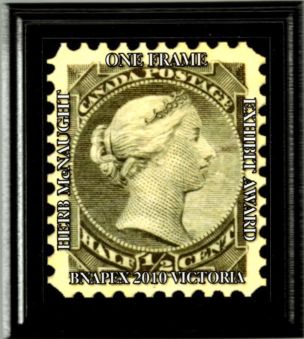 Plaque presented at BNAPEX 2010
The Herbert L. McNaught One-Frame Exhibit Award was established in 2009 in honour of Herbert L. McNaught, an ardent exhibitor of, and proponent for, one-frame exhibits.
The award is presented to the best single-frame exhibit at BNAPEX from those that receive a Silver or higher medal. The winner receives a cheque for $50, a plaque, and a McNaught Award pin.
In addition, the McNaught family has donated a trophy that is presented at the BNAPEX awards banquet. The family is the custodian of the trophy, and has the winner's name and the exhibit year engraved on it.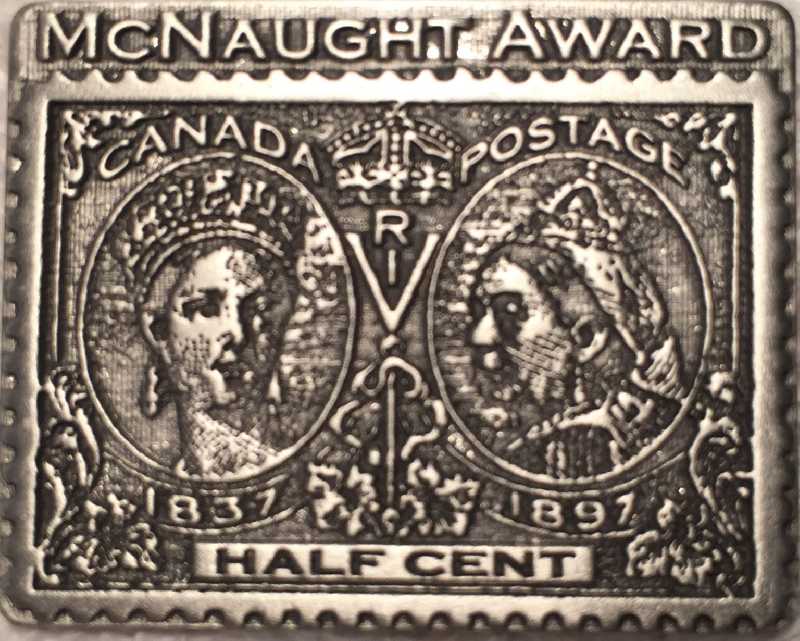 McNaught Award pin
2022
Mark Berner
Fiscal History of the Third Bill Stamp Era in Nova Scotia (1868 to 1882)
2021
Ron Majors
Mail between Canada/BNA and Confederate States During U.S. Civil War
2020
No award. The convention was cancelled because of the COVID-19 pandemic.
2019
David Piercey
The Cancellations of Newfoundland 1865 – 1908: Corks, Fancy Cancels & Other Obliterators
2018
Gary Steele
Canadian Dead Letter Office Re-Organization Handstamps
2017
Peter J. McCarthy
Canadian Railway Post Office Markings
2016
Jean-Claude Michaud
Newfoundland Postage Due Usages
2015
Richard Thompson
The Ten Cent Consort Stamp of 1859
2014
David D'Alessandris
Cross-Border via the Cunard Line: Mail Between the United States and Nova Scotia 1840-1867
2013
Donald Fraser
Early Mail Routes: Red River Settlement, Fort Garry, Winnipeg 1849 - 1874
2012
Victor Willson
Canada Postal History to France 1859-1901
2011
David Bartlet
Fundraising for WW I Through the Post Office
2010
Derek Smith
Transatlantic Mail Rate Handstamps, 1840-1859
2009
Jack Forbes
Shades of Canada's Eight-Cent Small Queen