The British North America Philatelic Society Ltd. - BNAPS - is an international organization (founded 1943) devoted to the collecting and study of the stamps, markings, and postal history of Canada and the pre-confederation colonies of British North America (British Columbia, Canada, New Brunswick, Newfoundland, Nova Scotia and Prince Edward Island).
Plan a scenic and colourful autumn holiday in the Maritimes around these philatelic events:
Our award winning journal, BNA Topics, contains articles on all aspects of BNA philately. The issues are all available online. The most recent five years are available to BNAPS members only.
BNAPS members can join one or more specialized Study Groups, many of which have their newsletters online.
In many areas of Canada and the United States, you can find a Regional Group that offers further opportunity for fellowship with collectors of BNA.
Other membership benefits include access to a sales circuit and discounts on BNAPS publications. BNAPS offers easy dues payment via PayPal. Click to join.
BNAPS members: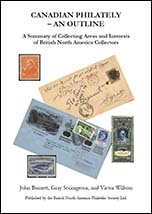 Canadian Philately - An Outline is a freely available handbook that provides an overview of the many fascinating areas of BNA philately.
Online Resources and Exhibits (ORE) provides a wide range of overview, tutorial, reference, and specialized articles and online exhibits covering all facets of BNA philately.
The Horace W. Harrison Online Library contains the back issues of BNA Topics, and provides a searchable index to Topics, Maple Leaves, and the PHSC Journal.
The Horace W. Harrison Online Library also contains back issues of Study Group Newsletters, which document the discoveries and ongoing research of the BNAPS Study Groups.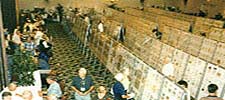 BNAPEX, the annual stamp show and convention of BNAPS, is held in different locations from year to year.
BNAPEX 2016 Fredericton: 30 Sept. - 2 Oct. 2016
BNAPEX 2016 will be held in Fredericton, NB, at the end of September. The convention is being hosted by the Fredericton District Stamp Club. Plan now to admire the beautiful autumn colours of New Brunswick.
| | |
| --- | --- |
| Sep 14/16 | Calgary Regional Group Meeting |
| Sep 16/16 | NOVAPEX 2016 |
| Sep 17/16 | Golden Horseshoe Regional Group Meeting |
| Sep 17/16 | Atlantic Provinces Regional Group Meeting |
| Sep 30/16 | BNAPEX 2016 Fredericton |