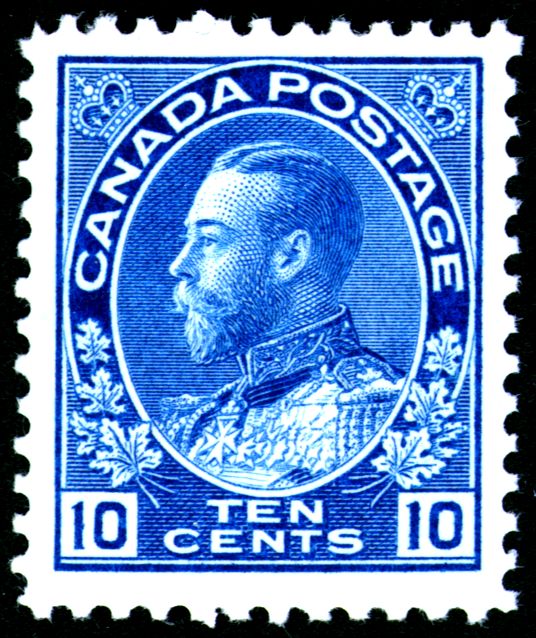 In column 2 of the table, the heading "PO" stands for Printing Order. Beginning in February 1911, near the end of the KE VII period, until March 1915, the printing order number was hand punched on the plate, usually near the plate imprint. In March 1915, it was engraved on the plate in the pane selvedge above and/or below column 9 or 10. If a plate was used for more than one printing order, the old number was defaced and the new one punched in. In the table, only the number that is not defaced is listed.
Beginning with the 2¢ carmine in November 1915, the "printing order number" consisted of a number that indicated the stamp denomination and issue format (sheet, coil, or booklet) and one or two letters that indicated the printing order. The number did not change and the letters were not defaced. The PO column of plates with this new numbering scheme is greyed out.
In the three "Upper" and "Lower" columns, the size of each item is indicated by a letter and number. The letter indicates the configuration:
The number following the letter is the number of stamps in the strip or block. If there are multiple items of the same size, the size is in parentheses, and the number preceding the parentheses is the number of items. For example, 4(B8) indicates that there are four blocks of 8 of a certain item. S1 indicates a "strip" consisting of a single stamp. B100 is a complete pane.
A grey cell indicates that the item does not exist. A light blue cell indicates that no material from the plate was reported in this census.
Plate
PO
Wet
Dry
Total
Upper
Upper Left
Upper Right
Lower
Lower Left
Lower Right
13
W
4
S2,2(S4),B6
14
W
4
S3,2(S4)
B20
15
W
4
B4,B6
B16,B20
16
W
5
2(S4),S5,B6
B20
17
W
0
18
W
2
B8,B10
19
W
3
2(S4)
B20
20
W
3
S4,B6
B20
21
W
11
S3,S4,
B4,B6,3(B8),B20
B20
2(S10)
D
6
3(B8)
S4,S10,B8
22
W
9
S4,S5,B6,3(B8),B15
S10,B20
D
9
S4,B8,B12
2(S4),S10,B6,B8
B20
Notes:
Plates 13 to 22: the lower panes have lathework in the bottom margin and plate imprints below the lathework. The plate imprints were trimmed off the panes issued to post offices.
Plates 21 and 22: also used to print the 10¢ bistre brown.
Printing order number: set to "934" with one or two letters appended on plates 13 to 22.
Copyright © 2015 - 2023 The British North America Philatelic Society.
The documents on this website are for informational and non-commercial or personal use only.
Documents on this website shall not be used on other websites or for commercial purposes without permission.