Accommodation L'hébergement hôtelier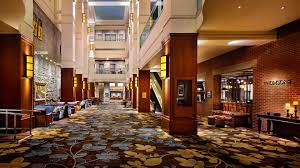 Source: Hyatt Regency website
Hyatt Regency Hotel
700 Centre St SE
Calgary AB T2G 5P6
CPS 2022 BNAPEX Room Rates
All rates shown have additional tax such as GST and are valid nightly from Wednesday, 31 August, to Monday, 5 September
$169 for King or 2 Queen room
$189 for King corner room (includes $10 food and drink credit)
$259 for King or 2 Queen Club Access room (includes free breakfast and hors d'oeuvres and desserts in the Regency Room)
No charge cancellation up to 29 July, then a one night non-refundable deposit is charged.
Parking extra. ($15 per day for registered guests)
(Credit card information is required to hold the reservation.)
Special Bonus
The rate is just $10 more a night than the cost in 2017 so this is a good rate. We know that hotel rates at 5 star hotels are expensive in a big city, so we are offering a special bonus.
Reserve 3 nights at the Hyatt by 30 June 2022 and we will provide in your registration package a voucher for $20 valid at any dealer on the bourse during the show for each reservation made by that date.
Just provide your hotel reservation confirmation number on your registration form.
Mention Group Code G-BNPX when making telephone reservations to obtain the convention rate or book directly with the discount with the link below.
Copyright © 2015 - 2022 The British North America Philatelic Society.
The documents on this website are for informational and non-commercial or personal use only.
Documents on this website shall not be used on other websites or for commercial purposes without permission.