To order this book from BNAPS books Sales Agent Bill Longley, click on the book's price at right.
---
BNAPS books are available from:
Bill Longley
c/o Longley Auctions
PO Box 620
Waterdown, ON L0R 2H0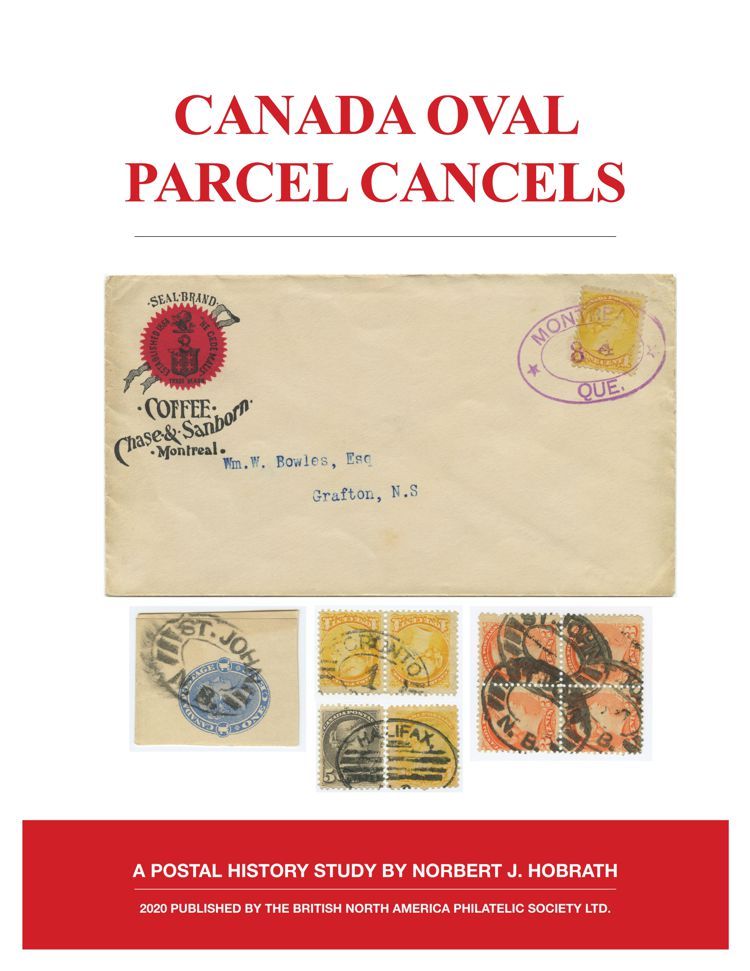 Canada Oval Parcel Cancels
Norbert J. Hobrath
Released October 2020.
70 pages, 8.5 x 11, Spiral bound.
Colour C$ 31.00 [ISBN 978-1-989280-10-2].
Norbert Hobrath's book, Canada Oval Parcel Cancels, is the first to tell the story of Canadian oval parcel cancels from 1872, when the first one was introduced in Halifax, to the early years of the twentieth century.

Norbert J Hobrath started collecting stamps in the early 1960s when he received a packet of Canadian issues as a gift from a specialist in Canadian stamps, who provided his duplicates to the young collector. Over the next 50+ years, this philatelic interest grew as he collected and sold a number of specialized collections including German souvenir sheets, U.S. Special Delivery, and a topical theme, Tennis on Stamps, that now permanently resides in the International Tennis Hall of Fame in Newport, Rhode Island.

Today Norbert's active collecting interests focus on Canadian oval parcel cancellations, Canada Special Delivery with emphasis on the 1927 Confederation "Modes of Transportation" issue and, another topical interest, totem poles on vintage postcards from British Columbia and Alaska. Norbert is a journalism/public relations graduate of Kent State University, and has worked 40+ years for Fortune 500 companies and several international companies, leading their marketing and communications programs. He founded Hobrath Group LLC in 1986, specializing in helping companies tell their branding and product stories. He is an avid writer, tennis player, and traveler. He is a member of BNAPS, RPSC, CPSofGB, PHSC and APS.