City of Winnipeg Wildlife Conservation
Saskatoon Stamp Centre
(Published on the Saskatoon Stamp Centre website in October 1997)
---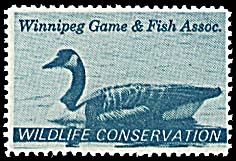 The "Canada Goose" stamps were produced by the Winnipeg Game & Fish Association to raise funds to promote wildlife conservation. Printed by lithography in Forest Green by Reliance Press Ltd. of Transcona, Manitoba, in sheets of 100, the sheets have a 20 mm sheet margin at left with top, right and bottom margins being imperforate.
Often called a "Duck" stamp, the picture is actually of the Canada Goose and is from a photo taken by Harold Hotsford of the Winnipeg Conservation Education Department. The stamp was designed by George Grasdal of Winnipeg, past president of the Winnipeg Game and Fish Association. The gum is invisible Davac gum.
An interesting group of varieties exists on the City of Winnipeg Wildlife Conservation "Canada Goose" stamps. Firstly, there are several perforation varieties:
| | Top | Bottom |
| --- | --- | --- |
| i) | Imperforate | 12.5 |
| ii) | 12.5 | 12.5 |
| iii) | 12.5 | 11.8 |
| iv) | 11.8 | 12.5 |
| v) | 11.8 | Imperforate |
As well, there are 3 distinct papers:
| | |
| --- | --- |
| i) | Plain "dull" |
| ii) | "Low fluorescent" |
| iii) | Brighter "fluorescent" |
The best way to show these varieties is in a vertical strip of 10 which shows the progression of the perforations. A photocopy of the back of the strip is a nice addition to the album page as it clearly shows the different perforations.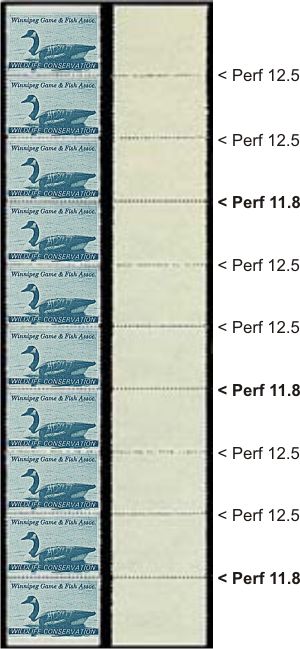 ---
For more information on how this Winnipeg Wildlife Conservation stamp was perforated, see the article "Sheet Perforation Configurations for the Winnipeg Wildlife Conservation Stamps" by Julian J. Goldberg published in the newsletter of the Canadian Revenue Study Group, Canadian Revenue Newsletter, No. 91, Dec. 2016.
Copyright © 1997 Saskatoon Stamp Centre
Web design copyright © 2013-2022 The British North America Philatelic Society.
The documents on this website are for informational and non-commercial or personal use only.
Documents on this website shall not be used on other websites or for commercial purposes without permission.