Faked 1995 45¢ Flag Definitive
Saskatoon Stamp Centre
(Published on the Saskatoon Stamp Centre website on 4 December 1997)
---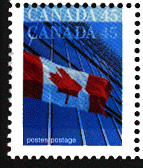 Collectors and Dealers Beware!
Computer-Generated "Errors" Spotted
Many dealers have built their business around their knowledge in "specialty" collecting areas. Some deal with the generalized issues of the world, others specialize in one country, one era, just Great Britain Machins, postal history, or the popular United States plate number coils.
Our business is limited to the stamps of Canada and British North America. More specifically, we specialize in the classics and modern errors and varieties. Over the years, we have come across some fascinating errors, such as imperforates, missing colours, fold-overs, pre-printing creases, and double prints.
We have come to be recognized as both the premier source for selling this Canadian material and for purchasing it as well.
We were recently offered (and purchased) a very interesting block of four "double-print" on the current 1995 45¢ Flag over Building definitive. The "error" has the entire blue colour double-printed, and shifted 3 mm upwards.
On closer examination, we believe this "error" to be a fake — a computer-generated item aimed at defrauding dealers and collectors!
With modern day computer hardware (scanner) and software (photo illustration), it is very easy to scan a colour image of a stamp, remove certain colours via the computer, and then print what's left (i.e.: one colour) back on top of the original stamp.
In effect, what the computer software is doing is preparing the colour separations used to print the stamp — except in the reverse order. The software actually "peels away" one colour at a time. The illustrations below show a couple of these colour separations from a normal stamp.
The illustrated fake was purchased during a recent stamp show in Montreal where the lighting typically was not the best for studying stamps. At a quick glance, this "error" looked good. Upon closer examination back at our office, among other things, it is quite evident that the printing screen of the fake is very different from that used for the real stamp. A prominent printer has stated it would take a million dollar press to replicate the process of the security printers perfectly, so there is no major threat from the average desktop computer.
Watch what you are buying very closely.
| | | |
| --- | --- | --- |
| Normal stamp | Blue only | Red only |