2¢ Large Queen, Laid Paper, Sold on 28 January 1998
Saskatoon Stamp Centre
(This article was published on the Saskatoon Stamp Centre website in January 1998. It was also published in a Saskatoon Stamp Centre price list and in Confederation, No. 7, March 1998.
Confederation is the newsletter of the Large and Small Queens Study Group.)
---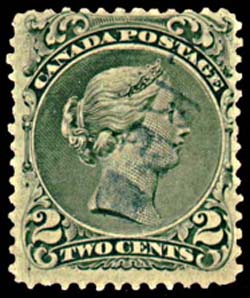 Copy 1 of the 2¢ green Large Queen on laid paper. Has a blue straight-line REGIS[TERED] cancel.
The 2¢ green Large Queen on laid paper shown above has a new home. John Jamieson of Saskatoon Stamp Centre has announced that a sale has been negotiated between his client and an anonymous buyer. The exact price was not disclosed but Jamieson confirmed that it was over $200,000.
Jamieson purchased the stamp in February 1993. It had been controlled by Kasimir Bileski since he purchased it in the Lewis L. Reford sale in October 1950 for the then princely sum of $3,800. It was part of the Kanee collection during those four decades, but was again in Bileski's hands when it was sold as part of a huge collection to Vancouver dealer F.E. Eaton & Sons. Jamieson purchased it from Eaton shortly after, and a few months later sold it to a U.S. collector for $187,500, where it has remained until now.
This is by far the finer of the two known copies. Illustrated below is the other 2¢ on laid paper. Ex Firth & "Foxbridge", it sold in 1986, and is reportedly in a very important British Commonwealth collection in California.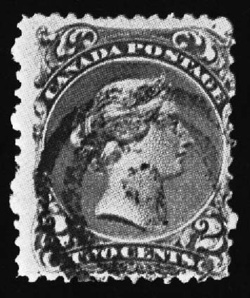 Copy 2 of the 2¢ green Large Queen on laid paper. The black two-ring 5 numeral cancel is from Hamilton.
Will either of these stamps ever find their way back to Canada? Only time will tell. Jamieson stated that the market for exceptional Canadian stamps has never been better. Strong economies in both Canada and the U.S. are benefiting many collectors. "The continuing weakness of our Canadian dollar is resulting in a growing portion of our sales going to foreign collectors in the U.S. and abroad. Well over half of all the stamps we sell are going out of the country to collectors with stronger currencies. The stamp we offer at CA$1,000 is only US$720 to a collector south of the border, and that collector earns his US$720 at least as easily as the Canadian earns his CA$1,000. As well, most European and Asian collectors think in US$ (not Canadian dollars)."
Jamieson personally estimates that there are close to twice as many serious collectors of Canada and BNA outside Canada as within ... and that group is growing faster. Canadian collectors beware!
---
See also:
Leopold Beaudet, "Updated Story of the 2¢ Large Queen on Laid Paper" on this website.