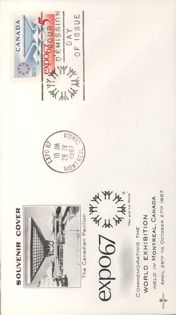 1967 5¢ Expo67 FDC
Rosecraft cachet
Newsletter Editors
First Series - Cachets
| From | To | Editor |
| --- | --- | --- |
| 1998 | 1998 | Pierre Ethier |
Second Series - First Impressions
| From | To | Editor |
| --- | --- | --- |
| 2009 | 2010 | George Basher |
| 2011 | 2018 | Gary Dickinson |
| 2019 | 2020 | George Basher |
| 2020 | | Gary Dickinson (interim) |
Newsletters
Note: all these newsletters are also available on the First Day Cover Study Group website.
The issues are in PDF format. File sizes vary from 0.5 to 5.4 MB.
When you click on an issue number, it will be displayed in a new window. Closing the window returns you to this page.
---
First Series - Cachets
The greyed-out issue, Vol. 1, No. 2, is missing. If you have it, BNAPS would like to borrow it to make a scan.
Please contact the Webmaster.
---
Second Series - First Impressions
Other Resources
The website of the First Day Cover Study Group has a wealth of information on Canadian FDCs
including a large and varied display of FDC cachets.
---
Copyright © 2015 - 2022 The British North America Philatelic Society.
The documents on this website are for informational and non-commercial or personal use only.
Documents on this website shall not be used on other websites or for commercial purposes without permission.
This page was last modified on 2022-02-27