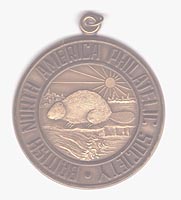 Order of the Beaver Medal
The Order of the Beaver (OTB), the Fellowship of the British North America Philatelic Society (BNAPS), was established in 1968. Inductees are BNAPS members who have:
► Provided distinguished service to BNAPS
► Contributed to organized philately in general
► Shared and advanced philatelic knowledge through exhibiting and/or writing
► Attended and participated regularly at the annual BNAPEX conventions
The medal shown at left is awarded to members when they are inducted into the Order of the Beaver.
At BNAPEX 2009 in Kingston, ON, Order of the Beaver Chairman William C. (Bill) Walton announced that Peter J. McCarthy was being inducted into the Order.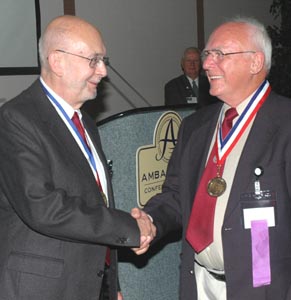 Peter J. McCarthy joined BNAPS in 1986 and has made many important contributions to the Society. Between 1991 and 1996, he was the Study Group Centreline Reporter for BNA Topics. In 2003 he chaired the very successful BNAPEX London, ON, and he has been a very active co-leader and secretary of the BNAPS Golden Horseshoe Regional Group, for which he received the Jack Levine Fellowship Award in 2007.
One of Peter's main collecting interests is railway post office (RPO) cancellations, and he has been a regular contributor to the newsletter of the RPO Study Group over the years. He has also contributed several articles to BNA Topics. A keen exhibitor, Peter has won both BNAPEX and national level gold exhibiting awards, and is an accredited Canadian regional level judge.
Before moving to London, ON, Peter was the stamp columnist for the Sherbrooke Record from 1986-1996. In London he has been active as a director of the Middlesex Stamp Club and has helped run MIDDPEX, the club's annual exhibition.
At BNAPEX 2008 in Halifax, Order of the Beaver Chairman William C. (Bill) Walton announced that Norris (Bob) Dyer was being inducted into the Order.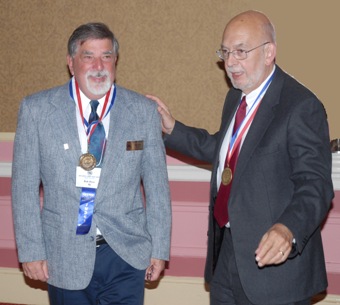 Norris (Bob) Dyer: Since December 2000 Bob has been Chairman of the Newfoundland Study Group and Editor of the Newfie Newsletter, for which he received the John S. Siverts award in 2004. He has compiled and edited the 'Recent Awards Won by BNAPS Members' on the BNAPS website since 2003 and has been Coordinator of the BNAPS Youth Program since 2005. He is currently serving a four-year term on the BNAPS Board of Directors.
Bob has published more than 20 articles on Newfoundland philately in BNA Topics and many more in the Newfie Newsletter, as well as in The American Philatelist. He is the author of BNAPS Exhibit Series Volume 19: Postal Shortages, and Surcharged Issues of Newfoundland.
In addition to many Gold and Vermeil awards and two Meyerson Awards at BNAPEXes, Bob received an International Gold at Washington 2006 for his multi-frame 'Postal Shortages and Surcharged Issues of Newfoundland', the Prix d'Honneur at the APS AmeriStamp Expo 2004 Single Frame Champion of Champions for "Newfoundland's 1897 Postal Shortage"; Gold and the 2004 BALPEX Grand Award for "Newfoundland's 1920 Postal Shortage" (single frame). He serves as the Internet contact for the Redwood Empire Collectors Club in Petaluma, CA, was Resident Philatelist for the Vickers Vimy Atlantic team, which in 2005 recreated the 1919 Alcock & Brown Transatlantic Flight, and is an active supporter of the American Philatelic Society, the Council of Northern California Philatelic Societies (Norcal) and the Federated Philatelic Clubs of Southern California (SESCAL).
At BNAPEX 2007 in Calgary, Order of the Beaver Chairman William C. (Bill) Walton announced that Peter Jacobi and Robert Lane were being inducted into the Order.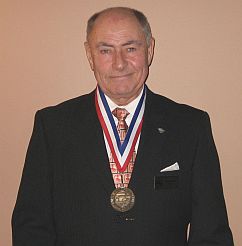 H. Peter Jacobi: Pete Jacobi has been Secretary of BNAPS since early 2000. His background in the mining industry and residence in both the East and West Kootenay region of B.C. led to his exhibits, 'Mining – British Columbia's Heritage' and 'Gems of the Kootenays', which have won numerous Vermeil and Gold medals at VANPEX, PIPEX, RPSC and BNAPEX shows, including 'People's Choice Awards' at VANPEX in 1996 and again in 2004. 'Mining' was published in black and white in 1999 as BNAPS Exhibit Series No. 11; a completely revised version in full colour was released in 2006. He has also contributed many articles to BNA Topics, most of them in the 'Vignettes of the Old West' series.
Pete served as Chairman of VANPEX from 2001 to 2004 and was a Director of the Northwest Federation of Stamp Clubs from 2003-2005. In 2001 he was invited to join Vancouver area Senior Philatelists in the "21" Club. Currently Pete is Chairman of the Pacific Northwest Regional Group of BNAPS.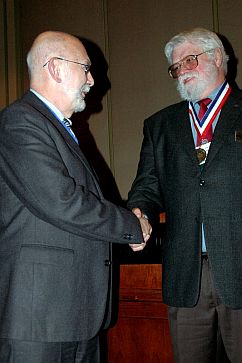 Robert K. Lane: Bob Lane of St. Albert, Alberta, has been BNAPS Webmaster since 1995. In 1999, the International Federation of Philately (FIP) recognized Bob's work on the Internet by selecting the BNAPS website as one of six sites to receive their 'Top 5%' award. Bob has served as Vice-President for Regional Groups since 2003. He was active in organizing the BNAPEX conventions of 1995 and 2005, both held in Edmonton. In 2003 he was honored with the BNAPS Hall of Fame Award.
Bob collects Manitoba Postal History with special emphasis on the Railway Post Offices of the province. He has published articles in BNA Topics covering the Riel Rebellion and Manitoba Postal History. In 2004, his exhibit, 'Railroad Post Office Cancellations Used in Manitoba', won a gold medal at BNAPEX. Bob is also recognized as an accomplished nature photographer. His photos of birds and other wildlife can be found on several websites.
At BNAPEX 2005 in Edmonton, Order of the Beaver Chairman William C. (Bill) Walton announced that William S. Pawluk was being inducted into the Order.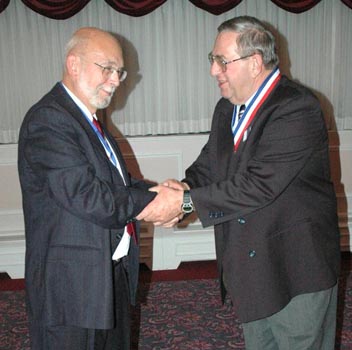 William S. Pawluk: Long time BNAPS member Bill Pawluk of Calgary, Alberta, was inducted into the Order of the Beaver, at the BNAPEX awards banquet Edmonton on 4 September 2005. Bill has long served the Calgary Regional Group as Chairman, member and program presenter. He is currently First Vice President of BNAPS. Has has previously chaired or co-chaired several committees of the Society, and has served as judge at BNAPEX shows. He is an accredited national judge in Canada.
Bill has just completed a major new work on 1897-1911 postal history with George Arfken, soon to be published. He won the Grand Award at BNAPEX 1995 in Edmonton for "Canada: Postal Regulations, Rates, and Usages - Domestic and International Mail, 1897-1911".
At BNAPEX 2004 in Baltimore, Maryland, on 4 September 2004, Order of the Beaver Chairman William C. (Bill) Walton announced that Douglas Lingard and James Hansen were being inducted into the Order.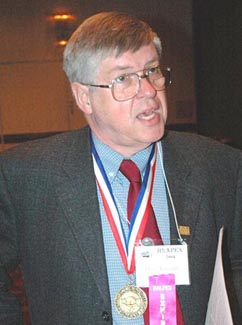 Douglas Lingard of Ottawa, Ontario, has been an indefatigable supporter of BNAPS for many years, and has served the society in many capacities. As Second Vice-President from 1996 to 2004, he co-ordinated the activities of the various BNAPS study groups, both by encouraging new groups and in revitalizing groups going that had fallen on hard times. He was Chairman of the BNAPEX 2001 convention in Ottawa and has been a strong supporter of the Society's St. Lawrence Seaway regional group over the last decade.
Doug is also a regular member of the organizing committee of ORAPEX, one of eastern Canada's national spring shows, and has served as Chairman of that committee.
Flag cancellations are his real collecting passion. He was a stalwart of the BNAPS Flag Cancel Study Group for many years, and helped prepare and publish the latest revision of the Flag Cancel Handbook.
Doug has exhibited many times at BNAPEX, National and Regional level exhibitions, and is an RPSC National level judge. He has an outgoing personality with a sense of whimsy, and is a person who is always willing to share his philatelic knowledge.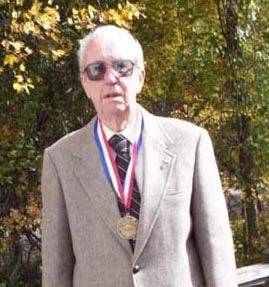 James Hansen of Newbury, New Hampshire, has been a member of BNAPS since 1982. Jim served as BNAPS Treasurer, a time consuming position, for the last four years. Jim and his wife Dolores have attended almost all BNAPEX conventions since 1985. In 1994 they organized and hosted BNAPEX in Burlington, VT, welcoming a good turnout of BNAPS members who greatly enjoyed the convention. Jim has also participated in various Study Group sessions at BNAPEXes.
As President of the Montpelier, Vermont, Stamp Society, he chaired or assisted with many club shows, and also chaired or assisted with several VERPEX exhibitions.
A truly dedicated philatelist, Jim has worked as a philatelic insurance claims adjuster for over 30 years. He is always working to promote philately and BNAPS, and will now take up new duties as Vice-President, Study Groups of BNAPS.
At BNAPEX 2003 in London, Ontario, on 27 September 2003, Order of the Beaver Chairman Willam C. (Bill) Walton announced that John D. Arn and R. F. (Hank) Narbonne were being inducted into the Order.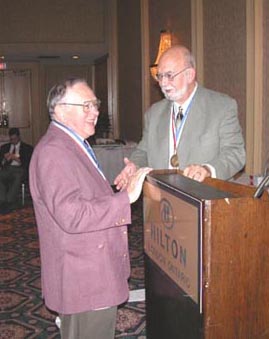 John D. Arn of Colbert, Washington, founded and was Chairman and Editor of the BNAPS Queen Elizabeth II Study Group from 1992-2000. He was awarded the John Siverts Award three times for the Study Group's newsletter, Corgi Times, received the President's Award in 1993, and was Chairman of BNAPEX 2002. He also chaired Elizabeth II Study Group seminars at BNAPEX from 1992-2000 and in 2002.
John served on the Committee of the Inland Empire Philatelic Society of Washington for several years, chairing their annual 'Apple Harvest' stamp show in 2001 and 2002 and as a member of the PIPEX 2001 host committee. For 15 years he coordinated an annual philatelic weekend for more than 50 collectors at Lake Moses, WA, and has also arranged an annual joint meeting between the IEPS and the Missoula, MT, Stamp Club.
John's exhibits have obtained Vermeil awards at BNAPEX 2000, BNAPEX 2002, PIPEX 2001, and Omaha 2002 - the latter two APS World Series of Philately exhibitions. John has attended all but one BNAPS convention since 1992.
R. F. (Hank) Narbonne of Carleton Place, Ontario, has been a member of BNAPS since 1969. In addition to acting as BNAPS Advertising Manager and Dealer Liaison for many years, he has served as a member of the BNAPS Board of Directors and was Bourse Chairman for BNAPEX 2001 in Ottawa. He has also been Secretary-Director, Circulation Manager, and Distribution Manager for the Postal History Society of Canada, and was recently elected a Director of the Royal Philatelic Society of Canada.
A stamp dealer since 1969, Hank co-authored two editions of the Canada Post Official First Day Cover Catalogue, and provided editorial board support to the last four editions of The Unitrade Specialized Catalogue of Canadian Stamps. In addition, he made significant contributions to Webb's Postal Stationery Catalogue of Canada, and to the Postmarks of Ontario and Ontario Broken Circles catalogues.
Hank's exhibits have earned BNAPS Vermeil and National level Gold awards. He is an accredited National level judge, and served as a Judge at BNAPEX 1997 in St. John's, NL. Hank has attended almost all BNAPEX conventions since 1979.
---
Copyright © 2015 - 2021 The British North America Philatelic Society.
The documents on this website are for informational and non-commercial or personal use only.
Documents on this website shall not be used on other websites or for commercial purposes without permission.
This page was last modified on 2021-01-28