To order this book from BNAPS books Sales Agent Bill Longley, click on the book's price at right.
---
BNAPS books are available from:
Bill Longley
c/o Longley Auctions
PO Box 620
Waterdown, ON L0R 2H0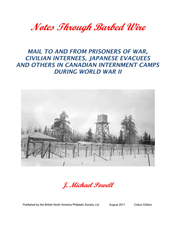 Notes through Barbed Wire
Michael Powell
Released August 2011.
412 pages, 8.5x11, spiral bound.
Colour C$ 65.00 [ISBN 978-1-897391-84-6].
The latest BNAPS handbook, Notes through Barbed Wire by J. Michael Powell, subtitled Mail to and from Prisoners Of War, Civilian Internees, Japanese Evacuees and Others in Canadian Internment Camps during World War II is an extensive survey of the subject of Canadian Internment Mail.

Building on the military postmark studies of W.J. Bailey, E.R. Toop and C.D. Sayles and the BNAPS Exhibit Series books by Stephen C. Luciuk and Kenneth V. Ellison, the author has taken a different approach. Focusing strictly on the World War II era, his chapter subjects range from Standard and Special Stationery to Rates, Destinations, Hand-stamps and Postmarks, through Censor and Foreign Markings to seldom seen material emanating from the Administration & Support side of Internment Operations. Extensive use of both contemporary and modern photographs of the various camps adds tremendous additional context to the philatelic material. In addition to producing the book, BNAPS wishes to sincerely thank Michael Powell for preparing the printing files.

J. Michael Powell, B.Sc., F.S.A., F.C.I.A. is an actuary and long time philatelist who took up the hobby under the tutelage of his father at a young age. After retiring early from professional practice due to health reasons, he took up the study of postal history and has exhibited at the national level on several occasions. His exhibits have included his Canadian P.O.W. and internment camp material as well as related foreign subjects. He has also exhibited his collection of the 1934 Jacques Cartier commemorative stamp issue of Canada.