To order this book from BNAPS books Sales Agent Bill Longley, click on the book's price at right.
---
BNAPS books are available from:
Bill Longley
c/o Longley Auctions
PO Box 620
Waterdown, ON L0R 2H0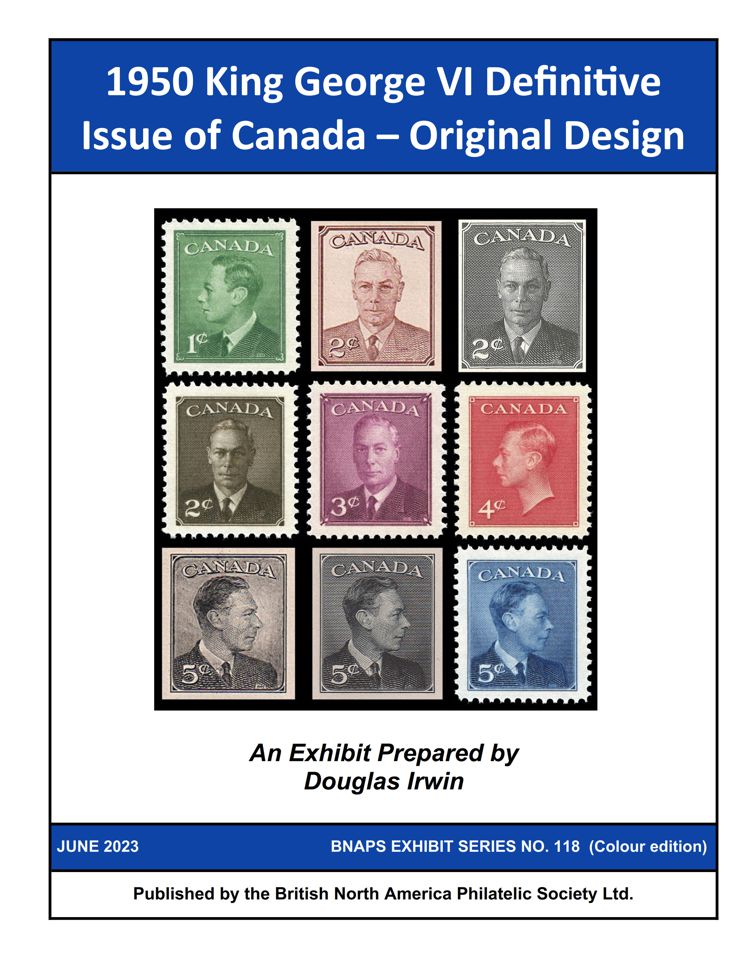 1950 King George VI Definitive Issue of Canada – Original Design
Douglas Irwin
Released June 2023. Exhibit series # 118.
140 pages, 8.5"x11", spiral bound.
Colour C$ 38.00 [ISBN 978-1-989280-39-3].
The last definitive stamp set of the 1940s was originally scheduled for release on 6 June 1949. Days before issue, the stamps were withheld by the federal government because the bilingual "Postes" and "Postage", present on all stamp issues since 1927, had been inadvertently omitted. The basic design was modified to include "Postes" and "Postage" and the set was issued on 15 November 1949. With more than 300 million of the original design stamps having been printed, they were finally issued on 19 January 1950.

In 1950 King George VI Definitive Issue of Canada – Original Design, Doug Irwin has examined in great detail the stamps and postal history of what might have otherwise been a forgotten issue.
---
Copyright © 2015 - 2023 The British North America Philatelic Society.
The documents on this website are for informational and non-commercial or personal use only.
Documents on this website shall not be used on other websites or for commercial purposes without permission.
This page was last modified on 2020-12-22.