To order this book from BNAPS books Sales Agent Bill Longley, click on the book's price at right.
---
BNAPS books are available from:
Bill Longley
c/o Longley Auctions
PO Box 620
Waterdown, ON L0R 2H0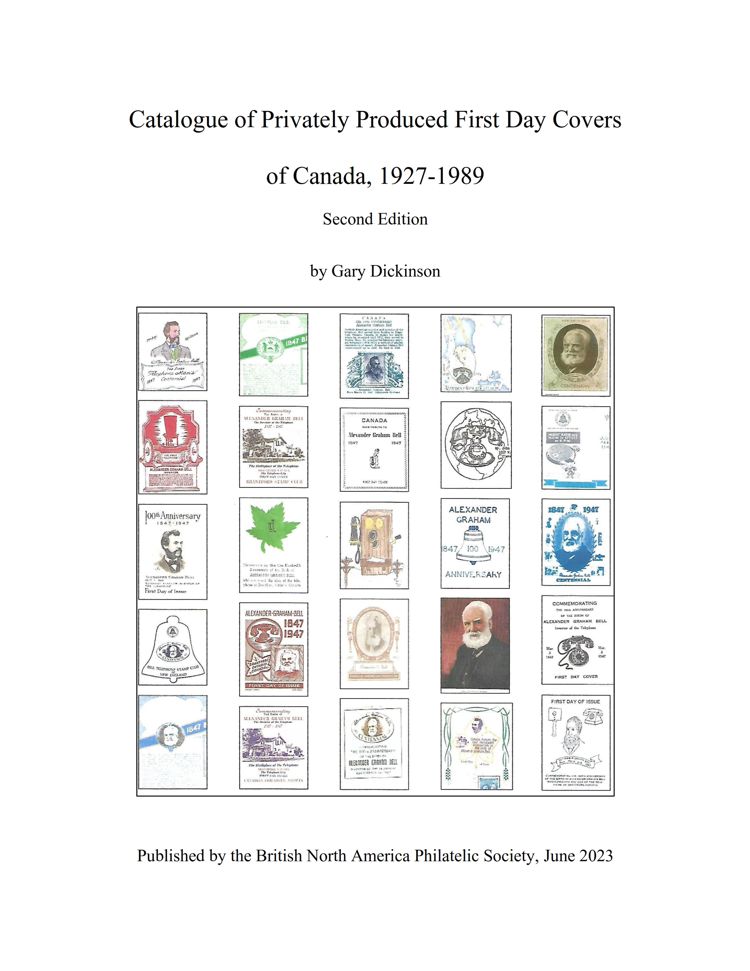 Catalogue of Privately Produced First Day Covers of Canada, 1927-1989
Second Edition
Gary Dickinson
Released June 2023.
364 pages, 8.5"x11", spiral bound.
Colour C$ 66.00 [ISBN 978-1-989280-40-9].
From the first known cachet for a Canadian stamp issue in 1927, through the apex of FDC collecting in the 1950s and 1960s, to the gradual decline of new products after the introduction of Canada Post's own line of official covers in 1971, privately-produced FDCs had not been thoroughly documented until Gary Dickinson published the first edition of the Catalogue of Privately Produced First Day Covers of Canada, 1927-1977.

Included in the 12,500 listings in the Second Edition are covers for an additional twelve years – 1978 to 1989 - as well as for stamp issues not covered in the first catalogue such as special delivery, official and semi-postal stamps, as well as the stamps of Newfoundland.

All special purpose cachets produced for specific stamp issues are illustrated in colour, while general purpose cachets that could be used for any stamp issue are each shown once in a separate section and cross-referenced to every stamp for which examples have been documented by at least one reported cover. The catalogue provides guidance to collectors regarding their acquisitions by illustrating the range of covers that have been produced for specific stamps and suggesting market prices for a wide range of FDCs.
---
Copyright © 2015 - 2023 The British North America Philatelic Society.
The documents on this website are for informational and non-commercial or personal use only.
Documents on this website shall not be used on other websites or for commercial purposes without permission.
This page was last modified on 2020-12-22.