To order this book from BNAPS books Sales Agent Bill Longley, click on the book's price at right.
---
BNAPS books are available from:
Bill Longley
c/o Longley Auctions
PO Box 620
Waterdown, ON L0R 2H0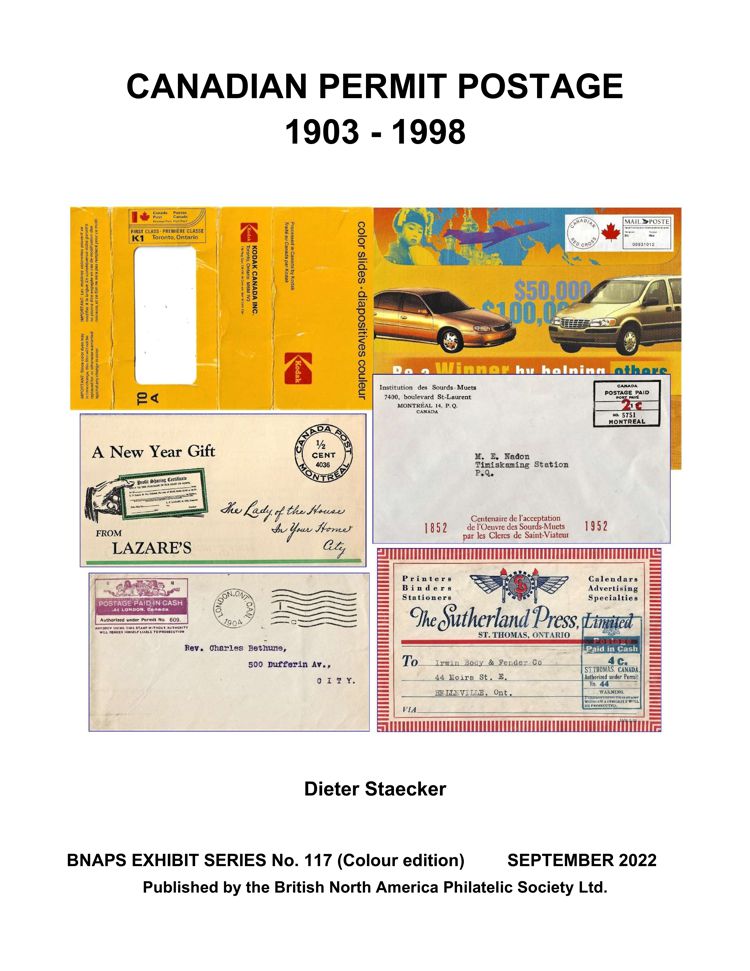 Canadian Permit Postage 1903–1998
Dieter Staecker
Released September 2022. Exhibit series # 117.
138 pages, 8.5"x11", spiral bound.
Colour C$ 51.00 [ISBN 978-1-989280-36-2].
At the BNAPEX 2021 Virtual convention, Dieter "Dick" Staecker won the Allan Steinhart Reserve Grand Award for his exhibit, Canadian Permit Postage on Bulk Mail 1903–1938. Responding to an invitation to include the exhibit in the BNAPS Exhibit Series, Dick advised that the 2021 exhibit had been reduced to accommodate frame limits and asked if he could include the balance of the exhibit in the new book, bringing it up to the Permit Indicia series of 1990. BNAPS is pleased to present the complete exhibit in this volume, Canadian Permit Postage 1903-1998.

After immigrating to Canada from Germany via Australia and settling down here, Dick Staecker resumed his childhood hobby of stamp collecting. While looking over some postal stationery at a stamp show, a dealer gave him a box of Canadian permit mail for free, saying he could not sell "this junk." The "junk" looked quite interesting to Dick since it was properly used through the mail with postage paid, the denomination in the indicia, and old advertising on the covers. Finding that there was no detailed listing of permit indicia, Dick decided to do the job himself. By 1987 he was able to publish his first Canadian Permit Postage Stamp Catalogue, eighty-four pages of information essentially new to Canadian philately. Almost thirty years later, he published the Fourth Edition, three times the size of the first. Since publishing it, Dick has worked on the exhibit presented in this book.