To order this book from BNAPS books Sales Agent Bill Longley, click on the book's price at right.
---
BNAPS books are available from:
Bill Longley
c/o Longley Auctions
PO Box 620
Waterdown, ON L0R 2H0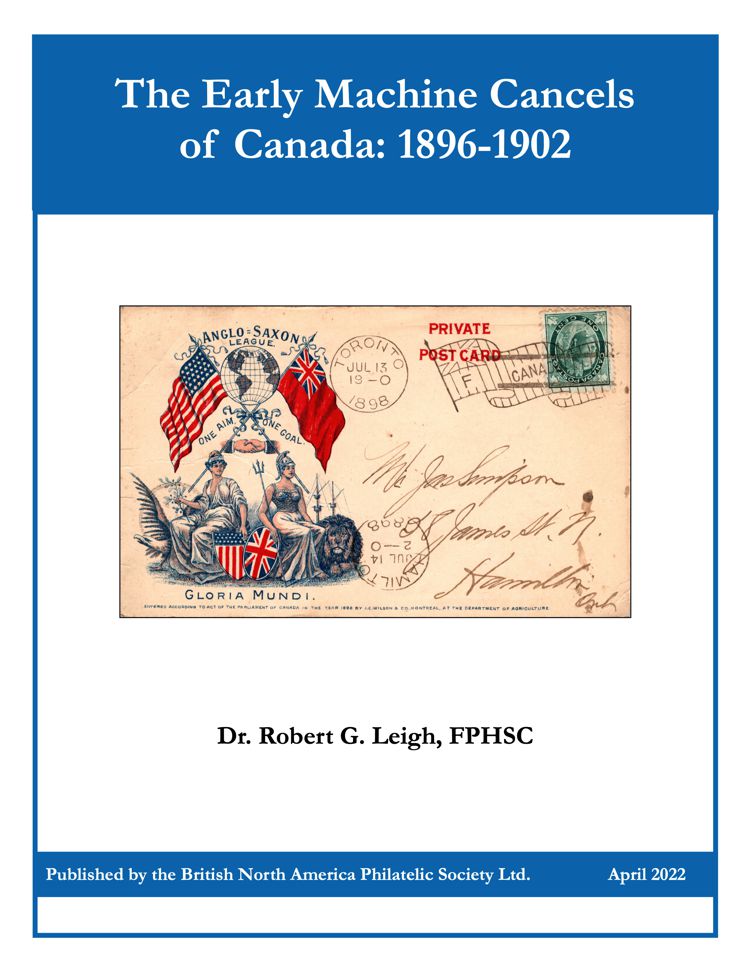 The Early Machine Cancels of Canada: 1896-1902
Robert G. Leigh
Released April 2022.
152 pages, 8.5"x11", spiral bound.
Colour C$ 42.00 [ISBN 978-1-989280-31-7].
In the last decade of the 19th Century, as the population of Canada grew by leaps and bounds, the amount of mail being processed by the Canada Post Office Department grew accordingly. In order to keep the mail flowing speedily, clever inventors developed machines to process the mail.

In The Early Machine Cancels of Canada: 1896-1902, Robert G. Leigh details how Imperial, Bickerdike and 'Geary' provisionals were introduced, first in Montreal, then in Ottawa and Toronto, and finally in Hamilton. In this major work, the author has combined the information contained in the existing literature with a great deal of original research.
---
Copyright © 2015 - 2023 The British North America Philatelic Society.
The documents on this website are for informational and non-commercial or personal use only.
Documents on this website shall not be used on other websites or for commercial purposes without permission.
This page was last modified on 2020-12-22.