To order this book from BNAPS books Sales Agent Bill Longley, click on the book's price at right.
---
BNAPS books are available from:
Bill Longley
c/o Longley Auctions
PO Box 620
Waterdown, ON L0R 2H0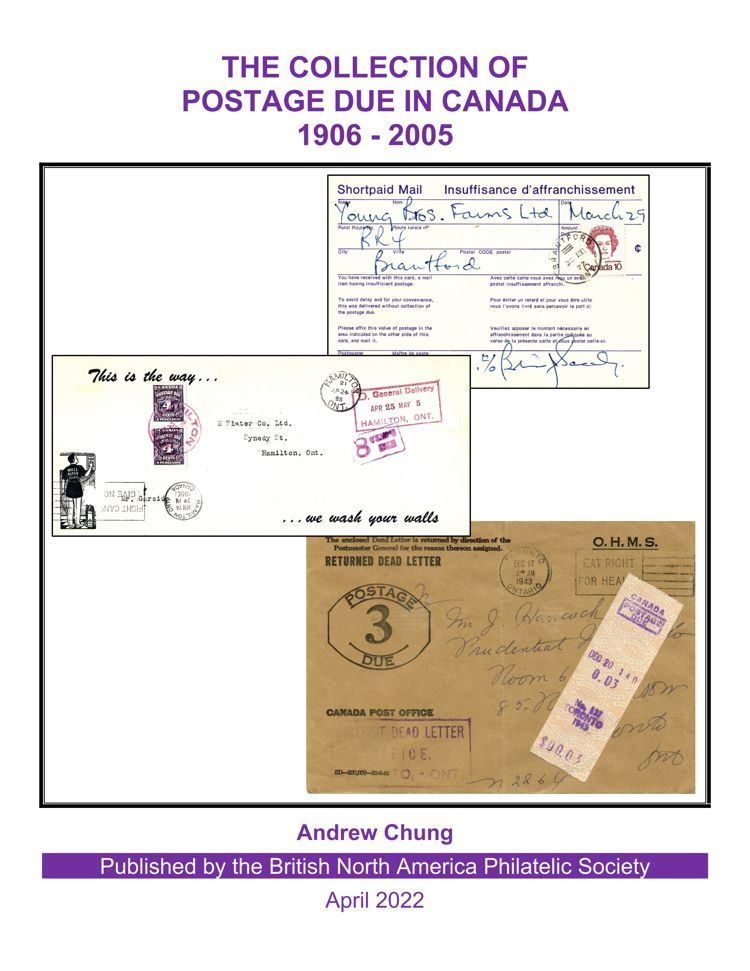 The Collection of Postage Due in Canada 1906 – 2005
Andrew Chung
Released April 2022.
96 pages, 8.5"x11", spiral bound.
Colour C$ 35.00 [ISBN 978-1-989280-28-7].
The Collection of Postage Due in Canada 1906 - 2005 is an update of an earlier publication, The Canadian Postage Due Stamps, by Hans Reiche FRPSC (1914-2000) and Andrew Chung in 1985.

"Section 1" featured in the earlier publication is revised, and "Section 2", on the treatment and rating of unpaid, shortpaid, redirected and undeliverable mail is revised and expanded with postal rates and fees. New to this publication are postage due meter and register impressions, and postage due notice cards.
---
Copyright © 2015 - 2023 The British North America Philatelic Society.
The documents on this website are for informational and non-commercial or personal use only.
Documents on this website shall not be used on other websites or for commercial purposes without permission.
This page was last modified on 2020-12-22.