To order this book from BNAPS books Sales Agent Bill Longley, click on the book's price at right.
---
BNAPS books are available from:
Bill Longley
c/o Longley Auctions
PO Box 620
Waterdown, ON L0R 2H0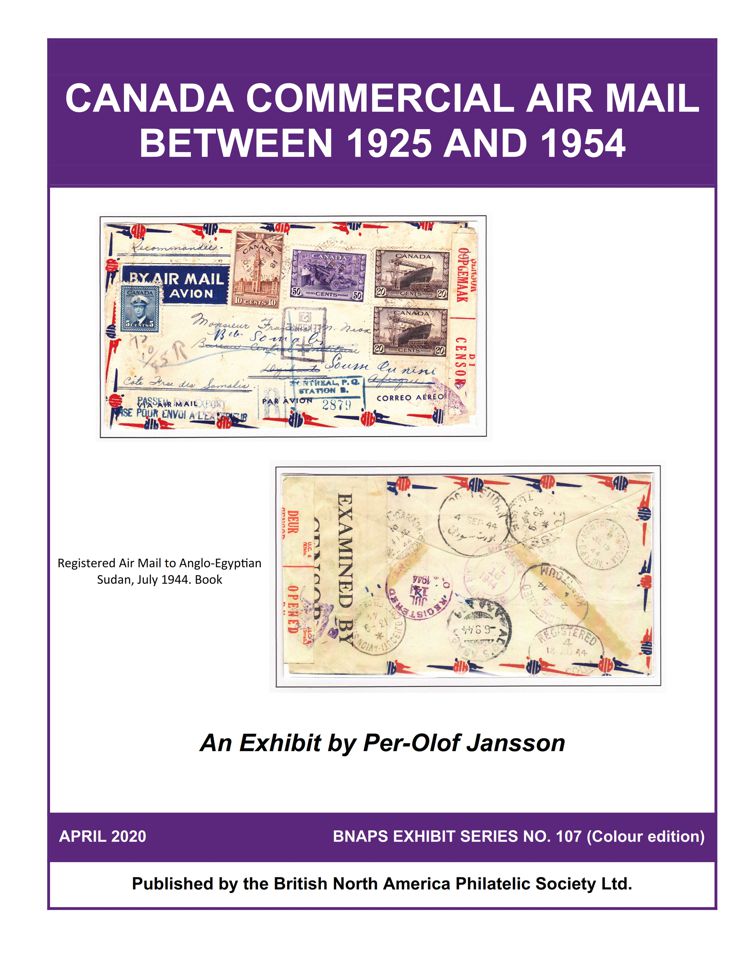 Canada Commercial Air Mail Between 1925 and 1954
Per-Olof Jansson
Released April 2020. Exhibit series # 107.
136 pages, 8.5 x 11, Spiral bound.
Colour C$ 38.00 [ISBN 978-1-989280-08-9].
Canada Commercial Air Mail Between 1925 and 1954 is the result of many years of research into the subject, coupled with extensive scanning of dealers' stocks at stamp shows in Europe and, more recently, on eBay. In their handbook, Air Mails of Canada 1925-1939 (Firby, 2000), George Arfken and Walter Plomish presented the first 15 years of the story with reduced size illustrations in black-and-white. In this book, Per-Olof Jansson takes the story out another 15 years, and illustrates the whole period with appropriate full-size covers, many of them ex-Plomish, in colour. The exhibit received a Vermeil and the Canadian Aerophilatelic Society Best Aerophilatelic Exhibit Award at BNAPEX 2019 Ottawa.

Born in 1947, Per-Olof Jansson was raised in Gothenburg, Sweden. He started collecting stamps at the age of 10. That his interest turned to Canadian philately was something of a coincidence. When Per-Olof's mother talked about her son´s interest in stamp collecting, her employer, a retired major collector in Gothenburg, wanted to encourage Per-Olof's interest. As a gift, he gave Per-Olof a collection of Canadian stamps, including many older issues. After finishing his studies as a Construction Engineer, marriage and small children, when he took up the hobby again, the Canadian collection was right there.

By the mid-1980s, he had become more and more interested in the postal history presented by letters, postcards, and the philatelic stories they told. For several years he had been acquiring air mail items, but didn't really know that much about them.

He contacted Canada Post about air mail rates and received a very good base of information, which gave him a starting point. In 1988, he sent his first attempt to set up postage rate tables to Robert C. Smith, and received more information. Between 1988 and 2000, more and more articles on different air mail rates and routes were published, and auction sales provided additional information. With this as a basis, he began to create the collection shown in this book.

Per-Olof joined BNAPS in 1993 and became a Life Member in 1996. He is also a member of The Royal Philatelic Society (1978), the Postal History Society of Canada (1980) and Life Member (1991), the Canadian Philatelic Society of Great Britain (1986), the Royal Philatelic Society of London (2017) and the Swedish Philatelic Federation.