To order this book from BNAPS books Sales Agent Bill Longley, click on the book's price at right.
---
BNAPS books are available from:
Bill Longley
c/o Longley Auctions
PO Box 620
Waterdown, ON L0R 2H0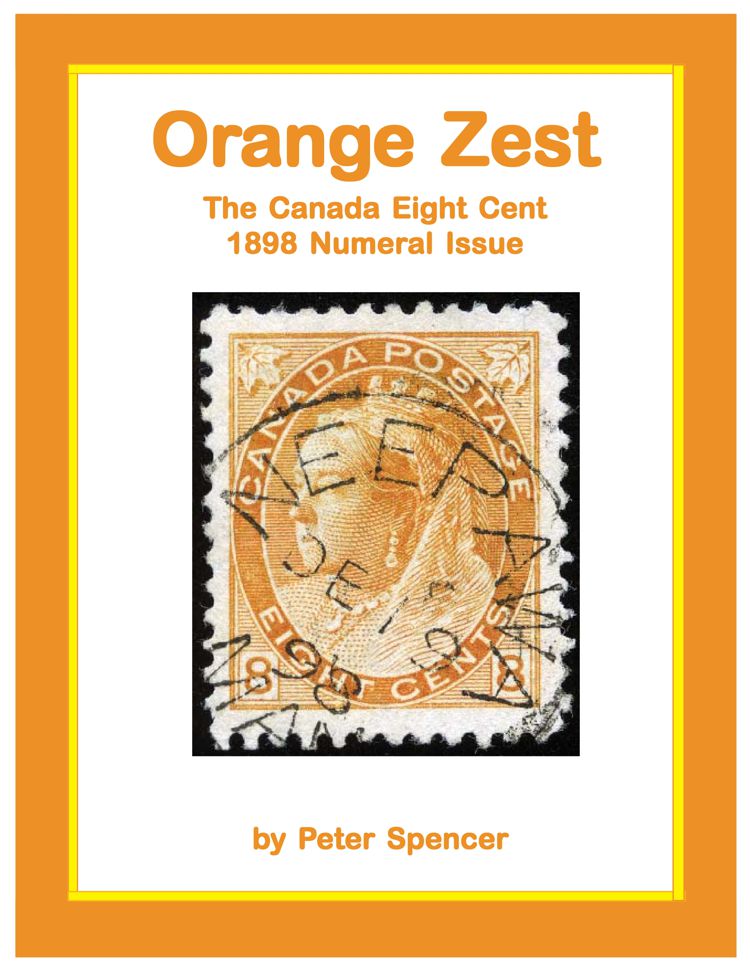 Orange Zest: The Canada Eight Cent 1898 Numeral Issue
Peter Spencer
Released July 2020.
94 pages, 8.8 x 11, Spiral bound.
Colour C$ 34.00 [ISBN 978-1-989280-09-6].
Orange Zest: The Canada Eight Cent 1898 Numeral Issue is the ninth volume in Peter Spencer's series on the plating of Canada's Queen Victoria era Numeral Issue.

Three books, Pretty in Pink (2005), The Joy of Panes (2015) and The Thirty-Six Types (2017) covered specific aspects of the Two Cent value of the issue. The Wearing of the Green (2006) covered the 1¢ Numeral, Blue Opaline (2007) and Victoria's Secret Slips (2012) looked at the 5¢ Blue Numeral. The other books in the series were Mrs. Brown The Canada Ten Cent 1898 Numeral Issue (2008) and Olive Oyl The Canada Twenty Cent 1898 Numeral Issue (2010).

In addition to examining close to 100,000 dated copies of Numeral stamps and plating them, Peter has also illustrated the main varieties in extraordinarily sharp photographs All in all, an incredible amount of work, and he is not finished. At least one more book is in preparation!
---
Copyright © 2015 - 2021 The British North America Philatelic Society.
The documents on this website are for informational and non-commercial or personal use only.
Documents on this website shall not be used on other websites or for commercial purposes without permission.
This page was last modified on 2020-12-22.