To order this book from BNAPS books Sales Agent Bill Longley, click on the book's price at right.
---
BNAPS books are available from:
Bill Longley
c/o Longley Auctions
PO Box 620
Waterdown, ON L0R 2H0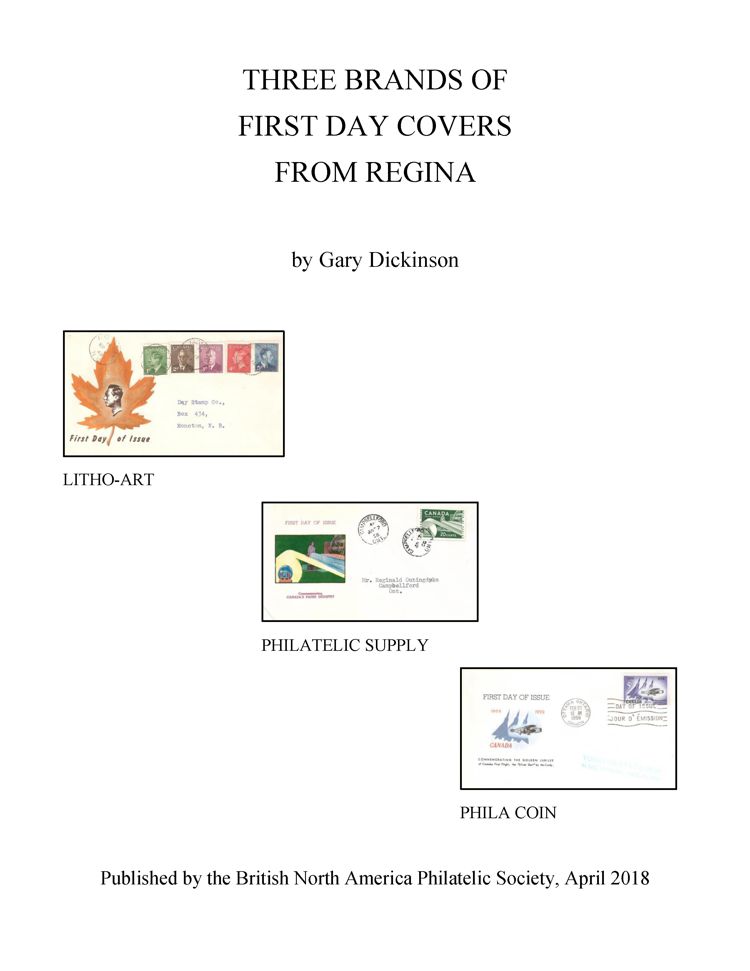 Three Brands of First Day Covers from Regina
Gary Dickinson
Released December 2018.
50 pages, 8.5x11, spiral bound.
Colour C$ 16.00 [ISBN 978-1-927119-94-5].
Three Brands of First Day Covers from Regina is Gary Dickinson's fifteenth BNAPS book about different aspects of Canadian First Day Covers. Early studies of Canadian FDCs were often hampered by lack of information about who actually produced some of them. Such was the case with FDCs carrying the brand names Litho-Art, Philatelic Supply Company and Phila Coin. A systematic study showed stylistic similarities among them, that quite a few were postmarked or addressed to Regina, and there was no overlap or separation in time among the three brands. In a few instances, tiny logos on the back flaps of the FDC envelopes with the brand name also indicated Regina as the source location. An inquiry in First Impressions, the newsletter of the BNAPS FDC Study Group, resulted in a response from a member who was acquainted with the son of the maker of all three cachet brands. The mystery of the Regina covers began to unravel once the maker was identified, and the result of that investigation is reported in this book.

Dr. Gary Dickinson worked in British Columbia secondary schools, colleges, and universities for 35 years until he retired in 2001. The last 20 years were at Okanagan College and Okanagan University College where he served as South Okanagan Regional Director for five years and Dean of the Faculty of Adult and Continuing Education for 15 years. He was also Acting Vice-President, Academic for the year and a half prior to his retirement. Gary has continued his association with Okanagan College by chairing its Central Okanagan Advisory Committee and serving on the Research Ethics Board. He was co-founder of the BNAPS FDC Study Group and is editor of its newsletter, First Impressions. Gary and his wife Barbara have six grown children and were foster parents for 20 years.

Copyright © 2015 - 2021 The British North America Philatelic Society.
The documents on this website are for informational and non-commercial or personal use only.
Documents on this website shall not be used on other websites or for commercial purposes without permission.