To order this book from BNAPS books Sales Agent Bill Longley, click on the book's price at right.
---
BNAPS books are available from:
Bill Longley
c/o Longley Auctions
PO Box 620
Waterdown, ON L0R 2H0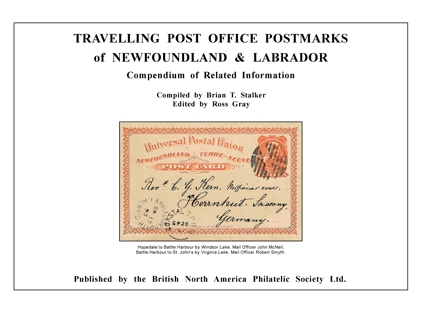 Travelling Post Office Postmarks of Newfoundland & Labrador Compendium of Related Information
Brian Stalker, compiler. Ross Gray, editor.
Released December 2016.
388 pages, 8.5x11, spiral bound.
Colour C$ 47.00 [ISBN 978-1-927119-75-4].
This Compendium tells the story behind the Railway and Travelling Post Office postmarks of Newfoundland. While studying Newfoundland and Labrador's Railway and Coastal Travelling Post Office postmark hammers, Brian Stalker researched the operation of the TPOs, delving into the postal, social and maritime history associated with the postmarks. Breaking new ground by its breadth and depth of coverage of the story behind the RPO and TPO postmarks, the Compendium summarizes twenty years of research and will aid anyone wishing to identify the routes taken, the vessels and the mail officers who handled mail to and from outports around the coastlines of Newfoundland and Labrador. Route maps showing ports of call are accompanied by a selection of timetables and schedules from the period between 1880 and 1968. Other chapters include chronological summaries, mail contract terms and conditions, railway mail cars, mail steamer data, mail subsidies, treatment of late letters and registered mail, 20th Century motor boat and water services and a listing of railway mail clerks and coastal steamer mail officers, summarizing their postal careers. Some chapters include illustrations of mail carried and photographs.

Data for the period 1880 to around 1930 is comprehensive, but is less so from 1930 onwards. Despite that limitation, this Compendium breaks new ground by its breadth and depth of coverage of the story behind Newfoundland and Labrador's RPO and TPO postmarks.

Brian Stalker, a retired electrical engineer, was introduced to Canadian Railway Post Office postmarks almost forty years ago and has been collecting, studying and exhibiting them ever since. Apart from building up a significant collection of Newfoundland and Labrador RPOs and TPOs, he also takes a keen interest in Canada's Grand Trunk Railway and its constituent companies. Brian is a Fellow of the Canadian Philatelic Society of Great Britain and was inducted into the Order of the Beaver, the Fellowship of BNAPS, in 2015. He is also an active member of several philatelic societies within the United Kingdom.