To order this book from BNAPS books Sales Agent Bill Longley, click on the book's price at right.
---
BNAPS books are available from:
Bill Longley
c/o Longley Auctions
PO Box 620
Waterdown, ON L0R 2H0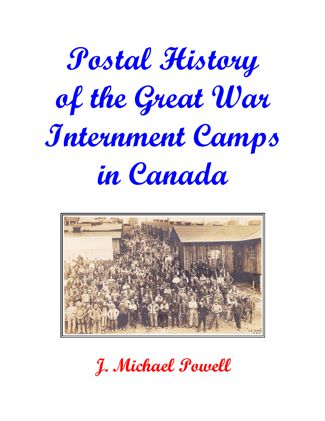 Postal History of the Great War Internment Camps in Canada
J. Michael Powell
Released September 2016.
676 pages, 8.5x11, spiral bound.
Colour C$ 100.00 [ISBN 978-1-927119-69-3].
Postal History of the Great War Internment Camps in Canada by J. Michael Powell is an extensive study of Canadian internment mail and the 25 camps established in Canada during World War I. After combining his own collection of pertinent material with those of several prominent collectors, the author embarked on an incredible research effort culminating in this massive volume. In addition to the large number letters and postcards to and from internees – mostly enemy alien civilians but including some Prisoners of War – the book features excellent reproductions of hand-stamps and postmarks and extensive use of contemporary postcards and photographs of the various camps, adding tremendous additional context to the philatelic material. Mike Powell's 2011 book Notes through Barbed Wire, also published by BNAPS, studied internment mail during World War II.

J. Michael Powell, B.Sc., F.S.A., F.C.I.A., is an actuary and long-time philatelist who took up the hobby under the tutelage of his father at a young age. After retiring early from professional practice due to health reasons, he took up the study of postal history and has exhibited at the national level on several occasions. His exhibits have included his Canadian P.O.W. and internment camp material as well as related foreign subjects. He has also exhibited his collection of the 1934 Jacques Cartier commemorative stamp issue of Canada.

---
Copyright © 2015 - 2022 The British North America Philatelic Society.
The documents on this website are for informational and non-commercial or personal use only.
Documents on this website shall not be used on other websites or for commercial purposes without permission.
This page was last modified on 2020-12-22.