To order this book from BNAPS books Sales Agent Bill Longley, click on the book's price at right.
---
BNAPS books are available from:
Bill Longley
c/o Longley Auctions
PO Box 620
Waterdown, ON L0R 2H0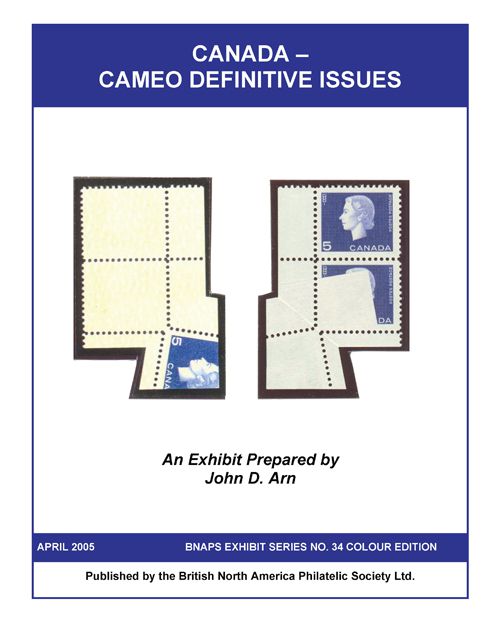 Canada Cameo Definitive Issues
John D. Arn
Released May 2005. Exhibit series # 34.
152 pages, 8.5x11, spiral bound.
Colour C$ 35.00 [ISBN 0-919854-54-0].
B&W C$ 19.00 [ISBN 0-919854-55-9].
John D. Arn's Canada Cameo Definitive Issues is only the third exhibit of Canadian stamps or postal history from the Queen Elizabeth II era to win Gold at a National level show in Canada or the United States. At BNAPEX/BALPEX 2004 in Baltimore, the exhibit received a Gold level medal from both British North America Philatelic Society (BNAPS) and American Philatelic Society (APS) judges. In doing so, Canada Cameo Definitive Issues also became the first ever Elizabethan exhibit to win BNAPS' Horace W. Harrison Grand Award.

The five stamps of the Cameo issue, released between October 1962 and May 1963, remained in primary use only until 8 February 1967 when they were replaced by the Centennial definitive series. The Cameo definitives were fully involved in the Winnipeg tagging experiment. This was also the early period of use and discovery of fluorescent paper. In addition to normal sheet stamps, miniature panes, coil stamps and booklets were issued, and stamps were also overprinted for official use by Government departments. A number of varieties, some of which are extremely scarce and possibly unique, resulted. Virtually all are included in the exhibit, as are a number of unlisted items.

Commercial usage is emphasized throughout the exhibit. Domestically, besides normal first class mail, there were specialized rates for letters mailed ('dropped') to the same city or post office, printed matter and even for mailing election ballot boxes. Internationally, rate schedules were maintained for surface or air mail to the United States, the Americas, the British Empire and non-British Empire UPU Countries, with a detailed schedule of air rates for the rest of the world.

A long-time collector of a number of philatelic areas, for the past 20 years John Arn's interest has focused on the Queen Elizabeth II period of Canada. He founded BNAPS' Elizabethan II Study Group and for nine years was Editor of its newsletter, Corgi Times. In 1993 his Caricature and Landscape Definitives exhibit earned a Gold at the Peach State Stamp Show but was totally destroyed in a winter traffic accident on the way to a second showing. The Cameo Definitives exhibit, his second to receive a Gold award at National level, has caused him to work on two more exhibits he hopes will also earn Gold awards. In recognition of his philatelic efforts, in September 2003 John was inducted into BNAPS' Order of the Beaver.