St. Lawrence Seaway Regional Group
Eastern Ontario
Western Quebec
Co-chairmen:
Christopher J. Anstead (email)
Robert Lemire (email)
No events currently scheduled.
The St. Lawrence Seaway Regional Group met on 13 October 2018 at the historic McMartin House in Perth, Ontario.
It was a pleasant and colourful fall day in Perth for the meeting. The highlight is always the show and tell, where attendees present items of interest from their collections. The offerings spanned 200 years: from a military letter just after the War of 1812 to treasures found at the BNAPEX meeting in Quebec City.
There was a military theme to several of the presentations. We learned of:
The first Canadian military involvement in Africa, 1884 voyageur expedition to rescue beseiged "Chinese" Gordon in Khartoum, Sudan
Scarce WW I government documents to conscript males 18-65. Why are there not more seen?!
Single usage of the 10 cent War issue, many scarce rates!.
The puzzling absence of censorship on transAtlantic first flights.
Next meeting at ORAPEX on 4 May 2019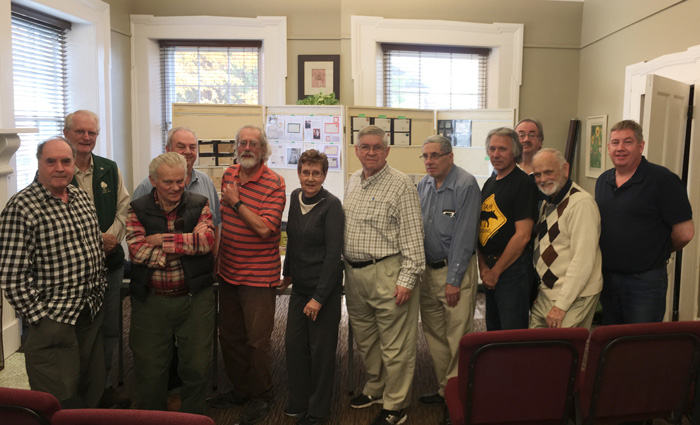 Meeting attendees at the Perth meeting on 13 October 2018
The St. Lawrence Seaway Regional Group met on 14 October 2017 at the historic McMartin House in Perth, Ontario.
The afternoon Show and Tell was lively. The time period extended from the 1820 stampless era to the 1946 Peace issue.
While postal history dominated, stamps were well represented.
An official stamp with two Greene certificates - as yet unlisted in Unitrade - was shown. WoW!!
The Ford Motor Company, Windsor, prepared a stunning Peace issue presentation booklet. It was given to members of the Ford Employee Stamp Club at their annual dinner. Looking through the booklet made me feel I was there.
The postal history side emphasized routes:
along the Rideau Canal,
early Manitoba with the scarce and difficult to explain Palestine, NWT transit postmark
WW II transAtlantic to the Azores with a puzzling rate
Next meeting at ORAPEX on 5 May 2018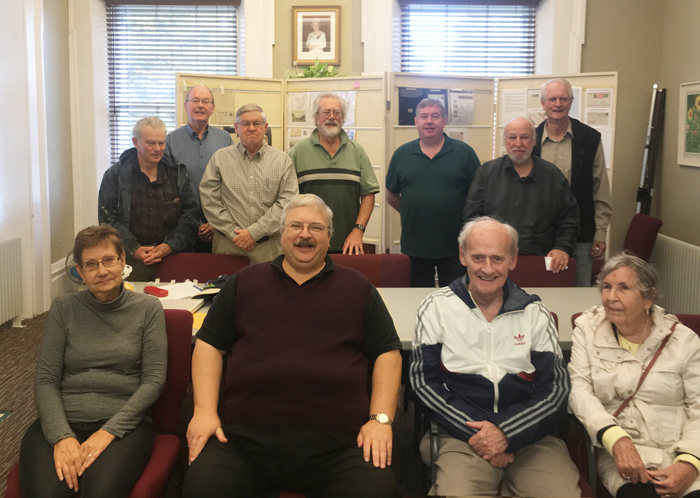 Meeting attendees at the Perth meeting on 14 October 2017
The autumn colours were at their best on 15 October in and around Perth. The St. Lawrence Seaway Regional Group met in the historic McMartin house. Daniel McMartin was one of the bigwigs in Perth when it was founded 200 years ago.
As usual the highlight of the meeting was the show and tell from members' BNA collections. The diversity of topics precipitated lively and informative discussions.
| | |
| --- | --- |
| 1848 | Cover from Alexandria, UC, to Madeira regarding a shipment of a popular drink; a special prop was used to illustrate the topic. |
| 1887 | The postal history of Mountain Grove, Ont., includes a creative postmaster. |
| 1894 | Stamp dealer price list for Canadian stamps, $100 for 12d black. |
| 1898 | 2 cent blue UPU card addressed to Hull, England, missent to Hull, Quebec. |
| 1917 | Canadian soldier mail to family in Bermuda leads to contact with descendants. |
| 1918 | An elusive Admiral War Tax cover with type B lathework. |
| 1924 | Unreported RPO clerk postmark on Montreal & Mont Laurier train. |
| 1941 | A puzzle involving censored mail from a Norwegian merchant seaman to occupied Norway. |
| 1942 | Special delivery mail from Newfoundland to Canada. |
| 1944 | Christmas aerograms for Canadian soldiers. |
| 1950 | Missing "G" overprints from official stamps. |
| 2010 | Modern stamp issues pertaining to the Victoria Cross recipients. |
The next meeting will be in Ottawa on 6 May 2017 at ORAPEX.
The St. Lawrence Seaway Regional Group held its semi-annual meeting at the historic McMartin House, Perth, on 24 October 2015. Fourteen members attended.
Chris Hargreaves was presented with the Vincent G. Greene award for best article in BNA Topics.
The popular SHOW and TELL proved how diverse BNA collecting is. And the cumulative knowledge of the group led to lively discussions! The show and tell topics spanned 179 years. In chronological order they were:
Carleton Place postmarks
Early illustrated Gananoque covers
Half-cent stamp usage
Small Queen covers to Mexico
World War I Ottawa POW postmarks
Short paid special delivery

The "D.w." mystery postmark
A World War II internee correspondence
5 cent O.H.M.S. missing period
Promotion of our postal code
Christmas mail curiosities
2015 post office goofs
30 April 2016, Ottawa - Our next meeting is at ORAPEX. Aerophilately from Canada to USA will be featured.
Some of the meeting's activities are captured in the photos below.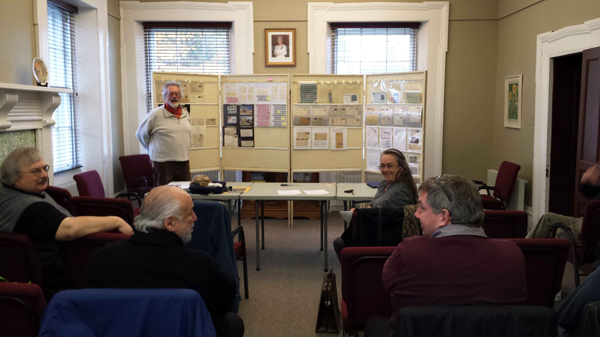 Meeting Attendees

Meeting Attendees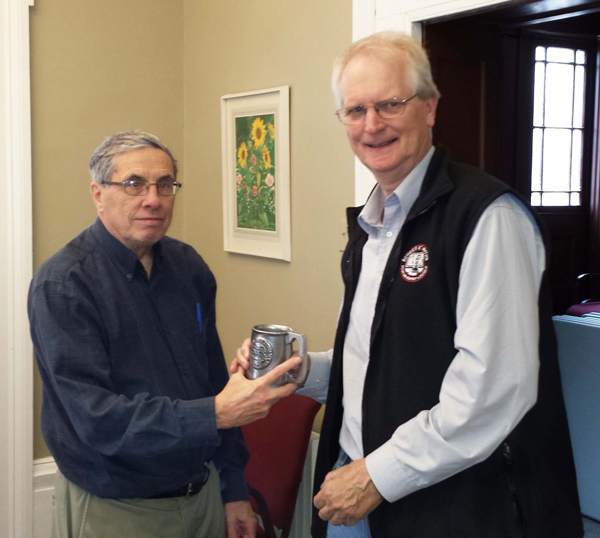 Robert Lemire presents Chris Hargreaves with the Vincent G. Greene award for best article in BNA Topics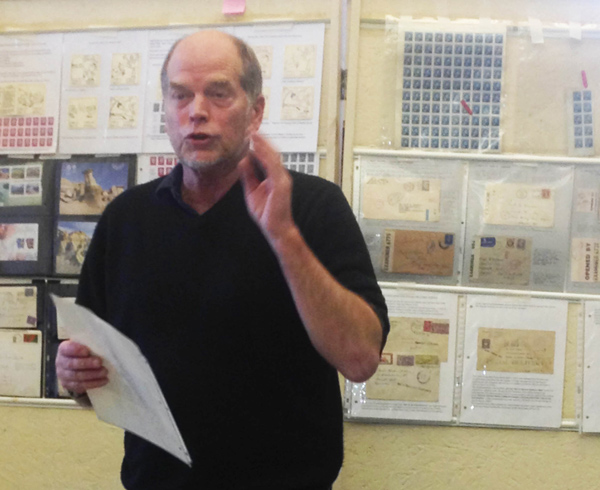 Show and Tell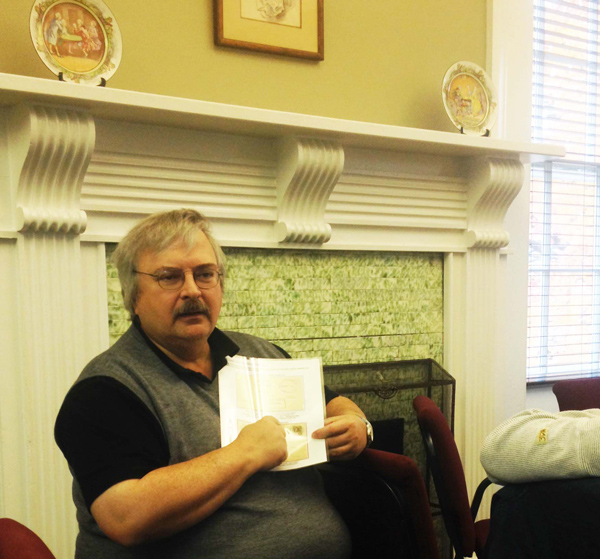 Show and Tell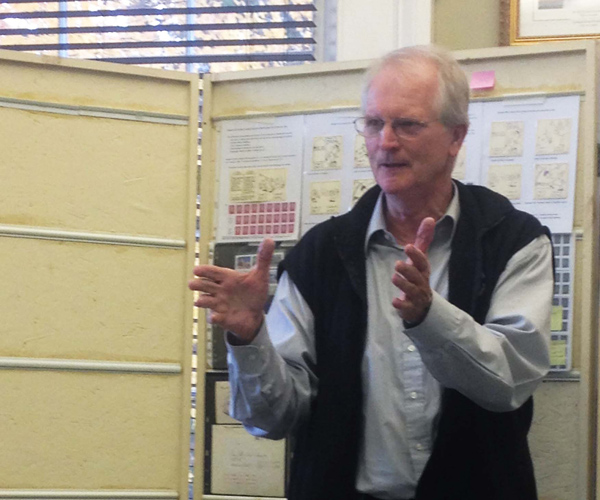 Show and Tell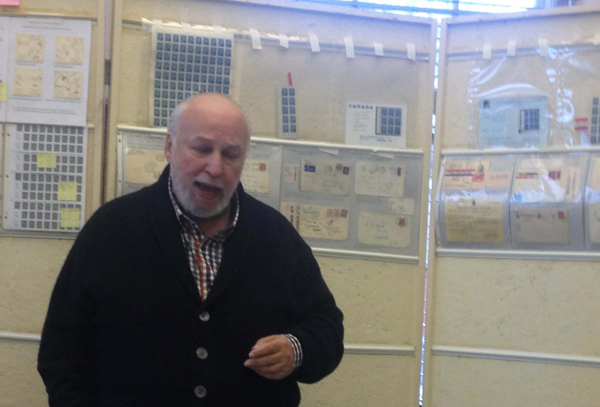 Show and Tell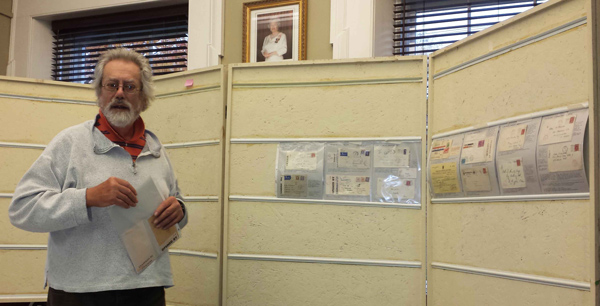 Show and Tell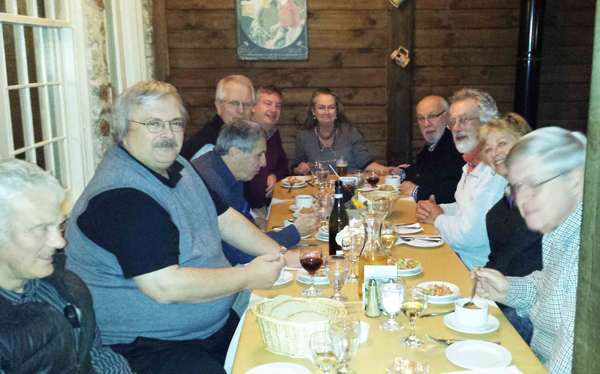 Dinner after the meeting
21 members attended the St. Lawrence Seaway Regional Group meeting on October 20 in Perth. After a morning of barter and banter, there was a lively discussion among the attendees, with many interesting opinions expressed on our hobby and our society. The ever-popular "show and tell" session revealed the diversity of collecting interests.
The oldest items were over 200 years old - including an early way letter from a surveyor looking for payment. The letter received a Three Rivers straight-line transit marking on its way to Quebec.
The most recent were the new and colourful tobacco revenues which are being introduced in some provinces.
There was a range of material from all periods between.
Next group meeting: ORAPEX show in Ottawa, May 2013.
The meeting held in McMartin House was called to order at 1.10 pm by the chairman, Geoff Newman, and the minutes were recorded by Gus Quattrocchi, chair of the Perth Stamp Club who was sponsoring this meeting. 18 members were present. A brief discussion was held on how the notice of the meeting was sent.
The members present stood in turn giving their name, place and collecting interests. The recent BNAPEX 2011 North Bay convention was discussed by those who attended with information about the exhibits, judging and entertainment. This lasted quite a while with many good comments. It was mentioned that the North Bay Convention Committee paid back the $1,000.00 to the group that had loaned them the money. BNAPS President Robert Lemire then spoke about BNAPS activities and noted that the the BNAPEX 2012 convention would be held in Calgary on the Labour Day weekend.
As most of the members on arrival had placed from one to six pages of a particular part of their collection on the four frames that were at the back of the head table, it was now time for the show and tell which is always an interesting and educational part of our meeting.
Don Ecobichon had two covers on mining. They were from the Silver Island mine of the 1870s. Don explained the history of the mine in the area.
Gus Quattrocchi displayed five covers with miscellaneous markings. He explained the markings on each cover.
Louise Daigenault had a folded letter to Montreal that took one month to be delivered, and explained the history connected with the three other letters that she had brought.
Hank Narbonne spoke about a letter of the 1800s.
Chris Anstead explained mail delivery to Cloyne on the K & P Railway.
Dudley Nash spoke about his 8-page display of booklet stamps and forgeries.
Jill Hare had a mica cover and samples of the mineral.
Geoff Newman had a cover with five 2¢ King Edward imperfs to Belgium.
Tom Hare had an 1894 cover to Istanbul and eight pages of 3¢ Small Queens showing the various shades from Montreal to Ottawa printings.
Dudley Nash displayed pages with 7¢ Admirals that showed the colours straw to green to olive to yellow and golden yellow.
Robert Lemire displayed three pages of Queen Victoria 1898 - 1899 business cards.
Doug Lingard had a showing of early covers of Cobourg from m/s to CDs.
Ray Villeneuve had some covers from Russell, ON.
Steve Joburn had some photos of planes used in the Yukon.
The meeting adjourned at 5 pm and all the members then went to Mr. Newman's house for refreshments and socializing before going to Maximillians restaurant for a nice dinner of weiner schnitzel etc., bringing to an end another successful meeting.
Attendees came from Montreal, Hull, Deep River, Cornwall, Rochester NY, Ottawa, London ON, Carleton Place, Brockville, Elgin, Lombardy, Elphin and the Perth area.
Held in conjunction with the Ottawa ORAPEX show, the semi-annual meeting was attended by about 30 members.
After a short business meeting chaired by Geoff Newman, we were entertained with a colourful presentation by Jon Johnson of Calgary. Who could imagine the variety of privately produced envelopes in the pioneer days of air mail in Canada? Thanks, Jon!
Mark your calendars for the next meeting, 15 October in Perth.
Submitted by Secretary-Treasurer, Chris Anstead
Our semi-annual meeting on 1 May 2010 was held in Ottawa at the ORAPEX national show. Robert Lemire, who has acted as Secretary-Treasurer for many years was applauded by all for his meticulous dedication.
An electronic presentation with participation from a dozen members followed. "A Favourite from My Collection" attracted submissions from 1842 to 1985. It turned out to be a pleasant interlude from the show's bourse and excellent exhibits.
Submitted by incoming Secretary-Treasurer, Chris Anstead
---
Copyright © 2015 - 2022 The British North America Philatelic Society.
The documents on this website are for informational and non-commercial or personal use only.
Documents on this website shall not be used on other websites or for commercial purposes without permission.
This page was last modified on 2020-12-06.