The inaugural meeting of the BNAPS Atlantic Provinces Regional Group took place on 18 November 2006. Since then, the Group has met on a regular basis where they discuss a wide variety of topics dealing with BNA philately. The meetings are typically held in conjunction with philatelic exhibitions in the region, and regularly attract 10 to 20 members and guests.
Here are reports of previous meetings.
Wednesday, 16 May, saw another of the Halifax area BNAPS luncheon meetings. Ten locals along with our "foreign" member, Pat Burns, arrived with a variety of show-and-tell items. Among the items shown were several purchases from the recent ORAPEX show in Ottawa, including some significant additions to John Hall's Canadian Art on Stamps collection, and a very highly franked Cyprus cover showing a pair of the one pound George VI definitives (the first seen on cover by Jack Forbes in all his years of collecting this issue). Gary Steele had a variety of items from ORAPEX, and Bob Soper passed around some precancel covers. Hugh Rathbun had some Registered Letter items, and Gary Coolen is still hunting for Reply Coupons.
There was discussion relative to the up-coming Novapex 2018 with particular attention to encouraging exhibit entries, both for the One-Frame Team competition, and multi-frame efforts. Member Sean Weatherup had recently staged an exhibiting seminar to try and promote exhibiting to members of the Nova Scotia Stamp Club.
There was continued talk regarding the hosting of BNAPEX in the Halifax area for 2020, and the NSSC executive has given Gary Steele permission to explore that possibility.
This was the fourth of these informal get-togethers so far in 2018, and these have been attended by approximately 20 of the local BNAPSers at different times, so it is likely that we will continue to schedule them during the coming months.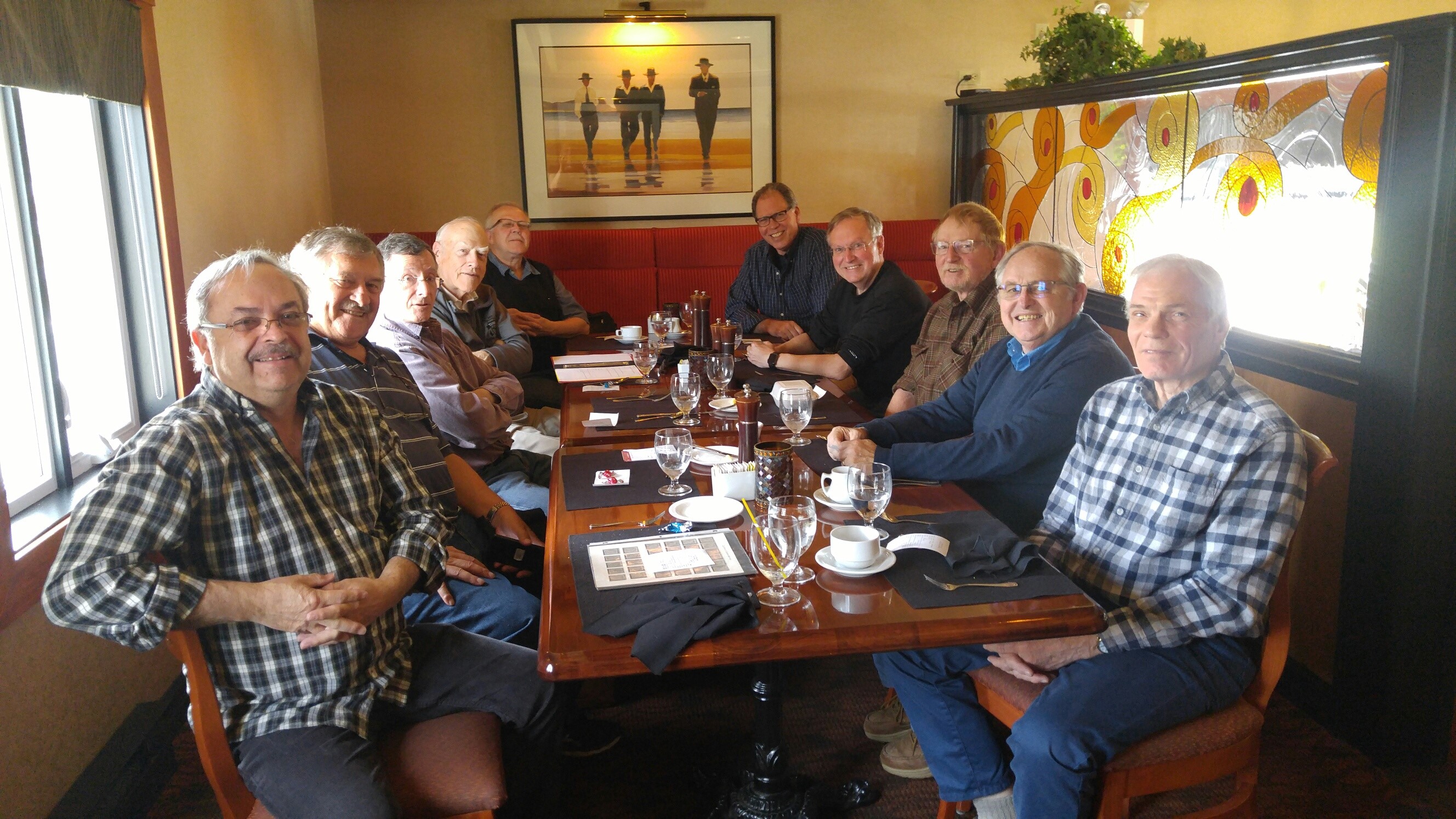 Twelve BNAPS members met 16 May 2018 for a Regional Group meeting
On Wednesday, 2 August, thirteen members of BNAPS from the Halifax region met at the Inn on the Lake for a noon get-together. It was noted that this was the largest attendance for one of our meetings.
John Hall, Gary Coolen, and Gary Steele had attended the recent Postal History Symposium in Hamilton, Ont., and gave a report on the activities at that event. There were visits to several postally significant venues, including the Vincent Graves Greene Philatelic Research Foundation. There was an active bourse, and presentations by members on a variety of topics. There are plans afoot to have a repeat Symposium in 2018.
The show-and-tell portion of the afternoon proceedings saw several interesting items...additions to fancy cancels collection; a recently released copy of a specialized Cyprus catalogue; examples of picture postage covers from the recent Boy Scout Jamboree in Ellershouse, NS; an article on depression era scrip from Alberta; a selection of Large Queen singles in a variety of shades; Pratt's Newfoundland Pence Issue study; example of an International Reply Coupon that was issued in Canada and used in Venezuela on a letter to the U.S.A.; as well as a much-traveled DLO item, among others.
Coincidentally, our Emeritus member, Peter Douglass, who now resides at Camp Hill Veterans' unit, sent along scans of two covers which he had previously owned, and which are being used as part of a one-frame exhibit on the Admiral issue. They are featured below.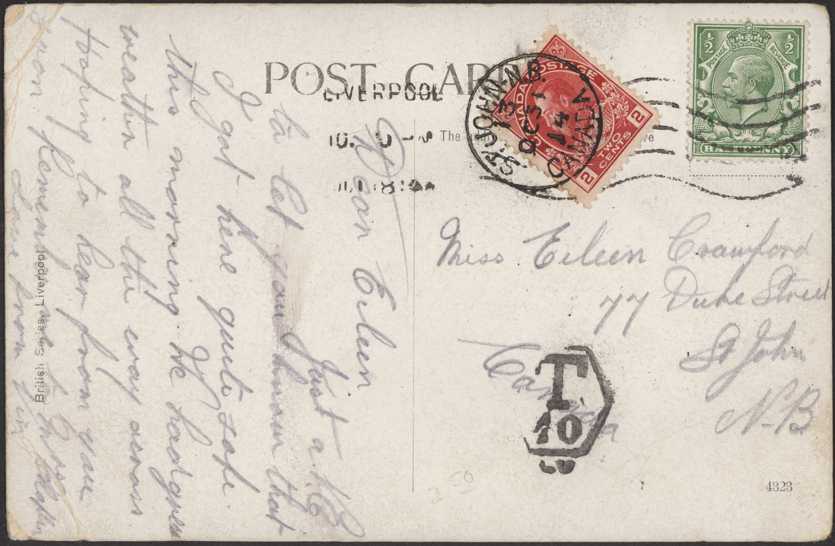 This postcard, mailed from Liverpool, Great Britain, to Saint John, NB, was short paid 1/2d, and charged 10 centimes double deficiency. The postage due was paid with a 2c carmine Admiral stamp postmarked OC 31 / 14, three months after the start of World War I. The message on the postcard reads in part:
"Just a PC to let you know that I got here quite safe this morning. We had great weather all the way across. Hoping to hear from you soon."
Had the writer just crossed the Atlantic?
Reference: Peter Douglass, "An Admiral Postage Due Stamp", The Admiral's Log, Vol. XIII, No. 1, Dec. 2013.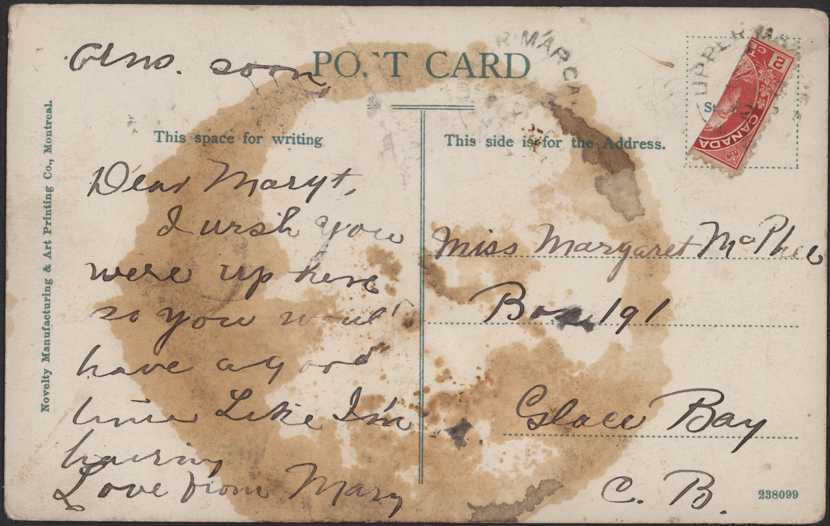 1c postcard rate paid by a bisected 2c carmine stamp postmarked Upper Margaree, Cape Breton, about 80 km north of Port Hawkesbury. The year is 1912, but the day and month are illegible. Pity someone used the postcard as a coaster for a coffee cup.
Reference: Peter Douglass, "2c Carmine Bisect on Nova Scotia Postcard", The Admiral's Log, Vol. XIII, No. 1, Dec. 2013.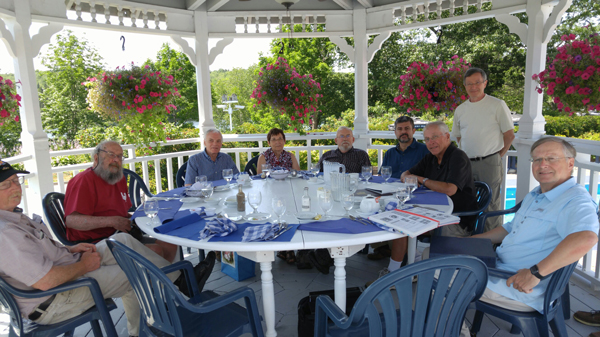 Group meeting at the Inn on the Lake
Ten Atlantic Provinces Regional Group members, including Pat Burns of Argentina, got together on May 30th, during the annual convention of RPSC, held in conjunction with NOVAPEX 2014 at the Lord Nelson Hotel in Halifax. We welcomed guest BNAPSers Robert Haslewood from Montreal, Don Fraser from Winnipeg, and Dave Bartlet from Calgary to our meeting.
On the business side of things, mention was made of the upcoming BNAPS Convention at Baltimore, MD, August 29 - 31, 2014. This year's event is being is being staged in conjunction with BALPEX, and is the first BNAPS convention to be held in the U. S. since 2004 following which the previous practice of holding this event every second year in the U. S. was suspended. Note that anyone planning to exhibit at this Show should have his or her application presented before June 27th.
A full page article on the sinking of the Empress of Ireland, featured in a recent issue of the Halifax Chronicle-Herald was circulated. Although the illustration of the liner was actually a post card of this ship, there was no mention made of the fact that the postage stamp commemorating this tragedy was being released at this Show.
Ron Smith has agreed to investigate having a get-together of our group in New Brunswick this Fall. This action would be especially appropriate in view of the fact that there will be no September NOVAPEX Show this year. There are a couple of philatelic events scheduled for Moncton, and we may be able to tie our meeting to one of these.
As usual, Show-and-Tell produced some very interesting items!
Don Fraser started things off by showing a variety of 8¢ Small Queens, on and off cover, a 2¢ imperf Small Queen, and others, on cover, and a 50¢ block with a "blob" variety.
Pat Burns made his trip from Argentina worthwhile by providing a large number of examples of early Nova Scotia related items. Included in the selection were an 1812 folded letter, 1812/13 correspondence with John Inglis who later became Anglican Bishop for the area, Forwarding Agents' mail handled by Fishwick Colonial Express, by Frith & Smith, and by Tucker and Co., and an erroneously spelled cancel from West River Picton (should have been Pictou) on cover. Pat is also interested in corresponding with anyone re military documents and/or manuscript notations from the mid-1700s to 1860.
John Hall circulated a post card showing the ship (the Storstad) that struck the Empress of Ireland, commentary re the 8 surviving members of the Salvation Army group that was aboard the Empress, and examples of the 2¢ War Tax stamps being use on receipts.
Claude Michaud showed what he feels is a unique use, on cover, of a duplex cancel with a cork insert. He also dealt with the use of Postage Due stamps, and the reasons for having specific denominations.
Gordon Smith provided updates on his quest for Port Hood Island items.
Recent member Reid Parker told an interesting family story about two of his ancestors canceling their scheduled voyage on the Empress of Ireland due to a health emergency here in Canada.
Members were thanked for their participation by Jack Forbes, and were asked to watch for news of a Fall meeting in New Brunswick.
The Atlantic Provinces Regional Group held its annual meeting on September 21, 2013 in conjunction with the NOVAPEX 2013 Exhibition and Bourse. We were pleased to welcome 17 members and a guest. Again this year, we were most happy to have Peter Douglass join us, a very long-time participant in our activities, and, at 93, still very alert!
Under the guidance of BNAPS Past President, Robert Lemire, the 2013 BNAPEX Convention and Show was recently held in Charlottetown, PEI. Many of the duties at this Convention were skillfully handled by members of the Atlantic Provinces Regional Group, primarily from the Halifax area, but with other areas represented in the effort. Reports of the get-together on "the Island" were generally very positive, and a vote a thanks is due to these fine volunteers.
Again, the possibility of staging at least one more meeting a year, potentially in New Brunswick, was discussed. Jack Forbes and Rob Lunn agreed to investigate this initiative, looking specifically at the Moncton area. Contact had been made with the operators of the monthly Moncton Stamp Fairs, and they seemed anxious to have our Group meet at one of their shows. We would appreciate some feedback from our members relative to their interest in meeting at the Moncton location. If we get a positive response, we will try to arrange a get-together early in 2014.
Paul Grimm introduced the group to a Canadian Squared Circle website he has developed. Although he is working with members who are revitalizing the BNAPS Squared Circle Study Group, the website is independent of BNAPS itself. The web address of the site is: www.squaredcirclesofcanada.com, and you're invited to visit it and join in the discussions.
The balance of the meeting was taken up with an entertaining Show-and-Tell session.
Jeff Parks circulated some Clayton and Sons covers, including pre-printed in-coming items.
Peter Douglass provided some handwritten sketches that he used in his studies of the Admiral issue.
Guy Jeffery explained his efforts in confirming constant plate varieties in the rose-carmine shades of the three cents Small Queens.
Brainard Fitzgerald had some interesting observations on "Woody" Woodman, of the Annapolis Valley, who illustrated First Day covers in the mid to late 1940's - he's anxious to hear from any collectors who might have examples of this man's work.
Keith MacKay listed some recent acquisitions for his Halifax Street cancels collection.
Carl Munden questioned some varieties he noticed in the Whycocomagh Squared Circle cancels on a couple of covers.
Hugh Rathbun updated the group on upcoming changes to the cancel for a recently opened Shopper's Drug retail Post Office.
Jack Forbes passed around some interesting covers being assembled for a calendar collection of the eight cents Small Queen issue.
Guest Lea Frizzell showed items addressed to his great grandfather along with an Australian letter addressed simply to a student in Nova Scotia.
John Hall gave a "plug" for next year's Royal*2014*Royale being held at the Lord Nelson Hotel in May, and Tony Thompson, now living in Sweden, sent his best wishes.
The meeting closed with a thank you from Jack Forbes for everyone's attendance.
The Atlantic Provinces Regional Group held its annual meeting on September 29, 2012, in conjunction with the NOVAPEX 2012 Exhibition and Bourse. Eighteen members were in attendance, an excellent turnout. Among those joining us was Peter Douglass, a very long-time participant in our activities. It was confirmed that BNAPS Past President Robert Lemire would be coordinating the 2013 BNAPEX Convention and Show, which is to be held in Charlottetown.
The possibility of at least one more meeting a year, potentially in New Brunswick, was raised. Jack Forbes and Rob Lunn agreed to investigate this initiative, looking specifically at the Moncton area. Later in the show, contact was made with the operators of the monthly Moncton Stamp Fairs, and they were receptive to having our Group meet at one of their shows. More on this at a later date. There were also discussions re whether the region might be able to host another BNAPS Convention, a few years after the Charlottetown effort. Potential sites included Fredericton, St. John's, and Halifax, and the membership's reaction to the PEI show would influence further thinking on this matter.
There was some discussion as to the BNAPS policy on acceptance of exhibits. It was felt that with exhibitors having to make travel arrangements well in advance to obtain favourable rates, etc., that consideration be given to accepting exhibits on a first-come, first-accepted basis.
The advantages of changing the NOVAPEX 2013 dates to more closely align with BNAPEX in Charlottetown was put forth. It was thought that dealers travelling from afar might be more easily convinced to participate in the NOVAPEX Bourse if they were already in the area. Further, some exhibitors and collectors could include a stop at NOVAPEX while touring the Maritime provinces following the Charlottetown event. This proposal will be put forward to the Nova Scotia Stamp Club executive.
There followed a lively show-and-tell session, with virtually everyone presenting one or more items of interest. Among the highlights were Rob Lunn's Double Rate PEI cover, Carl Munden's Newfoundland Duplexes, which are going to be updated on the Nova Scotia Stamp Club's website. Barry Senior had an excellent "find" at this year's show - an AYRE perfin on a previously unreported Newfoundland long Coronation value, and Jack Forbes circulated a copy of the just released BNAPS book on his Small Queen Era Blocks exhibit. Back to the Newfoundland theme, Sean Weatherup showed a cover from there to Portugal, and, via email, our member Tony Thompson, now living in Sweden, posed some questions re marginal spotting and slurred prints of Perkins Bacon printings of Newfoundland issues.
The meeting closed with a thank you from Jack Forbes for everyone's attendance.
Fourteen members of the Atlantic Provinces Regional Group gathered at the Dartmouth Sportsplex to participate in discussions and Show-and-Tell presentations, as part of the Nova Scotia Stamp Club's annual NOVAPEX Exhibition and Bourse. Three members from Fredericton supplemented the Halifax area delegation.
Jack Forbes opened the meeting with a welcome, and, together with Gary Steele, went on to update those in attendance on the events at the annual BNAPS Convention, exhibition, bourse and meetings at Kingston, Ontario.
The Show-and-Tell segment of the meeting had several participants:
Ron Smith presented an OHMS registered cover that was postage free, but that had a 2 Cents R.L.S. that was required to cover the cost of registration. A second item was a stampless Military cover, part of a larger correspondence that extended to the Riel Rebellion.
Gary Steele brought in a variety of books published by BNAPS featuring various collections and the new RPO study. He pointed out that our organization is steadily providing a supply of reference material that is invaluable to BNA collectors, and, with the 40% discount afforded to members, the cost of an annual membership is soon recovered when these books are purchased. A nice, single-usage 4-hole OHMS Peace issue cover completed his presentation.
Rob Lunn spoke about the number of Map Stamps being featured in upcoming auctions, and showed a recently acquired cover from that issue.
Jeff Parks had just returned from STAMPEX in London, England, and he had found some items for his exhibit on the Halifax stamp.
Jack Forbes passed around a scan of five unaddressed Half-Cent Small Queen covers. These had all been cancelled with a St. John, N. B. Canada, SP 16 97 Squared Circle, and were known to have never entered the mail stream. There was some discussion as to how this could happen, but no definitive conclusion was reached. Also circulated was the draft of an article on usage of the Eight Cents Small Queens, using a calendar collection as source. This article should appear in an upcoming issue of Topics. A page of cleverly produced Victorian fakes, originating in the Ukraine was also circulated. While these would not fool an experienced collector, less well-informed ones might easily be tricked.
Claude Michaud was asked to comment on the current state of the philatelic market. He felt that the market was still strong for the more exotic and scarce items, but that prices seem to be weak for the more common material.
There were discussions on how often to try to hold Group meetings, and it was felt that more effort should be expended in attempting to hold some gatherings at other centers in the region. It was noted that both Moncton and Fredericton have annual shows and either or both these locations could provide opportunities for us to get together. There was also talk of maybe a weekend event. We would appreciate hearing from our members who have ideas on this subject, particularly if they might be prepared to host a meeting at their location.
Greetings!
Well, we've had quite a week-end in Halifax ... the annual Convention attracted international visitors, absolutely stunning exhibits, successful dinners, Study Group seminars, and a very busy dealers' bourse!
Many of you were able to attend, and I hope you found the experience rewarding! The Judges claimed that we had the finest and largest group of Exhibits that have been seen at a National Show in at least 30 years, if not ever. Their enthusiasm resulted in 27 Gold Medals being presented, with an unprecedented three Reserve Grand Awards. BNAPS Atlantic members figured prominently in the BNA exhibits section, with Gary Steele copping the Horace Harrison Grand Award, and me getting one of the Allan Steinhart Reserve Grand Awards, as well as the Novice Award. Hugh Rathbun, John Eldridge, and John Walsh were the other Gold recipients from our area. Vermeils went to Paul Grimm and George Lafontaine, with Silver to Carl Munden and Silver-Bronze to Jeff Parks.
As you know, NOVAPEX was held in conjunction with the BNAPS show, and many of our group had exhibits in that section as well. Golds were presented to Mary Pugh, Graham McCleave, Ron Smith, Gary Steele, and John Eldridge; Vermeils to me and John Eldridge; Silvers to Elizabeth Sodero, Michel Savard, me, and John Eldridge; with Silver-Bronzes to Sean Weatherup and Carl Munden.
Several of our Fredericton members contributed to the Fredericton Stamp Club's One-Frame Team competition which ended up victorious, winning the David Cooper Memorial Trophy over three other teams!
A full Palmares will be featured in an up-coming issue of BNA PortraitS, in case I've missed someone.
The Study Group seminars were well attended, and there was an overall sense that we had staged a truly successful Convention and Show.
I'd be pleased to hear from anyone from Atlantic with suggestions as to activities we should try to pursue over the next few months. I realize we are rather strung out geographically, but if there was interest in trying to have a meeting in a location other than Halifax, I for one would be prepared to give it a try.
The St. John's Club is planning a 2-day event for next May, so mark that on your calendar as a possible trip to the Rock.
Do feed us your ideas as to how this group should proceed.
Thanks!
Jack Forbes
Eight members of the BNAPS Atlantic Provinces Regional Group met at the Inn on the Lake for lunch and discussion of stamp activities afterwards on 16 February 2008. Michael Peach also attended as a guest in addition to Jack Forbes, Carl Munden, Jeff Parks, Tony Thompson, Gary Steele, Sean Weatherup, Hugh Rathbun and Guy Jeffery.
The highlight of the meeting was a gift from Carl Munden on CD of his Post Offices of Pre-Confederation Newfoundland. A very professional job with inscription on the CD front, listings and pictures on file.
Discussions centered around activities and matters relating to the BNAPS Annual show in Halifax this year with exhibits coming in, dealer registrations and auction activities included. One matter of interest to Jack's heart is the team competition with the BNAPS group planning on entering another five frames.
Each member brought something to discuss from Hugh's actual Cape Breton Post Office hammers including ones never used from Sydney Mines and North Sydney to Tony's Newfoundland Cod stamp study. Other items of interest were Guy's Small Queen stamp Plate varieties, Gary's Dead Letter Office pre 1898 material, Jeff's George VI Post Postes material, Jack's Fake Large & Small Queen Blocks sourced from the Ukraine, and Sean's "rescued" postal history items.
In view of the fact that we all seem to be trying to locate some particular philatelic item from time, it was decided to institute an electronic Classified Ads system, where once a month, a list could be circulated to all members of the Atlantic Provinces Regional Group to allow members to scout for items they might want to acquire or sell.
It was decided that this type of meeting was something that we would like to do in the future if proper locations could be found.
The Atlantic Provinces Regional Group met at the NOVAPEX show for our second annual meeting with approximately 15 members in attendance. We were very pleased to have had Pat Burns from Argentina and three Fredericton members who were in the city for NOVAPEX 2007 join us.
Jack Forbes attended BNAPEX 2007 in Calgary and gave the group a review with the other members that had attended. Mention was also made by the BNAPS Executive on Young Collectors and Education as a priority in our organization. On that note, a BNAPS Youth Scholarship was awarded to Alex Faulkner of Dartmouth in recognition of his efforts in competitive exhibiting.
Discussions mainly centered on the next BNAPS Convention in Halifax regarding exhibits, dinners, committee meetings, exhibits and other venues to allow for a great convention. Some exhibitors have indicated the numbers of frames they would be requiring already with a maximum of approximately 250 for the total show. The judges should start preparing soon.
Many members had entered exhibits in the Dave Cooper Memorial Team Competition at NOVAPEX 2007 which was well regarded and should continue forward to next year.
As meetings have been sporadic, we will try to get together 3 to 4 times a year with collecting, trading, and communications the main importance.
Exhibit books and some collection material were passed around for viewing.
The first meeting by metro members of BNAPS for the Atlantic Provinces Regional Group took place on a sunny Saturday afternoon in Lower Sackville, Nova Scotia. Jack Forbes, Chairman, presided over an informal group of members here with an emphasis on fun, with Gary Steele, Secretary/Treasurer, Carl Munden, George Lafontaine, Hugh Rathbun, Bob Soper, Gordon Smith, Sean Weatherup, and Jeff Wallace from the Island of Jersey via internet video/audio conference call link-up.
Many members were surprised to see the set-up with Jeff in on the meeting and enjoyed the new adventure of someone from four time zones away and being able to speak with him and see him live. This may be able to be done for a few other members from Newfoundland or New Brunswick that really can't make the trip but may have the ability to link up with our group.
Each member introduced themselves, and their collecting interests in a round-table format and then we showed a few items of interest or similarity to each person's area. Many areas of collecting actually cross over for the same individual or between various members.
Discussions were varied with ideas of what we can do for future meetings, where they could be held, etc. In addition we viewed the promotional BNAPS Slide Show on CD. Feedback was very complimentary with nothing but positive comments wondering why we did not do this sooner.
---
Copyright © 2015 - 2023 The British North America Philatelic Society.
The documents on this website are for informational and non-commercial or personal use only.
Documents on this website shall not be used on other websites or for commercial purposes without permission.
This page was last modified on 2022-02-27