The Lower Canada / Bas Canada Regional Group meets periodically in different areas of the region. The meetings provide an opportunity to meet fellow collectors who share similar interests, ask questions, learn more about the stamps and postal history of Canada and the provinces, and perhaps find something to add to your collection.
Here are reports of previous meetings.
---
Access to video presentations is restricted to BNAPS members.
You must log in to access these presentations.
As the COVID-19 pandemic still restricted members from meeting in person, the Lower Canada/Bas Canada Regional Group held its spring meeting on 20 April 2021 via Zoom. 19 members attended.
Members had been invited to do a short presentation (5 -10 minutes) on a subject related to Lower Canada (Quebec). Jean-Pierre Forest showed an 1856 mourning letter from Limerick to Quebec, and described his research on this cover. Mike Street let us know about the history of St. Hubert airport and its postmarks. Jacques Poitras concluded this section of the meeting with a description of two recent acquisitions of 1776-1778 covers, a period quite interesting due to the U.S. invasion.
Dave Schurman gave an in-depth presentation on the Montreal Transcript early 1860s covers. They are the first known use of a reply envelope in Canada.
The next meeting is scheduled for the fall.
After its spring meeting was canceled due to the COVID-19 pandemic, the Lower Canada/Bas Canada Regional Group held its first virtual meeting on Saturday, 7 November 2020. There were two dozen attendees.
7 Nov 2020
33 min.
Yan Turmine was our guest speaker. His presentation, Services privés de courrier au Québec, described the private mail couriers that operated in Quebec from the late 1980s through the 1990s. The best known is probably Post Par. Other companies included Pro Com, Messagerie Saint-Jean-sur-Richelieu, Messagerie du haut Richelieu, Courier Plus Enr., Messagerie Elle & Elle, and Colior.
Yan was followed by Mike Street who spoke about recent and upcoming BNAPS books. We concluded with a Show & Tell that allowed members to share with others unique stories about covers from their collection. The next meeting is scheduled for March or April 2021.
Next meeting will take place in Spring 2020.
The Lower Canada / Bas Canada Regional Group held its semi-annual meeting at BNAPEX 2019 Ottawa on Friday, 30 August. Eleven BNAPSers were in attendance, two of whom were attending a Regional Group meeting for the first time.
Dave Schurman, our guest speaker, gave an animated presentation entitled "Federal and Quebec Revenues: A (very) brief overview" which was supported by many interesting legal documents. He has graciously made his presentation available to all (4.6 MB pdf file).
Next meeting will take place in Spring 2020.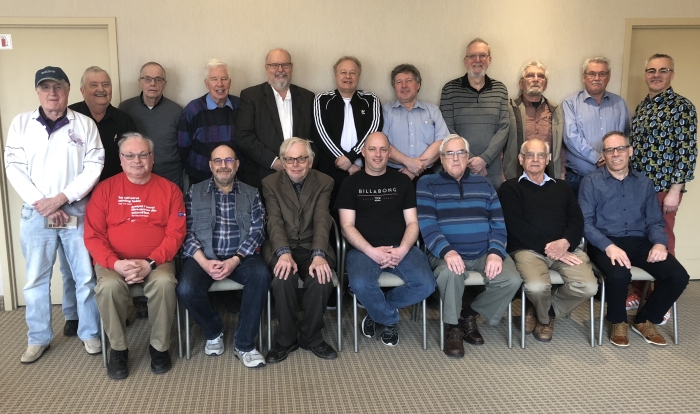 Meeting in Cote St. Luc on 7 April 2019
Left to right, seated: Dave Bartlet, Mark Berner, Robert Haslewood, Hugo Deshaye, Dave Schurman, François Brisse, Luc Frève
Standing: Richard Baxter, John Cooper, Michel Gingras, Ron Coughlin, Laurent Bélisle, Richard Gratton, Mario Chevrette, Cimon Morin, Dudley Nash, Jean-Pierre Paré, Réjean Coté
The Lower Canada / Bas-Canada Regional Group met on 7 April 2019 in Cote St. Luc, a west central suburb of Montreal. This was the day after the Lakeshore Stamp Show in Dorval.
The morning was lively with an Audrey Berner Tim Hortons coffee run followed by show and tell. Mark had some duplicate books for sale, and Hugo had two cases of general postal history covers. Other members presented stampless letters requiring rate explanations, and Dave Schurman showed some very nice Quebec revenue stamps on documents.
Attendees with morning coffee anticipating the show and tell
Since it was the first full-day meeting of the Regional Group, each member had the opportunity to introduce himself and his collecting interests. Everyone had their own unique specialties! Lunch was provided by a catering service.
Discussions over catered lunch
The meeting featured two guest speakers. In the morning, we had Dave Bartlet who journeyed all the way from Calgary. His presentation on "The Automation of Postage Dispensing" described the sale of postage stamps from vending machines from the Admiral era to the current day.
Dave Bartlet and a slide from his presentation
Our speaker in the afternoon was member Laurent Bélisle who gave a talk on Montreal Letter Carrier and Free Mail Delivery. Laurent's exhibit on this topic won him a Gold medal at BNAPEX 2018 in Quebec City.
Laurent Bélisle, his audience and a slide from his presentation
Activities wound up around 3 PM. There was much camaraderie, inspired discussion, sharing of a great wealth of philatelic expertise and a whole lot of fun! If you live in Quebec, you are missing out if you don't join us.
Next meeting will be at BNAPEX 2019 in Ottawa.
Photo credits:
Group photo at top: Audrey Berner
Remaining photos: Hugo Deshaye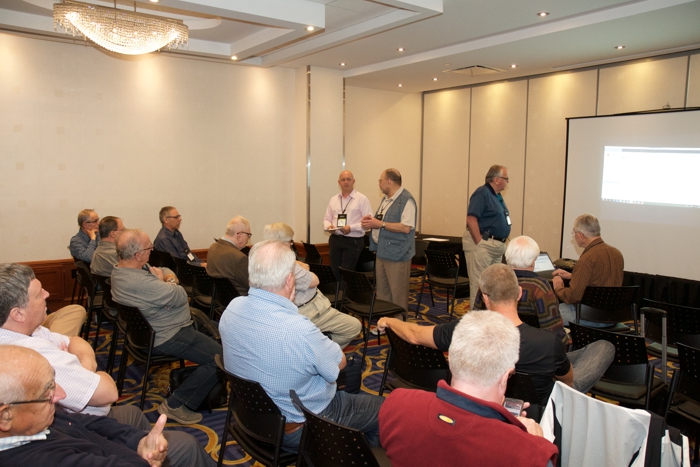 Photo: Adri Veenstra
Inaugural meeting of the revived Lower Canada / Bas Canada Regional Group.
Standing: Hugo Deshaye (left), Mark Berner, and David McLaughlin.
The revived Lower Canada / Bas Canada Regional Group held its inaugural meeting on Saturday, 22 September, at BNAPEX 2018 in Quebec City. The meeting was attended by 27 people, 20 of whom are potential attendees of future meetings.
Discussed were such topics as frequency and location of meetings. The next one is tentatively scheduled for Montreal around the time of the Lakeshore Stamp Club spring exhibition in April 2019.
Attendees provided contact information to receive emails about future events organized by the Regional Group. David McLaughlin then gave a well received presentation on Householder Mail, an area he has studied and collected for many years.
---
Copyright © 2015 - 2021 The British North America Philatelic Society.
The documents on this website are for informational and non-commercial or personal use only.
Documents on this website shall not be used on other websites or for commercial purposes without permission.
This page was last modified on 2021-06-05.