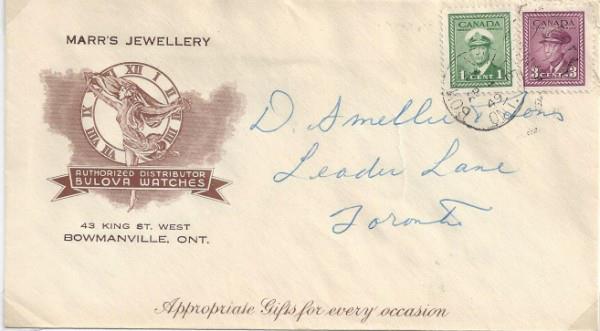 Study Group objectives
The Study Group held its inaugural meeting at the BNAPEX 2013 convention in Charlottetown, PEI. Its objectives are to share knowledge about Illustrated Mail and promote it as a collecting area and exhibit category within BNAPS.
What is "Illustrated Mail"?
Illustrated Mail broadly encompasses covers and postcards sent through the mail that are embellished with illustrations. The most common examples are business covers with pictorial advertising such as the jewelry store cover with the "Bulova watches" advertisement shown above. Other examples include covers with patriotic art and cachets that mark a current event or commemorate a past event. One can also find personal covers illustrated by an artistically inclined letter writer.
What is excluded from Illustrated Mail?
The Study Group has excluded the following from its study area:
Picture postcards, except for postcards such as "Salesman Will Call" notices
Permit Mail
Mail with a simple logo and First Day Covers, unless they are part of a complete story in an exhibit (for example, a study of the Royal Train)
Corner cards consisting of just text
Newsletters
The issues are in PDF format. The file sizes vary from 0.4 to 3.1 MB.
When you click on an issue number, it will be displayed in a new window. Closing the window returns you to this page.
Copyright © 2015 - 2023 The British North America Philatelic Society.
The documents on this website are for informational and non-commercial or personal use only.
Documents on this website shall not be used on other websites or for commercial purposes without permission.