American Bank Note Co. (ABN) printed the Admiral stamps by line engraving (also known as intaglio) at its printing plant in Ottawa. In January 1923, the Ottawa facility became a subsidiary of ABN, the Canadian Bank Note Co.
1. Wet Printing
Between December 1911 and December 1922, all the Admiral stamps were printed by the wet printing method. The sheet of paper was dampened with water before the stamps were printed. When the paper was dampened, it absorbed water and expanded primarily in one direction, across the grain of the paper. After printing, the dampened paper was allowed to dry. As it did so, the paper shrank back to its original size. As a result, the stamps on the sheet shrank about a half millimeter in size across the grain.
After the sheet was dry, it was gummed, guillotined into panes, and perforated.
2. Dry Printing
Technological advances made it possible to print stamps on dry pre-gummed paper by using greater pressure. Eventually all denominations current as of December 1922 and later were printed by this method.
3. Identification
The following stamps were printed by both methods:
1¢ yellow, Die I
1¢ yellow sidewise coil, Die I
2¢ green
2¢ green sidewise coil
2¢ green booklet pane of six
3¢ brown
4¢ bistre
5¢ violet
7¢ red brown
10¢ blue
20¢ olive green
50¢ black
$1.00 orange
It is fairly easy to distinguish stamps printed by the wet printing method from those printed by the dry method.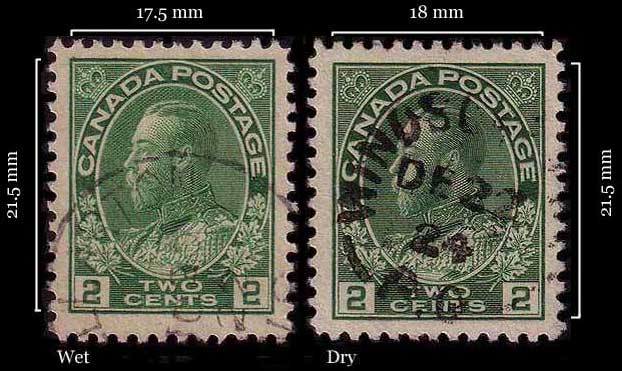 The paper used to print the Admirals was machine-made wove paper. The stamps were printed on the paper so that the grain of the paper was vertical. When the stamps from the wet printing shrank, they shrank across the grain of the paper and became narrower. Stamps printed by the dry printing method did not shrink because the paper was not dampened.
Both stamps in the illustration above are the same height, but the wet-printed stamp is narrower by about half a millimeter.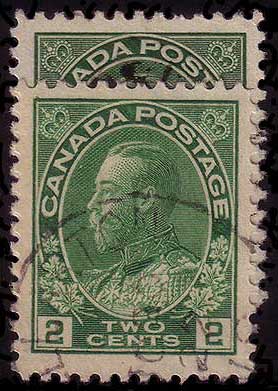 An easy way to determine whether an Admiral stamp is printed by the wet or dry printing method is to lay one stamp on top of another. Notice on the illustration above that the stamp on top is narrower than the stamp it is partially covering.
For reference, one can use the 2¢ carmine sheet stamp which is always wet-printed, and the 3¢ carmine sheet stamp which is always dry-printed. Note that early 2¢ carmine booklet stamps are printed on horizontally wove paper and 3¢ carmine booklet stamps are wet-printed, so make sure your reference copies are perforated on all fours sides.
Some booklet panes were printed on stamps with the grain of the paper running horizontally. This is discussed further under "Paper Varieties".