Introduction | Formats | Printings | Dies | Paper | Straight Edges | Coils |
Fakes | Forgeries | Terminology | Varieties | Cancellations | Rates | Bibliography
Introduction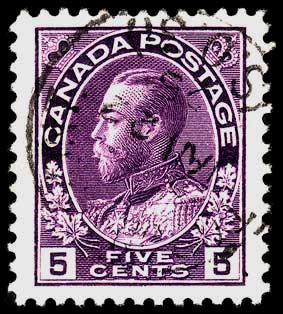 The first Canadian definitive stamps with a portrait of King George V were issued in December 1911, and were in use for the next 17 years or so - longer than any other definitive set except the Small Queens. Stamp collectors call these stamps the Admirals because the portrait shows King George V dressed in his Admiral of the Fleet uniform.
During the Admiral era, Canadian stamps and their usage were affected by many factors. For example:
World War I interrupted the supplies of pigments from Europe as well as the supply of high quality steel used for printing plates.
The printers changed from printing stamps on wet ungummed paper to dry pre-gummed paper.
A growing population and increased use of the mails required that the printers find faster ways of printing greater numbers of stamps.
In 1915, a 1¢ War Tax was placed on each piece of mail. Eleven years later it was repealed.
The postal rates changed numerous times. This resulted in new stamps being issued to meet these rates, and existing denominations being issued in new colors.
Increased use of stamp vending and affixing machines prompted the Post Office to issue stamps in coil format.
Increased popularity of stamp booklets resulted in their continued issuance during this era.
New services such as Airmail were offered by the Post Office.
Old cancelling devices were gradually phased out as new types of cancels were introduced.
All of these factors combine to make the Admirals and their usage a most fascinating issue to study.
I feel a collector wishing to study the Admiral issue - or stamps of any other era, for that matter - should know the basics about printing processes, perforations, dies, paper, etc. Only by being knowledgeable in such matters will he/she be able to move forward in the study of these stamps and their uses. To that end, I've decided to write on different facets of the Admirals that I feel are important to the basic study of these stamps.
Special thanks to John Burnett for all his advice, suggestions, and encouragement and to Leopold Beaudet for his editorial work on revisions to this article.