The Admirals were issued in the following formats:
Sheet stamps in panes of 100
Coil stamps in rolls of 500
Coil stamps in sheet format (panes of 100)
Booklet panes of four and six stamps
Most stamps were distributed to post offices across the country; however, some varieties were available only from the Post Office Philatelic Agency established in 1923, and a few varieties were released by Post Office officials "by favour".
The tables at the bottom of the page provide the following information about each Admiral stamp:
Denomination
Colour
Issued format
Perforation gauge
Wet or dry printing
Dies
Other miscellaneous information
1. Post Office Panes of 100 Stamps (Table 1)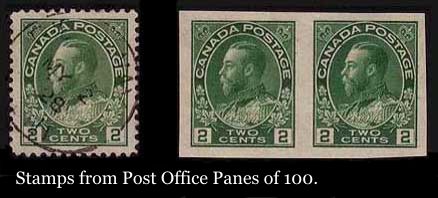 All denominations of the Admirals were issued in post office panes of 100 stamps. These panes were printed in sheets of 200 or 400 which were cut into the panes of 100. Single stamps are found perforated all around, with one straight edge on any side, and with two straight edges on adjoining sides.
In 1924, panes of the 1¢ yellow, 2¢ green, and 3¢ carmine were issued imperforate. The imperf panes were not distributed to post offices. They were available from the Philatelic Agency, and some were released by favour.
2. Coil Stamps in Rolls (Table 2)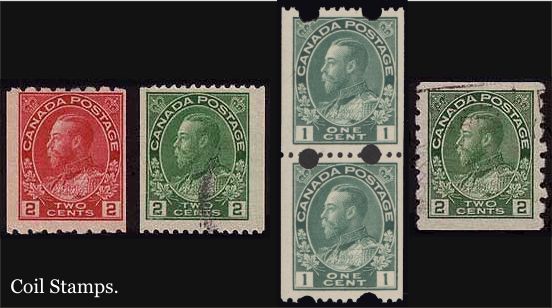 Coil stamps were issued in rolls of 500 in two formats:
Endwise coils - the stamps were arranged end-to-end around the roll
Sidewise coils - the stamps were arranged side-by-side around the roll
The endwise coils were initially perforated 8 horizontally (left stamp in the illustration above) and subsequently perforated 12 horizontally (second stamp above).
In July 1918, the Post Office added two large holes to the 1¢ green perf 12 endwise coil (vertical pair above). This was done as an experiment to reduce jamming as coils were dispensed from vending machines. The experiment was carried out at a Toronto post office, but was deemed a failure after a two-day trial.
All sidewise coils were perforated 8 vertically (right stamp above).
All coil stamps were printed in sheets of 400 stamps. The sheets were cut into strips of 10 or 20 stamps. The strips were pasted together using the sheet selvedge to produce rolls of 500. Most coil stamps were printed from special coil plates, but some were printed from the same plates as the post office panes.
3. Coil Stamps in Sheet Format (Table 3)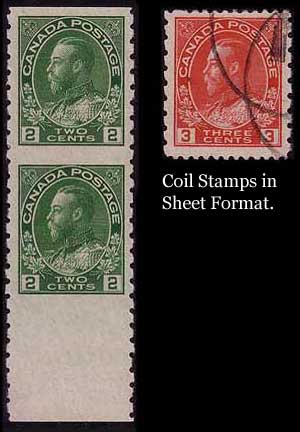 On several occasions, stamps printed with the intention of making them into coil stamps were issued instead as panes of 100 stamps. There are two types of coil stamps in sheet format:
Stamps issued in panes of 100, perforated 8 vertically. These stamps are normally collected in vertical pairs because single stamps would be indistinguishable from regular coil stamps. See the vertical pair of stamps, pictured above at left. These stamps were only available from the Philatelic Agency or released by favour.
Stamps issued in panes of 100, perforated 12 x 8. On two occasions, stamps that had been perforated 8 vertically and were waiting to be cut into strips for coils were instead perforated 12 horizontally and issued as post office panes of 100. See right stamp pictured above.
4. Booklet Panes (Table 4)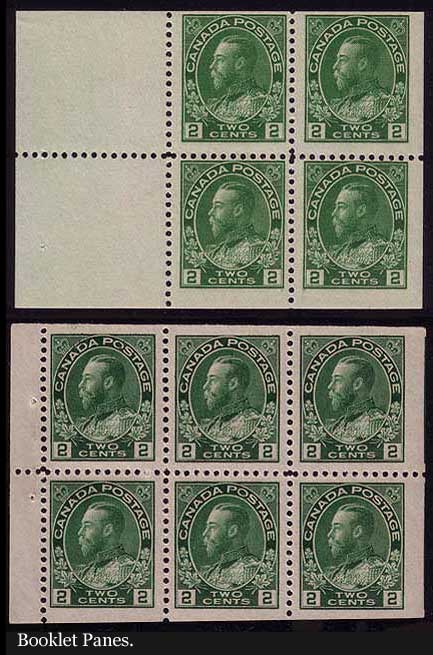 Booklet panes exist in two formats:
Panes of 6 stamps
Panes of 4 stamps plus a large selvedge on the left
The two formats are shown above.
Single stamps from booklet panes have one or two straight edges.
Table 1. Regular Sheet Stamps.
Stamp
Wet
Dry
Comments
Panes of 100, perf 12
1¢ green
YES
1¢ yellow, Die I
YES
YES
1¢ yellow, Die II
YES
2¢ carmine
YES
2¢ green
YES
YES
Exists on thin paper (wet)
3¢ brown
YES
YES
3¢ carmine, Die I
YES
3¢ carmine, Die II
YES
4¢ bistre
YES
YES
5¢ blue
YES
5¢ violet
YES
YES
Exists on thin paper (wet)
7¢ bistre
YES
7¢ red brown
YES
YES
8¢ blue
YES
10¢ plum
YES
10¢ blue
YES
YES
Exists on horiz. wove paper
10¢ bistre brown
YES
20¢ olive green
YES
YES
50¢ black
YES
YES
$1.00 orange
YES
YES
2¢ on 3¢ carmine, provisional overprint
2¢ on 3¢, Die I, one line overprint
YES
Not distributed to post offices
2¢ on 3¢, Die II, one line overprint
YES
Not distributed to post offices
2¢ on 3¢, Die I, two line overprint
YES
Not distributed to post offices
War Tax stamps, panes of 100, perf 12
1¢ green, War Tax
YES
2¢ carmine, War Tax
YES
2¢ + 1¢ carmine, War Tax, Die I
YES
2¢ + 1¢ carmine, War Tax, Die II
YES
2¢ + 1¢ brown, War Tax, Die I
YES
2¢ + 1¢ brown, War Tax, Die II
YES
Regular stamp overprinted "War Tax"
5¢ blue
YES
20¢ olive green
YES
50¢ black
YES
Regular stamp overprinted "Inland Revenue War Tax"
5¢ blue
YES
20¢ olive green
YES
50¢ black
YES
Panes of 100, imperforate
1¢ yellow, Die I
YES
Not distributed to post offices
2¢ green
YES
Not distributed to post offices
3¢ carmine, Die I
YES
Not distributed to post offices
Table 2. Coil Stamps.
Stamp
Wet
Dry
Comments
Endwise coils, perf 8 horizontally
1¢ green
YES
2¢ carmine
YES
Endwise coils, perf 12 horizontally
1¢ green
YES
1¢ green experimental coil
YES
Two large holes added
2¢ carmine
YES
2¢ green
YES
3¢ brown
YES
Sidewise coils, perf 8 vertically
1¢ green
YES
1¢ yellow, Die I
YES
YES
1¢ yellow, Die II
YES
2¢ carmine
YES
2¢ green
YES
YES
3¢ brown
YES
3¢ carmine, Die I
YES
3¢ carmine, Die II
YES
War Tax sidewise coils, perf 8 vertically
2¢ + 1¢ carmine, War Tax, Die I
YES
2¢ + 1¢ brown, War Tax, Die I
YES
2¢ + 1¢ brown, War Tax, Die II
YES
Table 3. Coil Stamps Issued in Sheet Format.
Stamp
Wet
Dry
Comments
Perf 12 x 8
3¢ carmine, Die II
YES
2¢ + 1¢ carmine, War Tax, Die I
YES
Part perf (imperf x perf 8)
1¢ yellow, Die I
YES
Not distributed to post offices
1¢ yellow, Die II
YES
Not distributed to post offices
2¢ green
YES
YES
Not distributed to post offices
3¢ carmine, Die I
YES
Not distributed to post offices
Table 4. Booklet Stamps.
Stamp
Wet
Dry
Comments
Booklet pane of 6 stamps
1¢ green
YES
"Squat" printings exist
1¢ yellow, Die I
YES
2¢ carmine
YES
"Squat" printings exist
2¢ green
YES
YES
Booklet pane of 4 stamps
1¢ yellow, Die I
YES
2¢ green
YES
3¢ brown
YES
3¢ carmine, Die I
YES