Newfoundland Philately
BNAPS Newfoundland Study Group
Page 2 of 2
---
The 20th Century
Our first entry from the 20th century is from Grand Village, Labrador, and the only reported cover from that town. This 1906 cover was carried by dog team to Natashquan, Quebec, where it appears to have been forwarded back to Battle Harbour, Labrador (postmark at lower left). From that town it was sent to Quebec City by water. Grand Village was named after the Grand River. A sizable community grew up because it was the winter site of the Grand River Pulp and Lumber Company of Lower Stewiacke, Nova Scotia, including a church, school, Hudson's Bay Company post and other facilities. Most of the population consisted of lumbermen from Nova Scotia, but the operation went bankrupt in 1915. The post office operated from 1908-1916.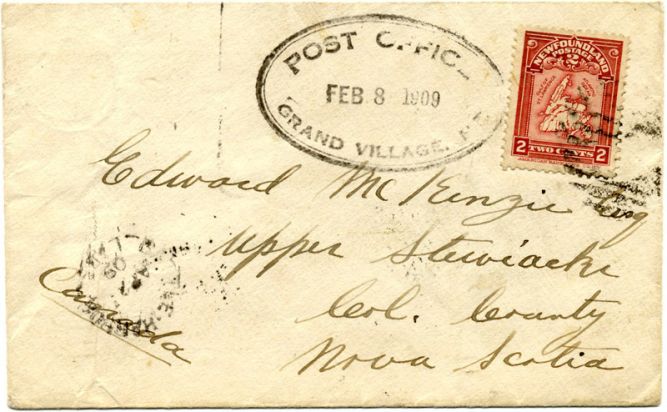 Unique Labrador cover from Grand Village.
Among the most inspiring of the 200 stamps issued by Newfoundland during the 1900s are those from the 1919 "Trail of the Caribou" set. They were printed by De la Rue and Company in sheets of 100 (10 x 10). Along with the beautiful animal stamps of the late 1800s, these stamps are the ones I remember best from my childhood. In fact, the memory of them helped trigger my return to Newfoundland philately some 30 years later. The name of the set originated with Lt. Colonel Nanglet, a Roman Catholic Chaplain of the Royal Newfoundland Regiment. Here we see a block of the highest value of the set.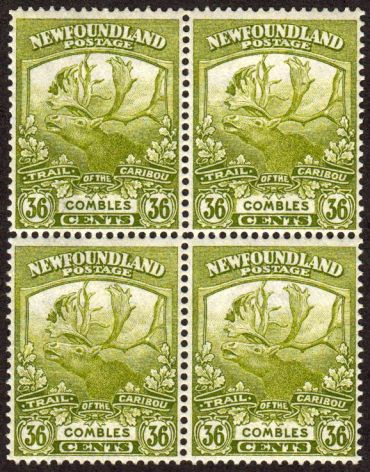 A block of four of the 36¢ caribou.
The set commemorated the services of the Newfoundland contingent in World War I. The "caribou" seen here is certainly majestic, but perhaps a bit strange looking to any wildlife expert; in fact, the picture is a composite of a caribou and a moose. Of the twelve stamps in the set, four commemorated the work of the Royal Naval Reserve while the remaining eight commemorated specific engagements in which the Royal Newfoundland Regiment was involved. The 36¢ stamp honored its heroes for their valour at Combles, France.
Besides the Caribou set, modern Newfoundland philately is often characterized by its air mail issues. Three of these are very rare and cost thousand of dollars each - the 1919 Hawker, the 1927 De Pinedo and the 1930 Columbia. The most important air mail issue, however, came out in 1919 to frank mail carried across the Atlantic Ocean in the first non-stop trans-Atlantic flight. It is now called the "Alcock-Brown" issue, and was yet another surcharged value - this time one dollar on the 15¢ Cabot issue (a sufficient supply of which was still around at the time). The flight was achieved in June by Capt. John Alcock, pilot, and Lt. Arthur Brown, navigator, in a Vickers-Vimy World War I bomber. This was eight years before the Charles Lindbergh flight! They flew from St. John's to Clifden, Ireland. 196 letters were carried aboard. One of them is shown below. Since 10,000 of these stamps were produced, many mint copies are still around, and single copies can be obtained at a reasonable price. A number of our Study Group collect air mails.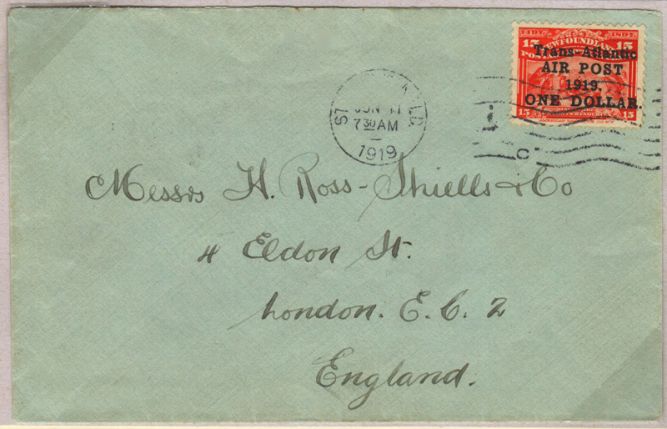 Letter carried on first non-stop trans-Atlantic flight in 1919.
In 1932, Newfoundland initiated a set of definitive stamps called the Resources Issue. Designs included Royal Family members, picturesque scenes and new images of the caribou, Newfoundland dog and harp seal, animal themes that had placed the country on the philatelic map some 60 years before. The 18 stamps were printed by Perkins, Bacon & Company in sheets of 100 (10 x 10), from 1932-37. Many of the same designs would be used again for the Second Resources Issue during World War II, this time printed by Waterlow & Sons for Perkins, Bacon Limited. The original set was perforated 13.5 x 13.5 while the second set was 12.5 x 12.5.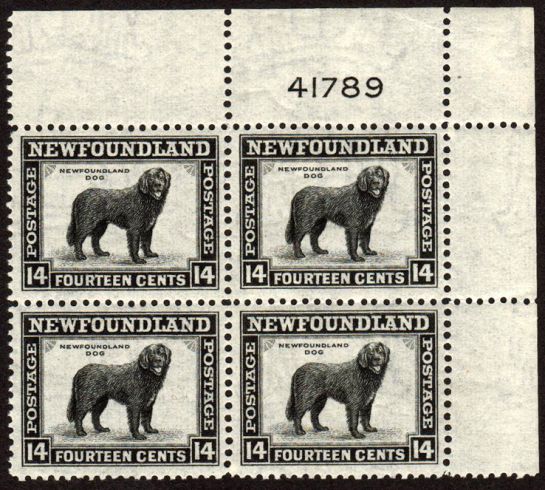 Plate block of the 14¢ Newfoundland dog stamp from 1941.
In 1937, the Crown Colony issued two sets for the coronation of King George VI. A short set of three was part of the omnibus issue in honor of the event by the British Commonwealth of Nations. The second set of 11 reflected strictly Newfoundland themes, including (again) its natural beauty and animals. The sets were printed by Bradbury, Wilkinson & Company in sheets of 60 (6 x 10). The long set was released with both line perforations and comb perforations, providing a challenge to a number of specialists. Using the two blocks below, we'll explain the difference.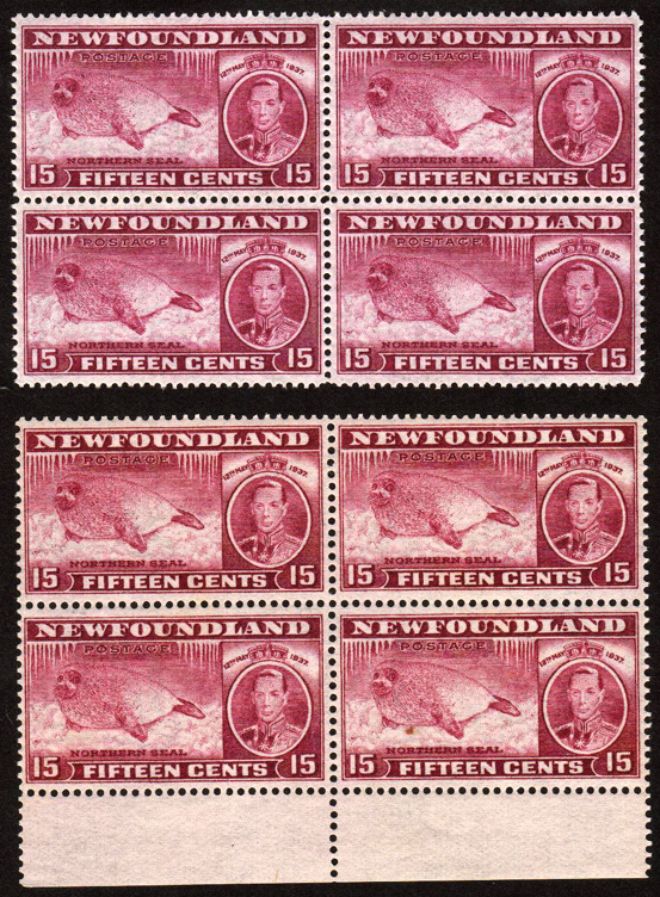 Blocks of 1937 Long Coronation 15¢ with line and comb perforations.
The top block was line perforated 13.5 x 14. In the line-perforation method, sheets are perforated in one direction at a time. The horizontal and vertical perforations usually overlap where they intersect, as seen in the center of this block. The lower block has comb perforations of 13.3 x 13.2. Each strike of the comb perforator, whose arrangement of pins resembles a hair comb, results in a line of perforations between two complete rows of stamps and perforations between each of the stamps in the row. This results in a more uniform look without the overlapping holes, as we can see in the lower block.
Several of the comb varieties of the Long Coronation issue are quite scarce and very valuable. C. A. Stillions of our Study Group is an expert on perforation varieties of the modern Newfoundland stamps, and says only two copies of the 14¢ value are known with comb perfs.
20th century Newfoundland postal stationery included a unique set of registered formula envelopes of different sizes which came out in 1938. The instruction on the reverse of each envelope explained their purpose:
"Compensation in respect of money of any kind (Coin, Bank Notes, Currency Notes, Cheques, Stamps, etc.) will only be paid when the money is enclosed In one of these registered Letter Envelopes sold by the Post office and the Letter is tendered for transmission by Registered Letter Post. These envelopes May be used for Inland or Foreign Registration."
The sizes were denoted by the letters A, B, C, and D. Size A cost 1¢, B and C 2¢, and the super-sized D cost 4¢. Size D envelopes were almost 12" x 6", and few used examples have survived. Try finding an envelope mount for this baby!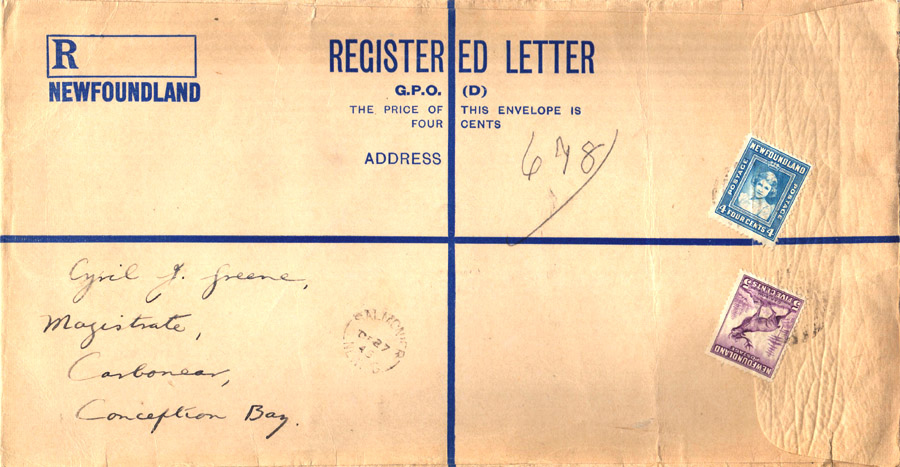 At almost 12" x 6", the largest of the 1938 registered formula envelopes.
Newfoundland's last postage stamp came out in 1949 just before Newfoundland joined Canada, after a vote of its people. It was a watermarked version of the 10¢ 1939 postage due stamp, and probably wasn't really needed. Rarely has it been seen used before Confederation. During its 90 years plus as a stamp-issuing authority, Newfoundland had a reputation of not only issuing beautiful stamps of great appeal to collectors, but also catering a bit too much to this group at times. Was that what led to the "error" in their final stamp or was it just a secondary flaw? In any case, two of the 100 stamps of each sheet lithographed by John Dickinson & Co. Ltd. included an interesting variety. See if you can spot one in this block.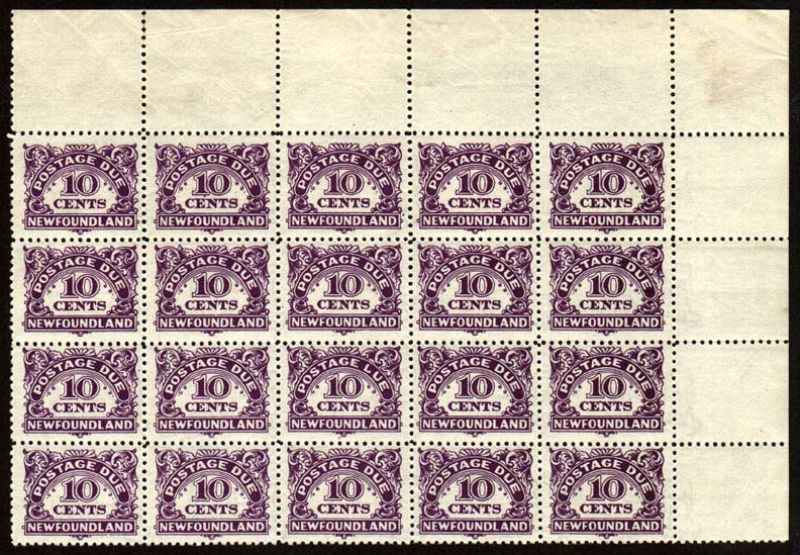 Block of Newfoundland's last postage stamp with "error" stamp.
Look for the "Postage Lue" variety third row, third stamp across. I would prefer to think this was caused by a mechanical problem.
Mint Newfoundland stamps continue to be valid for postage in Canada, by the way.
The survey does not end yet, however, as there are other areas upon which the Study Group concentrates. For example, many back-of-the-book collectors are unaware of the extensive number of revenue stamps that were issued by Newfoundland. Specialized catalogues list over 150, from inland revenue to custom stamps to tobacco stamps. Even after Confederation with Canada, Newfoundland issued ten more inland revenue stamps until 1964.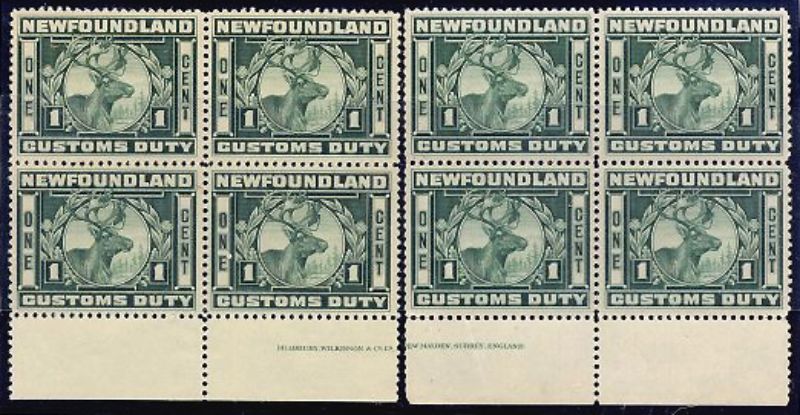 1938 Customs Duty revenue stamps with printer's imprint in the bottom pane margin.
Here are a few more areas of interest:
Town cancels

. This is a challenging area as there have been so many Newfoundland post offices over the years. It is an area of Newfoundland philately that includes post-1949 usages. This June 23, 1927, postmark (MILLTOWN B. D ESPOIR) is from the small town of Milltown, at the head of the Bay d'Espoir. It is located on the Southwest Coast.

Perfins

. Stamps from as early as 1897 Cabot issue are known with perforated initials. There are literally hundred of different collectibles in this area. The perfin shown below is one of the most frequently seen - AYRE. It has been photographed from the back with the image reversed so you can clearly read the perfin.

Interesting markings

. The "((235))" cancel from the 1800s is famous. Sammy Whaley has written:

"The cancel was only used in St. John's on both colonial and foreign mail. It was used on registered and non-registered mail as well as a transitory strike. There is no record of the ((235)) being officially delegated to St. John's so its origin is a mystery. A similar cancel was used in Staindrop, England, until about 1860 and someone could have brought it to St. John's as a personal obliterator. This was the opinion of Col. Robert Pratt."

Novelty items

. This is an example of the miscellaneous odds and ends of stamp collecting that helps make it such a diverse hobby. The lower right stamp was postmarked in Placentia on December 21, 1918. Take a close look at the postmark. A few days earlier, The Royal Newfoundland Regiment had crossed the Rhone River into Germany. The Armistice had been signed on November 11th. There is speculation that patriotism led to a bit of tweaking of the town canceller during the Christmas season to reflect the arrival of peace, in the season of peace.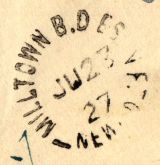 Town cancel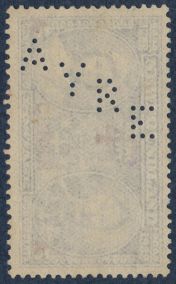 AYRE perfin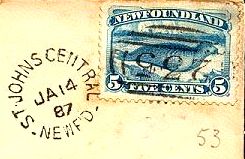 ((235)) postmark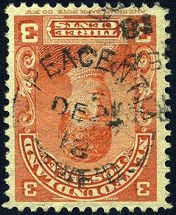 Placentia postmark
Finally, at least a dozen of our members exhibit their Newfoundland material. These exhibits have won many top awards at Canadian, U.S. and international shows. At PIPEX 2002 in Richmond, BC, we exhibited 20 frames of Newfoundland material. In the photo, we see one of the exhibitors, Ronald Battersby, at the left, "guarding" our treasures at that show.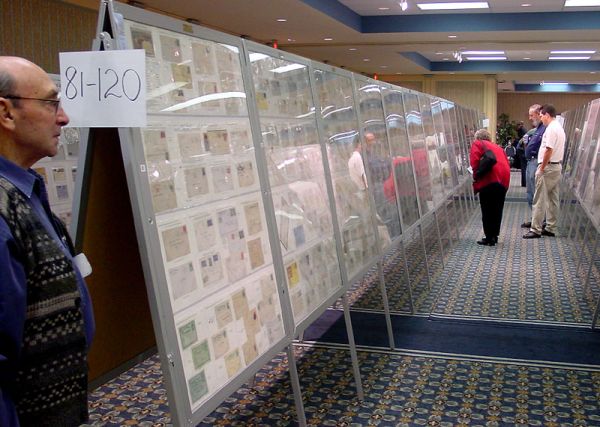 Ronald Battersby "guarding" the Newfoundland exhibits at PIPEX 2002.
Newfoundland Study Group Officers
Chairman, Newsletter Editor: Malcolm E. Back
Treasurer, circulation: Martin Goebel
For Study Group information, contact Malcolm E. Back.
---