Newfoundland Philately
BNAPS Newfoundland Study Group
Page 1 of 2
---
Introduction

"Newfoundland was a self-governing Dominion of the British Empire from 1855-1933, when it became a Crown Colony. In 1949 it united with Canada". - Scott Classic Stamp Catalogue, 2002

Newfoundland and Labrador are one province of Canada. Formal mail service to and from the lightly populated Labrador began in 1863 when Newfoundland let the first mail contract. Its permanent population was only 6,000 in 1949 when Newfoundland and Labrador became the 10th province of Canada. There have always been a lot more people during summer fishing season, of course. We'll see an example of a cover from Labrador in the 20th century part of this survey.

Newfoundland issued almost 300 postage stamps while a Dominion and Crown Colony, about 30 pieces of postal stationery and many revenue stamps. Because of that, it provides collecting opportunities for general collectors as well as material for specialists or topical collectors. It attracts those who collect definitive or commemorative stamps, air mail stamps, postal stationery, postage dues, revenues, varieties, postal history/rates as well as those just fond of stamps from the earlier years of philately (up to 1949) before modern emanations from many countries started to inundate and discourage collectors. In the 20th century alone it issued about 200 commemorative, definitive and postage due stamps with no "wallet-busters" in that group and completion is not difficult. For the more ambitious, the air mails provide a challenge requiring more effort (and money!).
Many of us - especially those who started collecting stamps as kids - can still recall our introduction to the beautiful animal stamps from Newfoundland that could be bought for pennies - the green or orange codfish, the many stamps featuring the Newfoundland dogs, blue harp seals, etc. These are fond memories that cannot be undone, and often are enough to trigger a return to philately as an adult with enough leisure time finally to spend on a hobby.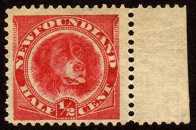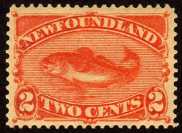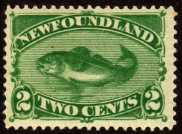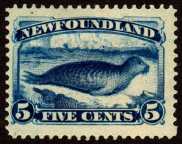 These animal stamps may bring back memories of your youth.
The Newfoundland Study Group
In 1985, 14 dedicated philatelists formed the Newfoundland Study Group, with Clarence A. Stillions elected Chairman and editor of the Newfie Newsletter. The newsletter has come out on a regular basis ever since with over 150 issues through 2015. Editions since 2003 have included some color pages. It won the John S. Siverts Award in 2004, 2010, and 2012 for best BNAPS Study Group newsletter.
Today the Study Group has over 75 members from around the world. Some members are undertaking research to enhance our knowledge of Newfoundland philately or exhibit Newfoundland stamps. Others collect stamps, or postal stationery, or varieties, or just consider themselves Newfoundland generalists.
To become a member of the Study Group, one must first join BNAPS.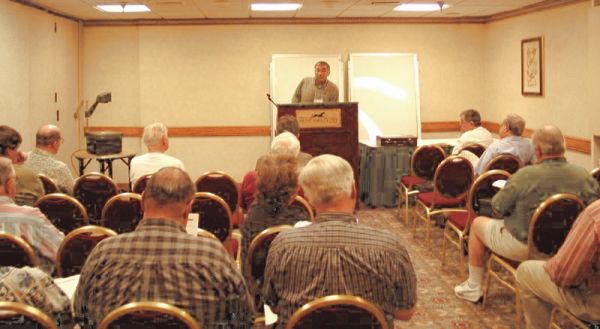 Sammy Whaley addresses the Study Group at BNAPEX 2004 in Baltimore, MD.
A Survey of Newfoundland Philately
This section includes examples of the varied stamps and postal stationery of Newfoundland and reflects some areas of collecting interest of our group members.
The 19th Century
Newfoundland's first issue was on January 1, 1857. The 1d (or "one penny") had a central motif of the Royal Crown in profile. The stamps were recess-printed by Perkins, Bacon & Company. The 1d was imperforate and issued in sheets of 120 (12 x 10).

Newfoundland's first stamp
Several of our members exhibit and write extensively on the 19th century postal history of this country. The cover that follows is a very rare one from 1861 with a bisected 8d (8 pence) stamp along with a 3d (3 pence) triangle. The cover was sent from Harbour Britain to North Oxford, Mass. Take a look at the cover and then we'll explain the rate.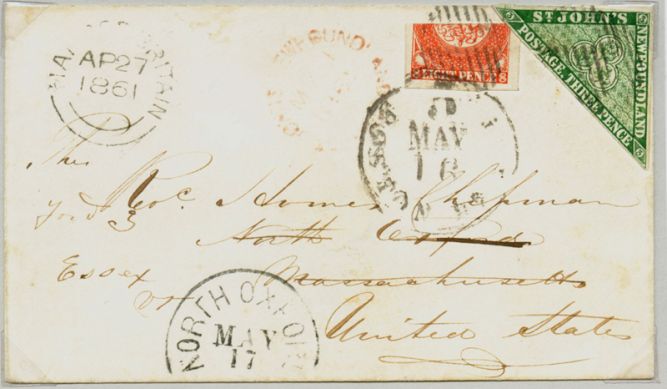 A rare letter from 1861.
Group member expert Colin Lewis explains the rate:
"There were two forms of currency as legal tender in Newfoundland during this period. There was British Sterling currency and Newfoundland domestic currency. They were inter-changeable but not valued at par... To understand this cover's rate, you must know that the bisected 8 pence stamp is a Sterling value, and as such is worth 4 pence Sterling. The 3 pence triangular stamp is valued in Newfoundland currency and had a primary use of paying domestic covers up to ½ ounce. This stamp had a convertible Sterling value of 2 ½ pence. Mail sent to the U.S. had to be paid in Sterling. The rate from St. John's to Boston was 4 pence Sterling per ½ ounce but this cover was from an out-port that also required 3 pence Newfoundland currency per ½ ounce. The actual rate from such an out-port to the U.S. was 6 ½ pence Sterling. Had a 6 ½ pence stamp been available, no doubt it would have been affixed. The cover went from St. John's by steamer to Halifax, Nova Scotia, where it was carried aboard the Cunard 'Europa' to Boston".
Under "An Act to Regulate The Island Post of this Colony" of April 1865, the first of the country's decimal currency stamps were issued. All stamps issued thenceforth would be in cents and dollars. Most of the remaining 19th century stamps would be printed by the American Bank Note Company of New York.
The next cover shows the early images of animals used by Newfoundland - a codfish and a harp seal. Note that it also includes an example of beautiful handwriting.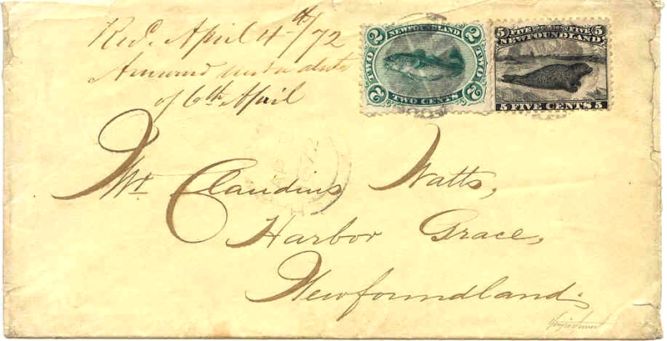 An 1872 cover shows cents issues, featuring animals.
According to our cents-issue expert, Sammy Whaley, this cover probably originated in St. Pierre and Miquelon, but has only a St. John's date stamp. It was sent on April 1, 1872, to Harbour Grace. The fancy handwriting was by Horatio John Watts and part of a well-known correspondence to Claudius Watts. It overpaid the six-cent double inland rate by one cent.
In 1897, Newfoundland decided to issue a 14-stamp set honoring John Cabot who discovered the island 400 years previously. Catering to stamp-collector interests, it hoped to duplicate the interest created by the 1893 Columbian issue of the United States. Colonial Secretary Robert Bond ordered the withdrawal of existing stamps, and the plates for this issue were destroyed shortly after its June release. The stamps were printed by the American Bank Note Company in sheets of 100 (10 x 10). The one-cent stamps showed a contemporary photograph of Queen Victoria by Bassano of London. 1897 was also the diamond jubilee of the Queen. The one-cent stamp proved too popular and was exhausted by late September, 1897. With the plates destroyed, the Post Office had a problem. One-cent stamps were needed for local covers, third-class mail and circulars, among other things.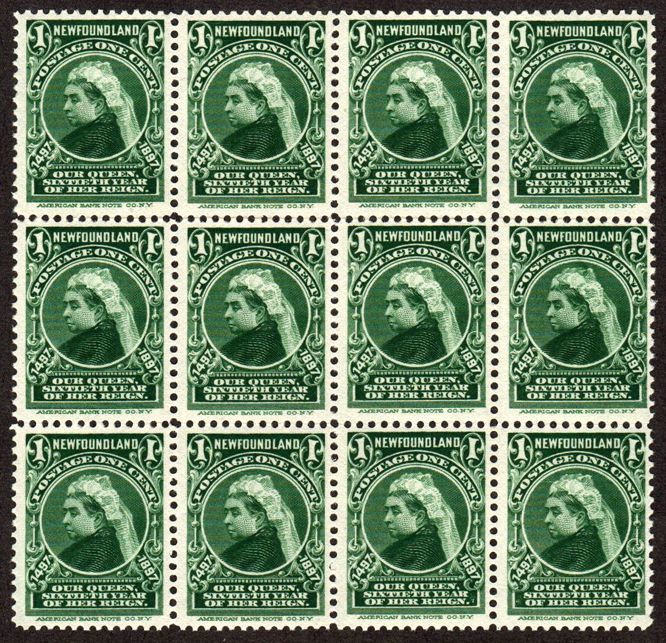 The one-cent Queen Victoria stamp of the 1897 John Cabot set.
The one-cent shortage forced Newfoundland to issue its first provisionals - a one-cent surcharge on the 1890 three-cent Queen Victoria stamp. It was printed locally in St. John's. The printer used different fonts in the setting of fifty resulting in varieties that generated a lot of collector interest. There were three distinct fonts, now listed separately in catalogues. Although 40,000 stamps were surcharged, they sold quickly. From that point forward, hoards of collectors would scoop up all subsequent provisionals, hoping to discover scarce varieties.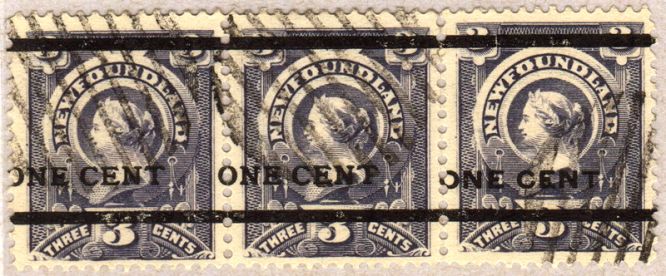 Used examples of scarcer varieties of the 1897 provisionals.
This used strip is from positions 47-49 in the setting of 50. The font on the rightmost stamp is sans serif. Only two of the 50 stamps (positions 49-50) were of this rare type. A new red one-cent stamp with Queen Victoria came out on December 4, 1897, ending the shortage.
The new permanent set featured portraits of the Royal Family including the first ever of Prince Edward, the future Duke of Windsor, as a baby. The stamps were issued between 1897-1901. Below we see proof pairs. Some of our members collect proofs, imperforates and specimens.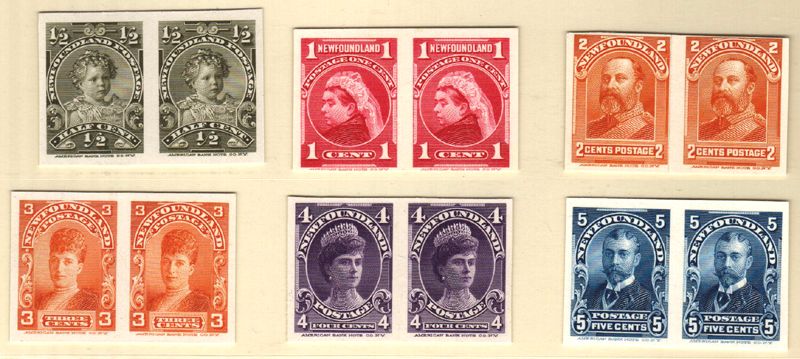 Proof pairs of the 1897-1901 Royal Family set.
Our quick survey of the 19th century would not be complete without an example of postal stationery. Here we see a unique example of the two-cent Queen Victoria postcard of 1879.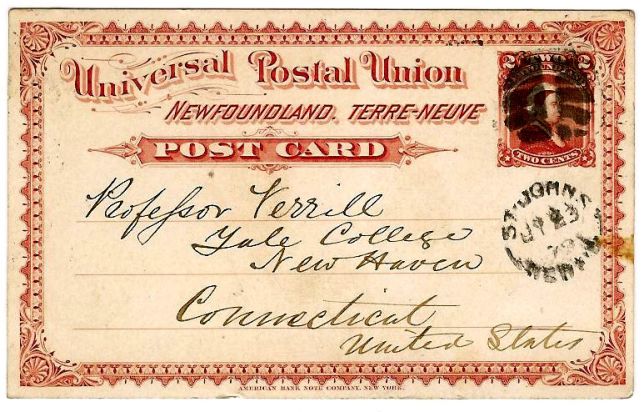 Queen Victoria postcard of 1879.
What makes this postcard unique? Our member, Rob Moore, collects Newfoundland postal stationery. He discovered this postcard, which was used on July 23, 1879. This has now been confirmed by BNA stationery experts Bill Walton and Robert Lemire as the earliest known use (EKU) of this card.
---