| | | |
| --- | --- | --- |
| | Canadian National Railway Mail Car [1] | |
Study Groups
Study Group newsletters
---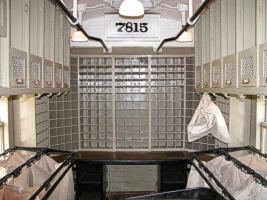 Inside the Mail Car [1]
Railway Post Office (RPO) and Transportation Post Office (TPO) postmarks attract numerous philatelists for reasons of postal history, interest in railway history, waterway history, and their pure collectibility.
As with other specializations, RPOs almost demand the availability of good reference information because making sense of the many postmarks, hammers, routes, and other variations is benefited greatly by the experiences of others.
For meetings of the RPO Study Group, please click HERE.
Collectors of Canadian RPOs have some wonderful reference publications, catalogues, and websites. A few of these are:
A History of Canadian R.P.O.s, 1853-1967 by L. F. Gillam. Published by the American Philatelic Society in 1979.
This book is organized by railway companies. It includes a short history of the development of each railway system, a chronological history of the RPOs used on the lines of the systems, pertinent dates and maps. Subsequent studies by many collectors have produced updates to this information so the reader should be careful to check information in this book where it is speculative. Nevertheless, the speculations offer real opportunities for new RPO collectors to embark on their own research - which is a bonus!
Catalogue of Canadian Railway Cancellations and Related Railway Postmarks including Selected Waterway Postmarks, second edition, edited by Ross Gray. Published by BNAPS in 2015.
This catalogue is the reference for listings of postmarks, correlations with train numbers, dates, and rarity factors. It provides a wealth of information about RPOs and their history. For details, go to BNAPS books.
BNAPS RPO Study Group Newsletters.
Members of the Study Group benefit from regular newsletters that provide listings updates and reports from studies conducted by members. Some hard-working members of the Group, led by award-winning editor Ross Gray, regularly produce this interesting newsletter - worth much more than the annual dues!
Proof Strikes of Canada; Vol. XVI, Transportation Proof Strikes of Canada, Part 1 edited by J. Paul Hughes. Published by Robert A. Lee in 1992.
Proof Strikes of Canada; Vol. XVII, Transportation Part 2 and Squared Circle Proof Strikes of Canada edited by J. Paul Hughes. Published by Robert A. Lee in 1992.
These two books are among several proof books published by Lee. They provide detailed images of the original strikes of RPO postmarks. No additional information is included but these books are very useful for clarifying poor strikes on stamps and covers.
Travelling Post Office Postmarks of Newfoundland & Labrador – A Study of the Postmark Hammers (second edition) by Brian Stalker. Published by BNAPS in 2016.
ravelling Post Office Postmarks of Newfoundland & Labrador Compendium of Related Information by Brian Stalker. Published by BNAPS in 2016.
Because most official records for the Newfoundland Post Office were destroyed shortly after Confederation in 1949, it is not possible to create a definitive work, but these two books draw together numerous pieces of a highly fragmented jigsaw into a nearly complete picture.
Links to useful RPO websites
Here you will find the history of Canadian railways, train station locations, routes, maps, schedules, etc.
Recollections of RPO service
Stories from people who were part of the RPO service.
Some reference material for other specialties, such as squared circles, is useful (three Canadian RPO postmarks were designed with the squared circle format). RPO collectors also find great value in older railway maps and railway timetables. One of the intriguing aspects of RPO collecting is the challenge of tracing actual routes taken by covers showing many postmarks.
Here are definitions of some commonly used RPO technical terms.
[1] Photos taken by Robert K. Lane at the Edmonton Railway Museum
---
Study Groups
Study Group newsletters
---
Copyright © 2015 - 2023 The British North America Philatelic Society.
The documents on this website are for informational and non-commercial or personal use only.
Documents on this website shall not be used on other websites or for commercial purposes without permission.
This page was last modified on 2022-11-27