BNAPS Manitoba Regional Group Meeting Notice for 3 Dec, 2011
The next meeting of the Manitoba
Regional BNAPS Group will be held on
Saturday Dec. 3rd, 2011 at 2:00 P.M.
at ST. PETER'S ANGLICAN CHURCH
755 Elm St.(corner of Grant Ave.& Elm St.)
This meeting will be our ever popular Show &
Tell.
Bring something of Philatelic interest for
discussion.
---
BNAPS Manitoba Regional Group Sept 15, 2011
On Sept.15th, we were guests of the Winnnipeg Philatelic Society to hear Robin Harris give a power point presentation on "THE UNITRADE SPECIALIZED CATALOGUE OF CANADIAN STAMPS." This was a presentation that most BNAPS members would have really enjoyed. Robin started by saying, that his task each year since 2006 is to make improvements to the Catalogue so that the collector will be able to find information as quickly as possible. Improvements such as the Index Bars, Title Bars, Tables, Postal Rates, Canada Stamp Identifier, National Christmas Seals and Topical Listings are just some examples. Dealers from across Canada supply him information re. pricing. Robin mentioned it takes him about 10 hours to make all these price changes.
What's Next,he added: Expanded listings for the Admirals, Newfoundland and Semi-Official Airmails.
One Question asked was," Is it possible to reduce the size of the Catalogue"? Answer, it would be difficult to, because up to 70% plus is in the Elizabethan period. The Catalogue is printed in China.
This is a very brief outline of the presentation which lasted about 1!/2 hours.
---
BNAPS Manitoba Regional Group May 1, 2011
The next meeting of the Manitoba & N.W. Ontario BNAPS Group will be held in conjunction with the Winnipeg Stamp Show (WPS) on Sunday May 1st. 1:00pm to 2:15pm at the Valour Community Centre, 715 Telfer St. N. (just South of St. Matthews Ave.) Robin Harris will be our speaker.His subject will be on the Unitrade Canadian Stamp Catalogue.
The dates of the Winnipeg Stampshow are Friday April 29th to May 1st. Friday 1-7pm, Saturday 10am-6pm, Sunday 10am-4pm.
---
BNAPS Manitoba Regional Group June 5, 2010
On Saturday June 5 2010 the BNAPS Manitoba Regional Group met at St. Peters Church, Winnipeg with nine members in attendance; David Whiteley, Dick Johnson, Peter Helstrom, Gord Turnbull, Walter Beatty, John Same, Don Fraser, Bob Slias, and Bob Stanley.
The meeting opened with a lively discussion on the future of the group and the format of future meetings. It was decided to hold at least three meetings a year with one of those meetings being an all day affair with presentations. The other two meetings would follow the format of past meetings that is informal show and tell.
Members then presented items from their collections.
John Salme showed two early promissory notes with 3rd Bill issue Revenues One dated Yarmouth N.S. 1920
Bob Elias showed items from the Karsh issue of correctly during the period !953 -54 paying the correct U.P.U. rates One a cover to Finland and the other a cover to France at the 5c surface U.P.U. rate. He also showed a Ship letter written on board H.M.C.S. Ontario posted in the South Pacific written whilst at Fiji, consensus was probably mailed via Australia to Canada.
Gord Turnbull showed straight edge coils from the King Edward Issue
Dave Whiteley Showed examples of the 16 & 17c Air Mail Special Delivery Stamps used on cover often contrary to Post Office instructions.
Walter Beatty showed pages from his Small Queen Collection
Dick Johnson showed further examples of the guide dots and lines found on the 2c Large Queen and a pre- UPU convention post card to Sweden at the letter rate.
Bob Stanley showed an example of a forged 12d. Black.
Peter Halstrom showed a 3c small Queen with a piece of an adjacent stamp attached to the top left corner of the stamp in question.
Meeting closed at 4.30pm. with coffee and cookies.
---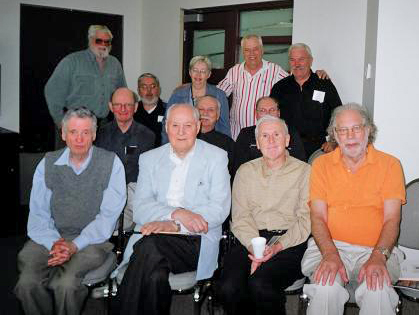 Front Row: Left to Right Don Fraser, Harry Duckworth Snr. Len Kruczwski, David Whiteley

Middle Left to Right: Dereck Smith, Dick Johnson, John Salmi

Back Row: Bob Lane, Nick Andrusiak, Peter Helstom, David B. Dawes.

On Sunday May 7th 2006 the Manitoba Regional Group held a meeting of its members in conjunction with the Winnipeg Philatelic Society's annual show and bourse. Some twelve members and guests were in attendance.

The Guest speaker Bob Lane of St. Albert, Alberta was introduced by our president, Don Fraser. Bob gave a short talk on the BNAPS web site, and then gave us a presentation on early Manitoba RPOs., illustrated with examples from his own collection. His presentation generated a lively discussion on various aspects of routes and mail handling over these routes.

At the conclusion of Bob's presentation members were invited to display and talk about items they had brought. David Whiteley showed a much traveled cover from Winnipeg that had spent some four months traveling back and forth across Manitoba before being returned undeliverable; Dick Johnson displayed some of his "Jusqu'e covers with an explanation of the protocol; and Dr. Duckworth Senior displayed a 15c Large Queen rare "Studds Cobalt blue" shade.

Members and Guests in attendance were: David Whiteley, John Salmi, Dick, Johnson, Derek Smith, Nick Andrusiak, Leonard Kruczwski, David B. Dawes, Bob Lane, Olie and Peter Hellston, and Don Fraser.
---
Regional Meeting November 19th 2005
On November 19th 2005 the Manitoba Regional Group met to celebrate Dr. Henry E. Duckworth's 90th birthday. Dr Duckworth needs no introduction.
His birthday was celebrated with cake and coffee and was accompied by a short show and tell session.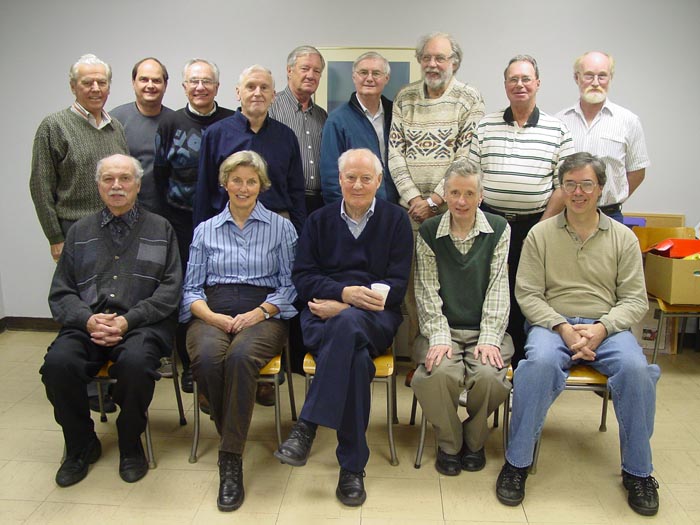 Back Row L to R: Charlie Fred, Rick Penko, Fred Ostapchuk, Len Kruczwski, Forbes Sharpe, Harry W. Duckworth, David Whiteley, David Keddie, Bob Stanley.

Front Row L..to R. : Dick Johnson, Beverley Barr, Harry W. Duckworth, Don Fraser, Robin Harris.
---
May 2003: BNAPS Manitoba-Northwestern Ontario Regional Group
From left to right: Axel Olsson, Bob Elias, Don Fraser, Rick Penko*, Leonard Kruczynski (Centennial Study Group Editor), Gordon Turnbull*, Bob Stanley (incoming WPS President), Robin Harris* (Elizabethan II Study Group Editor), Dr. Duckworth (Sr.), Bob Lane (BNAPS Webmaster)
* indicates Past President of the WPS
---