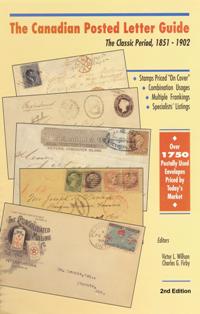 This catalogue is intended to provide a pricing guide to the covers of British North America (Canada and the provinces that eventually joined Confederation) between 1851 and 1902. It has long been known by serious collectors that the classic period in Canadian philately is characterized by far fewer covers than is comparable for the U.S., Great Britain, or European countries. Canada is the second most collected country by U.S. collectors, and is also widely collected in England, Australia, South Africa, Switzerland, and Germany. These facts have a drastic impact on pricing.
In this 2nd edition, the authors have attempted to list all recorded rates and frankings for Canada between 1851 and 1902. This comprehensive listing can be used to compare new finds against.
The guide is divided into sections that deal with a specific issue of 19th century Canada. Each section is divided into the following sub-sections:
Domestic
Interprovincial
United States
United Kingdom
Foreign
Each sub-section is further divided into:
Letter mail
Registered mail
Special non-letter mail
In each sub-section, rates are listed from smallest to largest recorded.
Individual sections can be downloaded using the links below:
The following sections are forthcoming:
Jubilee Issue 1897-1900
Leaf Issue 1897-1900
Map Issue 1898-1900
Numeral Issue 1898-1902