BNAPS ORE - Online Resources - Fascinating Covers
---
Interesting covers presented by BNAPS members.
---
An Alberta and a Saskatchewan Cover
Gray Scrimgeour
Here are two covers with postmarks from the Territories of Alberta and Saskatchewan to commemorate the 100th anniversary of the formation of the Provinces of Alberta and Saskatchewan on September 1, 1905. These two covers are among several illustrated in articles describing the early postal history of the Territories of Alberta and Saskatchewan in the PHSC Journal [1] [2].
Alberta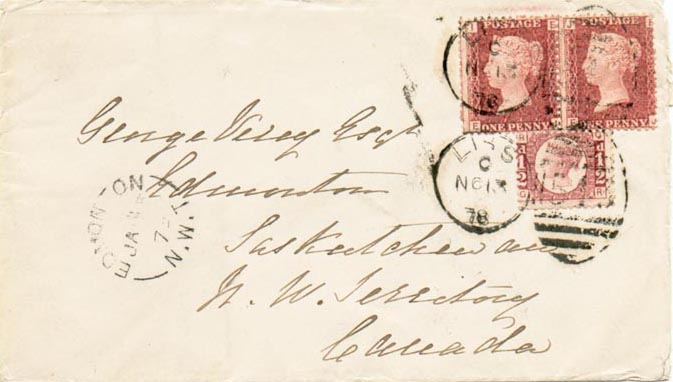 First is a cover carried to Edmonton on the mail route between Winnipeg and Edmonton. This once-in-three-weeks mail route, started in the summer of 1876, was one of only two early mail routes to the western Prairies (the other was via Montana to Fort McLeod). The cover was mailed at Lisle, England, on November 13, 1878, to Dr. George Verey, Edmonton, Saskatchewan, N.W. Territory, Canada. The name "Saskatchewan" in the address refers to the Hudson's Bay Company fur-trading district.
There is an Edmonton, N.W.T., receiving postmark dated January 15, 1879, (earliest recorded date for this postmark) on the front of this cover. This Edmonton, N.W.T., date stamp was proofed on April 9, 1877.
George Verey was Edmonton's first resident physician.
Saskatchewan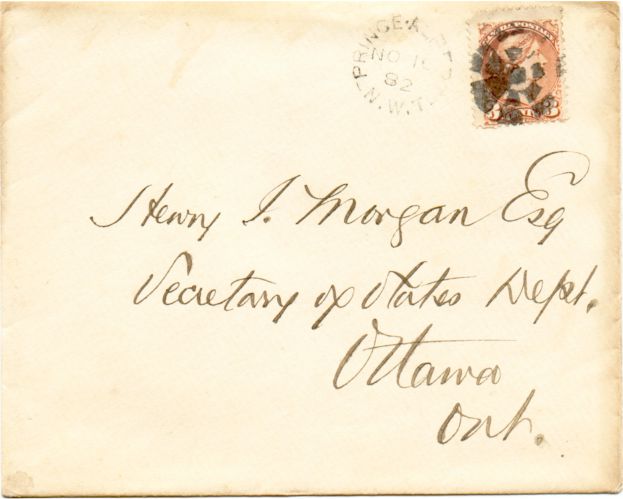 The second cover was postmarked with the Prince Albert, N.W.T., broken circle that was proofed on March 17, 1879. This cover is dated November 16, 1882. It was written by the poet Charles Mair.
Mair had an interesting life. He was born at Lanark, Canada West, in 1840. Briefly, in 1868, he was sent as paymaster of a survey party sent to the Red River. He angered the Métis, and was taken prisoner in 1869 during the Rebellion, escaped, was recaptured, and escaped again. He went into the fur-trade business in Portage La Prairie, and moved to Prince Albert in 1876 or 1877.
Mair was the second postmaster of Prince Albert (from May 1, 1879, to February 29, 1892) and his wife Eliza was postmistress on two later occasions.
References
Gray Scrimgeour, "Early Postal History of Alberta",

PHSC Journal

, No. 123, Sept. 2005.
Gray Scrimgeour, "Early Postal History of Saskatchewan",

PHSC Journal

, No. 124, Dec. 2005.
Copyright © 2005 Gray Scrimgeour.
Web design copyright © 2007, 2013 The British North America Philatelic Society.
The documents on this web site are for informational and non-commercial or personal use only.
Documents on this site shall not be used on other sites or for commerical purposes without permission.