To order this book from BNAPS books Sales Agent Bill Longley, click on the book's price at right.
---
BNAPS books are available from:
Bill Longley
c/o Longley Auctions
PO Box 620
Waterdown, ON L0R 2H0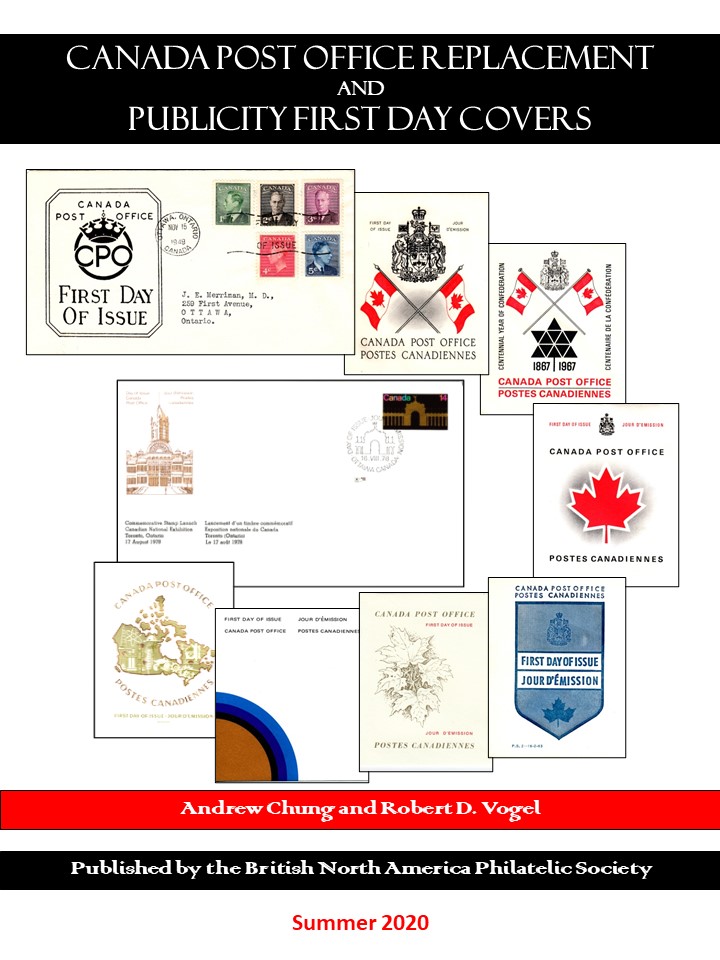 Canada Post Office Replacement and Publicity First Day Covers
Andrew Chung and Robert D. Vogel
Released October 2021.
122 pages, 8.5"x11", spiral bound.
Colour C$ 36.00 [ISBN 978-1-989280-26-3].
The Canada Post Office would replace lost or damaged First Day Covers with covers carrying a different cachet. The CPO also sent specially prepared FDCs to a variety of important and influential individuals throughout the world. These covers, and the enclosures they often contained, are documented in this unpriced catalogue. Two additional chapters discuss First Day cancellations (1949 to 1974) and types of envelope watermark.

Andrew Chung has been active in Canadian philately since the mid-1970s. His collecting interests are Canada Christmas Seals, replacement and publicity first day covers of the Canada Post Office, postage due use, postal notes and money orders, postal rates and fees of the Elizabethan era, Universal Postal Union (UPU) and Postal Union of the Americas and Spain (PUAS) presentation items, and reply coupons (including Newfoundland).

Bob Vogel began collecting mint and used Canada in 1964. In 1970, his interest turned to the postal history of Muskoka District and he gradually assembled a comprehensive collection, exhibiting it at the local level. In the mid-1990s, his interest changed to the postal history of Berlin/Kitchener, Ontario, focusing on the machine cancels of that community, and he exhibited at the national level. In addition to his involvement with the Christmas Seal catalogue, Bob is also the Chairman of the BNAPS First Day Cover Study Group.